Chicago's queer nightlife scene is creative, community-driven and pure fun, and nowhere is that more evident than in the scores of new venues (Nobody's Darling! Whiskey Girl! Dorothy!) and events that have popped up in the past several years. Across the city, you can find new drag shows at dim sum restaurants, day parties at the Promontory, open mic nights where poets and musicians spill their guts and much more. And, of course, stalwart parties like Slo 'Mo and smallWORLD Collective's ENERGY are still going strong.
Here's just a sampling of the many new LGBTQ+ events that have popped up over the past year and change. From open mics at tea houses to tea dance day parties, from sweaty club beats to sweating from a good long walk, there's something in here for everyone.
Boots
Two fixtures of Chicago's queer entertainment scene—drag performer and curator Abhijeet (Chicago Is A Drag, Dim Sum & Drag) and DJ Kirk (Scarlet, Berlin)—joined forces last year to create one hell of a party, Boots, which is held in rotating locations and promises three very important things: "Dim Lights. Hard Music. Hot Hosts." If you want to dance your heart out until the wee hours and stumble home sweaty and exhausted in the best way, this is the party for you.
Dates and locations vary, 10pm-3am, visit boots.party for details and tickets. Proof of vaccination and masks are required for entry.
City Gays Walk Chicago
It's exactly what it sounds like: an inclusive walking club for LGBTQ+ people looking to get some fresh air and explore the city. City Gays Walk Chicago is focused on accessibility and welcomes walkers of all experience levels, and has traversed the Lakefront Trail, the 606 and the Riverwalk. The group seems to be quiet now with the winter here, but follow them on IG for future meet-ups.
Dates and locations vary, follow @citygayswalkchicago on Instagram for details.
Descontrol
Longtime queer nightlife mainstay Berlin Nightclub has a party for everyone: there's Gay Disco Night, punk and goth-centric Studs & Spikes, popular lesbian and lesbian-adjacent party Strapped, and Moans, an evening celebrating trans and gender nonconforming performers. Last year, they added another stunning showcase of Chicago's finest queer and trans nightlife entertainers to an already crowded party roster in Descontrol. Irregular Girl and Ari Gato host this bi-monthly celebration featuring Chicago's best Latine and Afro-Latine drag performers, DJs and gogo dancers.
Bimonthly (dates vary), 10pm -4am, Berlin Nightclub, 954 W Belmont Ave. Proof of Covid-19 vaccination is required for entry.
Eden
Sonido Asesinx and reggaeton DJ jenniferfauxxpez curate this sapphic party paradise, where guests are encouraged to leave it all on the dance floor to reggaeton, afrobeat, house, neoperreo and more. Eden brings together a host of DJs, dancers and special guests from Chicago and around the world, like Bogotá-based DJ and producer Ynfynyt Scroll. (Note: Eden is currently on hiatus, but keep an eye on their Eventbrite page and follow @sonidoasesinx on IG for future events.)
Dates vary, 10pm-3am, Wings Fire House, 2501 S Western Ave, details & tickets here.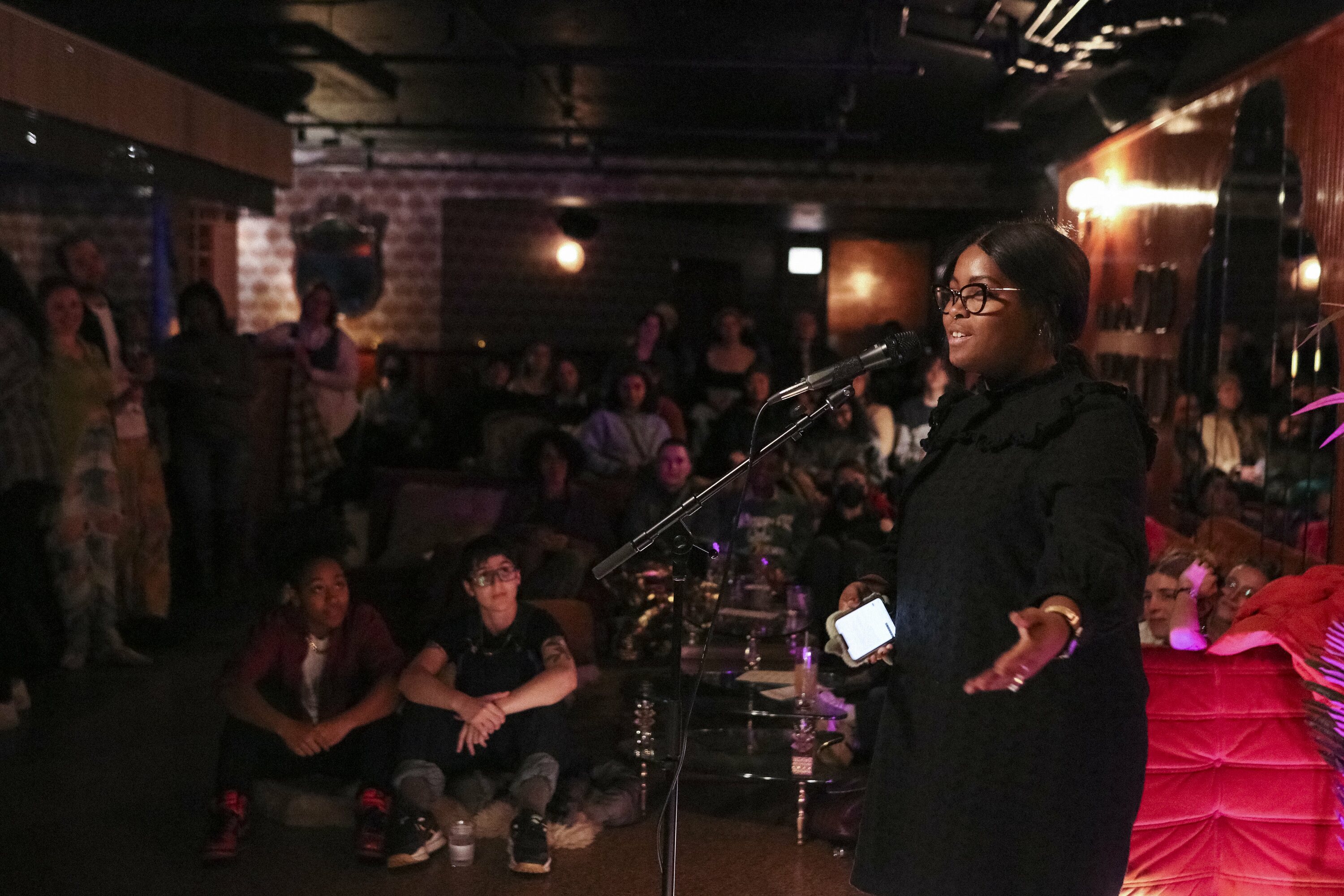 Fruit Salad
OK, so technically Fruit Salad started in October 2021, but Whitney LaMora and Rainn's queer open mic still deserves a mention. Over the past year, this intimate show has featured some of Chicago's best queer and trans musicians, poets and storytellers, and a devoted following packs the cozy '70s-inspired cocktail bar under Split-Rail every month to listen. As the community around Fruit Salad builds, the show is also giving back to the community, as a portion of ticket sales directly support the work of important local organizations like Midwest Access Coalition, Brave Space Alliance and Assata's Daughters. Follow Fruit Salad on Instagram and book your spot the second tickets are available—the show has been known to sell out within 40 minutes.
Every third Wednesday, 6:45pm, Dorothy, 2500 W Chicago Ave.
G.L.O.W. Queer Open Mic
Alcohol-free social spaces for LGBTQ Chicagoans to connect are super important, and since its opening at the end of 2021, Andersonville's Eli Tea Bar has provided a comfortable sober space with tasty tea drinks and good vibes. Chicago comedian K.J. Whitehead hosts G.L.O.W., Eli Tea's monthly open mic, a supportive space for creatives to share everything from drag to stand-up to poetry to original ukulele compositions. (No, really—four different people once played the ukulele.) And G.L.O.W. is joined by a number of fun regular events at Eli, including trivia, tarot nights, monthly drag bingo with Neutral Gena and friends, a chill weekly BYO-supplies art night and Salon Kawakib, a cultural salon for people in the SWANA diaspora.
First Friday of every month, 7pm, Eli Tea Bar, 5507 N Clark St.
Hot Potato Hearts
If you've read Time Out recently, you may already know about Hot Potato Hearts and its sibling game show Perfect Mash, low-key, inclusive speed dating events at a variety of popular local bars like Schubas, Cafe Mustache, Pilot Project Brewing and California Clipper. For those crawling out of pandemic isolation or burnt out on the apps, organizer Katie Conway and a community of regulars have created a welcoming, laid-back environment for Chicagoans looking to meet new people. Not ready to dip your toe into the dating pool? Come to Perfect Mash as a low-stakes audience member or try Book Spuds, a new companion queer book club at Dorothy Downstairs in Humboldt Park.
Varying date and venues, visit their Eventbrite page for the latest.
Liquid: The Drag Brunch Experience
Splash's drag brunch premiered earlier this year as Soaked, and has been cheekily renamed Liquid (as in you'll be drinking your brunch), and features rotating hosts like Robyn B Fiierce, Gina Belle and Sasha Love alongside a host of local talent. Both the $45 and $60 brunch packages get you delectable family-style light bites from Cheesie's, with the former including well drinks and domestic beer and the latter including premium cocktails and all beers and seltzers. Add-ons include coffee ($3) and a mimosa kit ($15), and shows are at noon and 2 p.m.
Sundays, noon., Splash, 3339 N Halsted St. Reservations here.
Lust For Life
Just take those old records off the shelf… and then take off a little more than that. This rock 'n' roll-themed burlesque show seeks to capture the raw energy of the Iggy Pop album for which it's named. Each month, Kitty Tornado and Greta-X co-curate a lineup of killer local burlesque and boylesque acts, soundtracked to powerful riffs that feel at home in this '70s-evoking basement venue.
Every third Thursday at 7:15pm, Dorothy, 2500 W Chicago Ave.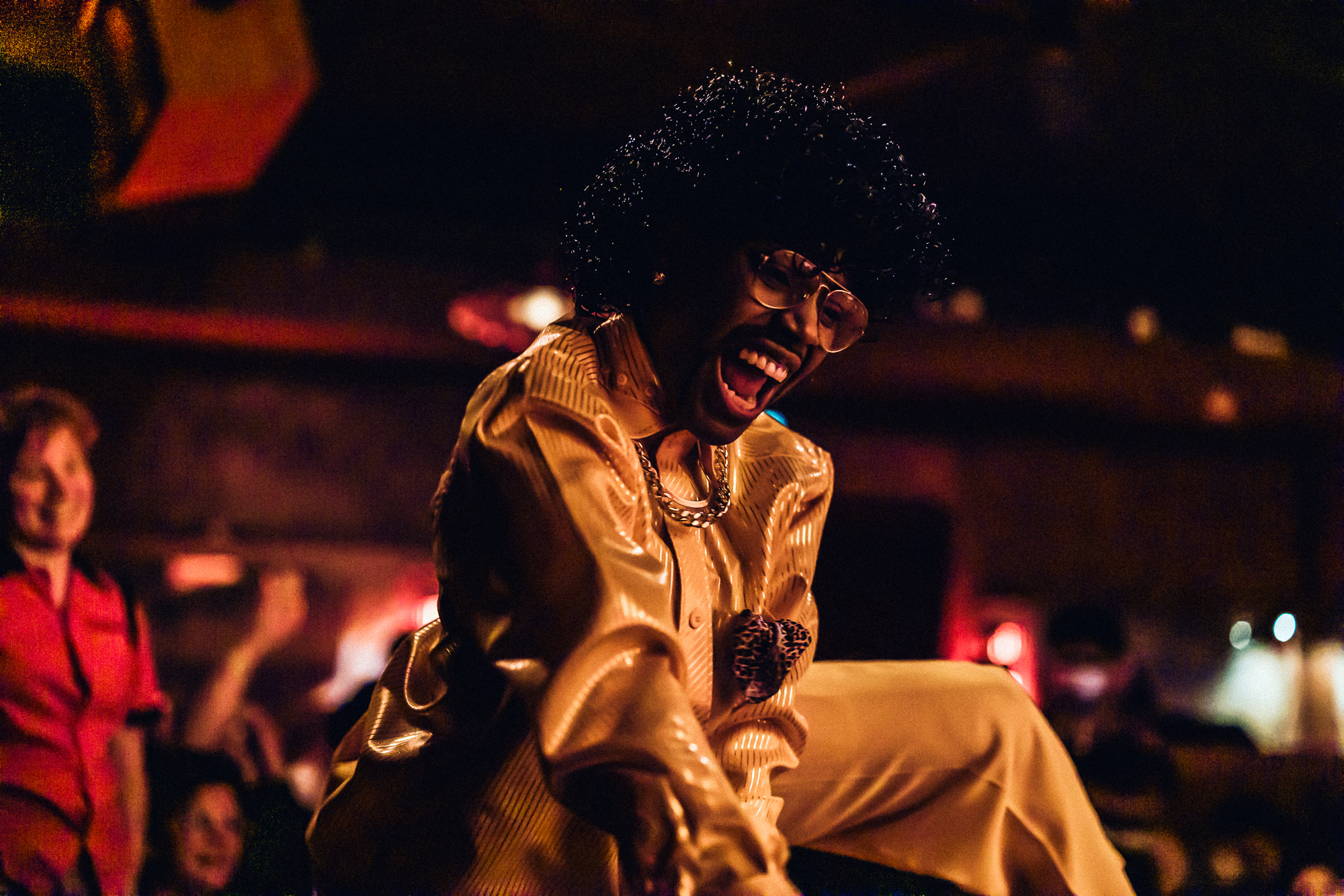 Notes on Masculinity
Chicago is blessed with an abundance of creative drag and burlesque performers, including many wonderfully talented drag kings. Veteran performers Po'Chop and Switch the Boi Wonder host this bimonthly king-centered cabaret, where performers like Luv Ami, Tenderoni, Dusty Bahls and many more showcase the diversity and sheer fun of masculine drag. The performances are funny, sexy, irreverent and thoroughly unmissable. Get yourself over there, and don't forget to tip generously.
Every other month, first Tuesday of the month at 8pm, California Clipper, 1002 N California Ave
Queeriod
Like Fruit Salad, Queeriod launched in 2021, but the community and excitement around it that has grown over the past year merits a mention. Lúc Ami and Male Spice host this weekly "drag hype show," an enthusiastic and creative showcase of new talent, where you'll see up-and-coming performers do just about everything, even lip-syncing to Nickelback. Queeriod is also notable for providing a virtual option—the show is streamed live every week on Lúc Ami's Twitch channel.
Sundays, 5-7pm, Charlie's, 3726 N Broadway.
Singles Mixer at Nobody's Darling
The name of Chicago's hottest James Beard-nominated lesbian cocktail bar may be Nobody's Darling, but at their cozy monthly singles mixer, you could end up, well, somebody's darling. Meet someone new while sampling innovative sippers like the herbaceous Love & Trouble with Koval cranberry gin, the "bold and spirited" Black Wall Street or The Woman King, their decadent take on a chocolate martini. Tasty spirit-free cocktails round out the formidable menu.
Third Thursday of the month, 6-8 pm, Nobody's Darling, 1744 W. Balmoral Ave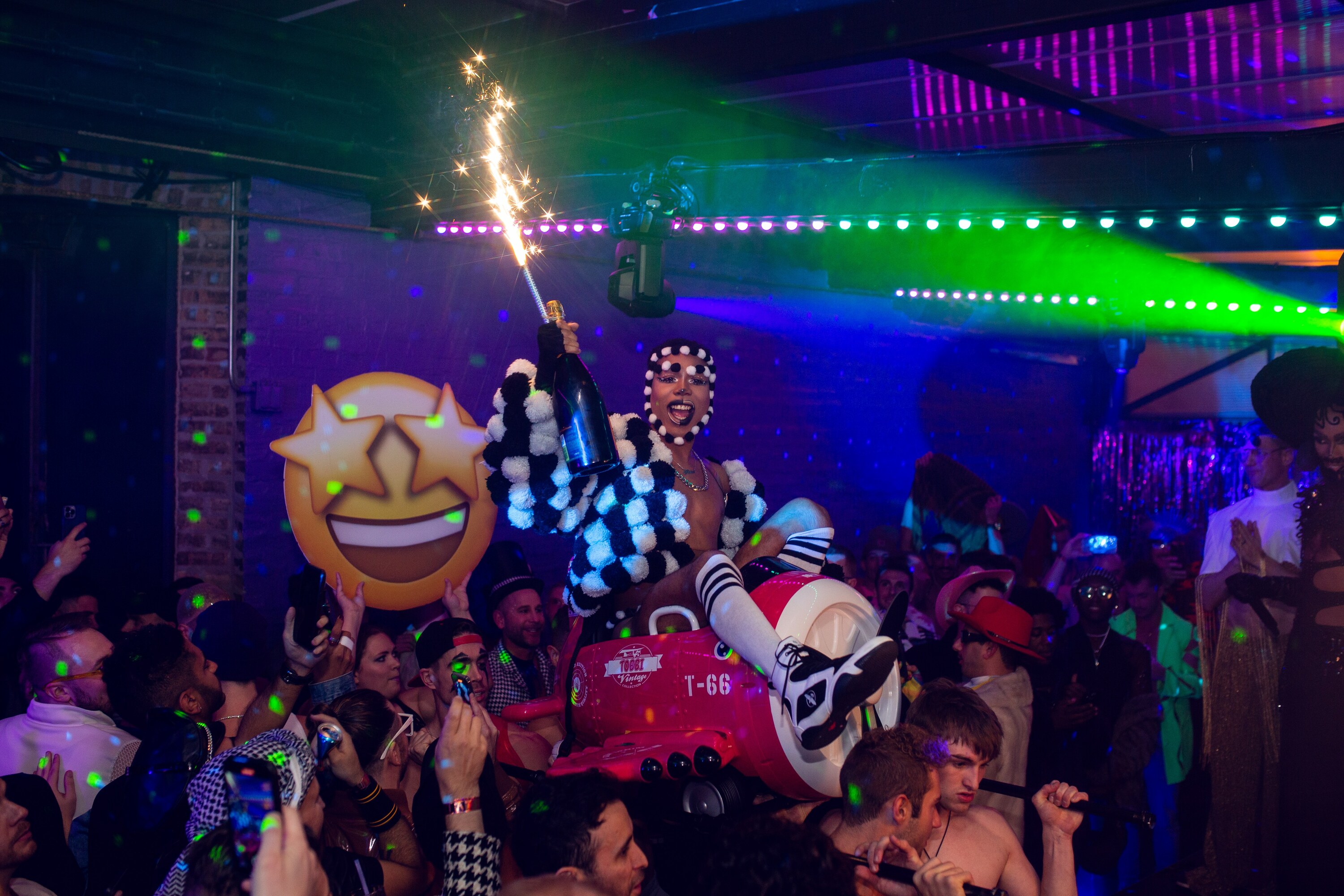 Very That!
Tea dances have deep roots in queer history, first emerging in the 1950s and 1960s as a means for members of the community to gather and groove in the afternoon with less fear of police raids. Now, the legacy of the tea dance continues across the world with afternoon celebrations known for disco beats and stunning looks. At Very That!, Chicago's disco/house tea dance experience, resident hosts Khloe Couleé and shai. curate a memorable afternoon with a rotating cast of DJs, guest hosts and performers, and encourage guests to come in their best on-theme looks that will make them say, "Very that!"
Dates vary, D.S. Tequila Company, 3352 N Halsted St, visit verythat.party for dates and tickets.