Wondering why you spotted so many hordes of wristband-clad fashion plates out and about the city this weekend? That's because Pitchfork Music Festival took over Union Park for its annual three-day slate of indie, hip-hop and experimental acts curated by the eponymous music media outlet, returning to its usual July weekend for the first time since 2019. Despite some run-of-the-mill setbacks (rain, a few last-minute cancellations, even more rain, mud), things were mostly business as usual in Union Park this year—below, read through some of our favorite moments from the weekend, including killer covers and a surprise appearance from one of Chicago's hometown music heroes.
RECOMMENDED: Our complete guide to Pitchfork Music Festival
A truly astonishing show from Dawn Richard
Halfway through her Friday night performance of "Bussifame," Dawn Richard made a proclamation to a poncho-clad audience crammed around the festival's Blue Stage: "Yeah, y'all better dance in this motherfucker," the former Danity Kane singer said, bouncing along with her floor-length red wig. "Come on, dance, Pitchfork!" She didn't have to tell us twice. With boundless energy and incredible choreography (in tandem with a well-utilized set of backup dancers behind her), Richard had the whole crowd jumping around from start to encore as she cycled through her discography along with interpolated covers of songs like The Cranberries' "Zombie," Goo Goo Dolls' "Iris" and—in an incredible mashup with her 2015 track "Calypso"—No Doubt's "Don't Speak."
Bobbing to Lucy Dacus' cover of "Believe"
Although there were scattered tears and heavy moments throughout Lucy Dacus' Saturday evening set ("Yeah…not really a festival tune," the singer and boygenius member said after wrapping up her wrenching performance of "Thumbs"), it wasn't all doom and gloom on the Green Stage. In one of the best covers of the weekend, Dacus mounted a soulful rendition of Cher's "Believe" that had the crowd swaying and—if the looks on their faces were any indication—believing in life after love.
A touching duet between Japanese Breakfast and Jeff Tweedy
Last summer, Wilco frontman Jeff Tweedy took to Instagram Live to perform a cover of "Kokomo, IN" off Japanese Breakfast's latest album, the 2021 release Jubilee. "Words can't even begin to express how mind-blowing it is to discover this vid. … The arrangement of 'Jesus, etc' was the elegant perfection we strived for when we were recording 'Kokomo,'" Japanese Breakfast's Michelle Zauner wrote in an Instagram post at the time. On Saturday, Tweedy also blew the minds of Pitchfork audience members when he joined Zauner and her band on the Red Stage to perform both tracks—a sweet moment and the cherry on top of a joyous set.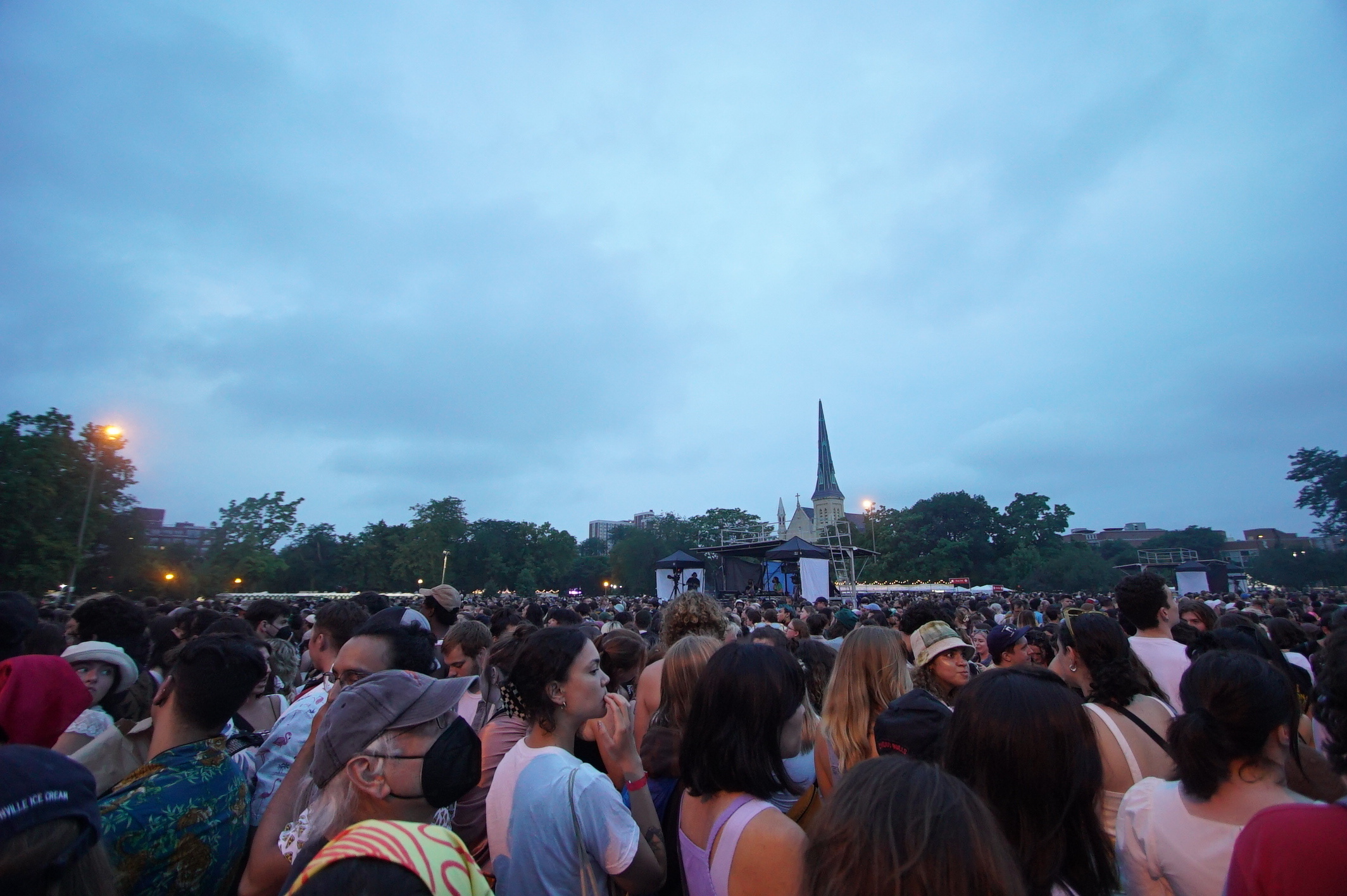 Heartfelt moments with Mitski
Despite my best attempts, I hadn't seen Mitski perform since she opened for Lorde's 2018 tour, when the singer seemed dwarfed by the cavernous expanses of Allstate Arena and an ambivalent crowd. (Oh, if they only knew the TikTok trends to come!) I was also privy, of course, to the rumors that her latest shows were being waylaid by Gen-Zers with their phones out hoping to catch a clip of "Nobody," much to the Mitski's apparent chagrin. But although there were plenty of teeny-boppers wandering around the Green Stage on Saturday night—and plenty of phones out from audience members of all generations, too—Mitski didn't seem thrown off. On the contrary: The singer's famously theatrical, choreography-heavy performance weaved through tracks from Laurel Hell (her latest release) all the way back to Retired from Sad, New Career in Business with alacrity, pausing only to express tender moments of gratitude to the crowd. "I want to tell you all how much I love you, even though I don't know you," she said at one point. Here's hoping her devoted fans committed that moment to memory, if not their cameras.
Dancing through the rain alongside Toro y Moi
I was ready to hunt down some coffee on Sunday evening after catching the first few songs of a mind-numblingly dull set from Tirzah, whose swayable beats couldn't manage to fill even the diminutive Blue Stage. Luckily, Toro y Moi stepped in with a much-needed boost of energy. A groovy, suit-clad Chaz Bear led the crowd through a rollicking performance that transformed his chillwave tunes—ordinarily somewhat placid, the kind of music you might tap your toes to at Starbucks—into something truly danceable. Even some lingering showers (the aftermath of rain that, infuriatingly, hadn't been predicted by Apple's weather app) couldn't put a damper on the set: When performing "Ordinary Pleasure," Bear cannily modified his lyrics and sang, "Maximize all the pleasure / Even in rainy weather." A motto for the weekend!