A new miniature golf course in Douglass Park, designed by a group of local teens, wants to teach you a little more about local birds while you try to hit a birdie.
Located behind the Douglass Park Cultural Center and Fieldhouse, Douglass 18 is the city's first bird-themed mini golf course in Chicago, and it's the result of a three-year effort from youth and local community groups to revitalize an existing course in Douglass Park. The project launched in 2018, when artist Haman Cross came across the long-shuttered course and assembled a team to lead the revitalization that included Ald. Michael Scott Jr., the North Lawndale Community Coordinating Council and other community stakeholders in North Lawndale and Little Village, with funding from the Lincoln Park Zoo and a variety of corporate partners.
The group put out a call for applications to teens in the area, who were selected for paid positions on the project staff after a round of interviews. Working with their adult mentors, the teens eventually decided to design a course inspired by bird conservation, an issue that's especially important within Douglass Park.
"Many people don't know that Douglass Park basically serves as an oasis for birds," says Shannon Waldron, marketing manager for the Douglass 18 project. "More than 200 species of birds frequent the park every year." You can spot everything from red winged blackbirds to orioles in the park throughout the year," Waldron adds.
The group of teen designers spent "endless hours" coming up with designs for the course in a basement in the Fieldhouse, Waldron says, working with mentors like School of the Art Institute Chicago lecturer Eric Hotchkiss to create paper mâché and cardboard models that were later sent to professional designers for construction. An additional group of teens was brought on to help with social media and marketing efforts for the course ahead of its grand opening on August 7.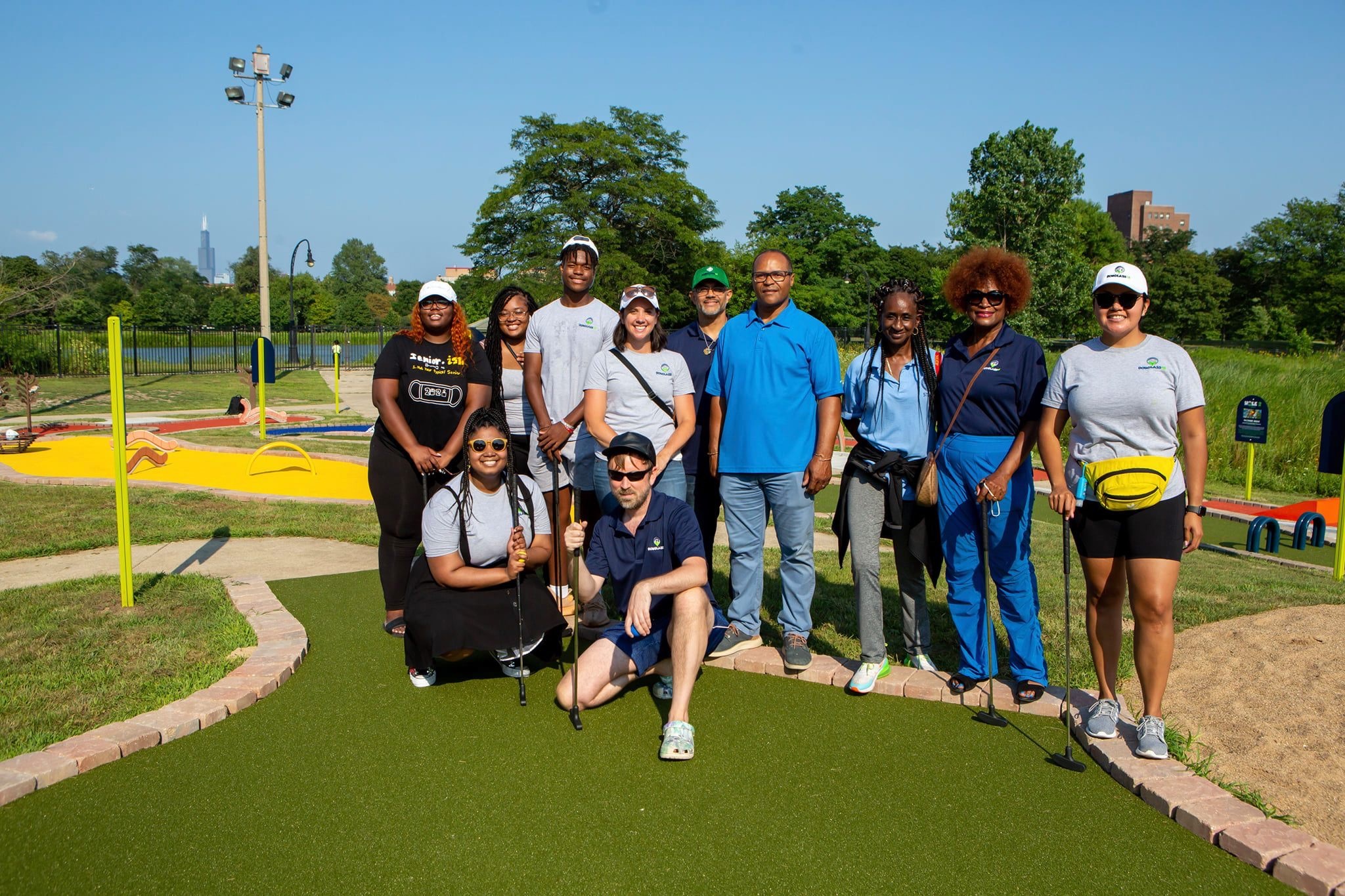 Each hole of the completed course represents migratory birds found in Douglass Park, sprinkled with obstacles that the birds encounter on their journey though the city—from earthworms to cars and buildings. Visitors can also read information about the birds (penned by the teen designers) at each of the holes, a detail that's meant to encourage people to think about conservation as they enjoy the park's natural settings. Project organizers say they hope that the course will be a fun, educational attraction for the community and the rest of Chicago area for years to come.
"It's a fun-filled, safe environment located here in North Lawndale," Waldron says of the course. "We're trying to create a new narrative for this area because it's really a hidden gem, and it's such a beautiful community."
You can visit Douglass 18 Monday through Friday from 8am to 8pm and 9am to 5pm on Saturdays between May 1 and October 30. Admission is $5 per round, but keep an eye out for specials like Two for Tuesday, where two players can play for the price of one from 8am to noon.