Walk into Shawn Michelle's Homemade Ice Cream in Bronzeville on any given afternoon and you'll find a flavor combination fit for every mood—chocolate for melancholy days, lemon sunbeam supreme and blue moon for joyful ones, sweet cherry and bourbon chocolate brownie if you're feeling romantic. But if you ask husband-and-wife owners Yahya and Nataki Muhammad for a recommendation on your first visit, they'll point you in a simpler (and in their view, underrated) direction.
"I'm always like, 'Wait a minute. Have you tasted our vanilla?'" says Nataki. "They say no. And until you taste it, you cannot say to me, 'Oh, that's just vanilla.'"
She's right: The shop's old-fashioned vanilla—ultra-creamy and intermittently flecked with black vanilla bean fragments—might not be fancy, but it strikes a nostalgic chord that goes beyond regular feelings of post-ice cream satisfaction. Yahya swears he's even seen people cry after eating a spoonful.
"One thing I like to say is that we don't sell ice cream, we sell experiences," he explains. "We want to take you back to Grandma's. We want to bring back memories."
That kind of inspired reaction is part of what makes Shawn Michelle's such a neighborhood staple in Bronzeville, where lines frequently wrap around the block outside of its location on the corner of the historic Rosenwald Courts Apartments building. The Muhammads have most recently set up shop at Time Out Market Chicago, marking their first expansion in the shop's twenty-plus-year history of churning homemade ice cream.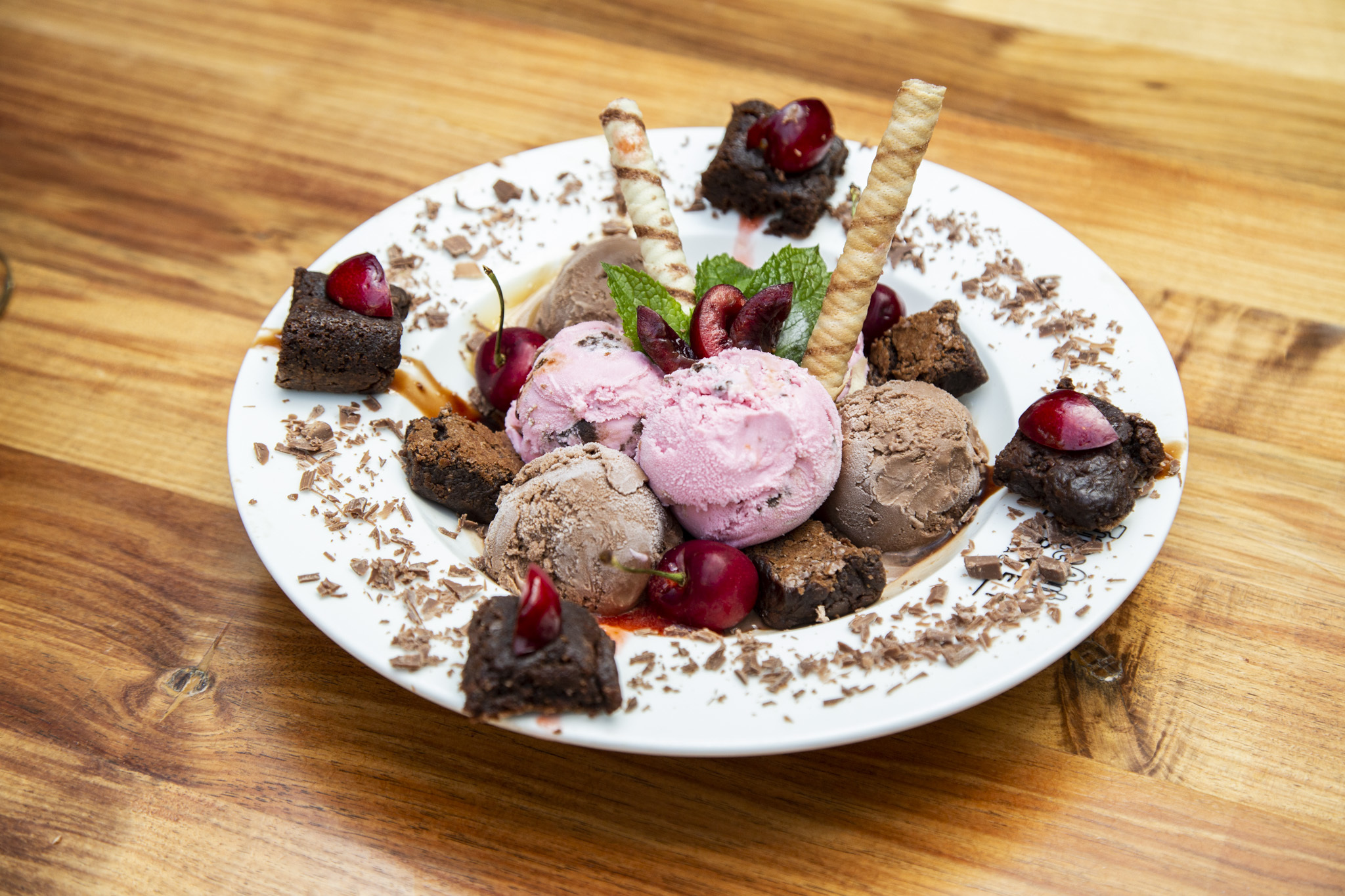 It's been a long road to ice cream excellence for the Muhammads, who moved the shop between three different locations throughout Chicago prior to landing in Bronzeville. Inspired by a memory of vanilla ice cream eaten at a childhood baseball game in Avalon Park, Yahya first began making hand-churned ice cream in his college dorm room at Western Illinois University—with his fraternity brothers serving as taste testers—before returning to Chicago and selling scoops out of the back of his car. His older sister Shawn Michelle, who worked as a cake maker, urged him to take the plunge and finally open a brick-and-mortar shop.
"Like me, she had an extreme passion for the culinary arts," Yahya says. Tragically, Shawn Michelle was killed in a car accident shortly after Yahya opened his first location in Chatham. He closed the store and took a few years off from the ice cream business to grieve before reopening, naming the new shop in Shawn Michelle's honor. Her portrait still hangs in the back of the Bronzeville shop, a reminder of Shawn Michelle's warmth and encouragement.
"We like to say it's the Shawn Michelle's family," Yahya says. "Shawn Michelle is the spirit of the culinary arts."
As a visitor, you'll discover that spirit in the shop's easy, familiar parlance with its customers. Members of the staff frequently welcome guests with a "Hey, family!" from behind the counter, and they're more than happy to walk you through the litany of flavors on the menu, which include hand-picked combos like the "Barack Supreme" (pralines & cream and chocolate) and "Stairway to Heaven" (Jamaican rum raisin and raspberry cookies and cream). Each has been meticulously selected to evoke a certain kind of harmony—a delicate balance between salty and sweet, or fruit and chocolate.
Once you've had homemade ice cream, you really know, like,

this

is homemade ice cream.
There's a also a harmonious quality to the love story behind Shawn Michelle's. Co-owners Yahya and Nataki were originally high school sweethearts who went their separate ways before college. Eighteen years later, both recently divorced, they reached out to each other and fell in love all over again.
"We'd always promised that if we were ever single in our adult lives, we'd reconnect to see if what we had was still there years later," Nataki says. They got married and now have a blended family of seven kids and two dogs. Unsurprisingly, Nataki and the rest of the family share Yahya's zeal for hand-churned ice cream—so much so that they make a point to try homemade ice cream in every new city they travel to.
"It's just a different flavor," Nataki says. "It really is a different flavor—very rich, very creamy. When it melts, it literally melts like milk. And once you've had homemade ice cream, you really know, like, this is homemade ice cream."
For a firsthand taste of the Shawn Michelle's spirit (and the melty wonders of hand-churned ice cream) stop by the Bronzeville shop at 46 E 47th Street or visit the stand inside Time Out Market Chicago.