Looking for a tropical escape this holiday season? No need to book a vacation somewhere warm and sunny—instead, make a trip to the second floor of Time Out Market Chicago, where a "secret" drinking window is offering a menu full of festive cocktails.
For the first time in nearly two years, Secret Sound reopens as Secret Sand-ta (get it?), offering a roster of holiday beverages from the cocktail masterminds behind Lost Lake, Logan Square's iconic tropical bar. Fans of the annual holiday pop-up at Lost Lake's brick- and-mortar will notice that Secret Sand-ta's menu features a broader-than-usual range of hot drinks, bringing a tropical twist to classic standbys like hot buttered rum and spiked hot chocolate.
"This is the first time we've ever done this many hot drinks before, so that was exciting to me," says Paul McGee, who co-owns Lost Lake with fellow mixologist Shelby Allison. "We usually only do one hot drink [at Lost Lake], so it was really kind of a challenge, but also a lot of fun to branch out a little bit."
To order, head upstairs to the palm-covered window tucked into the southeast corner of the Market's second floor—look for a pink Christmas tree and similarly kitschy decor, if you're lost—and ring the bell for service. All drinks are $15 (with the exception of non-alcoholic options, which are $6), and hot drinks come in decorated to-go coffee cups perfect for roaming around the space.
Ready to sip your way through the season? Take a look through some of Secret Sand-ta's festive drink offerings below.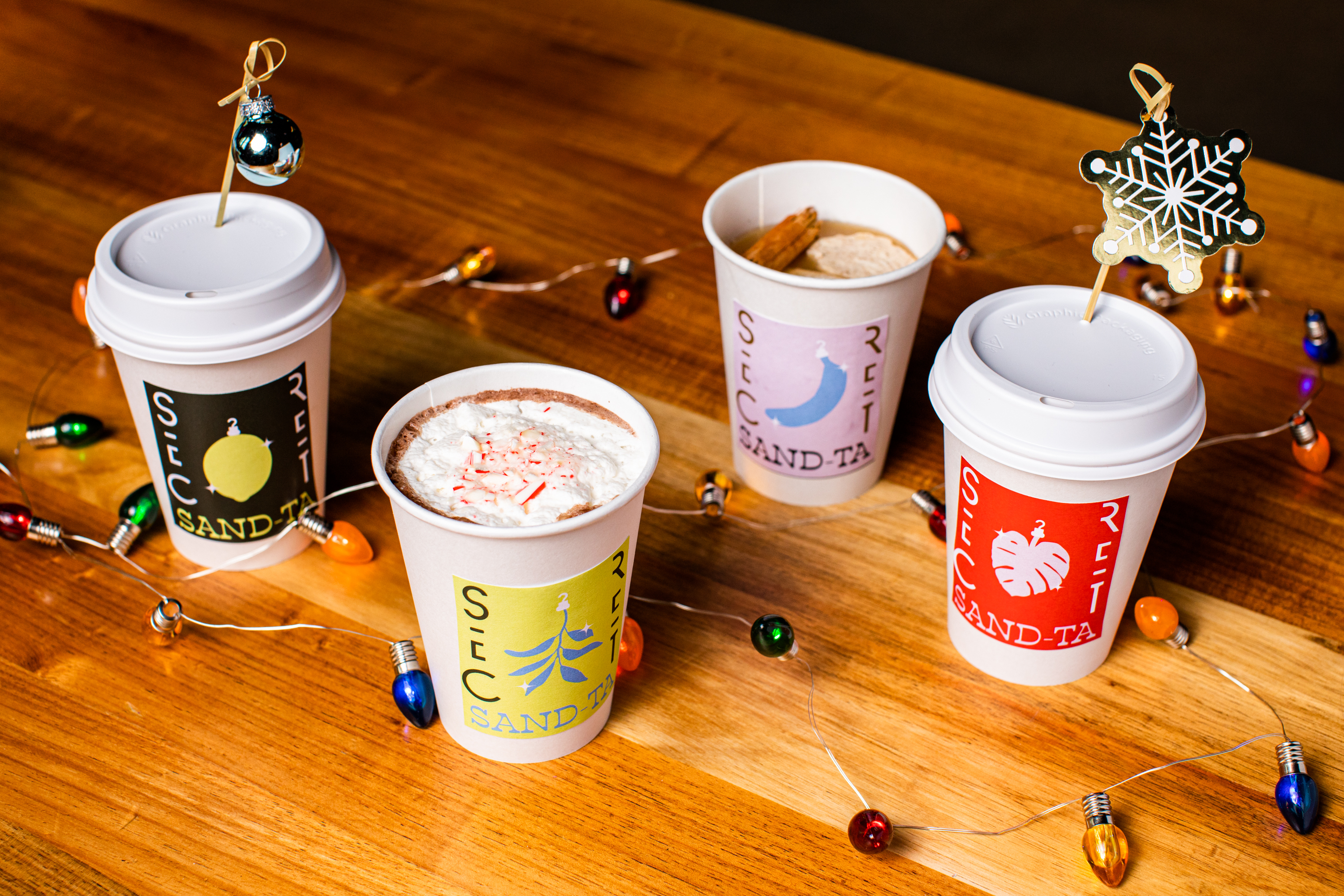 Silent Night, Zombie Night
This hot drink is based on a low-ABV version of a Zombie served at Lost Lake that subs amaro for rum; here, the amaro takes on an almost glühwein-like quality punctuated with spices like cinnamon, ginger and clove. Lime juice and grapefruit complete the sour notes, while star anise acts as a sub for the absinthe that's traditionally used in a Zombie.
"I basically took the foundation of that drink and made it like a mulled wine," McGee explains.
Banana Xmas Tree
Hot buttered rum—made with Jamaican rum and a spiced butter compound—gets a Bananas Foster-inspired twist with the inclusion of banana liqueur, which brings a caramelized profile to the drink. McGee says it's a bit like a hot version of Lost Lake's famous banana daiquiri: "It won't have a banana dolphin, but it's a really delicious cocktail," he adds.
Candy Cane Lane
For a richer version of peppermint hot chocolate, McGee turned toward a "funkier" Fijian rum and Branca Menta for a bracing, mentholated effect. "It brings bitter chocolate notes to this drink," he says. (The non-alcoholic version of this drink uses peppermint oil to achieve a similar flavor profile.)
Hot Buttered Rhum Cider
Like the Banana Xmas Tree, this hot buttered rum features spiced butter—but in this case, it's just "a secondary flavor just for richness and a little bit of body," McGee says. Pineapple and falernum provide tropical notes to the apple cider base, and a complex Martinique rhum keeps things interesting.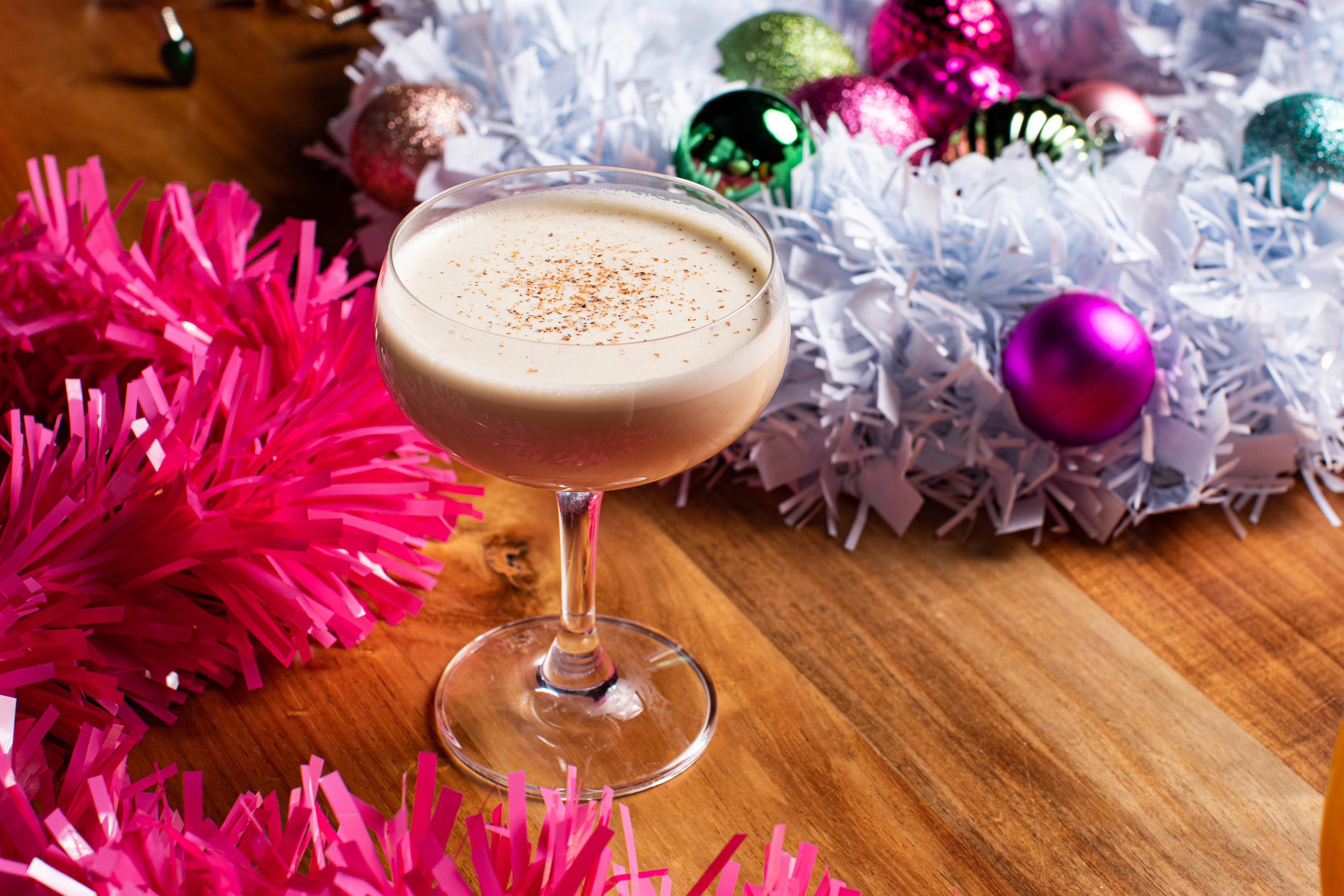 North Pole Nog
A blend of Jamaican rum and two sherries—providing notes of raisin and toasted walnut, respectively—make this iced eggnog rich without being overly sweet.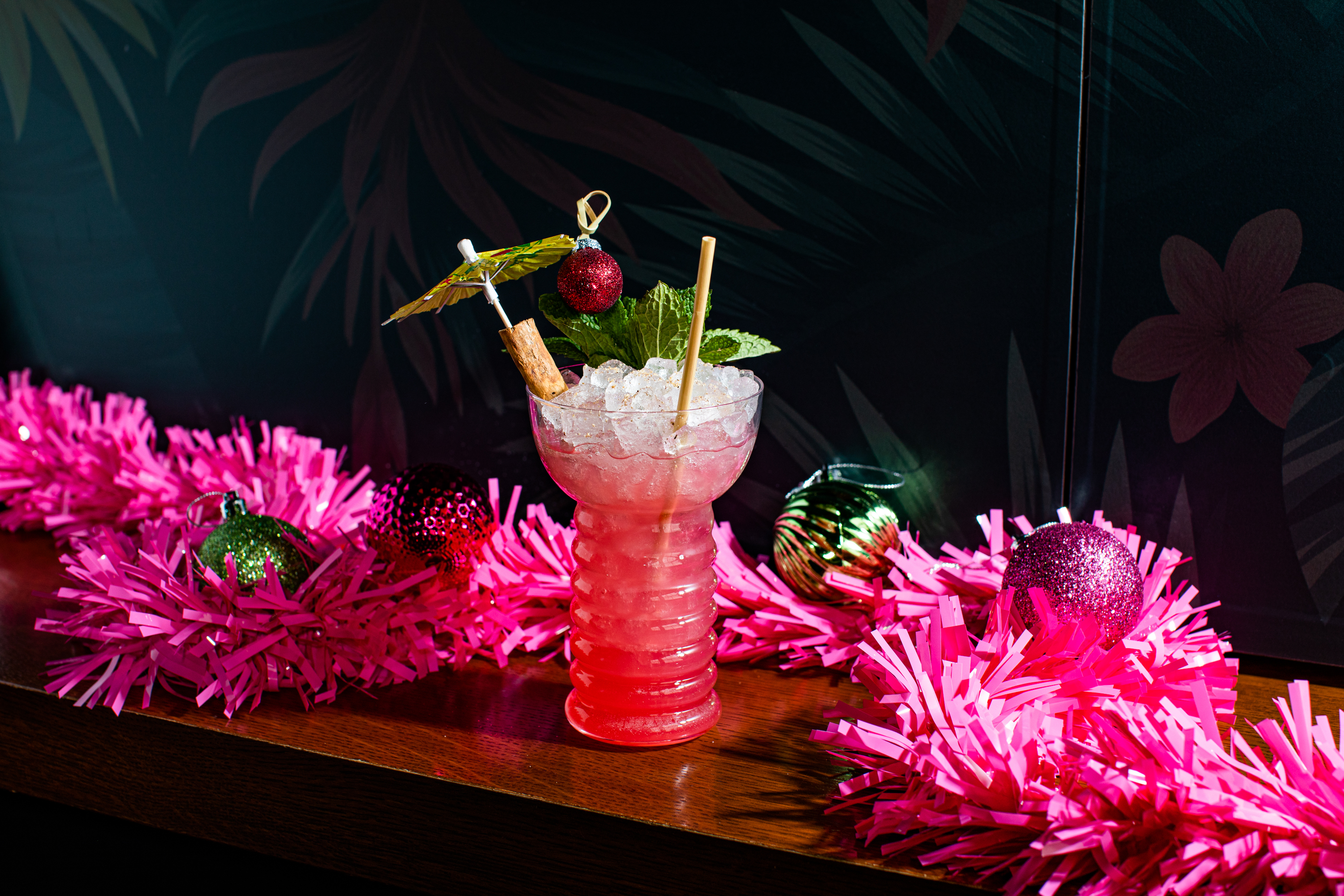 Sugar Plum Swizzle
Not a rum person? Opt for the gin-based Sugar Plum Swizzle, which takes on a tropical iced tea flavor with the inclusion of hibiscus, ginger, allspice and lime.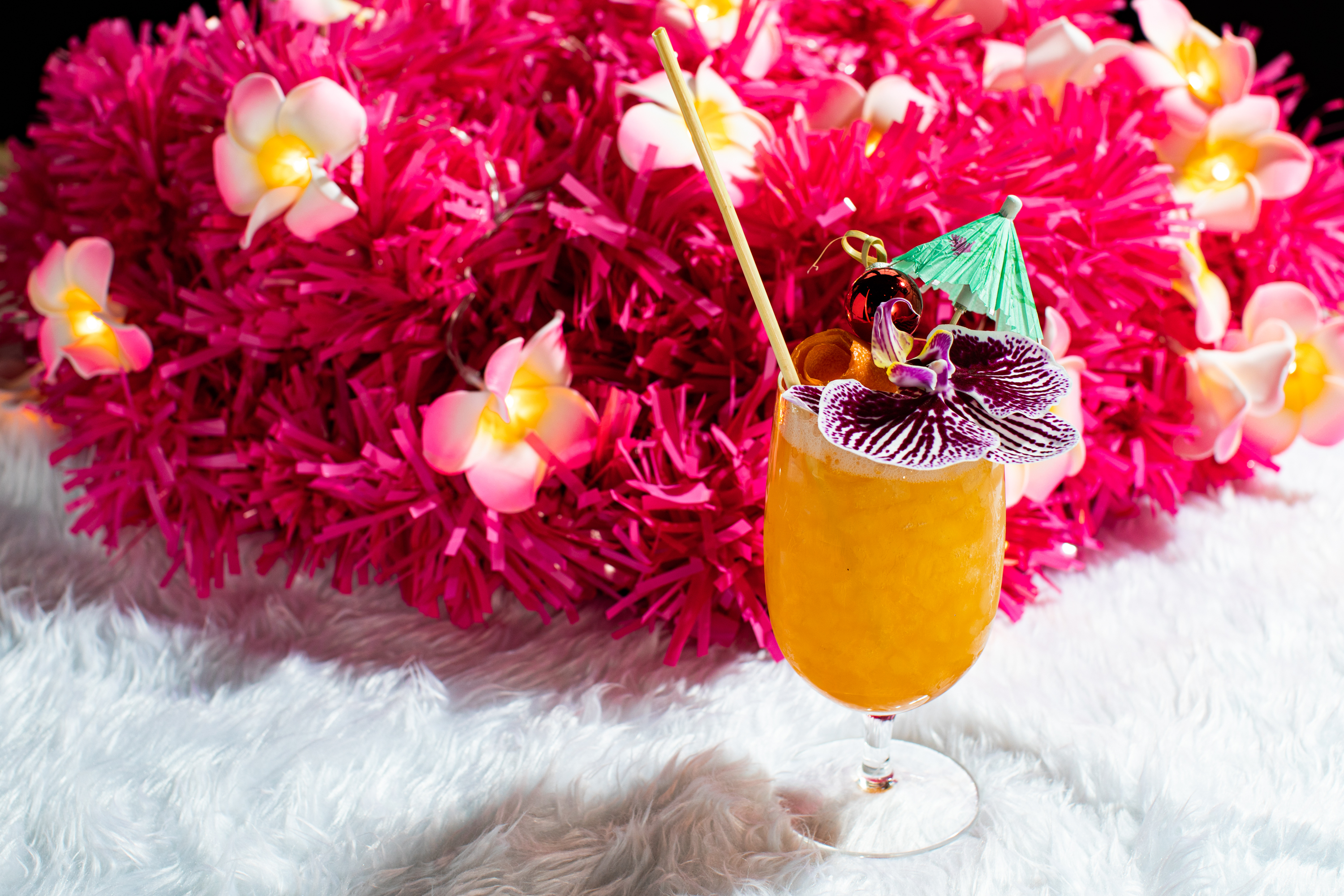 Surfin' with Santa
Beachy lime and passionfruit get a holiday boost from classic Caribbean spices like clove and a multi-island rum: "I love that drink because it's tropical fruit with the passionfruit, but then also has that island spice at the end," McGee says.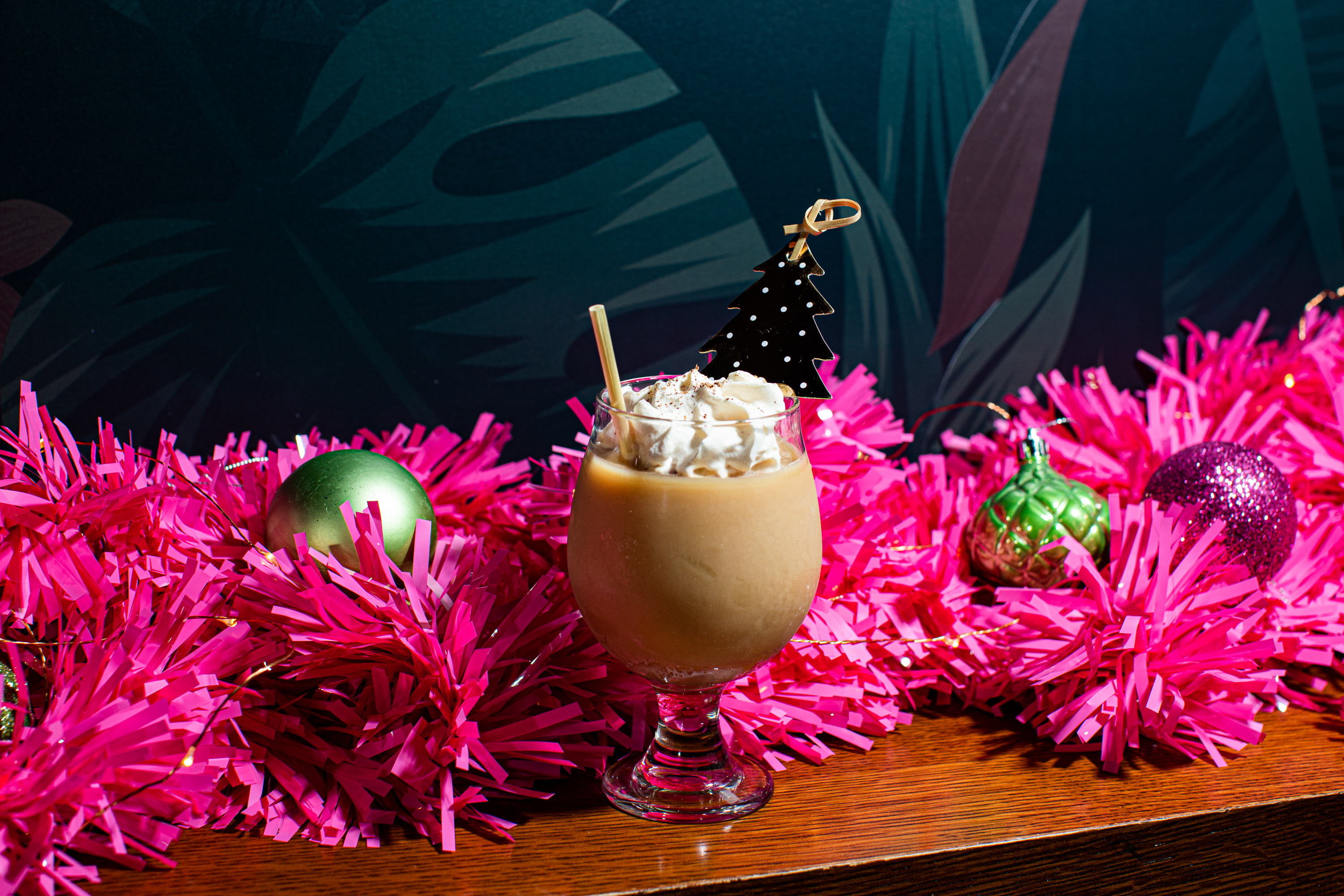 Yuletide Ride
The menu rounds off with a frozen option: "I love an Irish coffee," McGee says. "One thing I like even better than Irish coffee is a Jamaican coffee. This is our Jamaican coffee, only we did it frozen." In this version, Jamaican rum is complemented with coconut creme, coffee and a syrup of allspice, clove and nutmeg.