The past few years have been busy for Danielle Mullen, to say the least. The bookseller and entrepreneur was supposed to take it easy after a cancer diagnosis in early 2019. Instead, stuck with a feeling that she didn't want to sit still—and itching for a space to combine her love for art and literature—Mullen decided to open Semicolon Bookstore & Gallery, a community-focused shop with a name steeped in metaphor.
"A semicolon represents where an author could choose to stop a sentence but move forward," she explains. "Semicolon was me deciding to move forward after that diagnosis."
From the start, Mullen knew Semicolon wouldn't be like other bookstores—it would have a gallery space with rotating artwork and focus primarily on selling works written by people of color. The operation was small at first, but pretty soon Semicolon began to pick up media attention as one of the only Black woman-owned bookstores in Chicago. Then Covid-19 hit, and soon after, the wave of protests following the murder of George Floyd in June 2020, which brought even more new customers into the store. Flash forward to 2022: Within just two years, Semicolon has launched a literacy nonprofit, hosted in-person book signings and—owing to ballooning sales numbers—moved from River West to a larger location in Wicker Park.
"It kind of took off and I still don't know what I'm doing," Mullen jokes. "We're just having a good time."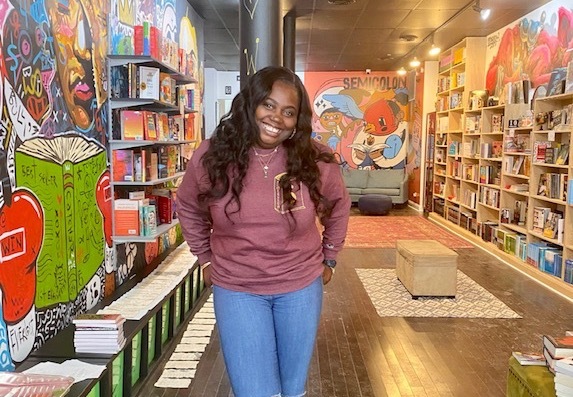 Stepping inside of Semicolon's sunny Wicker Park storefront, you can see why the shop has built such a devoted fan base. With murals decorating the walls, an especially cozy kids section and a cafe (plus a BYOB-friendly food and drink policy), it's the kind of place that encourages folks to hang out awhile, and the store's wide-reaching selection of titles—from sci-fi, to cookbooks, to political theory, to contemporary fiction—offers plenty of fodder for browsing. The store's curation pushes back on what Mullen describes as a tendency to see Black literature as a monolith; to that point, Semicolon's slogan is "changing the narrative," which means challenging preconceived ideas about Black bookselling and readership.
"Everyday we get to change the narrative of what Black literature looks like," Mullen says. "There has long been an idea that Black people don't read when, statistically, Black women buy more books than everyone else. We're just showing that new narrative and putting it on display for the world or anybody who ambles into my store to be able to see."
Mullen will bring a taste of Semicolon's philosophy to Time Out Market Chicago this February for a four-week pop-up shop, along with three storytime events for kids. Each week at the pop-up store, Semicolon booksellers will bring a selection of titles centered around a different theme within Black literature—from anti-racism basics during "Groundhogs Week" to in-depth histories of the Black Panthers, Assata Shakur and other Black revolutionaries that tie into the final week's theme, titled "Liberation." In between, visitors will also have a chance to browse art books as well as works of fiction and non-fiction by Black, LGBTQ+, Latinx, Indigenous and Asian-American authors.
"We are gonna do what we consider a slow lead-up," Mullen says. "I think it will be great to get to know Semicolon [at the pop-up] and not only via books, but via the team members that we'll have working there. We are very excited about books—if you want to experience true excitement when it comes to literature and literacy, that is a great reason to stop by."
Want to visit the pop-up and find some new reading material during Black History Month? The Semicolon Bookstore Pop-up at Time Out Market Chicago will be open Thursday through Sunday from 2pm–9pm from February 3 through February 27. And if you've got kids at home, bring them to the Market's second floor balcony to hear picture book stories read aloud on Saturdays (Feb 5, 19 and 26).