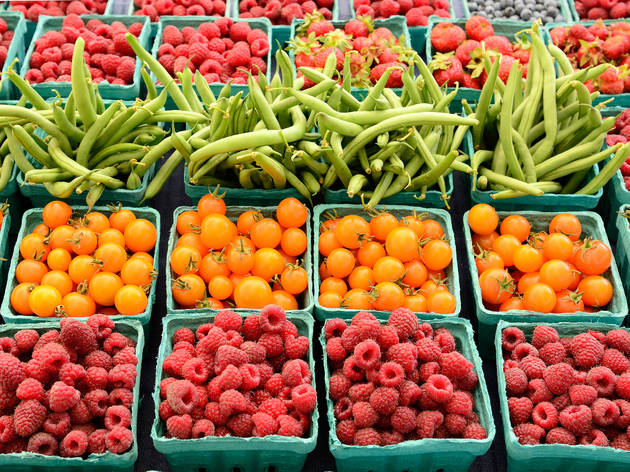 Take your grocery shopping outside with the help of these neighborhood farmers markets
Farmers market season is in full swing throughout the city with new safety measures in place.
Posted: Friday July 24 2020, 4:09pm
There's arguably never been a better time to shop at your local farmers markets. Always one of summer's keenest pleasures, the prospect of grabbing groceries in the open air is, under current circumstances, an especially appealing prospect—and lucky for us farm-fresh fruit and veggie lovers, Chicago's markets are open for the season with new safety measures in place, from capacity limits to hours reserved specifically for seniors and immunocompromised folks. Here are some of the best options throughout the city; before visiting, be sure to visit each market's website to read up on its safety procedures (and don't forget to pack a mask alongside your best produce-holding tote).
Lincoln and Leland Avenues, Tuesdays 7am–1pm, Thursdays 3pm–7pm
You've got two opportunities throughout the week to shop at the Lincoln Square market, perfect for those who are prone to forgetting items on their list on the first go-around. Its vendors vary somewhat based on which day you're visiting, but you'll enjoy (among other options) small-batch dairy wares from Stamper Cheese and drop-offs at the zero-waste composter WasteNot Compost on both Tuesdays and Thursdays.
Catalpa Avenue from Clark Street to Ashland Avenue, Wednesdays 3–7pm
Organizers encourage pre-ordering for pickup to avoid hassle and lines at this mid-week market, though you're also welcome to shop in-person—either way, you'll find a particularly robust selection of baked goods among its ranks, including breads and pastries from Lost Larson and caky potato doughnuts from Downstate Donuts.
61st Street and Dorchester Avenue, Saturdays 9am–2pm
Hosted by nonprofit The Experimental Station, this market sits on the border between Hyde Park and Woodlawn and hosts stalls from scores of local and Midwestern vendors, like grass-fed meats out of Mint Creek Farm and hand-crafted tea blends from Senteamental Moods. On your way out, pick up a lunch of flaky hand pies from Pleasant House Bakery and an iced rose cardamom latte from Build Coffee.
Davis Square Park, Saturdays 11am–3pm
The Chicago Farmers Market Collective, an initiative of Plant Chicago, led the charge earlier this year in creating virtual markets for pickup across the city, which helped boost the business of local growers hit hard by the stay-at-home order. You can still shop from their vendors online or visit the physical Plant Chicago market in Back of the Yards, which features hyperlocal favorites like organic, Chicago-grown fruits and veggies from Cedillo's Fresh Produce. (It's worth noting that many of the markets on this list also have virtual delivery and pickup options; see their websites for details.)
The Hatchery, 135 N Kedzie, Saturdays 10am–2pm
The Garfield Park Garden Network operates a cluster of community gardens across the neighborhood, and you'll find its fresh wares sold weekly at this market, located right off the Kedzie Green Line stop in front of the nonprofit business incubator The Hatchery. The hyperlocal market is also home to goods from tons of other West Side growers and businesses, many of which are Black-, Latinx- and women-owned.
Lincoln Park: N Clark Street and N Lincoln Avenue, Saturdays 7am–1pm; West Loop: Mary Bartelme Park, Saturdays 8am–1pm
One of the city's largest market programs, Green City has summer locations in Lincoln Park and the West Loop with a huge variety of producer stalls hailing from five states across the Midwest: Here you'll find cheesemongers, tomato preserves, bunches of lavender and everything in between. Eco-minded visitors can also bring their food waste—including meat and dairy products—to compost in the markets' drop-off bins for $3 per bag.
1821 S Blue Island Avenue, Sundays 9am–3pm
This locally-focused market showcases vendors from the neighborhood and surrounding areas, with an emphasis on Pilsen's Latinx-owned businesses. Pick up savory pupusas, homemade salsas, crafted gifts and other artisanal goods each week; you'll also find food trucks and stalls for produce, eggs and meat.
Marz Community Brewing, 3630 S Iron Street, Sundays 10am–2pm
Head to the parking lot behind Marz Community Brewing in McKinley Park for a holistic farmers market experience, which includes produce and food-related vendors as well as T-shirts, ceramics and, yes, plenty of beer. You'll have to make a $5 reservation ahead of time to get in, the cost of which goes toward market expenses.
Logan Boulevard from Milwaukee Avenue to Whipple Street, Sundays 10am–3pm
Plan your Sunday produce pickup to a T with the help of the Logan Square market's online map, which details the upcoming week's vendor layout, hand-washing stations and arrows indicating foot traffic flow. The market has a rotating list of 60 vendors, but weekly standbys include Willow Garlic Growers' organic bulbs, scapes and bunches, plus delicate bouquets from The Flower Garden.
Most popular on Time Out
- Movies in the Parks returns with a shortened summer lineup
- Chicago bars that don't serve food will no longer be allowed to offer indoor seating
- 31 ways to still have an amazing summer in Chicago
- The 18 best outdoor restaurants in Chicago
- Dine and drink in a private greenhouse at this West Loop restaurant
Share the story