One night last month, Chicago artist and self-taught baker Hyun Jung Jun dreamt of swans—huge, elegant creatures wandering along a shimmering lake, their reflections casting light on the water.
"Even in the dream I was thinking, 'Oh my god, this is so pretty. This is so magical,'" she says. "I woke up and couldn't stop thinking about it."
So Jun turned her dream into a cake, sharing the results on the Instagram account @dreamcaketestkitchen, which she created last year. The resulting confection is something out of a Björk-inspired fantasy land: Meringue swans encircle a glassy, flower-topped pool of lemon curd, with curved necks arching gracefully over passionfruit buttercream and a dripping border of white piping. Inside, Jun layered orange olive oil sponge cake with raspberry jam, adding slender leaves that poke out the sides of the cake like miniature pond reeds.
Though long since eaten, the swan cake's image is immortalized among Jun's other recent creations for the Dream Cake Test Kitchen, an edible art project she launched on Instagram in June 2020 while cooped up inside when the Illinois stay-at-home order was in effect. The account, which documents the whimsical cakes Jun makes for her friends (and friends of friends), has since amassed more than 16,000 followers who keep tabs on the artist's latest creations. Her baking has a fairytale-like quality: Scroll through her feed and you'll find sunset-hued mounds of buttercream, moscato jelly moulds and a creamy dome topped with sliced fruit and a lone sprig of lavender, plus scores of other surreal sweets.
"In my work, I think about dreams a lot because that's where rules don't apply, and things that seem impossible happen," Jun says. "I like that aspect of feeling like anything can happen."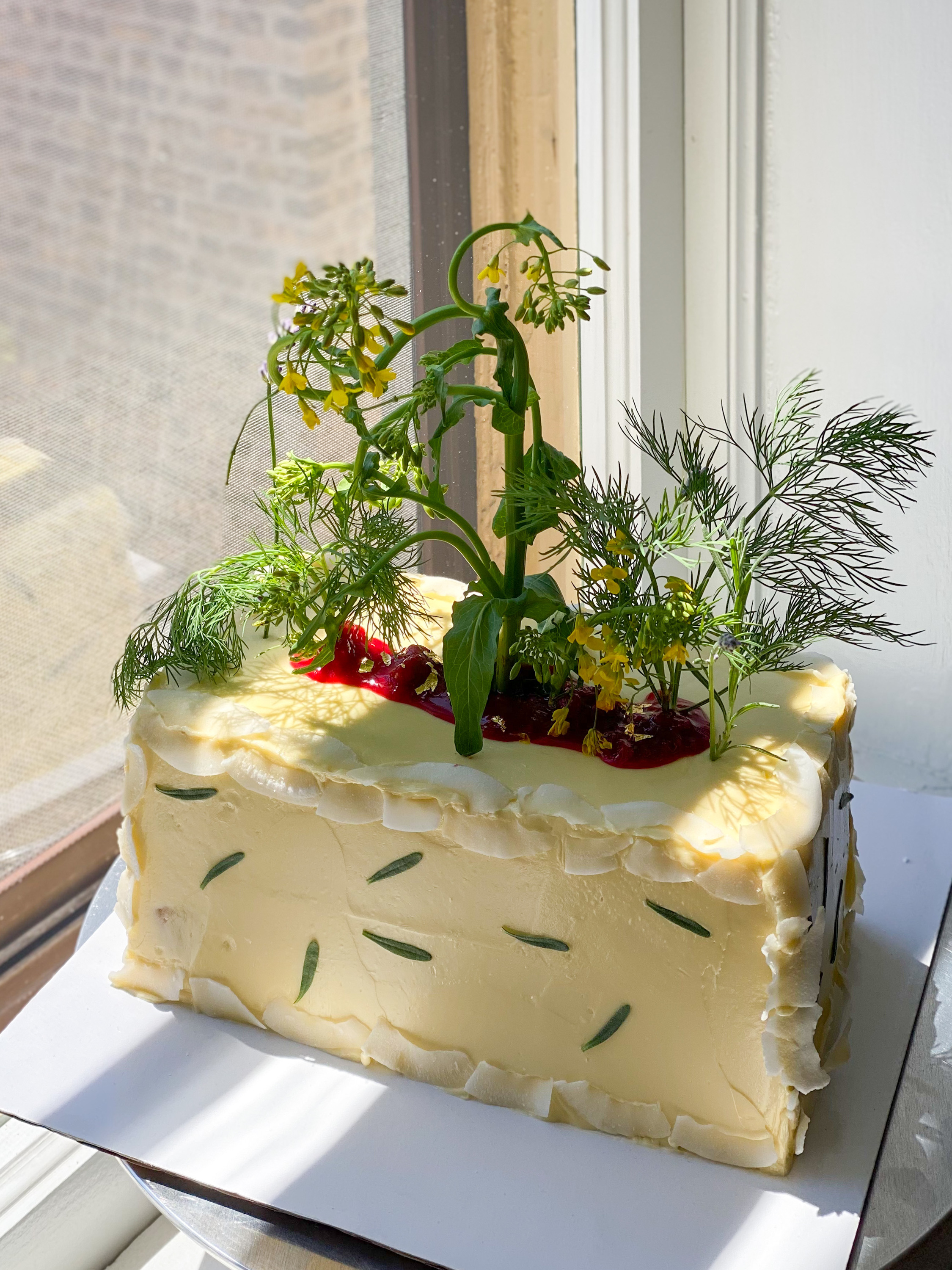 Originally from South Korea, Jun moved to Chicago to attend art school in 2009, where she studied as a painter before working her way through photography, etching, lithographing, performance art and candle-making. Other than a short stint working at a bakery prior to the pandemic, she's never had any formal training as a baker. Before making her first cake in 2019—a treat for her partner, Cody, and one of their friends—she'd barely even attempted to bake.
"Maybe I made cookies twice or something," she says, laughing. "But the whole process was very calming and relaxing, so I just got really into it."
Contrary to what the project's name suggests, most of Jun's cake ideas don't actually originate in her dreams. Instead, she seeks inspiration from imaginary scenes—representations of places and things she's seen—or the sloping, mountainous landscapes from her childhood in Korea. The baking process is mostly spontaneous. She begins with a recipe for basic sponge and tweaks it as necessary, stopping to clean the kitchen or shove the cake in the fridge when she arrives at a creative impasse.
"It feels almost like doodling," Jun explains. "Or like sketching. It's kind of tricky, but I like working with edible materials."
Jun favors an herbal, almost savory approach to flavor combinations, using ingredients like turmeric, frilly stalks of dill, ginger, and the slightly numbing Chinese five spice (which pairs excellently with chocolate, she says). She makes her buttercream in the Italian style—it's less sweet than American buttercream—and likes to experiment with gluten-free and vegan baking, especially when baking for friends with food sensitivities. Atop the cakes, she arranges arugula, herb sprigs, edible flowers and other garnishes from the garden.
Right now Jun only makes her cakes for friends, but she hopes to start offering commissions sometime this fall. For their part, her friends mostly stray away from making difficult requests, though she's happy to accommodate their preferences. One friend, for instance, asked for a cream-based cake, which Jun achieved with a double layer of cake coated in a pillowy dome of whipped mascarpone cream, fruit and herbs—one of her most-liked creations on Instagram to date. Jun isn't terribly precious about this: Sharing her cakes, she says, is the whole point.
"I like that when you have a cake, you have to have slices," she says. "It's not just you eating the cake."
You can follow Hyun Jung Jun's cake creations at @dreamcaketestkitchen on Instagram.