What makes a great cup of Vietnamese coffee? If you're judging by what's served at most U.S. coffee shops—and even some Vietnamese restaurants—you might imagine a strong dark roast, oftentimes the chicory-fortified Cafe du Monde, paired with sweetened condensed milk and poured over ice.
That's a nice treat, says Chicago-based brand marketer Tuan Huynh, but it's not actually Vietnamese coffee.
"The drink is popularly made with Cafe du Monde, and Cafe du Monde isn't grown in Vietnam, it isn't Vietnamese-owned," Huynh explains. "People love Vietnamese coffee, but most people have really never drank real Vietnamese coffee in America."
Huynh wants to remedy that. Last year, he and his business partner Lan Ho launched Fat Miilk, an artisanal coffee company aimed at bringing real, single-origin Vietnamese coffee—grown in the central highlands of Vietnam—and culture to bean enthusiasts in Chicago and throughout the country.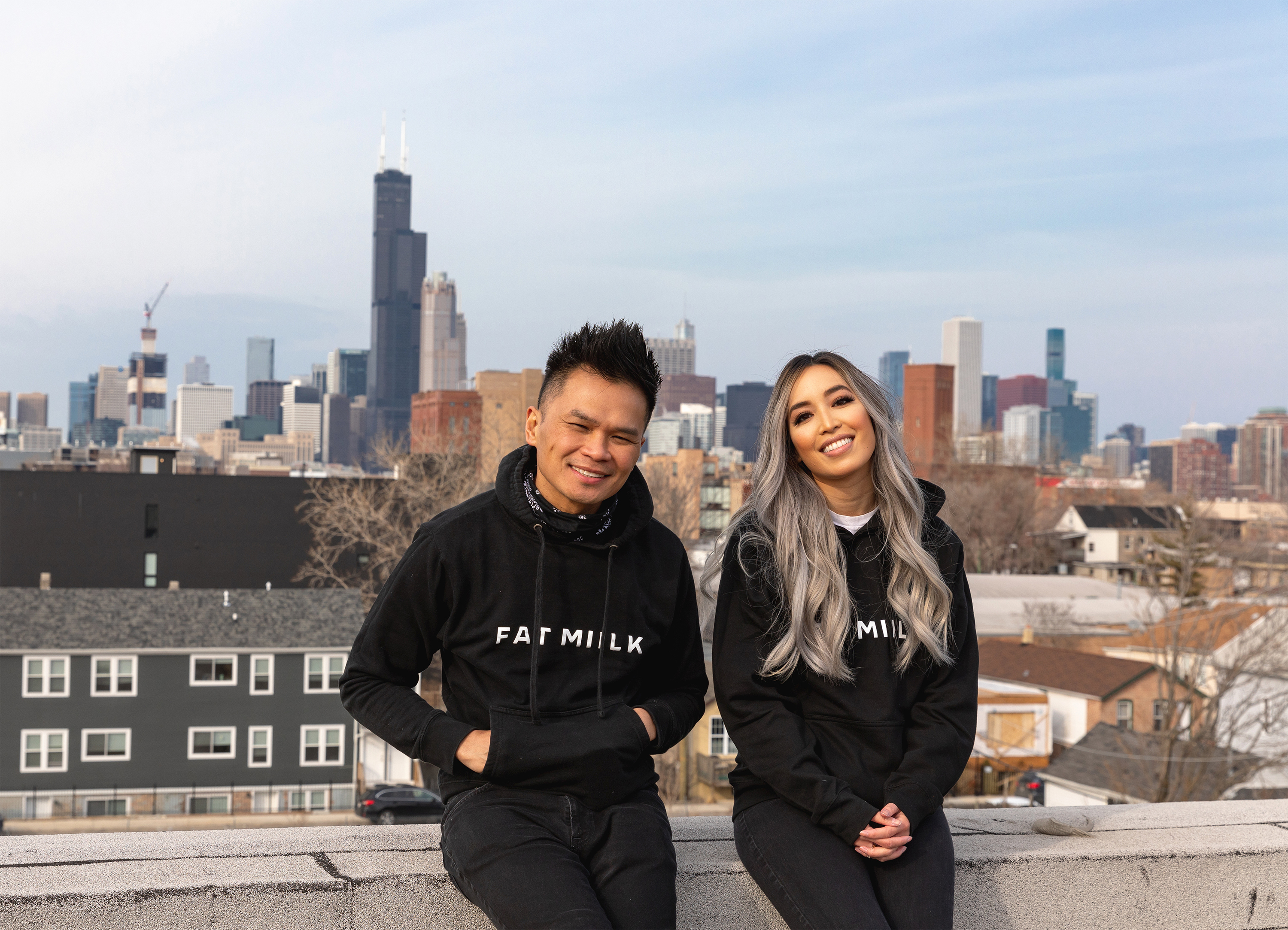 Crucially, brewing real Vietnamese coffee means using robusta beans, the variety grown and consumed in Vietnam. In artisanal coffee circles, robusta beans—planted at a lower altitude and cheaper to produce than arabica beans, their more mainstream counterpart—have long been considered inferior in taste and quality. Huynh and Ho are seeking to change the robusta narrative, which they say stems from a lack of first-hand experience with the bean.
"I'm also not surprised that people have this perspective on robusta because there's such an inaccessibility factor," Ho says. "I would say 90 percent of the people we talk to at pop-ups have no idea that varietals even exist in the industry—and so education is very important."
Robusta beans carry a reputation for being more bitter than arabica beans, which are known for their fruity and acidic characteristics. Huynh says that's yet another misnomer, and one that glosses over the variety's finer tasting notes.
"It has twice the amount of caffeine [as Arabica], it's nutty, it's chocolatey," Huynh says. "It's just tasty."
Ho agrees: "It has double the antioxidants, but half the sugar, so it's a very bold and strong coffee bean."
Right now, the brand sells single-origin robusta beans in three different thematic roasts: The medium-dark Blue roast (representing culture), the medium Yellow roast (representing identity) and the dark Red roast (representing the sacrifice of the Vietnamese people), plus a mixed arabica and robusta blend called Humility.
"The blend is meant to give a different perspective on the narrative of robusta," Ho says, showing how the two varieties can exist as equals.
We're sharing Vietnamese culture and Vietnamese coffee, but it's welcoming to everyone.
Fat Miilk also takes a farmer-first approach. Huynh was born in Vietnam, and Fat Miilk sources its beans directly from his uncle's farm in the central highlands city of Buôn Ma Thuộ. The beans are then roasted at Càphê Roasters, a Vietnamese roaster in Philadelphia, before making their way to Chicago. Thought to have been introduced to the country under French colonialist rule, coffee has long been an important crop in Vietnam, though small-time farmers like Huynh's family—who learned to tend the crop after being displaced to the central highlands during the Vietnam War—haven't been able to reap much of the profits from its production.
"I've always been tied to home, you know—my family's from where I'm from," Huynhsays. "And as we're able to elevate that we elevate them and put a face to the coffee and the hard work that they put into maintaining the legacy of the coffee."
Want to try a cup of real Vietnamese coffee? A brick-and-mortar store is set to open sometime before the end of this year, but in the meantime, Fat Miilk is popping at places like New Orleans Seafood in Uptown and The Silver Room in Hyde Park. Of course, you can also opt to order beans online brew your own cup: Traditionally, the drink is prepared using a phin, a perforated metal filter that tamps down coffee grounds while hot water is poured on top; the coffee drips slowly into a cup below, which is often filled with sweetened condensed milk. Phin filters are available for purchase on Fat Miilk's website—and their slogan is "Beyond the Drip"—but Huynh stresses that you can just as easily make the coffee with the tools you have at home.
"I don't want to limit it so that people think that's the only way they can make Vietnamese coffee," Huynh says. "You can put our coffee through a pour over, French press, whatever coffee maker you have at home—we're sharing Vietnamese culture and Vietnamese coffee, but it's welcoming to everyone."
You can buy beans from Fat Miilk—plus phin coffee filters, merch and other accessories—on the brand's website, or at select pop-up events throughout the city.