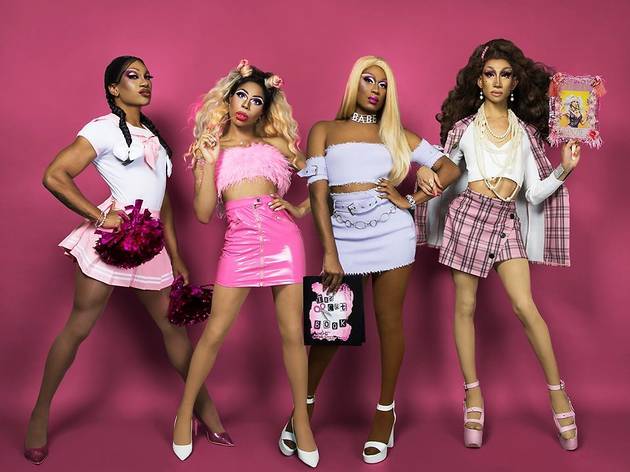 This virtual Pride fest honors the past, present and future of Chicago's Black queer culture
Local collectives Slo 'Mo, OTV and Reunion unite to host a three-day online celebration.
Posted: Thursday June 25 2020, 1:30pm
Sadé M. Carpenter has written and edited for the Chicago Tribune, RedEye, Thrillist and more. She is an eclectic storyteller who selects her subjects and platforms based on the needs of community. She centers Black women in all of her work. Period.
We tell people who are not from Chicago the same thing whenever they ask about our city: Visit during the summer.
Our summers are exceptional. We trade nearly nine months of suffering for three—if we're lucky—of summertime Chi. For roughly 90 days, we get to hear the joyous jingles of paletas and elotes carts. Three months of firecrackers going off on the block come dusk. And one full month of Pride celebrations each June.
But how do you celebrate Pride during a global pandemic? With technology, of course.
This weekend, the minds behind Chicago staples Reunion Chicago, Slo 'Mo Party and OTV | Open Television present #4theQulture, a three-day virtual Pride festival that will honor Chicago's queer culture across multiple decades. Boasting a lineup of at least 50 Black artists, musicians and performers, organizers Elijah McKinnon and Kristen Kaza are producing the best virtual "party with a side of education" we've seen this side of COVID-19.
"These things that are happening in our world are impacting us in a lot of different ways, and also impacting the way we organize, (and) the ways in which we produce and consume art," says McKinnon, the director of development for Reunion gallery space and the executive director of OTV. "This opportunity is really creating this level of consciousness around like, 'Oh wow, what am I actually doing for this movement?'"
Using a mix of pre-recorded and live segments, the first day of free programming kicks off on Friday, June 26 at 4thequlture.com. Festgoers can expect a DJ set at the beginning and end of each program (each show runs from 7 to 10pm), as well as comedy sketches, drag shows and more surprises from performance collectives A Queer Pride, Futurehood, Molasses, Fabitat and Unfriendly Black Hotties. Local musicians Drea the Vibe Dealer, Thair and Avery R. Young are among the fest's musical talent.
"This is really a celebration and amplification of incredible multidisciplinary and intergenerational Black LGBTQ artists and communities. This, to me, is also a celebration of Chicago, period," says Kaza, Slo 'Mo founder and director of community and programming for Reunion Chicago. "So much of Chicago's culture is Black culture. You think about music, drag, etc., their legacies—the thread is through all those legacies. Blackness is a thread through all of those."
This year marks the 50th anniversary of Chicago Pride (in 2019, we celebrated the 50th anniversary of the Stonewall Riots, but Chicago's first Pride parade took place June 27, 1970). On Friday, #4theQulture highlights the history of Chicago's LGBTQ+ community by looking back at the past. Saturday's stream takes a look at present-day life, while Sunday will gaze into the future.
"When you see our poster and you see Joan Jett Blakk, it's like yeah, there's a Black drag queen that ran for president from Chicago in 1992," Kaza said. "Do you like house music? That was Frankie Knuckles. He was a Black gay man. Do not forget Black and gay and Chicago. Don't forget," she says.
Though the three-day extravaganza is free to attend and open to all, Kaza says she's encouraging attendees to make a donation to one of the local Black queer and trans organizations they've partnered with.
"What has been, I think, a really amazing and beautiful gift through this festival has been witnessing how the residual impact of coming together in a collective way can really change our industries," says McKinnon. "We're uplifting the past, present and future of Pride."
Most popular on Time Out
- These notable Chicago restaurants and bars have now permanently closed
- Here's what will reopen when Chicago moves into Phase 4 on Friday
- Where to find drive-in movie theaters near Chicago
- These Chicago breweries and bars have reopened their patios
- Supporting Chicago's Black-owned restaurants is a lifelong commitment
Share the story