If you've scrolled through TikTok any time over the past year, you might be familiar with the Chicago historian Shermann "Dilla" Thomas, who delivers bite-sized civic history lessons under the handle @6figga_dilla.
The Auburn Gresham native's videos offer fascinating glimpses into Chicago lore, from the history of iconic architecture and sports figures to origin stories behind local traditions like dibs. But folks looking for a deeper look at Chicago history can also check out Chicago Mahogany Tours, Thomas's guided bus tours through neighborhoods on the South and West Sides. Created and led by Thomas himself, the tours showcase the people, architecture and hidden histories behind some of the city's most groundbreaking communities—and help prove Thomas's (very true) mantra, "Everything dope about America comes from Chicago."
Last month, we hopped on a bus tour as part of the Chicago Humanities Festival's spring programming series, stopping at more than a dozen historic sites throughout Bronzeville (and ogling more than a few gorgeous greystone mansions along the way, too). Take a look through some of the tour's highlights below.
To book a neighborhood tour (or donate to help Thomas buy his own bus), visit the Chicago Mahogany Tours website.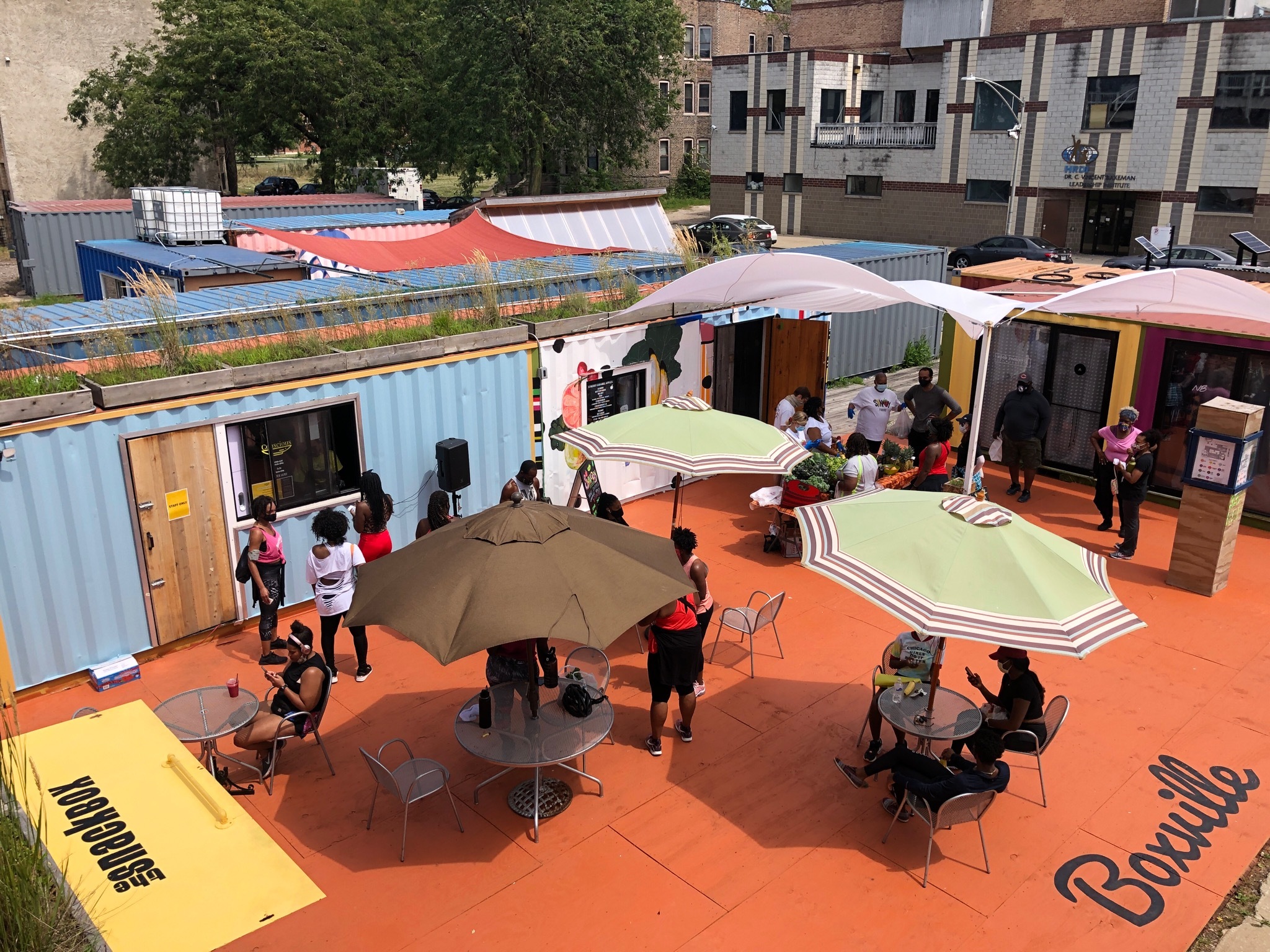 Boxville
Located near the 51st Street Green Line stop, Boxville Marketplace is a network of stores nestled within modified shipping containers, offering local businesses a lower barrier to entry than a traditional brick-and-mortar space. Take a walk through the colorful shops and you'll discover a thriving marketplace of vendors, from coffee roasters and restaurants to book stores and an athletic wear store.
"Sometimes, on Saturdays, there's even a dude who comes here and just fixes bikes for free. … It's a great use of repurposed space, and I like to lift it up any time I do South Side tours," Thomas said.
Provident Hospital
The first African-American owned and operated hospital in the U.S., Provident Hospital was founded in 1891 by Dr. Daniel Hale Williams using fundraising dollars from throughout the local Black community. Two years later, Hale performed the world's first open heart surgery there on a young man named James Cornish, who'd been stabbed in the heart.
Hale faced a difficult task, to say the least—electricity wasn't widely available yet, nor had X-rays been invented—but amazingly, Cornish recovered and lived to be 76 years old.
"You may have heard that Dr. Daniel Hale Williams was the first person to perform an open heart surgery, but no one tells you it was in a Black hospital on the South Side of Chicago with no electricity," Thomas said. "That just goes to show you the history and medical legacy that's here on the South Side."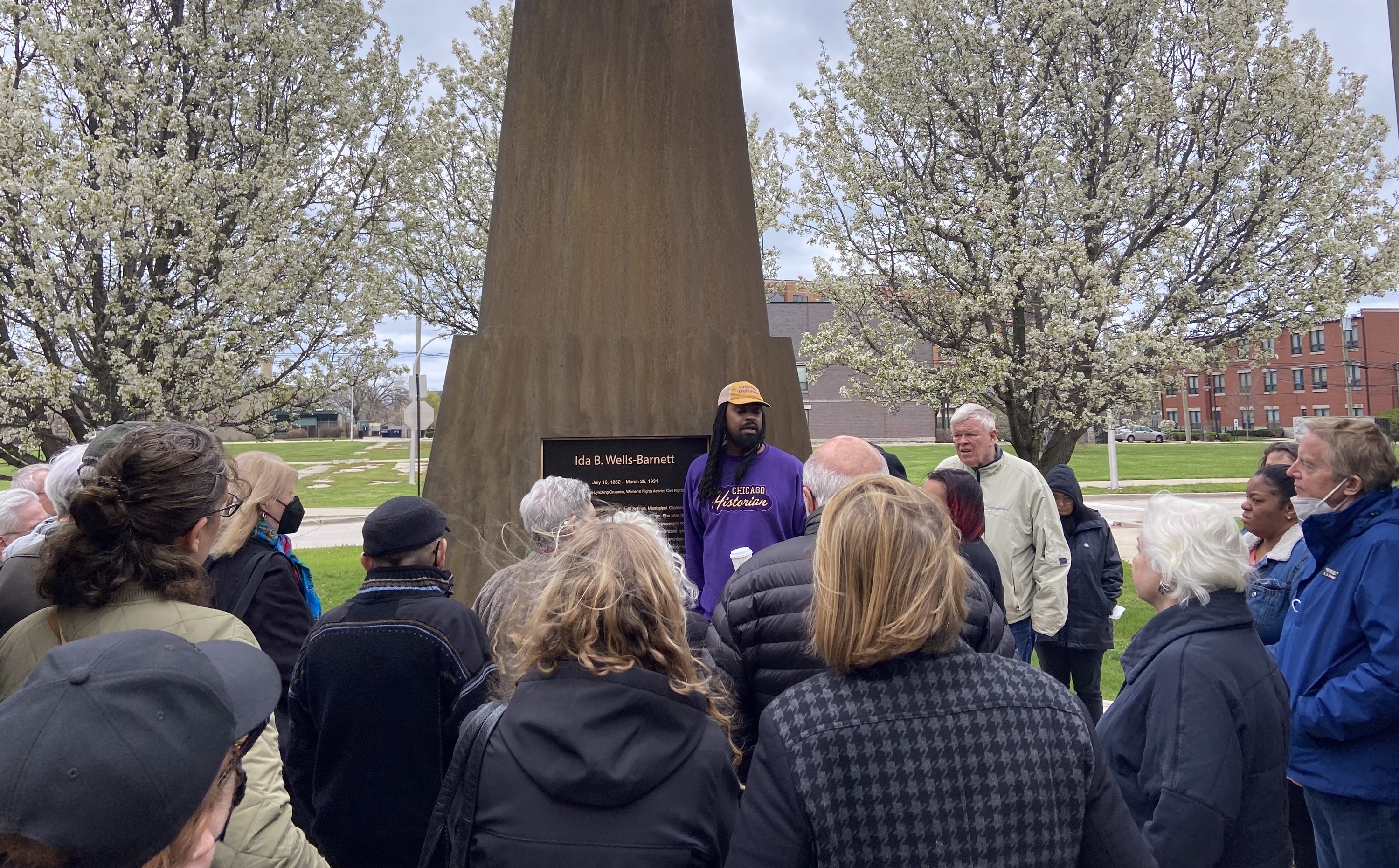 The Light of Truth Ida B. Wells National Monument
Thomas promised there'd only be one stop that required getting off the bus, and that was to take a closer look at a monument dedicated to revolutionary journalist Ida B. Wells-Barnett. Created by artist Richard Hunt and unveiled in 2021, the bronze sculpture features three columns supporting a flame-like structure; near the base, plaques feature quotes from Wells alongside details about her work as a writer and civil rights activist.
"One thing that sticks out to me is that [Wells] was a pioneering data journalist," Thomas said. "What that means is that everything you see on the FBI's website as it relates to lynching from the 1880s all the way down to 1919 is from her work. When she heard about someone who had gotten lynched, she would go there and be the first person in the area to ask what happened.
"Oftentimes she would arrive somewhere and the body would still be smoking from being burned. No one was interested in telling those stories—and quite frankly, they were scared to tell those stories."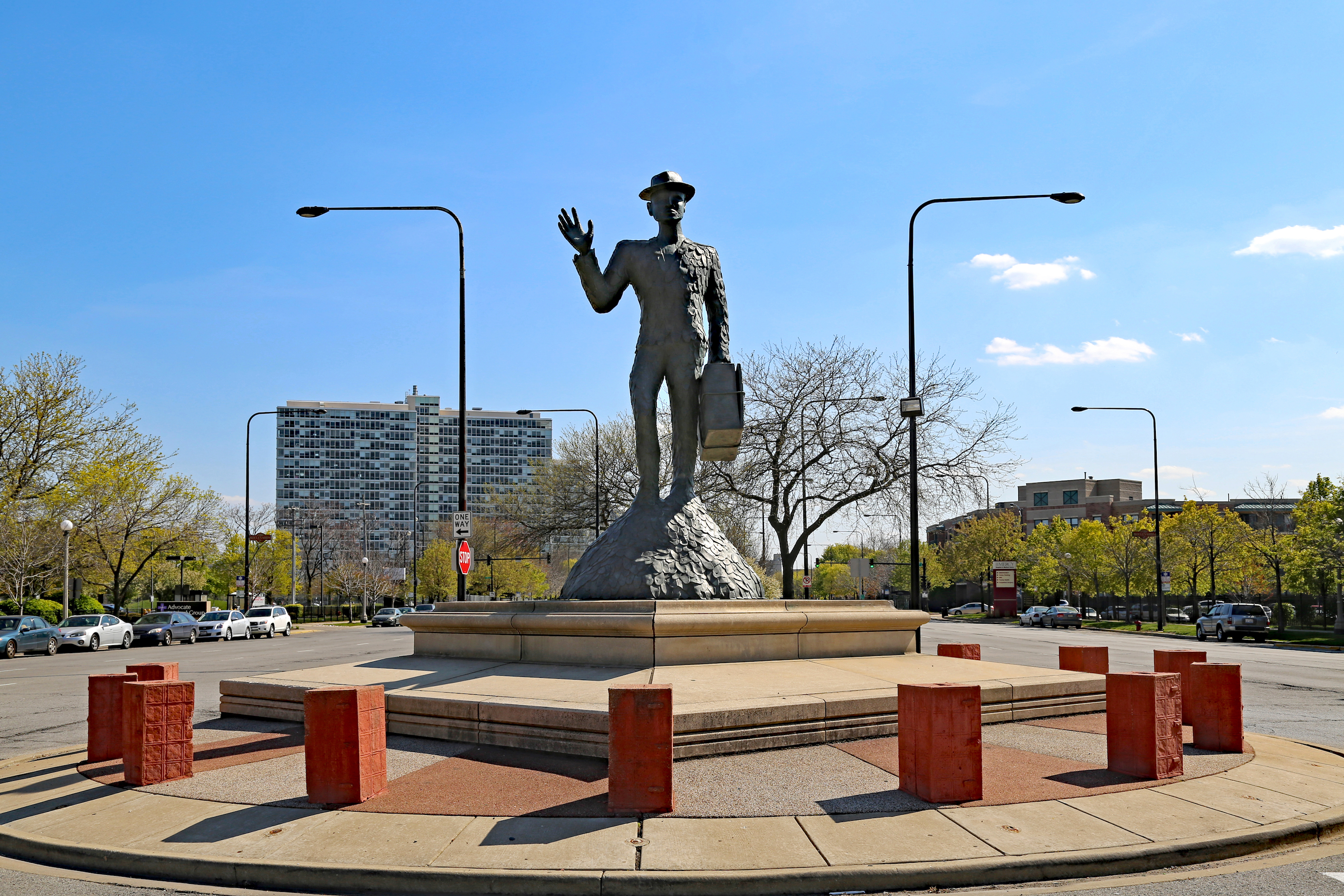 Monument to the Great Northern Migration
In the early 20th century, thousands of Black Americans migrated to Chicago from the South in pursuit of employment and new opportunities during The Great Migration. A statue by artist Alison Saar stands on King Drive to welcome people to Bronzeville and commemorate the movement, which was one of the largest mass migrations in U.S. history.
"If you look at the base of this sculpture, you'll see that it's made of trunks—pink, salmon-colored trunks with straps—because it was said to leave all your earthly belongings and pack only what you could carry to come to Chicago, because of all the opportunity," Thomas said. "If you look at the guy's suit, his base is shoe soles—because it was said that even if you had to walk the soles off of your shoes, you should get to Chicago, where there would be opportunity. .. I think that's a very excellent example of symbolism as it relates to The Great Migration."
Wabash Avenue YMCA
Did you know that Black History Month started in Chicago? In 1926, Carter G. Woodson and the Association of Negro Life and History (now called the Association for the Study of African American Life and History) gathered at the Wabash Avenue YMCA in Bronzeville to develop Negro Achievement Week—which later became Black History Month during the Black Power movement in the 1970s.
"How many people know why Black History Month is in February?" Thomas asked our bus. "Love. That's the only reason. Frederick Douglass was an escaped enslaved American. He never knew his birthday because folks on plantations didn't keep birthdays for those who were enslaved. But he could remember that his mother would call him her valentine. So when he was older and getting married, he had to pick a birthday. They just said, 'Hey bro, make one up.' And so he said, OK, Valentine's Day will be my birthday. And so what [Woodson] did is he picked Frederick Douglass' birthday and Abraham Lincoln's birthday to celebrate all things Black and cool."