A few years ago, while working long hours and traveling for her job in consulting, Lin Jiang found herself eating bowl after bowl of oatmeal—and growing increasingly sick of it.
"I thought it was convenient, and you know, relatively healthy," she says. "But I just felt that oatmeal is really boring, and I was feeling exhausted all the time."
She thought back to her childhood in Qingdao, China, when her mother would often prepare black sesame cereal—a nutty, seed-studded porridge that's served for dessert and breakfast—and decided to start loading her oatmeal bowls with a homemade black sesame topping. It wasn't long before hungry coworkers were asking for samples.
That became the germ of an idea for Yishi, a Chicagoland-based oatmeal company Jiang launched in 2019 with fellow University of Chicago MBA student Ze Li. Named after the Chinese word for ritual, Yishi offers five oatmeal flavors inspired by Chinese and other Asian cuisines, all meant to hit the elusive sweet spot between a healthy and flavorful breakfast.
"We think eating—personal food—should be part of our daily routine," Jiang says. "And even more than routine, it can be a ceremonial moment. Just a peaceful moment of me enjoying some yummy, delicious, healthy food and thinking about how I want to start the day."
Jiang started by developing the recipes in her own kitchen, and two years later, Yishi works with a food scientist to craft its gluten- and sugar-free, protein-packed, mostly organic flavors—which now, in addition to the original black sesame and three other varieties, include a tantalizing taro bubble tea flavor. Bubble tea in oatmeal? I thought to myself when I came across Yishi while idly scrolling Instagram one day earlier this month. Intrigued by the concept, I quickly ordered a multipack of single-serve cups from the company's website.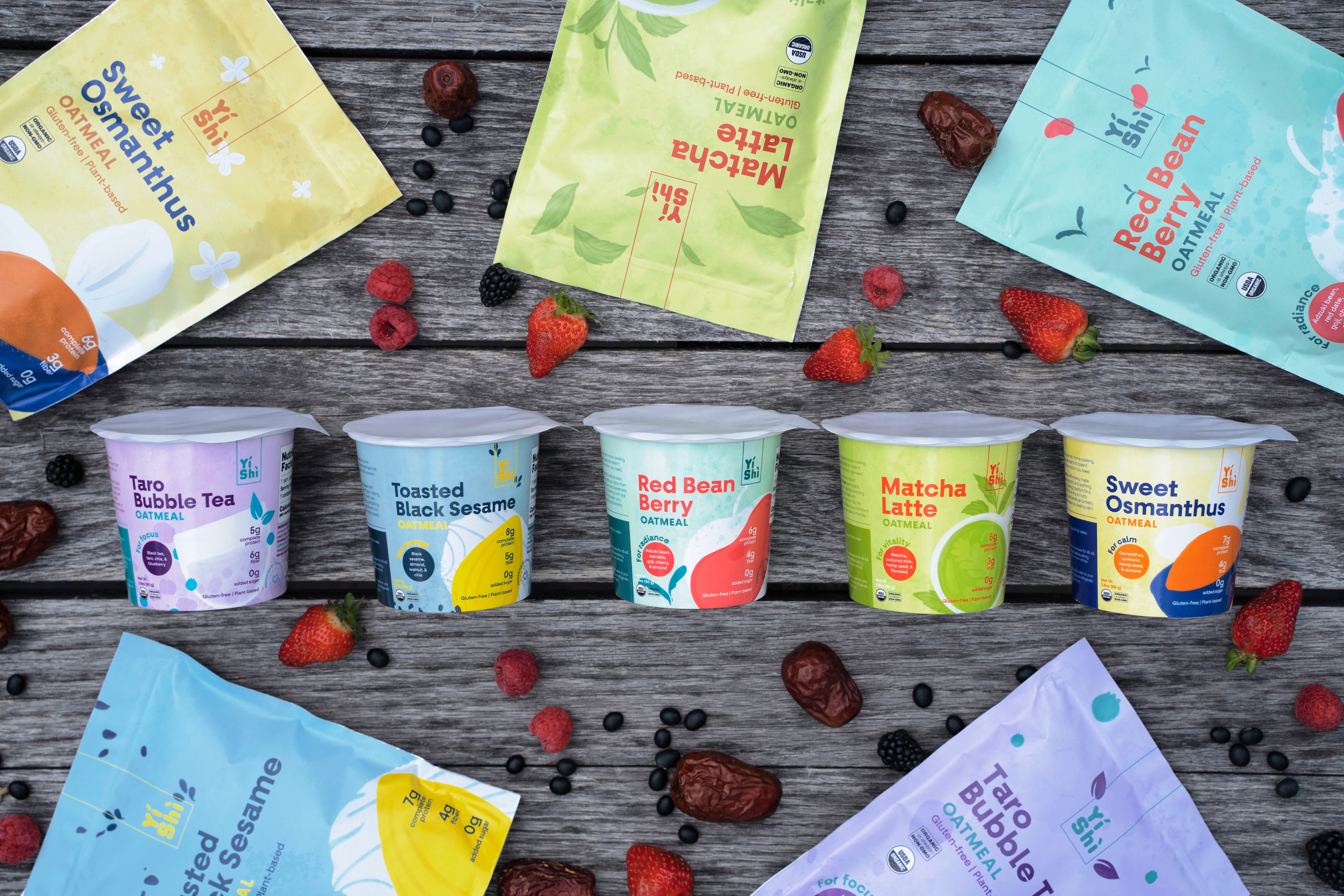 I'll get this out of the way first: Despite its name, the oatmeal doesn't actually contain boba. The company conducted several tests, but Jiang says it was impossible to get the gummy tapioca to cook quickly enough for an instant format. Instead, the cereal approximates bubble tea's chewy texture with chia, flax and hemp seeds.
It's not a 100 percent convincing effect—seeds, after all, lack the same voluptuous mouthfeel as tapioca pearls—but surprisingly, that's not so important. The flavor's real linchpin comes from genuine taro powder, which Jiang says is key to achieving taro tea's authentically nutty taste.
"I think we do a more authentic taro bubble tea than many actual boba tea shops, because most of the ones I know use taro boba tea mix, which is artificial," Jiang says.
Combined with blueberry and toasted coconut, the resulting flavor tastes like oats left to soak at the bottom of a bubble tea cup, right down to the tongue-coating sweetness (achieved with stevia rather than sugar). The oatmeal even contains a small kick of caffeine thanks to the addition of black tea, which sent my heart racing when paired with a cup of coffee.
The taro bubble tea oatmeal is probably the buzziest flavor in Yishi's roster (a recent feature in Bon Appetit led to it nearly selling out, Jiang tells me), but I ended up being even more partial to sweet osmanthus; lightly floral and earthy, it tastes a little like rooibos tea steeped in soy milk, and isn't as bracingly sweet as the taro. You also can't go wrong with matcha latte, the company's newest flavor, which pairs the spring green tea powder with powdered coconut milk to create a creamy treat.
If, like me, you're curious about having bubble tea for breakfast, you can snag a sample packet from Yishi's website for $2.99, or go all in on a six- or 18-pack of cups. Fans of bulk packaging can also order an eight-serving pouch online, though those are currently on back order. Keep an eye out for the oatmeal in your local Whole Foods, Pete's Fresh Market and—as of next weekend—in Meijer stores, as well as other smaller retailers.