As summer arrives in Chicago and the city continues to reopen, we're experiencing many places, pastimes and events again for the first time in more than a year. Throughout the summer, Time Out Chicago editors will be chronicling their experiences returning to beloved haunts through a series we're calling Back At It. As we immerse ourselves in places and events that we once regularly frequented, we'll let you know what has changed, what's stayed the same and how you can get in on the fun.
After a year without in-person music festivals, the announcement that Lollapalooza would return at full capacity seemed a little surreal. But with Chicago fully reopened, all event capacity limits lifted and COVID-19 vaccinations on the rise, there was little standing in the way of a four-day event that attracts as many as 100,000 each day.
I knew that returning to the crowded fields of Grant Park would be overwhelming and probably a little uncomfortable, much like when I attended a full-capacity baseball game at Wrigley Field. But I figured that—just like my evening in the Friendly Confines—I'd slowly acclimate to being among hordes of humans at a gigantic communal gathering. What I didn't know at the time is that we'd be grappling with a new (more contagious) COVID-19 variant and rising case numbers across the nation by the time the final weekend of July arrived.
Logistically, I was always aware that it would be impossible to enforce mask usage and/or social distancing at an event with tens of thousands of attendees. So I wasn't surprised when Lollapalooza announced that it would be requiring vaccination cards or a negative COVID-19 test (initially within 24 hours of the festival, before the window was quietly extended to 72 hours) as a prerequisite for entry.
But from the moment my vaccination card received a quick glance when I presented it at an entrance to Grant Park yesterday (Time Out Chicago's assistant editor Emma Krupp has the same experience), it became pretty obvious that—just like every other event or public gathering—Lolla is operating on the honor system. It's made abundantly clear by the signage that the Sun-Times spotted on the gates outside of Grant Park, warning guests that "By attending Lollapalooza, you voluntarily assume all risks related to exposure to COVID-19."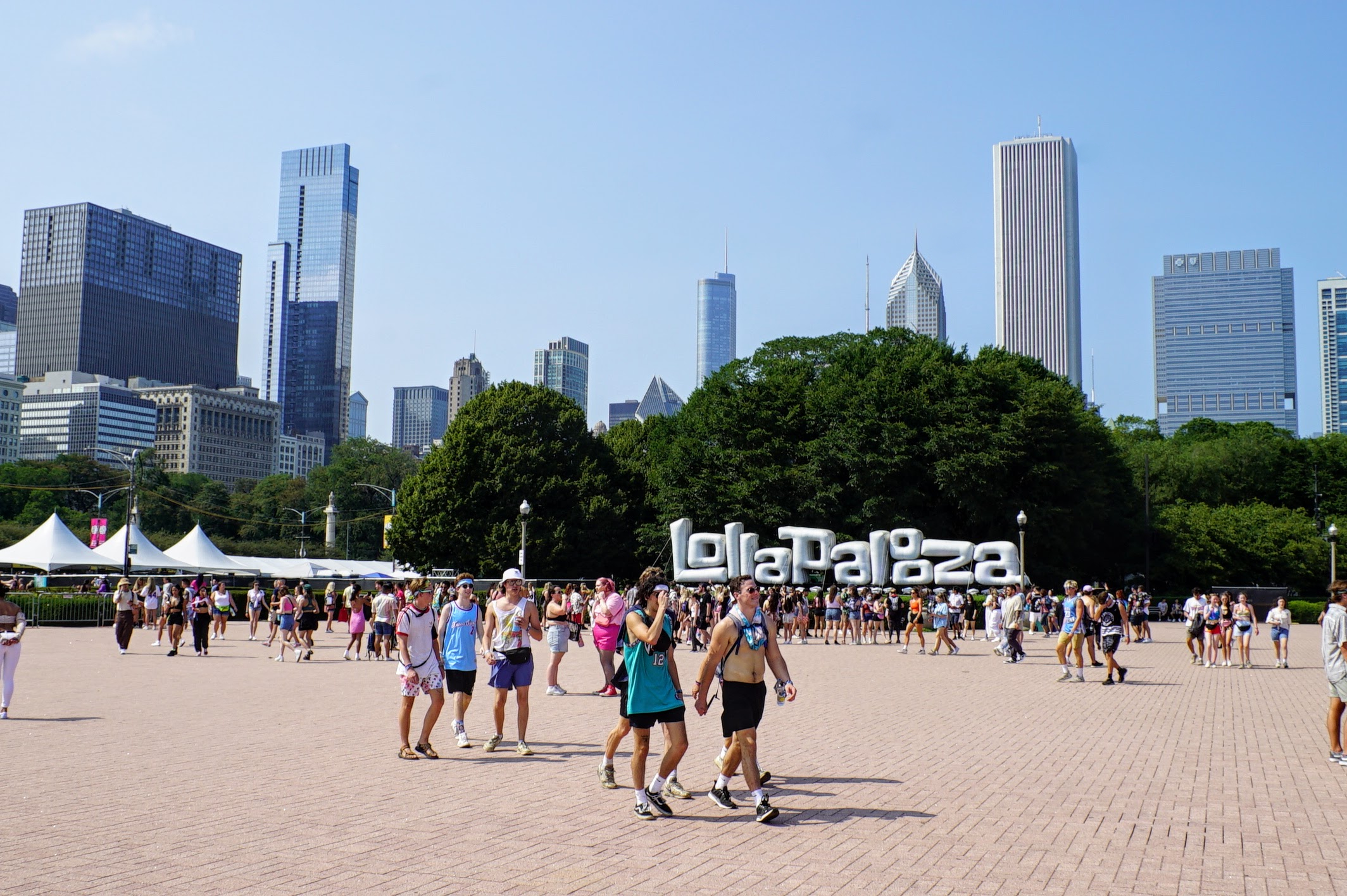 My first few hours in the park felt very familiar, as I spoke with attendees entering the event—some of whom were carrying masks and admitted that they were nervous about COVID-19. I walked up and down Grant Park to confirm that layout of the event hasn't changed at all, with all of the stages, food vendors and toilet facilities in their usual spots. The only major change is the addition of the new Bonus Tracks stage (replacing the family-friendly Kidzapalooza area), which is hosting artists interviews and Chicago drag performances throughout the weekend. Oh, and there might be a few more hand sanitizer stands than usual located by the porta-potties.
The behavior of attendees was also largely unchanged. Throngs of attendees stood shoulder to shoulder while watching sets from acts like Playboi Carti and Olivia O'Brien. Tightly-packed lines formed in front of stands slinging slices of pizza, hot dogs and tacos around 6pm. And there was always a queue of folks waiting to have their picture taken in the Lollapalooza frame that's situated on the south end of Buckingham Fountain.
The vast majority of attendees weren't wearing masks—confirming the predictions of Dr. Mercedes Carnethon, who didn't think it was realistic to expect masking at an outdoor concert under the beating sun. I did observe some social distancing being practiced (intentionally or not) during Miley Cyrus's headlining set on the south end of the park, where there was ample room for those situated at the north end of the field to put some space between themselves and other groups.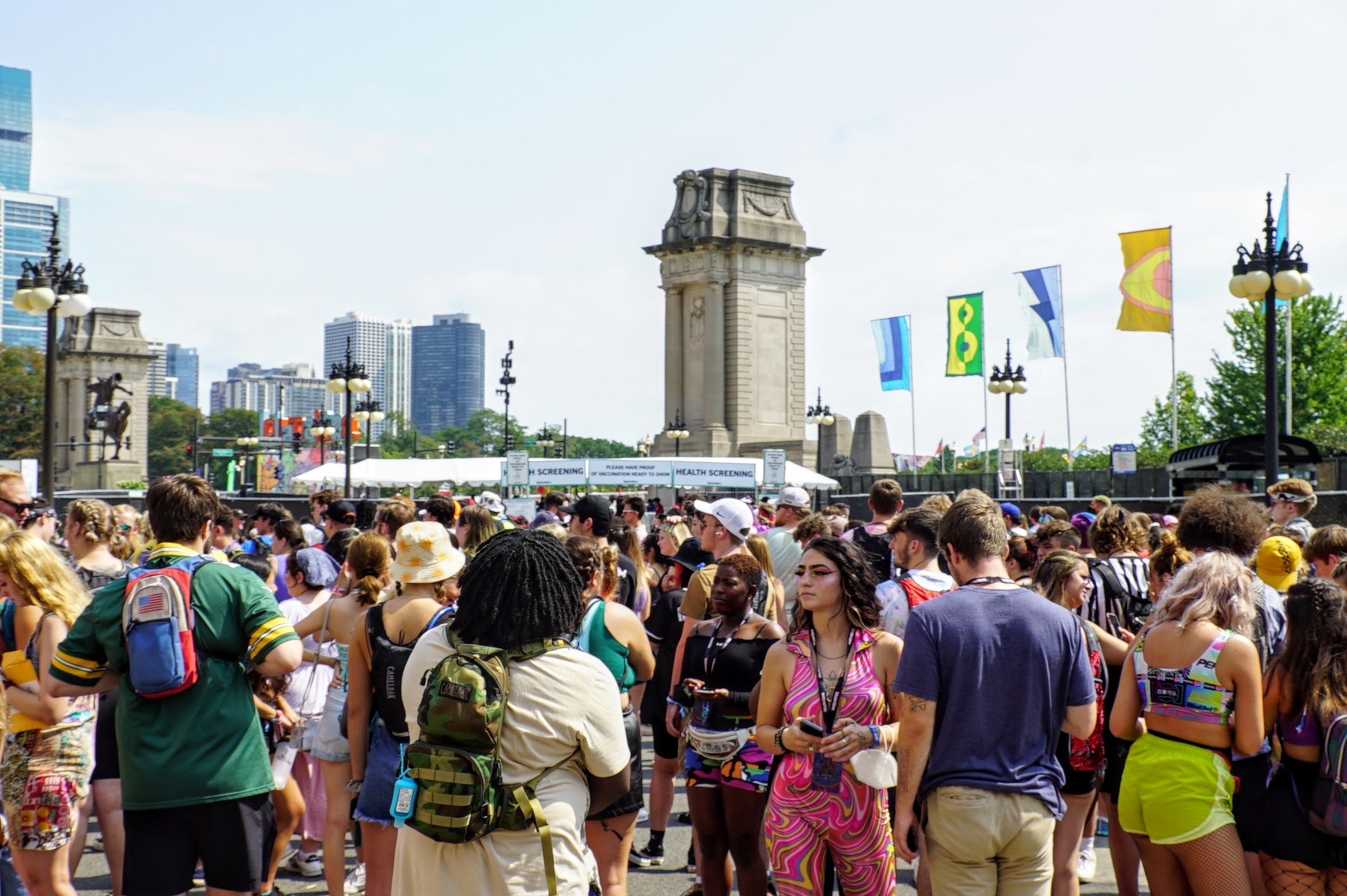 That extra space may not last throughout the entire weekend. A caption of a photo on Lollapalooza's Instagram page suggests that there were about 30,000 people in attendance on Thursday—that's a far cry from the 100,000 attendee capacity that is usually quoted by organizers. It seems possible that Thursday was a slow day during the week, and that the crowds will only get larger throughout the weekend.
I spent nearly 10 hours in Grant Park yesterday and there were only a few moments (when I was walking on Columbus Drive or weaving through the crowd gathering for Miley Cyrus's set in Hutchinson Field) that made me feel truly uncomfortable about the number of people around me, despite the fact that I was wearing a mask. For the most part, it was possible to take the paths less traveled at Lollapalooza while I was walking between stages, though I'm not sure how feasible that will be if there are more people in attendance this weekend.
But there was no point during my time at Lollapalooza that the riskiness of the entire situation wasn't at the back of my mind. I worry that it's an event that's only taking place this year because it's technically observing all of the current rules and regulations, egged on by city and state officials who appreciate the money that attendees pump into the local economy and corporate backers of the event that appreciate the money that attendees pump into their coffers. I worry that the repercussions of this specific festival could be so negative that events like Pitchfork Music Festival and Riot Fest may be forced to cancel their September editions. I worry about local music venues that may never reopen if touring grinds to a halt again.
Most of all, I worry about the people attending Lollapalooza (myself included) and anyone they might interact with in the coming weeks, whether friends, family or service workers—the new COVID-19 variant is especially contagious, even to those who are vaccinated. But I understand why some people want to go to Lollapalooza and experience something resembling normalcy after more than a year without music festivals. And I also understand why many Chicagoans are avoiding the festival (even more so than usual) and are upset that an event of this scale is allowed to take place while COVID-19 infections are on the rise.
During my day at Lollapalooza, I observed people doing exactly what they've always done at the festival: standing in tightly-packed crowds in front of stages, joining the throngs of people walking up and down Columbus Drive and enjoying a temporary escape from the world outside of Grant Park. I can't imagine that organizers were expecting anything different when they organized an event looks nearly identical to its pre-COVID editions. That's why you'll "voluntarily assume all risks related to exposure to COVID-19" if you step into the event this year—and I don't think that seeing the Foo Fighters or Journey is worth jeopardizing the health of yourself and others (maybe just stream the sets instead).