What's the best beer to pair with a sandwich stacked with Italian meats and dripping with red wine vinegar? That's the questions that the brewers at Pipeworks Brewing Co. asked themselves after picking up a team lunch at J.P. Graziano Grocery. It wasn't long before the Pipeworks crew began chatting with owner Jim Graziano about a potential collaboration between the two local businesses, similar to the Pastrami on Rye ale that the brewery created with the help of Manny's Deli.
Last week, Pipeworks unveiled the Alla Salute Italian-style pilsner, named—at the suggestion of Graziano—for an Italian toast that translates to "to your health." Clocking in at 5 percent ABV, the beer is dry and effervescent with some earthy hop notes—but nothing that will overpower the flavors of a Mr. G with hot peppers.
The two Chicago businesses initially began collaborating on the beer in 2019, consulting with each other about the best way to approach a beer that pays tribute to J.P. Graziano Grocery's beloved Italian sandwiches. "They asked me profiles of beer that I like, and I'm not a real super-heavy beer type of guy," Graziano says. "We wanted something light, something that would go well with salty meats and stuff like that."
The artwork on the Alla Salute can was designed by Chicago designer and frequent Pipeworks collaborator Ryan Duggan, depicting the J.P. Graziano Grocery storefront and a crane hoisting a giant sandwich—a reference to the seemingly constant presence of construction in the rapidly-transforming West Loop neighborhood where J.P. Graziano is located.
Unfortunately, J.P. Graziano Grocery doesn't have a liquor license, so it's unable to sell the beer that bears its name. But four-packs of Alla Salute are currently available for curbside pickup from Pipeworks Brewing Co.—and it will soon be on shelves at liquor stores and bottle shops throughout the city. If you want to enjoy Alla Salute as it was intended, you can pick up a sandwich from J.P. Graziano and bring it home to enjoy with a can of the complementary beer.
For Graziano, the long-in-the-works collaboration represents a union between two Chicago businesses that share similar ethos. "It's humbling to hear Pipeworks talk about us, because we're such a longstanding spot, but I feel the same way about them," Graziano says. "Just because they haven't been around 84 years doesn't mean that they don't bring quality to everything they do."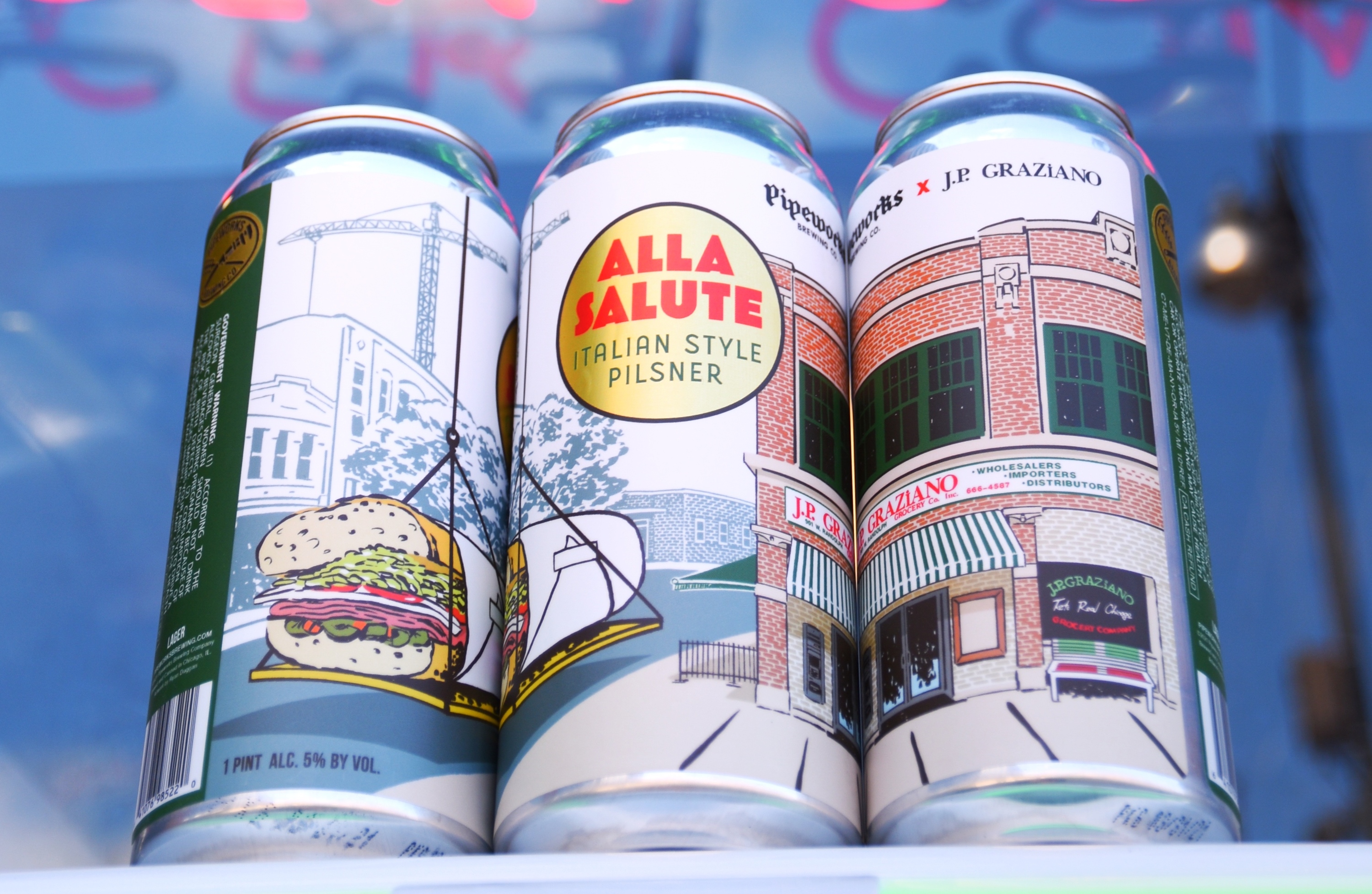 Have a few minutes to share how much you love Chicago? Take the
Time Out Index survey

here!
Most popular on Time Out
- The 23 best Chicago attractions
- The 19 best rooftop bars in Chicago
- The 44 best things to do in Chicago right now
- The best things to do in Chicago this weekend
- The 20 best burgers in Chicago