Beyond 18th Street
Notable spots off Pilsen's beaten path.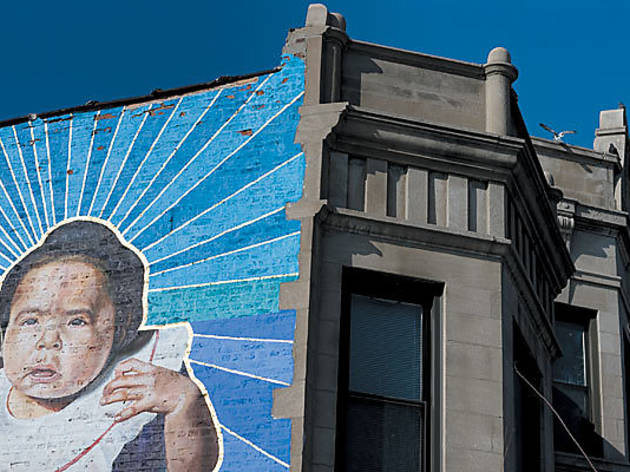 Jeff Zimmerman murals
Zimmerman created four panoramic murals in the tight span of two blocks: Familiar and Increibles Las Cosas Q' Se Ven (Ashland Avenue and 19th Street), Dejen Q' Los Niños Se Acerquen a Mí (Ashland Avenue and Cullerton Street) and Sirvale (1538 W Cullerton St). They all exhibit his trademarks—lifelike facial features, sharp colors and scenes that capture a neighborhood's spirit—and most are best viewed if you stand on the southeast corner of Cullerton and Ashland and face north.
Benito Juarez High School park
We haven't set foot on school grounds since getting hickeys was cool—that is, until we stumbled upon this tidy park. We love coming here now, especially during hot summer nights, when we can sit among statues of Mexican leaders and heroes, slurp down snow cones and chat into the wee hours. Necking optional. 2150 S Laflin St (no phone).
Lichen Lending Library
The folks behind this independent library line its shelves with radical titles in art, philosophy and history, as well as a beefy selection of zines. They also collect food donations from area grocery stores to host a free, open-to-the-community Comida No Migra (Food Not Bombs) lunch on Sundays. 1921 S Blue Island Ave (no phone).
National Museum of Mexican Art
A cultural anchor in the neighborhood, the NMMA organizes critically acclaimed art exhibits that relate to Mexican culture of local and international scope, as well as neighborhood initiatives. 1852 W 19th St (312-738-1503).
Juan Angel Chavez mural, "Vida Simple"
This abstract, stone-and-glass mural is a study in multimedia mosaic and the various cultural textures of the neighborhood (the faces are portraits of locals, and other images in the collage juxtapose nature and industrial elements). Also, it's real purty to look at. Damen Pink Line CTA station, north entrance.
Juniors Sports Bar
Ignore the garish Wrigleyville-esque decor (what up, fake ivy on the walls?), and focus instead on the weekend scene: Emerging house and drum 'n' bass DJs storm the joint, and neighborhood club fiends and graffiti writers often head here for cheap beers and a dose of head bopping. 2058 W Cermak Rd (773-203-4028).