24 new dishes to eat at Taste of Chicago 2015, ranked from worst to best
The new offerings at this year's Taste of Chicago include avocado toast, paletas and Cuban pork tamales
There may be no Original Rainbow Cone at this year's Taste of Chicago, but there are plenty of good options for lunch or dinner. Some of the city's best food trucks are there each day, and pop-up restaurants are adding more solid options to the daily lineup. We tried all the "taste portions" from the new stands, most of which cost five tickets (about $3.50), the new food truck items and items from the pop-up restaurants. Here's our ranking, from worst to best.
Want more food recommendations? Since most longtime vendors haven't changed their menus in years, here are our reviews of food from 2014, 2013, 2012, 2011 and 2010.
RECOMMENDED: Taste of Chicago guide
24
Italian Beef Sandwich from Emerald Isle
What happened to this poor Italian beef? Cold, soggy and gray, the only redeeming factor is the spicy giardiniera.
23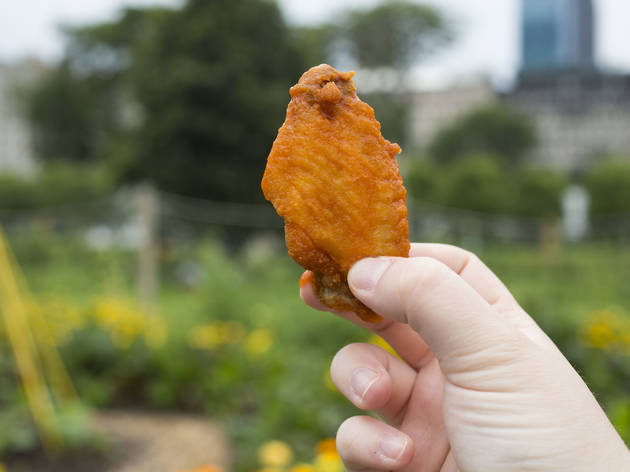 Buffalo Wing from Miller's Pub
Is there anything sadder looking than a single buffalo wing? The sauce is lively, but Miller's Pub is serving the iconic turkey leg this year, so don't bother with anything else there.
22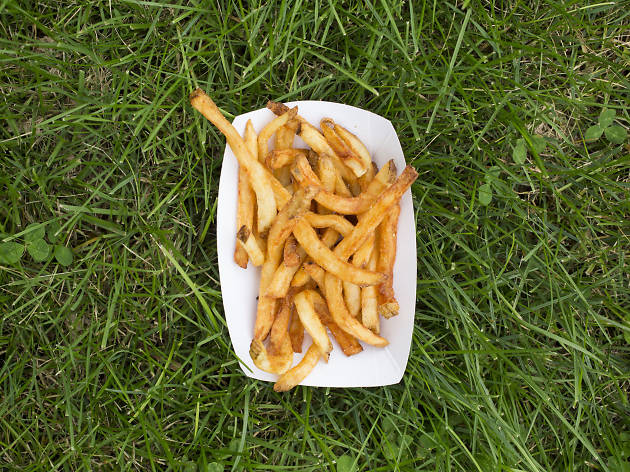 French Fries from Emerald Isle
Sometimes you don't mind basic fries, but it's not usually at a food festival. There are much better options here.
21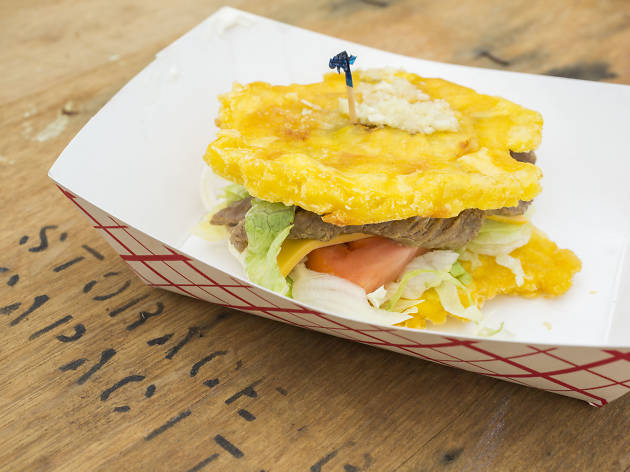 Half Jibarito from La Bomba Restaurant
While the plantain was nicely done, the filling was a little sad, with a thin strip of steak and American cheese.
20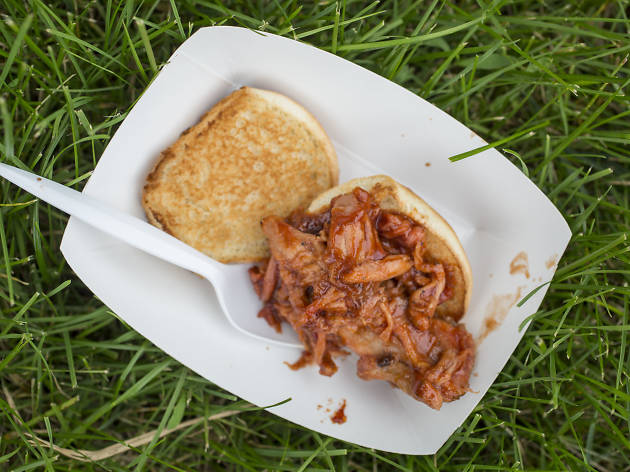 Pulled Pork Slider from Miller's Pub
The sauce is super sweet, which detracts from otherwise well-cooked pork.
19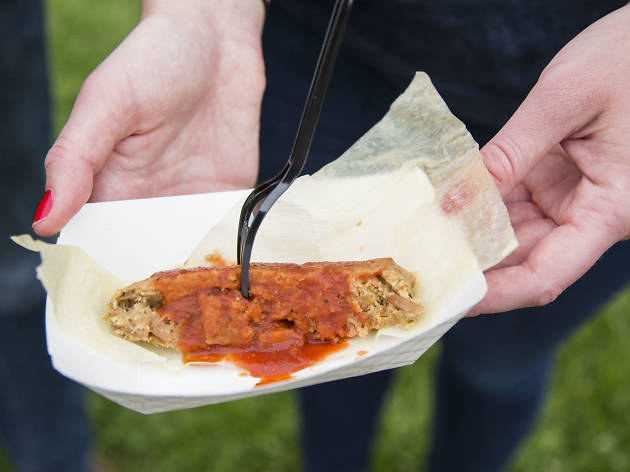 Slow-Roasted Cuban Pork Tamale from Dia de los Tamales
A little bland and dry, this tamale isn't as enjoyable as the black bean and corn version.
18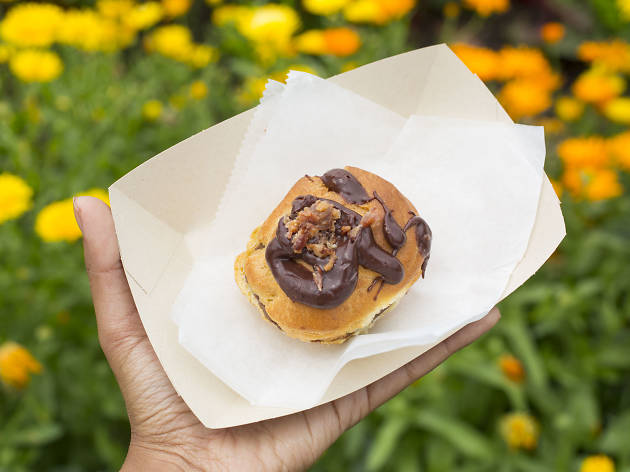 Chocolate-Covered Bacon Puff from Puffs of Doom Pop-Up
This would be better served at room temperature, since the cold center is a little off-putting.
17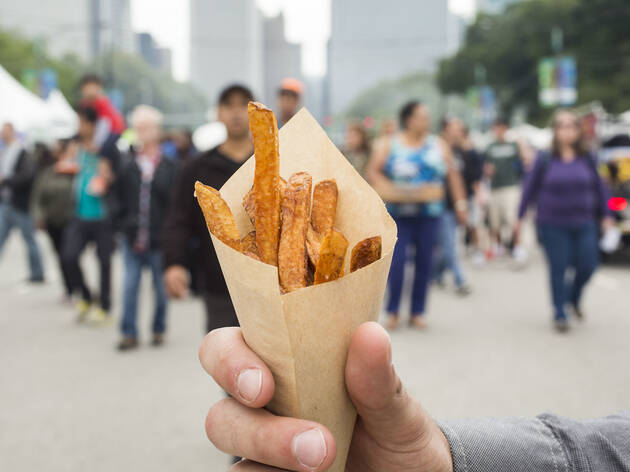 Duck Fat Frites from Bruges Brothers
With a crispy edge, these are perfectly fine fries, though they didn't taste as fresh as the ones I've had from the truck before.
16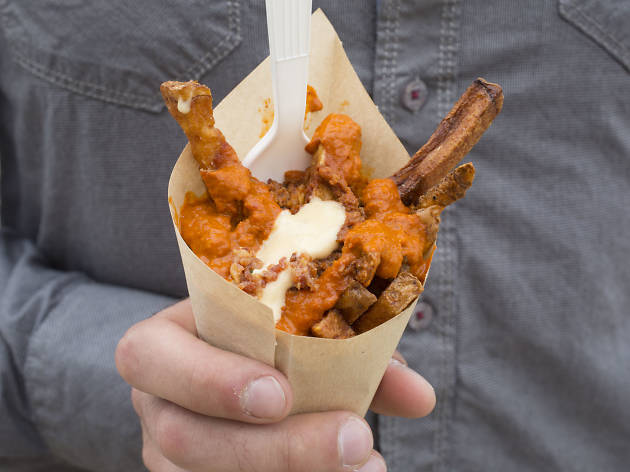 Papas Bravas from Bruges Brothers
Topped with chorizo and paprika and garlic sauce, these fries are more exciting than the plain duck fat fries.
15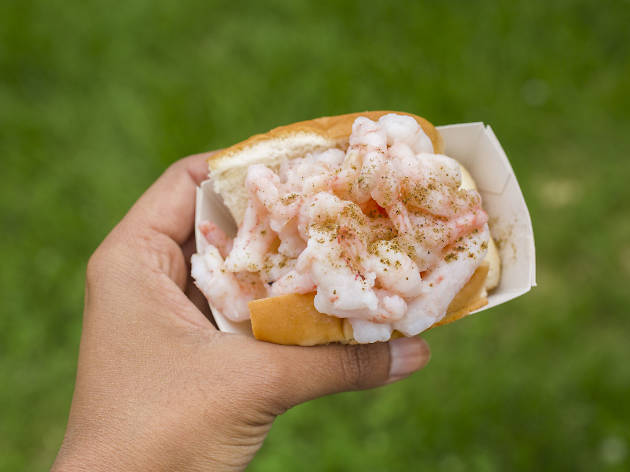 Shrimp Roll from Luke's Lobster Pop-Up
You get your tickets' worth of shrimp here, though the bun is so small, it's a challenge to eat. Sprinkled with Luke's blend of spices, it's a decent option, but I'd save my money and visit Luke's restaurant for the crab roll.
14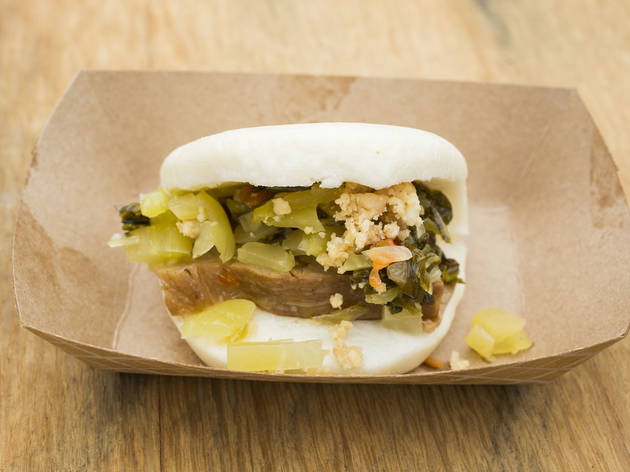 Mini Baowich from Yum Dum
You can pick your protein to stuff into this tiny bao, like a fat piece of pork belly, and it's good, but pales compared to Yum Dum's kimcheesy rice balls.
13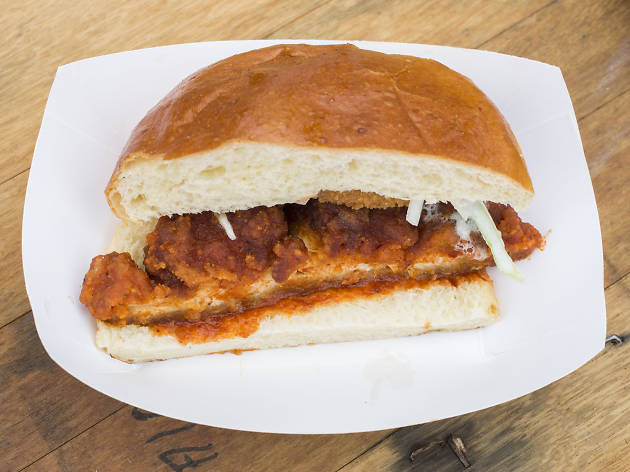 Buffalo Chicken Slider from Jack's Fork in the Road
The fried onions overcomplicate the half sandwich, which has fried chicken tenders doused with buffalo sauce and blue cheese slaw.
12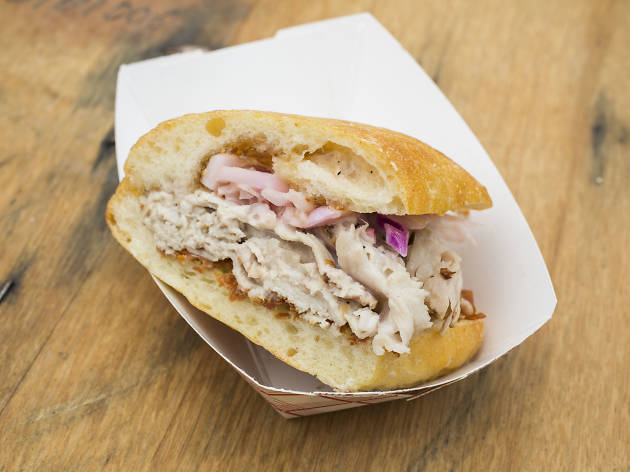 Roast Pork Tenderloin Slider from Jack's Fork in the Road
Layered with thin slices of roast pork, fig jam, crispy prosciutto and apple slaw, the half sandwich comes in a satisfying portion.
11
Mayoless Slaw from Luke's Lobster Pop-Up
This very pleasant slaw tastes fresh and would make a nice side to any other dish.
10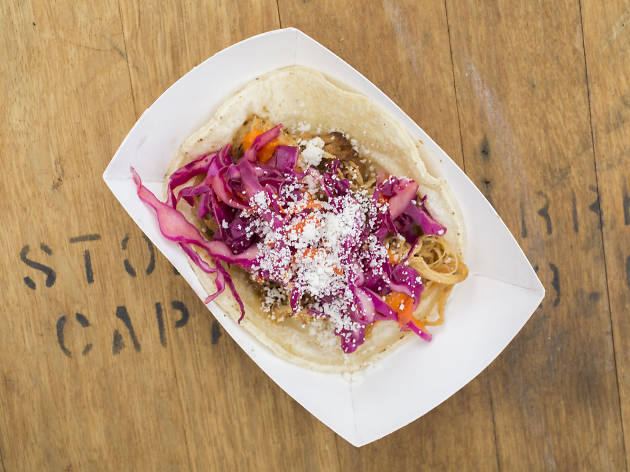 Chicken Taco from La Cocinita
Braised chicken, cheese and chipotle crema combine for a satisfying taco.
9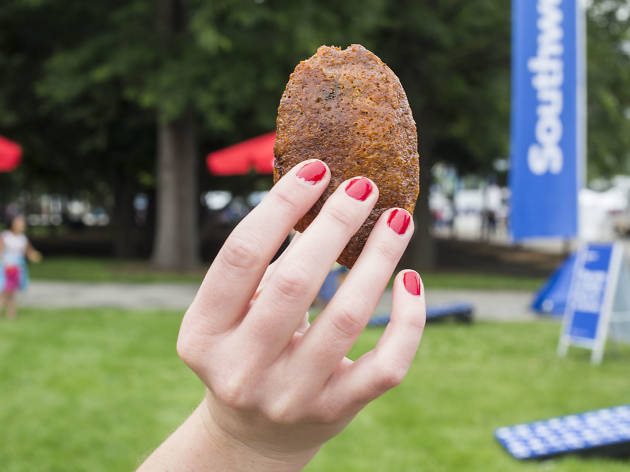 Alcapurria from La Bomba Restaurant
This banana fritter is packed with pork and other veggies, and it's a pretty hearty snack.
8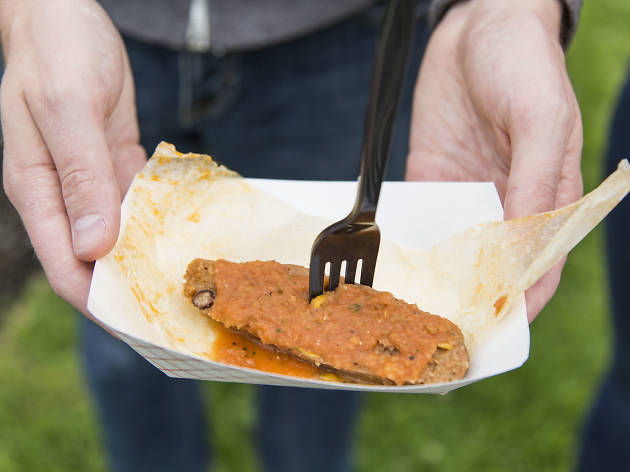 Spicy Black Bean & Corn Tamale from Dia de los Tamales
Moist and spicy, this vegan option is definitely the better pick from Dia De Los Tamales.
7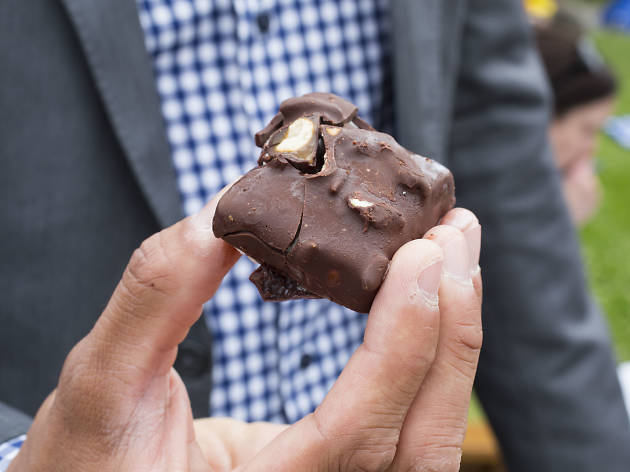 Pretzel Ice Cream Bite from The Crave Bar
These ice cream nuggets come in two flavors: vanilla ice cream coated with thick dark chocolate, or milk chocolate wrapped with more milk chocolate. Both are creamy and have a pretzel shot through the center—end your day with them, because while they're very messy and melt quickly, they're delicious.
6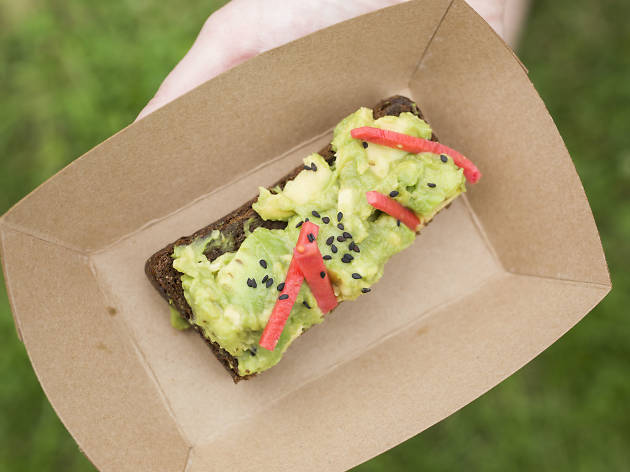 Avocado Toast from Farmer's Fridge
Thick bread is topped with mashed avocado, black sesame seeds and pickled radish. It's easy to eat and healthy, which makes it perfect festival food.
5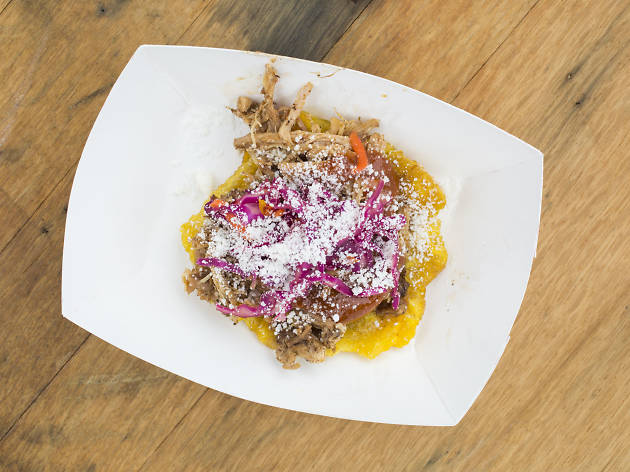 Pork Pataconcito from La Cocinita
One of the prettiest (and most delicious bites) is this fried plantain base, which comes topped with tender braised pork, queso fresco and guava sauce, and has a great mix of textures.
4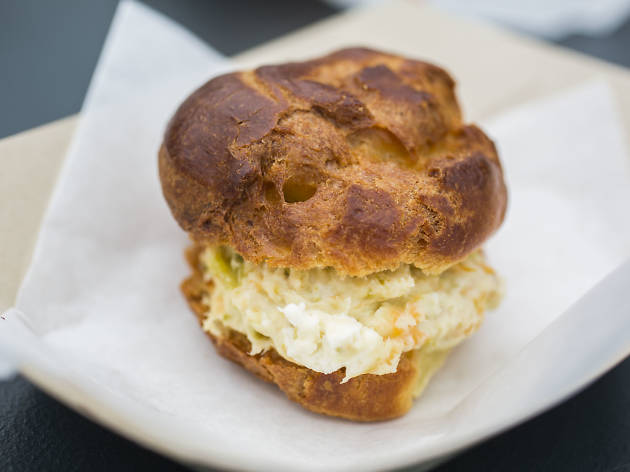 Jalapeño Popper Chicken from Puffs of Doom Pop-Up
This warm, spicy, creamy chicken filling tastes exactly like the sort of party dip you know you shouldn't eat but can't step away from.
3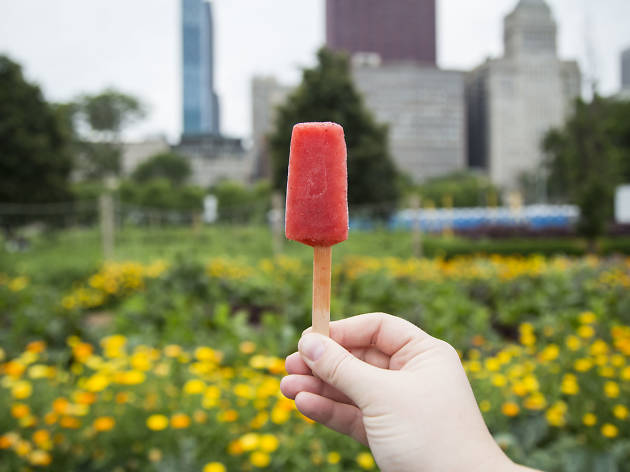 Strawberry Mini Paleta from La Mexicana
The tiny popsicle is sweet and refreshing, and at two tickets, feels like a steal.
2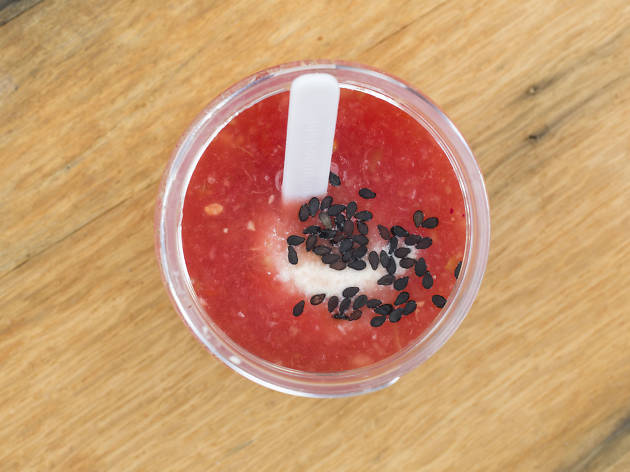 Watermelon Gazpacho from Farmer's Fridge
This adorable little cup of watermelon gazpacho is fresh, bright and delicious.
1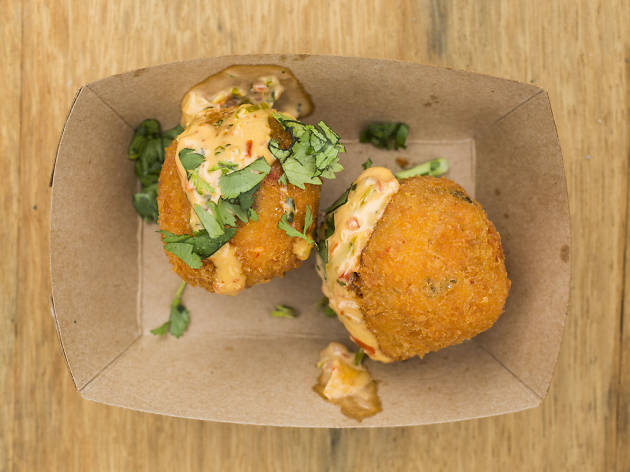 Kimcheesy Rice Balls from Yum Dum
These kimchi-stuffed arancini are spicy and flavorful, and disappeared faster than anything else we ate. You get two in a tasting portion, so if you're with a group, just splurge and get a full portion of four.