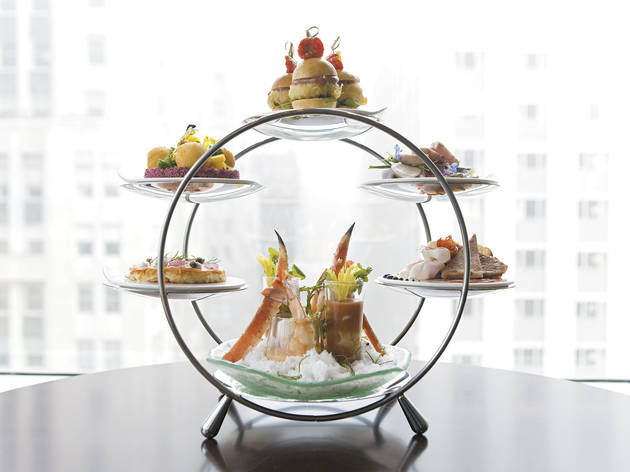 1/5
Photograph: Martha Williams
Brunch share platter at Allium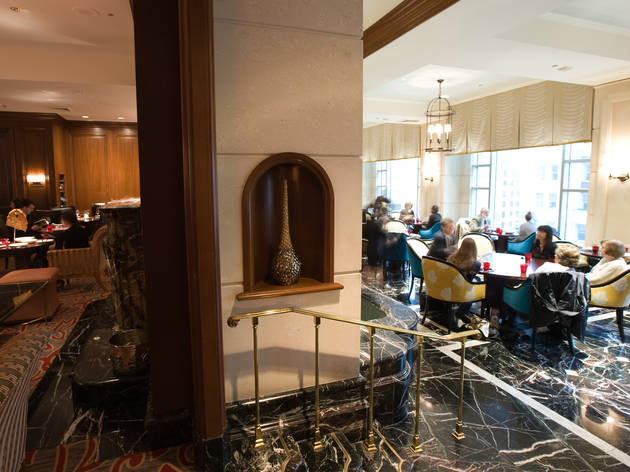 2/5
Photograph: Martha Williams
Allium restaurant at Four Seasons Chicago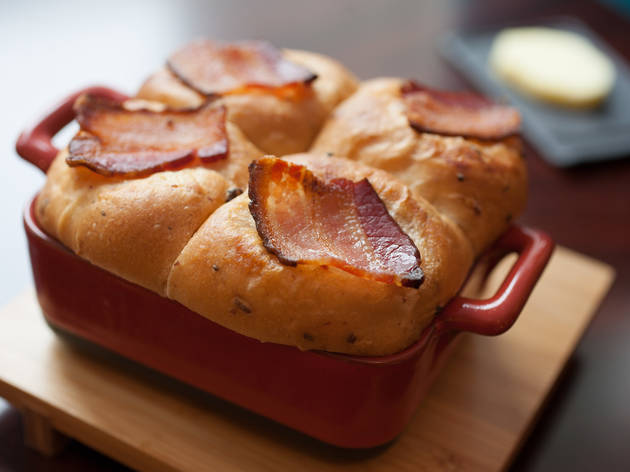 3/5
Photograph: Martha Williams
Bacon buns at Allium restaurant in the Four Seasons Chicago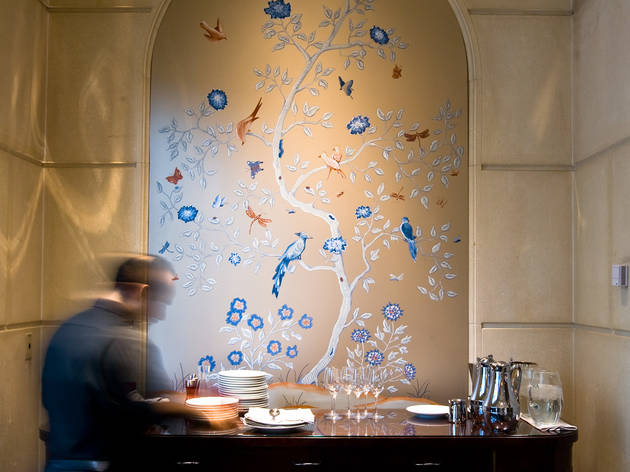 4/5
Photograph: Martha Williams
Allium restaurant at Four Seasons Chicago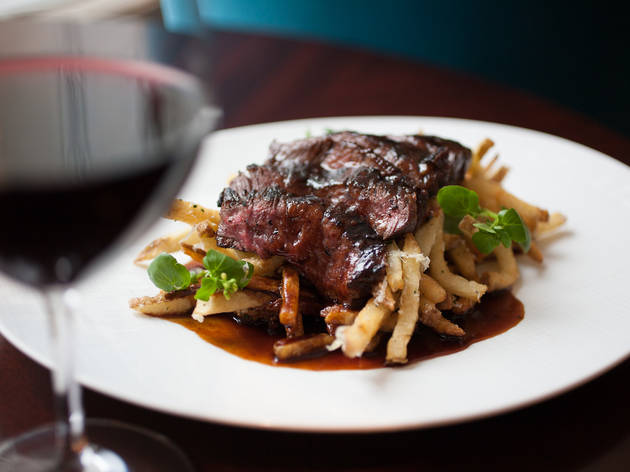 5/5
Photograph: Martha Williams
Waygu skirt steak at Allium restaurant in the Four Seasons Chicago
Time Out says
It's not every day a restaurant owner e-mails you to tell you to eat at someone else's restaurant. But how about a restaurateur e-mailing you to tell you to eat at another restaurant—because of a hot dog? That is what happened two years ago. The e-mail was from Drew Goss, who co-owns West Town Tavern with his wife, Susan (and the note was sent to my editor, David Tamarkin). The place Goss was recommending was the bar at the Four Seasons. And the urgent reason to go, Goss enthused, was "the best hot dog in Chicago." David forwarded me the e-mail with this addendum: "!!!".
A few weeks later, I went to the bar at the Four Seasons and tried the hot dog, the creation of Seasons chef Kevin Hickey. A few months after that, it went on my list of the 100 Best Things We Ate in 2010. And when, in the winter of 2012, the hotel announced that its new restaurant, Allium, would include, among other things, that housemade hot dog, I wasn't surprised. It is the most ambitious and most delicious hot dog I've ever eaten. Every component—the poppy-seed bun, the hot dog, the relish, the ketchup—is made in-house. Yet it is not a stuffy thing: It is every bit as enjoyable (actually, doubly as enjoyable) as a ballpark Vienna Beef. Who wouldn't want to build a restaurant around it?
Or rather, who wouldn't want to revive a hotel restaurant around it? This is a genre that has begun to look more like a graveyard: TheWit and the Peninsula killed their upscale dining rooms (Cibo Matto and Avenues, respectively); the Ritz-Carlton and the Park Hyatt downscaled theirs (now Deca and NoMI Kitchen and countless others—the Palmer House Hilton's Lockwood, Hotel 71's Hoyt's, the Doubletree's MarketHouse—offer a more rustic, seasonal style of cooking that marks a departure from continental "hotel food." The Four Seasons seems to have taken a little bit from each column, closing Seasons (its restaurant) and converting it into a ballroom, rebranding the bar and lobby area as Allium, and promoting a number of appealing, trendy menu items: charcuterie, sliders, a whole category of "snacks & breads."
Anyone who's skeptical of whether the chef of what used to be a froufrou hotel restaurant can pull off this type of casual, comforting food—and with aplomb—obviously never has had Hickey's hot dog. This man was born to make bacon buns, pull-apart rolls topped with crisp strips of bacon that arrive in a charming cast-iron dish. He serves a $24 Wagyu skirt steak that is an unlikely marriage between a French bistro and Benihana, coating the beef—soft as butter, juicy as a peach—in a sweet-sticky sauce that has all the umami qualities of a teriyaki glaze. There is something miraculous about this sauce: Every time I took a bite of steak, it seemed to re-create itself, and into this seemingly bottomless pool of excess, I dredged each bite of steak and each Parmesan-dusted frite.
Hickey tops a rich puree of sweet potato with super-crunchy fried kale and fregola and calls it a salad. He submerges burrata in oil and tosses some gently pickled, giardiniera-inspired vegetables on top of it. He gets it.
But for every dish that seems to come from some heartfelt place—for every thing Hickey is doing that feels legitimately, soulfully Chicago—there is a restrained, milquetoast dish on the menu that could come from Any Fine-Dining Hotel Restaurant, USA. Pounded, meagerly crisped breasts of "brick chicken" set over herbed polenta. An oily combination of pappardelle and braised chicken-thigh meat whose only real flavor is rich. A singularly boring, overcooked fillet of walleye. This trend extends to most of the desserts, from a straightforward chocolate-mousse tart that gains a modicum of interest with a malt-powder topping to a visually impressive "tower" of sweets (lemon bars, key-lime macarons, pretzel caramels, housemade "oreos"), none of which surpasses what you'd find on a run-of-the-mill bar mitzvah buffet. (There is one exception: a miso-butterscotch milkshake that'll stop your heart.)
The good thing about these filler dishes is that you don't have to order them. Get the buns, the hot dog, the shake, and who'll even notice those safe dishes cowering in the menu's corner? But you'll have a much harder time escaping the hotel's atrociously expensive beverage program, which, as far as I'm concerned, seriously undercuts everything Allium's remodel seems poised to do (e.g., bring in a younger, local audience; encourage neighborhood folks to see the restaurant as an everyday rather than special-occasion spot). Defying basic pricing logic, every beer—whether it's a can of PBR, a draft pour of 312 or a Bell's Amber Ale—is $7. There are six bottles of red wine available for less than $50; most hover just below $100. I went with a $56 pinot noir. With tax and tip on that wine, that's $75, for which two people could have an entire (very good—but wineless) meal at Allium. Why make it so painful to have a drink, too?
By Julia Kramer
Details
Address:
The Four Seasons
120 E Delaware Pl, 7th Floor
Chicago
60611

Cross street:
between Michigan Ave and Ernst Ct
Transport:
El stop: Red to Chicago. Bus: 10, 143, 144, 145, 146, 147, 151.
Price:
Average main course: $24
Contact:
Opening hours:
Breakfast, brunch (Sun), lunch, dinner
Do you own this business?
Users say