Appetizers, side dishes and small plates
RECOMMENDED: The 100 best things we ate and drank this year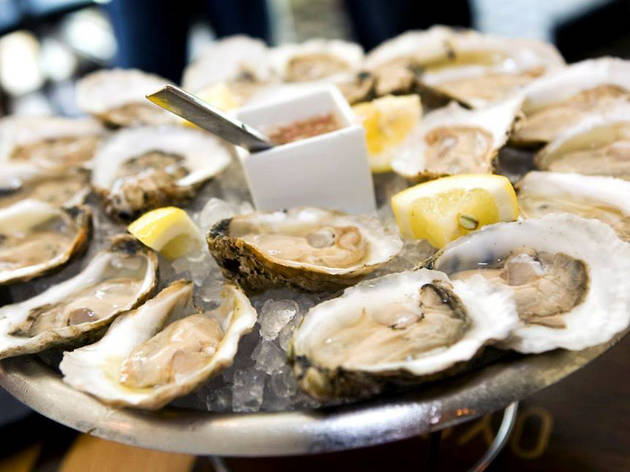 1/19
Old 1871 oyster from Fortune Fish Co.Fortune Fish Co. wanted to bring back a style of oyster popular in 19th century Chicago, so it sourced big, briny specimens from Virginia. Clean and salty, these are easy to eat and available all over the city (we ate them at GT Fish & Oyster). $2.50.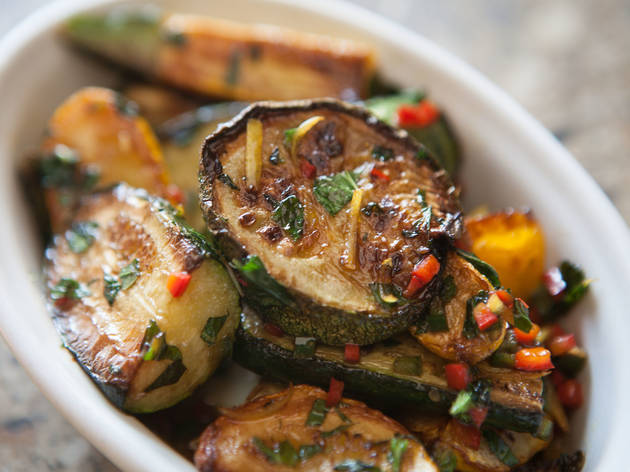 2/19
Photograph: Martha Williams
Roasted summer squash with chile and mint at Ada St.One of our most memorable meals this year was at Ada St., where plate after plate from Zoe Schor's kitchen came out perfectly cooked and incredibly flavorful. But it was her squash, heated with chile and cooled with mint, that makes us long for summer eating. Seasonal.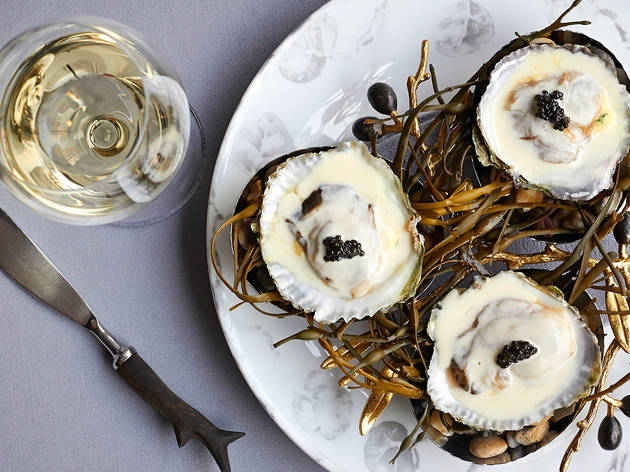 3/19
Photograph: Jason Little
Oysters with caviar at BrindilleThese caviar-adorned, cream-bathed oysters are what Carrie Nahabedian's follow-up to Naha is all about: unapologetic luxury and decadence. $18.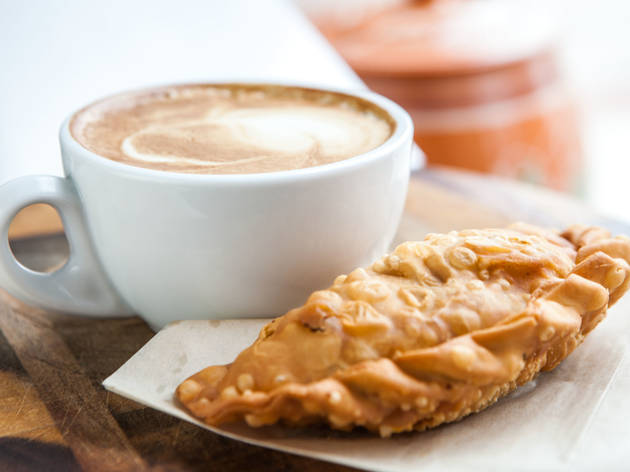 4/19
Photograph: Erica Gannett
Black bean empanada at Café TolaCoffee-shop food has never had it so good as at this sweet little Southport Corridor spot, where Metropolis Coffee goes hand in hand with freshly made empanadas. If the black bean, plantain and goat cheese version is in the case, don't hesitate. $3.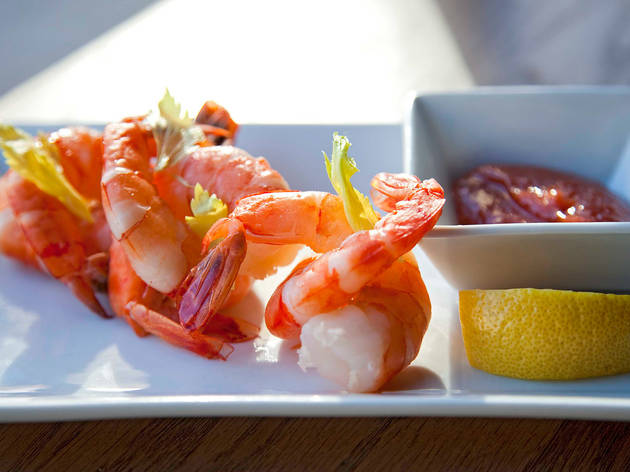 5/19
Photograph: Dan De Los Monteros
Jumbo shrimp cocktail at Chop ShopHere's proof that some dishes cannot be improved upon: Chop Shop's shrimp cocktail is chilled and served with a horseradish-heavy cocktail sauce. There's nothing fancy about it, and it's exactly right. $12.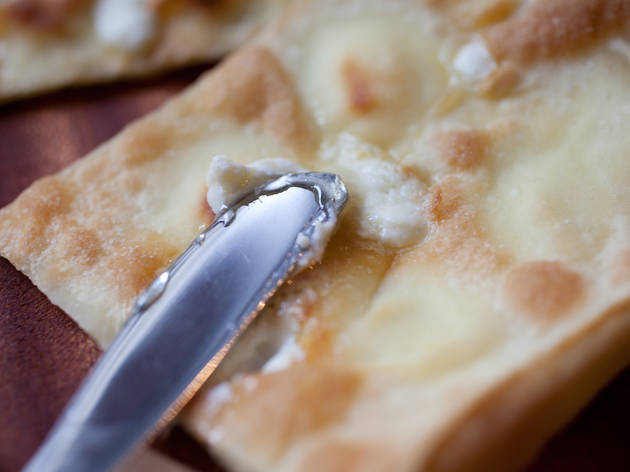 6/19
Photograph: Martha Williams
Focaccia di recco at Davanti EnotecaDavanti Enoteca opened a River North location this year, so now it's even easier to get the cheesy bread, which you can further improve with gooey slices of local honeycomb. $16, plus $2 for honeycomb.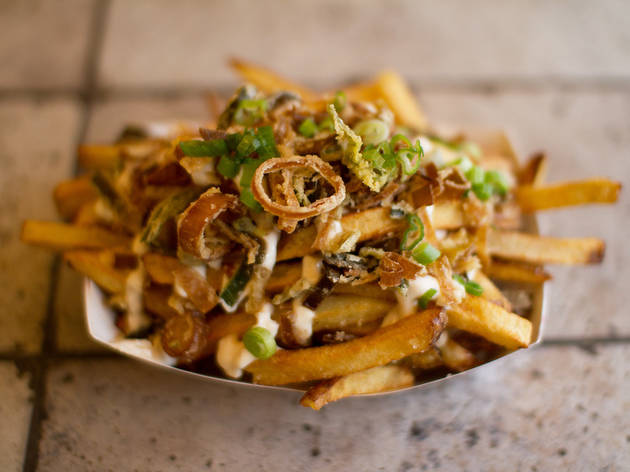 7/19
Photograph: Grace Wiley
Five-onion fries at Edzo's Burger Shop in EvanstonJust when we were sure that Edzo's fries couldn't get any better, we stumbled upon this special in which Eddie Lakin's signature skin-on frites are piled with caramelized-onion cream and frizzled leeks. Perhaps God is watching over us after all. $4.75.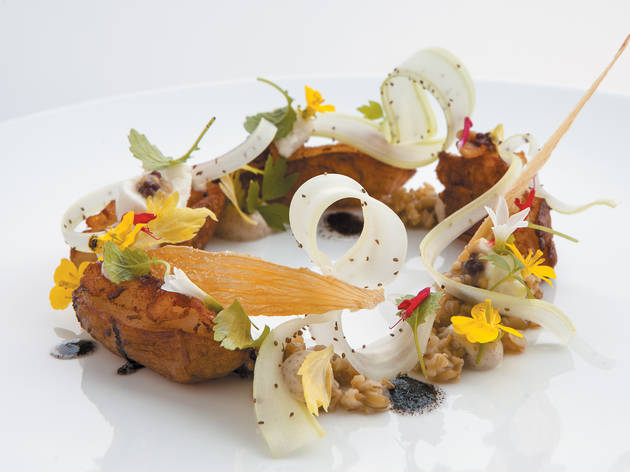 8/19
Photograph: Erica Gannett
Sunchoke at GraceWhen Curtis Duffy opened his serene West Loop restaurant, it was clear to everyone he had Michelin stars in his eyes. What few knew was that he'd snag that acclaim through visionary vegetable-focused dishes, like this typically stunning plate in which the chef celebrates the lowly sunchoke, cooking the Jerusalem artichokes (as they're also known) sous vide before frying them to a crisp and pairing them with braised mustard seeds and freekeh. No longer available.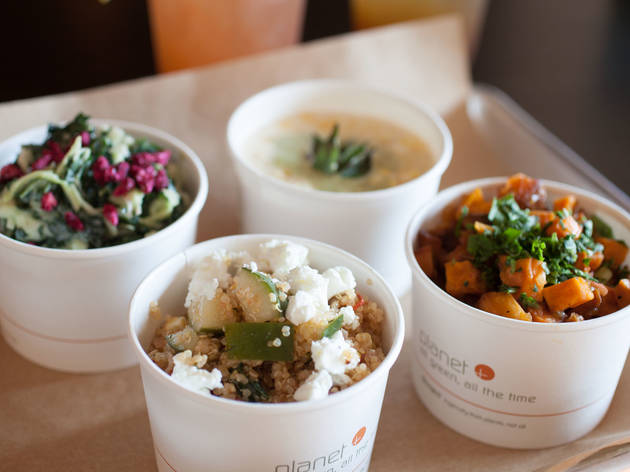 9/19
Photograph: Martha Williams
Side dishes at Honey Butter Fried ChickenYeah, chicken is in the name. But give us the meal of three sides, which includes dishes like creamy pimento mac and cheese, cold-roasted sweet potatoes with cilantro and lime, and kale and cabbage slaw with cumin yogurt dressing, and we'll be happy. $3.50 each.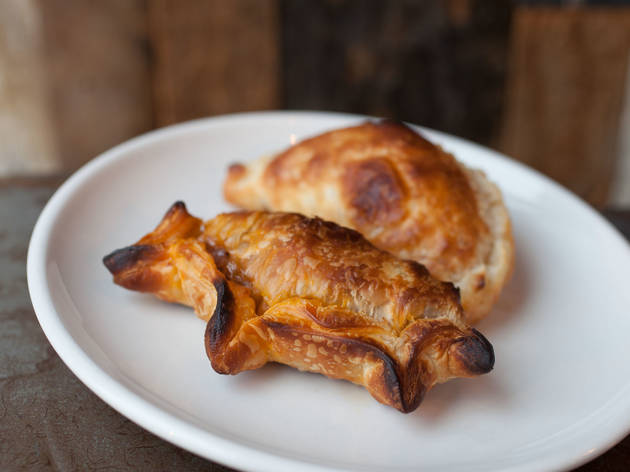 10/19
Photograph: Martha Williams
Empanadas at La Sirena ClandestinaThe fillings rotate, but it doesn't matter if they're white bean or ham and cheese-we'd eat anything stuffed into the baked, flaky pastry. $4 each.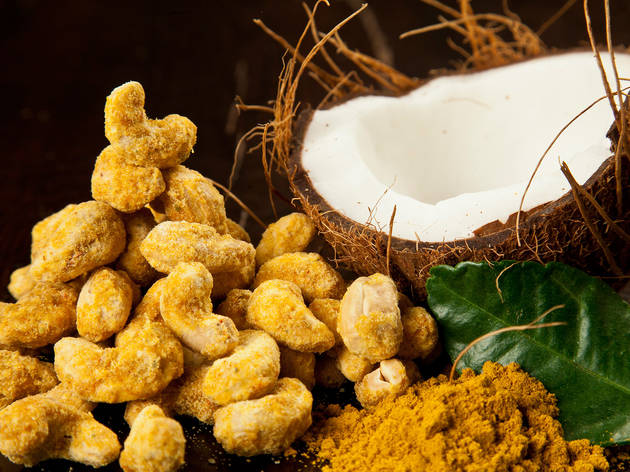 11/19
Photograph: Matthew Kutz
Coconut curry cashews from Mama's NutsOur favorite part of Adrienne Lo's coconut curry cashews, other than the spicy, warming flavors? The fact that you can get them in multiple places, like while waiting for a table at Fat Rice or drinking at the Whistler. 6oz bag $9, 3oz bag $5; 2oz bag $3 at the Whistler.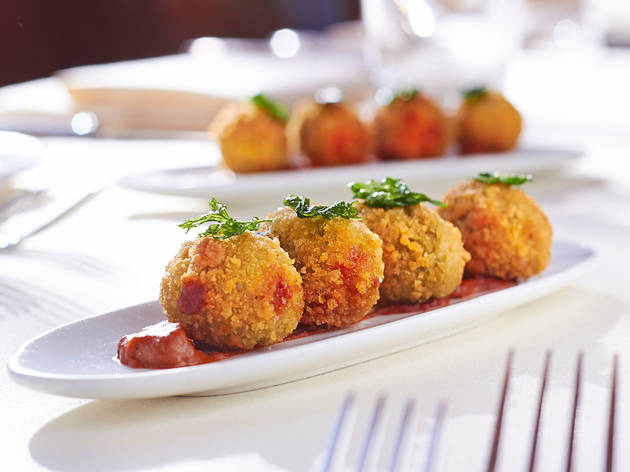 12/19
Photograph: Jason Little
Olives at mkMichael Kornick's River North restaurant got a facelift this year, and with that came a revamped bar area and new bar menu. Try the fried chorizo-stuffed Gordal olives, which are perched on a dollop of hazelnut romesco sauce. You could put away dozens of these but, cruelly, there are only four to an order. $7.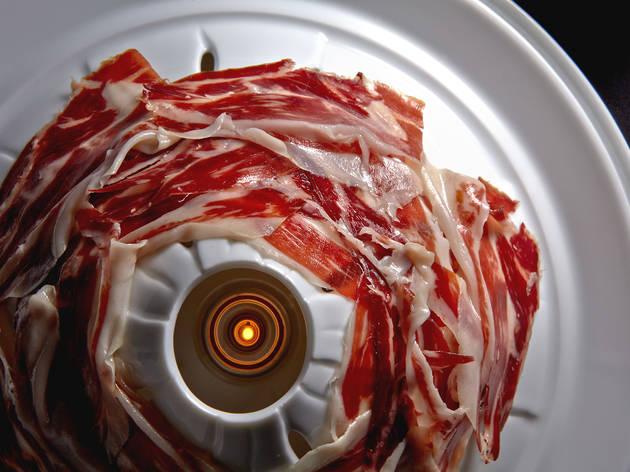 13/19
Jamón ibérico at the OfficeWe're not sure we've ever seen a presentation as cool as the jamón ibérico at the Office. The salty cured ham was draped over a candlelit contraption that softened the fat and basically looked like a Ham Lite-Brite. The perfect slices were served with four pieces of tomato and garlic-topped bread to make little open-face sandwiches. Get it with the new quince and sherry-filled porthole cocktail for a Spanish pairing. $65.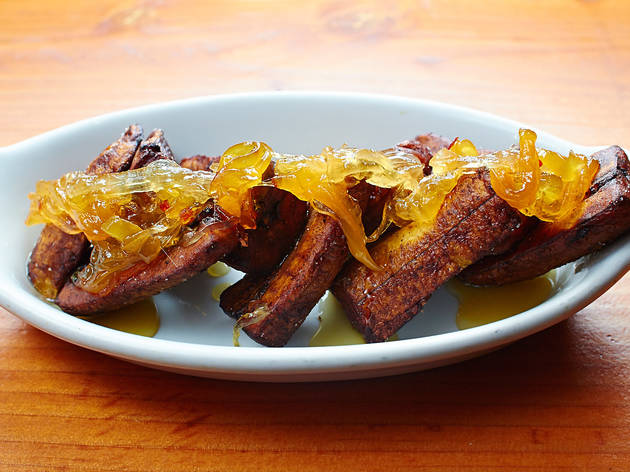 14/19
Photograph: Jason Little
Sweet plantains at Pecking OrderKristine Subido may focus on chicken at her Uptown restaurant, but it's clear she also knows her way around a plantain. Here, they're fried and topped with jackfruit chutney for an almost dessert-like side dish. $3.75-$4.50.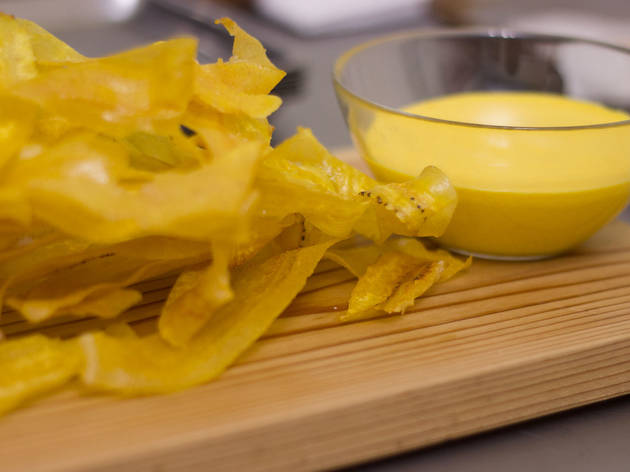 15/19
Plantain chips with aji amarillo dipping sauce from Sobremesa Supper ClubOne dinner with the roving Latin supper club, helmed by chef Gabriel Moya and his childhood friends, made us wish we had grown up with them, too-especially if these salty, crispy plantain chips with spicy, creamy aji amarillo sauce were around. Part of an eight- to ten-course tasting menu, $55 suggested donation.
16/19
Photograph: Martha Williams
Tofu at Sumi Robata BarWe didn't expect a beautiful bowl of tofu to outshine the skewered meats and vegetables at Gene Kato's Sumi Robata Bar, but that's what happened. The savory tofu pudding is topped with caviar and crispy ginger, and so good we considered getting seconds. We didn't, but only because we ordered a similar tofu dish for dessert. $6.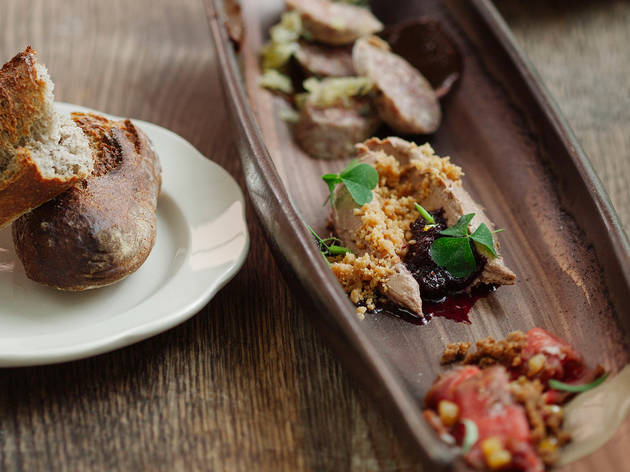 17/19
Photograph: Erica Gannett
Wanderteller at Table, Donkey and StickDon't let the rustic, ski-lodge appearance fool you: The chef here, Scott Manley, approaches charcuterie (here dubbed 'wanderteller,' or hiker's plate) with a deft, delicate hand in rotating options like subtly smoky strips of venison loin and gorgeously rich duck-liver mousse. $6 per item or $17 for three.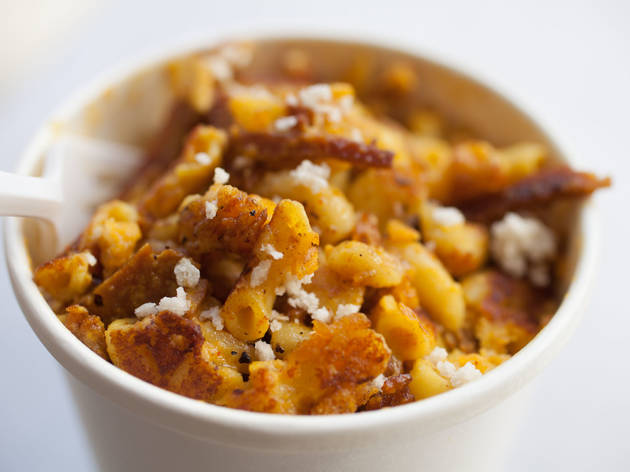 18/19
Photograph: Martha Williams
Fried bacon mac at Upton's BreakroomSeitan-maker Upton's Naturals opened a tiny café this summer and introduced us to a dish that made us happy the bacon craze hasn't ended: fried "bacon" seitan mac and cheese. Creamy, rich and deceptively meaty. $4.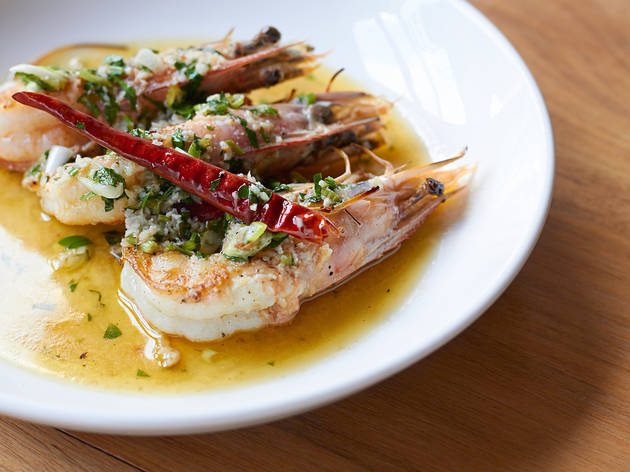 19/19
Photograph: Jason Little
Garlic shrimp at VeraMark and Liz Mendez's Spanish spot is so inviting it feels like hanging out at a friend's house-if that friend can cook. Ask Liz to pick your sherry and have Mark make you the garlicky, lemony shrimp, a dish that's both casual and elegant, just like Vera itself. $12.