1/7
Photograph: Martha Williams
Fried bologna sandwich at Au Cheval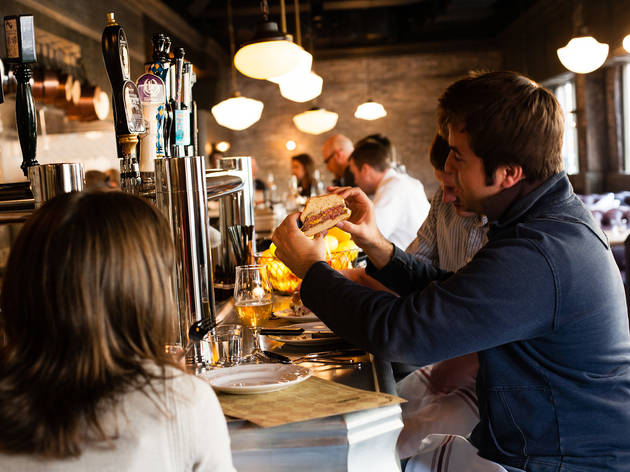 2/7
Photograph: Martha Williams
Au Cheval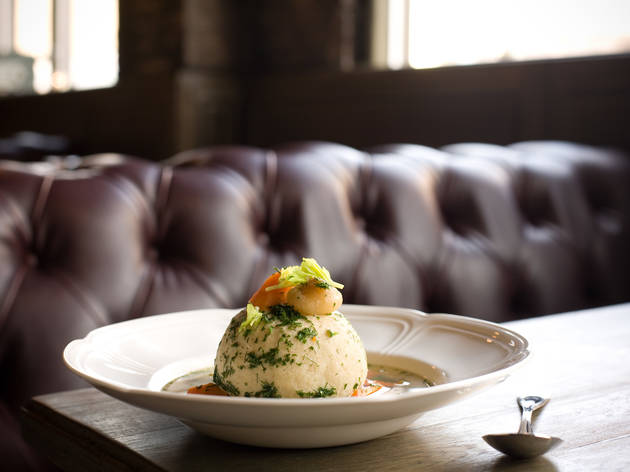 3/7
Photograph: Martha Williams
Matzoh ball soup at Au Cheval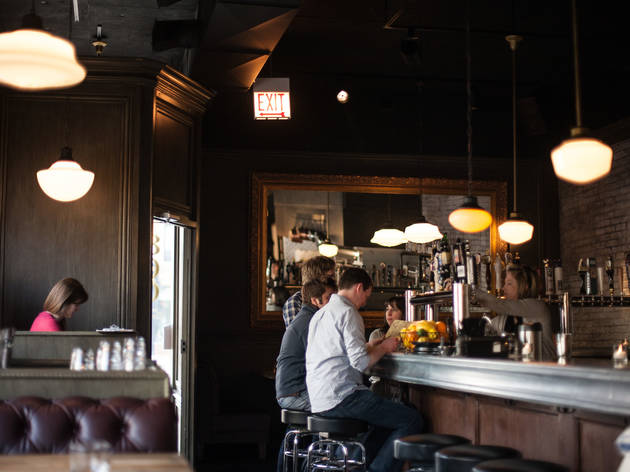 4/7
Photograph: Martha Williams
Au Cheval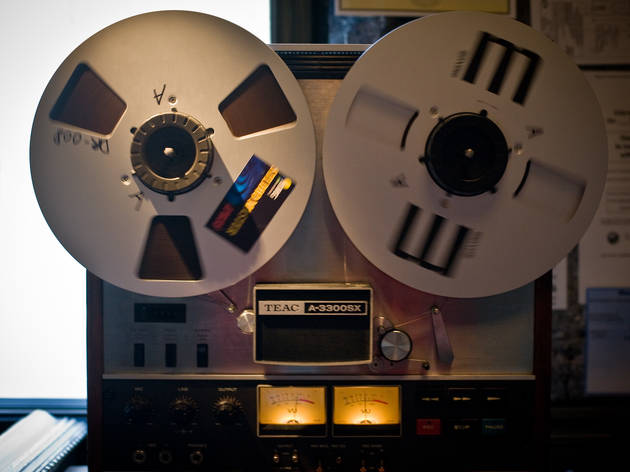 5/7
Photograph: Martha Williams
Au Cheval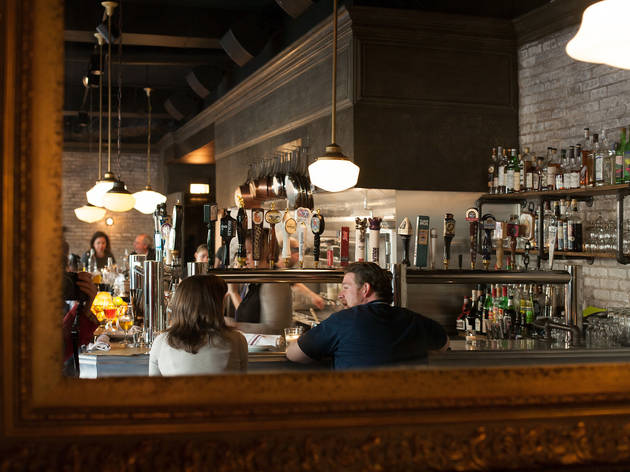 6/7
Photograph: Martha Williams
Au Cheval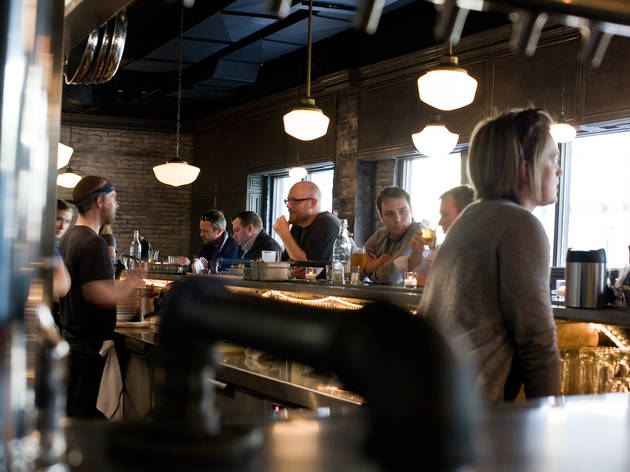 7/7
Photograph: Martha Williams
Au Cheval
Time Out says
If Au Cheval weren't such a bizarre and, frankly, difficult restaurant at which to eat, you'd find me there every Friday night for the matzo ball soup. Pre-Cheval, the most I ever wanted from a matzo ball soup was glistening pools of schmaltz. Post-Cheval, I demand it not only glisten but also be stocked with roasted carrots and cippolini onions, sophisticated complements to an enormous matzo ball that is more accurately described as a matzo souffle.
This soup is a rarity on Cheval's menu, but not because of how it tastes. Perfectly executed, endlessly cravable food is in every corner of this place. The chopped chicken liver—another great Jewish dish Brendan Sodikoff's "diner" is elevating—goes on thick challah with soft salted butter, a combination that is (sorry, but I've got to be a drama queen here) so delicious it's devastating. And the beef stew is exemplary for both its supple texture and silky sauce. Where the soup stands out is its lightness: You can actually start a meal with it (it shares this distinction only with two salads). It's also a dish you can eat in its entirety without feeling as if you've taken a shower in hot beef fat. This cannot be said for much of the rest of the menu. The omelette boasts a smooth, puffy, unblemished surface that looks like butter, but also literally tastes like butter, so much so that it's hard to take more than one bite. A ham "sandwich" with cheese fondue is not a sandwich at all, but rather a crock of melted cheese dotted with ham and served with toast points. As if this dish (which is imported from Gilt Bar, just as the raw vegetable salad is imported fromMaude's) were not rich enough already, it is then topped with an egg. Such excess doesn't mean this food is bad. It's just food you have to eat when you're drunk.
No doubt there are people in this city who want to eat like this regularly. But the common eater will find Au Cheval perfect only in certain situations—alone at the bar with a beer and a glorious mess of a burger (avoid the gritty bologna sandwich); at midnight with some friends and a plate of the spicy, sticky fried chicken. Because Au Cheval is not so much a diner as it is a pit stop. You can eat here, and you can eat well. You just can't eat dinner.
By David Tamarkin
Details
Address:
800 W Randolph St
Chicago
60607

Cross street:
at Halsted St
Transport:
El stop: Green, Pink to Clinton. Bus: 8, 14, 20.
Price:
Average main course: $17
Contact:
Opening hours:
Brunch (Sat, Sun), lunch, dinner
Do you own this business?
Rating Breakdown
5 star:

5

4 star:

3

3 star:

0

2 star:

1

1 star:

1
You've heard it 100 times, but Au Cheval really does have one of the best burgers in the city. There's almost always a wait for a table, but there is plenty to do/see in the West Loop while you're that waiting 30 mins to an hour. Someone from the restaurant will call or text you when your table is ready. The single burger (which is two patties) was the perfect size for me. A friend and I also shared fries and an order of homemade sweet pickles. Everything was delicious. The dining room can get a little cramped, but not enough to negatively effect your burger experience.
We love taking guests here for the food and the drinks. I really think everything is worth the wait on this restaurant. Try the bone marrow for the appetizer, and of course their world famous burgers. I still can't get over the fact that the bacon is sliced at 1/2 inch and the garlic aioli is just so addicting, we kept dipping our fries in it. Best time to go here is right when it opens.
If I could wake up every morning and have them prepare my brunch daily, then at least one of my dreams would be fulfilled! Yes, there is a wait… isn't there always for good things though! It's truly one of my top favorites in the city, from the house cured bacon to the seemly perfect crispy fries, its my go to bring my friends from out of town and show them were are so much more than deep dish!
I was so excited to finally try Au Cheval after hearing rave reviews form everyone I know. I really wanted it to be the heavenly hot spot that everyone spoke about but I was really not impressed. The burger was solid, nothing crazy, would gladly eat it but never wait in line again. Speaking of waiting in line, we were there about an hour before they opened and were 3rd in line. My friends were running late and they wouldn't seat us or even pretend like they were trying to save a 4 person table for our friends who were looking for parking. Even when they could see them outside near the back of the line, they wouldn't give us a table and instead chose to seat 2 people at a 4 person table (rather than the 2 person table next to it) as if to spite us for not all being there at the same time. Just when I thought all hope was lost and we'd have to wait an hour for the entire first round of tables to eat and for someone to leave, my friends managed to push through the line and they could no longer deny us a table (much to the hostess' chagrin). The chilaquiles were the worst I'd ever had, just a bunch of greasy chips and an over-salted mess. The baked goods were really the saving grace of this place and I appreciated the manager's attempt to apologize for the seating issue by bringing us a delicious muffin. I don't think I'd bother coming back, too many other great restaurants with excellent service that I'd rather give my business to.
Probably one of the worst brunch spots in the city - and we live here and try them all regularly. Very limited menu. The scrambled eggs, which appear in several of the selections, are a "proprietary mix" (per Manager Christina) that is so salty it is truly inedible. Oddly, if you ask to have the eggs made fresh without all the salt, Christina will tell you that the kitchen will make to order any type of egg you want (e.g. over easy, poached) EXCEPT scrambled. I guess they want to make sure scrambled egg eaters get that "proprietary" sodium overload. Questioning why the kitchen has a skillet that makes over easy eggs but not scrambled ones isn't tolerated. Christina will just talk over you.
The chilaquiles are awful, too. Just a huge pile of heavily-salted, twice-fried tortilla chips topped with loads of sour cream, a few spoonfuls of guacamole and more of that "proprietary" scrambled egg mix. This is probably a fine place to drink spirits and eat grease on Sunday mornings, if that's your thing, but Chicago has many far better brunch spots. Try Avec just a couple blocks down for a much more delicious, attitude-free Sunday brunch.