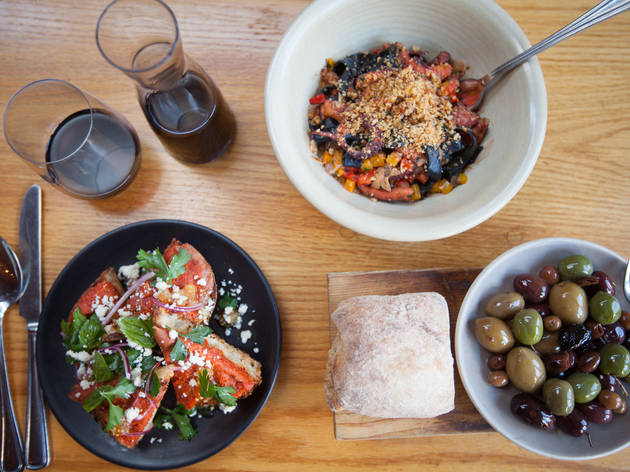 1/5
Photograph: Erica Gannett
Avec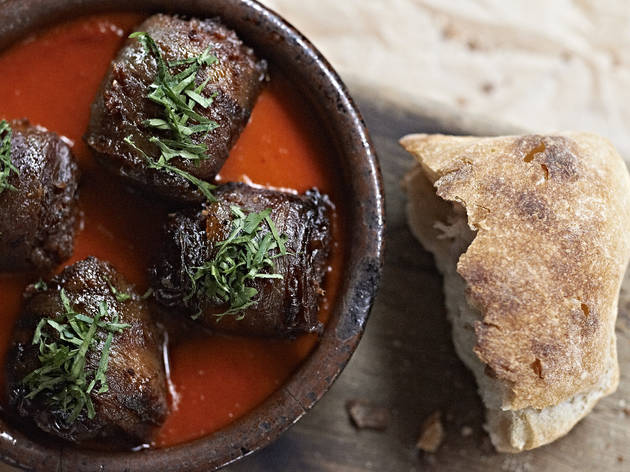 2/5
Photograph: Derek Richmond
Chorizo-stuffed medjool dates at Avec Avec has undergone several chef changes in the past couple of years, but the dates remain. Stuffed with chorizo, wrapped with bacon, and basking in a tomato and piquillo pepper sauce, the dates are the dish that insp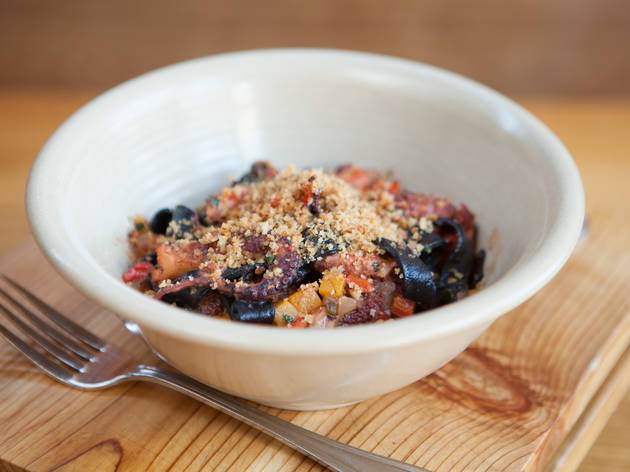 3/5
Photograph: Erica Gannett
Avec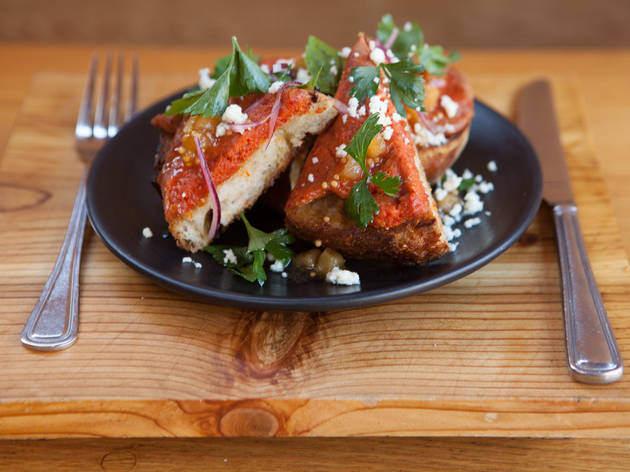 4/5
Photograph: Erica Gannett
Avec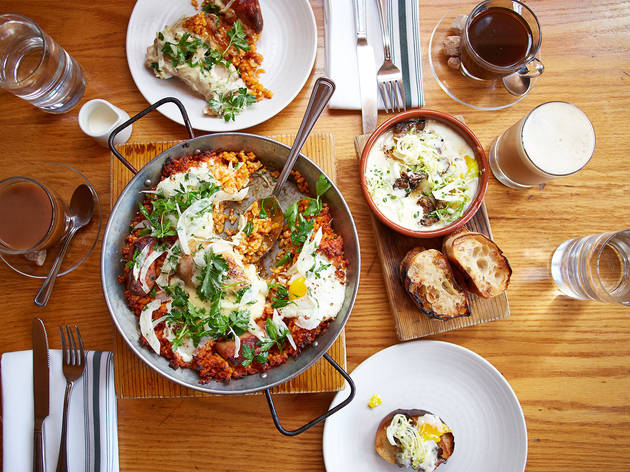 5/5
Photograph: Marzena Abrahamik
Readers voted Avec as the best new brunch in Chicago.
Time Out says
There are rules when eating at avec. One of them is "No talking about Israel." A few weeks ago I was eating dinner and my friend—not I—was breaking that rule. Loudly.
The man sitting next to me, whom I did not know but whom I spent the evening less than one inch from, leaned into our space and said, "What nation are you talking about?"
This is why you don't talk about Israel at avec.
I shut down the conversation by slicing an X in the air with my hands and saying one word: "no." But the man—his name was Brandon, I learned later—was undeterred from talking to us. He changed the subject.
"Have you guys ever had these dates?" he asked. He pointed to the hot casserole in front of him with only one date left. "They're so good."
The bacon-wrapped, chorizo-stuffed dates are, of course, another rule of avec. You must order them, every time, until you've had them so often that you no longer need to be at avec to taste them—you close your eyes, access your taste memory, slip into a bliss coma….
"Are you guys tourists?" I asked Brandon.
He and his companions looked wounded. "We live up the street," they said.
The idea that a Chicagoan exists who has not yet eaten the avec dates was inconceivable to me. But here were three people who had lived in Chicago for years and were just now at avec for the first time.
Rules dictate this situation, too.
"You must eat the focaccia," I said. "And probably the brandade."
They nodded and smiled. But I knew they weren't listening. They'd already put in their orders; they weren't going to order more.
Which breaks yet another rule of avec: There's always something more to order. You always order more.
If I was a little doctrinaire with these people, it was because I was scared, for both them and for myself, that avec's magic—I'm sorry, there's no other word for it—would not take hold. Things had been too perfect here for too long, and earlier this year it all fell apart. That's my dramatic way of saying that Koren Grieveson, avec's chef from the beginning, parted ways with the restaurant and was replaced with somebody new, young and under a lot of pressure to keep the thousands of people across the world who consider avec their favorite restaurant from staging a revolt. (In this respect, keeping the dates and the focaccia on the menu was a non-negotiable strategy.) Avec is a magnet of a restaurant because it is so small, because you are pressed up against strangers with whom you are tempted to engage in conversation (within reason), because the wines are wines you've never heard of and the bottles are so cheap, because the food exhibits the aching flavors of the Mediterranean, spicy and sweet and earthy and floral, usually all at the same time.
But avec has also been copied so often, both in bits (successful) and wholesale (unsuccessful), that, now, if you take away any one of avec's perfectly in-sync parts, it becomes…ordinary. My skin crawls at the thought.
Thus the weight on new chef Erling Wu-Bower's shoulders. Thus the reason I avoided the dates and the focaccia, and focused on what new dishes Wu-Bower is bringing to the menu. I started with the salumi plates, the chef's first major change to the menu's format. Once just meats on a plate (no disrespect intended), the salumi is now turned into composed plates. The n'duja, a spreadable Calabrian sausage Wu-Bower used to make at Publican Quality Meats, is presented as a crostini. It reveals itself in stages: the sugar of the parsnip mostarda, then the vinegar of the mostarda and, finally, the fire of the sausage. My companion—the Israel talker—kept saying to me "it's good, it's really good," because he saw on my face that I wasn't so sure. I was wondering if it broke another of avec's rules: simplicity.
In an interview for this magazine, Wu-Bower told me—to my face, by the way, making it impossible for me to slip into avec unnoticed—that his aim for the menu is to refocus avec on the Mediterranean rim, which to me is a little like limiting one's candy bar selection to those that contain chocolate. As I ate the n'duja, I liked it more and more—the way the flavors revealed themselves slowly commanded respect. But I worried about just how many flavors from the Mediterranean rim Wu-Bower hopes to squeeze onto one plate. I squinted and tried to remember the dishes I'd eaten at avec under Grieveson—maybe that's not fair, but it's inevitable—and I remembered them as simpler. And as I ate Wu-Bower's food, I occasionally came across a plate that made me worry that in these early days, he is perhaps working too hard, layering too much. Some of the plates seemed, if not exactly complicated, fussed over.
But this is not so much a criticism as it is an observation, because Wu-Bower's flavors are pure, revelatory avec. There's the plate where a thin layer of toscano salumi is topped with half-moons of squash and shavings of Parmesan. "As simple as it gets," our server told us. Well, not really, but who cares? It worked. A smoked trout salad with a hypergarlicky, creamy dressing—the best Caesar I've eaten in a year. A gorgeous piece of merluza, a crispy white fish paired with an earthy ajo blanco (almond soup) and segments of grapefruit. A masterful ribollita, the beans firm and the pork belly soft and the whole thing tasting of pancetta. A bowl of muscular squid-ink pasta, tossed with roasted octopus and crunchy chorizo bread crumbs that I ate compulsively, helplessly; I could not get enough.
And then, I ate the dates. Not the bacon dates, but the dessert dates. There have never been any rules about the dessert at avec. At times, I've actually considered it anti-dessert. Today, with Blackbird pastry chef Dana Cree helping with the sweets, the desserts are middling things. An upside-down cake with tangerine, the fibrous fruit never really breaking down; three tiny bites of a peanut butter–chocolate confection. They're fine, but nothing extraordinary. So I was tempted to skip the dates stuffed with marscapone and soaked in espresso—they're not the type of thing I'd ever reach for. But this is avec, where dates are king. Turns out they are sweet, and cool, chewy and creamy, and the coffee grounds sprinkled on top deepen the flavors, which of course is what avec does best: Take simple ingredients and combine them into something much more. Eating the dates reminded me of another rule of avec, the first rule of avec: Don't be afraid.
Update: Erling Wu-Bower moved to Nico Osteria, and Perry Hendrix now helms the kitchen.
Details
Address:
615 W Randolph St
Chicago


Cross street:
between Jefferson and Desplaines Sts
Transport:
El stop: Green, Pink to Clinton. Bus: 20, 56, 125.
Price:
Average small plate: $8, average large plate: $17
Contact:
Opening hours:
Dinner
Do you own this business?
Average User Rating
4.8 / 5
Rating Breakdown
5 star:

4

4 star:

1

3 star:

0

2 star:

0

1 star:

0
I can't say enough about this place. The quality of service, food, and beverage are so nonchalantly fabulous that many times I've almost forgotten how epic every experience actually is. Casual environment, never stuffy, fresh ingredients cooked and seasoned to perfection. On a recent trip we had a pizza special (the dough is made to order btw) that featured burrata and my favorite garlic-y spring treat; ramps. To DIE for. I think it lasted at our table all of 7.2 seconds. We had our server pick out 2 bottles of wine to pair with the dishes we had chosen and that was a decision I did not regret. Such an interesting and constantly changing list of wines. Their paella, in the photo below, is an outstanding menu constant that features a rotating list of ingredients depending on the season. Only down side is their seating situation. The bar is my area of choice and if you sit at a table expect to get cozy with your neighbors. You'll be fighting over elbow space while trying really hard to maintain your own conversation because you're too busy eavesdropping on the couple next to you. All in all though; a Chicago staple that will forever remain in my comforting classics rotation.
Picking a place to have brunch in Chicago is tough given all the great options. But after doing some research and finding Avec on numerous "best brunches" lists I knew I couldn't go wrong. Served 10-2pm on Sunday, the brunch menu is extensive but not overwhelming. The menu is separated into 8 "Small Plates," 5 "Large Plates," 4 "cocktails", 5 "coffee", 5 "tea", 2 "sides" and 3 "sweets". I had three weekends left in Chicago when I decided to review this place so I needed to make sure I got in everything in 3 visits. So at about 5 menu items per visit I definitely did not leave this place hungry. Avec proclaims to be a Mediterranean inspired small plates restaurant with a Midwest twist so it wasn't surprising their "small plates" section had the most dishes. I loved all their small plates and this is where you will find the highly regarded chorizo-stuffed medjool dates with bacon and piquillo pepper-tomato sauce. Served with healthy portion of ciabatta bread, these were amazing and one of the few items they will do a half order of which is good news for a solo act like myself. Although hard to pick a favorite egg dish, I'm going to have to go with the poached eggs on olive bread with 'nduja and preserved lemon hollandaise. I'm a big sandwich guy and I was able to eat this like an open face sandwich and the 'nduja (which I've never had before) was an amazing spread. They also do an awesome roasted salmon and their butcher's steak done Ethiopian style with the berbere spice and chickpea hummus was also memorable. The baked egg is also a good dish, especially in colder weather as it eats like a stew. For the "Large Plates" you can't go wrong with any of them. They are all great. If you don't plan on coming back and want to try as many things as possible, take advantage of option to get the half orders of the french toast and the breakfast paella. The pizza is the best brunch pizza I've had, the pork shoulder was incredible and the "deluxe" focaccia is something I'll always remember. Act like a regular and request honey with the focaccia which comes in a perfect little dish for drizzling. So much better and a little known secret. Probably the smallest selection of side items I've seen on a brunch menu but where they lack in quantity they make up for in quality. No surprise the two items they do have for sides are also the best sides I've had for brunch. The pork belly... oh... my... gosh. Two thick slabs that put the best parts of steak and bacon into one mouthwatering side dish. The papas bravas with garlic aioli are also very well executed. For dessert, you can get their famous nutter butters which are excellent. Sitting in the shadow of the nutter butters is the affogato which deserves more spotlight for how good it is. I've never had affogato but am now a big fan. Don't be shy to ask what kind of pastry they are serving that morning either. If you're lucky you'll get a vol au vent with cream cheese and seasonal berries.
The drinks are solid. Everyone was good. The harissa bloody mary with the 4 finger shot of beer was my favorite. The Stephanie being my favorite non-alcoholic drink.
I have to give this place 5 stars. Everything on the menu was good. The service was excellent. Duron and Kelly were great bartenders/waiters. Very impressed given the space they have to work with and the amount of people they cater to at once. Now understand the great service is relative to the space. It's a narrow, train car shaped space. The kitchen is slightly smaller than it should be given the volume of food they put out. So during the brunch rush of 11-2pm you need to be a little patient and understand what the staff is working with. If you are an impatient person, go at 10am to be safe. For a complete review with pictures, check out bradyervin.com/blog or IG @bradysbrunch @avecchicago