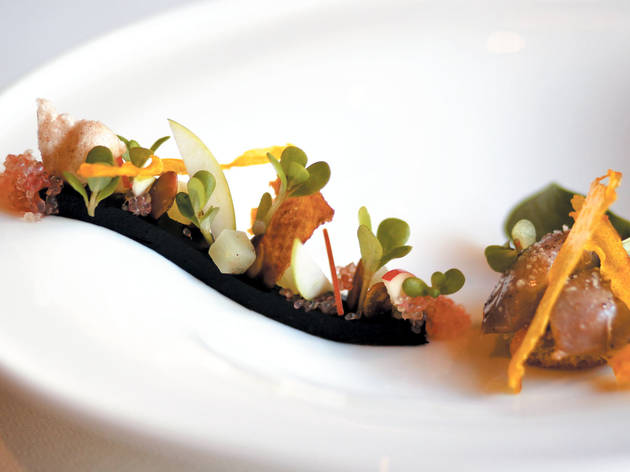 There's been a lot of buzz surrounding Graham Elliot Bowles. The daring chef almost single-handedly changed the way Chicagoans thought about hotel dining when he took over Avenues, the Peninsula Hotel's fine-dining flagship, in 2004. Suddenly, this stoic and stuffy dining room was being mentioned in the same breath as Grant Achatz and Homaro Cantu as Bowles was entertaining crowds and winning awards (including Food & Wine's Best New Chef) by coating foie gras in Pop Rocks and pairing lamb with minty-fresh Altoids. I wasn't a fan of either creation, but the guy had plenty of other fantastic dishes. So fantastic, actually, that I have nothing but high hopes for his new venture, humbly named graham elliot. But now that Bowles has moved on, that leaves us asking what will become of Avenues.
Clearly the powers that be at Avenues wanted to keep the molecular gastronomy buzz rolling, so they hand-picked former Alinea sous chef Curtis Duffy as Bowles's replacement. Duffy also worked under Achatz at Trio and spent time at Trotter's, so the kid has a solid-gold résumé for picking up where the Pop Rocks left off. The thing is, just because you've been taught how to do some tricks doesn't mean you'll make a great magician. You need style, finesse and a genius palate to pull off this kind of food. Otherwise, and unfortunately, as is the case at Avenues under Duffy, it's all just smoke and mirrors.
Or make that foam and mirrors. These days, Spaniard Ferran Adrià's culinary contribution—foam—often inspires eye-rolling from been-there-done-that diners. But when used correctly, foams can achieve their intended purpose of adding just a whisper of flavor to an already precariously balanced dish. On Duffy's blowout 16-course tasting, it not only doesn't add much, but it sometimes detracts—as overly bitter red-wine foam did with morels and gritty cocoa foam did with hamachi. Foams show up almost as much as stiff purees that serve as a study in the overuse of xanthum gum. Add the thickening agent to anything and you can make a pretty puree, but following course after course of it I longed for a clean, noncloying sauce with a natural texture.
In fact, texture and balance were a problem with many dishes. While the menu reads like a who's who of spring ingredients, those ingredients were often manipulated beyond recognition, and without favorable results. English peas are pureed then stiffened into a Play-Doh-like consistency so that they can be piped toothpaste-style around the plate (pictured). Radish slivers and prosciutto powder do little to help the gritty pea paste. Also texturally challenging was a gloopy disk of cooked amaranth topping a big, fat scallop; it was puzzlingly similar to slathering the rich, sweet mollusk in Cream of Wheat. And while the combination of "lamb, yogurt, tangerine and mint blossoms" (as the de rigueur minimalist menu description reads) sounds promising, the bitter citrus puree (which tasted more of pith than fruit) threw the whole thing off-kilter. In fact, every citrus puree that popped up in an attempt to balance via acid just ended up adding a confusingly bitter note. Kinda like getting a $500 tab for two thanks in large part to sommelier pairings like a $28 glass of Albarino, one that retails for about that price a bottle. Now that is even harder to swallow than 16 courses of foams, powders and purees.
Venue name:
Avenues (CLOSED)
Contact:
Address:
Peninsula Hotel, 108 E Superior St
Chicago


Cross street:
between Rush St and Michigan Ave
Opening hours:
Dinner (Tue–Sat)
Transport:
El sotp: Red to Chicago. Bus: 3, 4, 10, 26.
Price:
Average tasting menu: $125
Do you own this business?