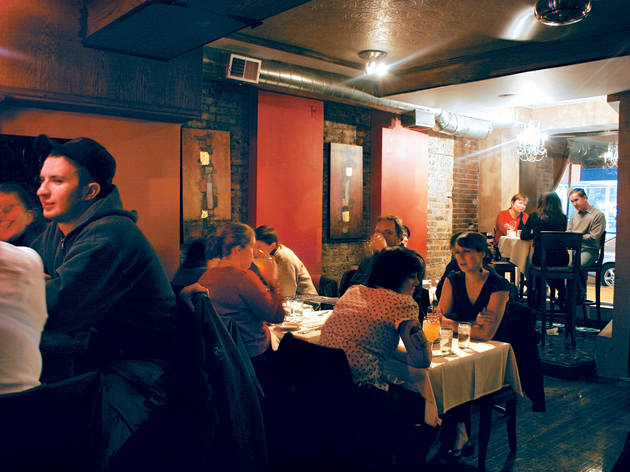 Time Out says
I thought I knew everything I needed to know about Azucar. I knew it was a tapas restaurant, and Chicago doesn't really need another tapas spot—that was strike one. I also knew the name (which means "sugar" in Spanish) was a campy reference to Celia Cruz's preperformance battle cry—strike two. I felt bad for the place before I even saw it.
But that was before I tried to get in on a Tuesday night, only to be told there was an 80-minute wait. So why is it packed? Well, there are a couple of reasons. Owner Robert Rosado is a savvy businessman—he spends his evening flitting from table to table, checking in with his customers while at the same time razzing them.
"Was there a problem with the sea bass?" he asked me on my first visit, and I was impressed he had noticed I left much of it untouched. "I noticed you didn't eat very much."
"It was fine," I said. "Just a little underwhelming."
"Well, I'm glad you said the word fine, because I was going to take it off your bill, but now I'm not." He flashed a coy smile. "But let's do a shot. Wanna do a shot? Come on, come on, come on."
Of course, a restaurant can't thrive on such charming antics alone, so Azucar is lucky to have chef Matt Saccaro in the kitchen. A veteran of Socca, Saccaro has interspersed the typical tapas menu with some unexpected dishes, and even with the usual suspects he sneaks in a surprise or two. Pork tenderloin—sliced into perfectly pink, tender medallions—is paired with the obligatory roasted apples, but made more interesting thanks to the pork's spice rub and crunchy pistachios sprinkled on top. Grilled portobello mushrooms are seasoned with ras el hanout, a blend of spices that lends a Moroccan flavor as well as a punchy, aggressive kick. Roasted red peppers are stuffed with a blend of cheeses and mushrooms, but more noticeable is the sprightly chickpea puree on which it's sitting. Seared tuna crostini is the perfect palate cleanser—fresh flavors of tuna playing off a crispy pile of fennel—and carrots get bumped up from supporting role to leading man thanks to a braising with cumin, a drizzle of lemon and olive oil, and an array of aromatic herbs.
But there was that sea bass, its bland flavor sabotaging its impressively crispy skin. A mixed-green salad was similarly dry and underdressed. The chicken-and-Mahón croquetas sounded delicious, but they, too, were dry, with no sign of the Spanish cheese. And patatas bravas, the hallmark of any respectable tapas joint, lacked the crispy edges that usually make them so addictive.
Luckily, that's nothing a little azucar won't make you forget, especially since here, in an unusual twist for a tapas restaurant, sweets aren't an afterthought. The crema Catalana is thick and sparkles with cinnamon flavor. A chocolate terrine is more like a dense brownie—it's good enough that chocolate-lovers will fight for it. And bite-size doughnuts are served with a small mug of hot chocolate that's authentically Spanish—that is, so thick you won't know whether to drink it, dip your doughnuts into it or use it to pave your driveway. Take your time deciding—Azucar isn't going anywhere.—David Tamarkin
Details
Address:
2647 N Kedzie Ave
Chicago


Cross street:
between Milwaukee and Schubert Aves
Transport:
El stop: Blue to Logan Square. Bus: 56, 76.
Price:
Average tapa: $7
Contact:
Opening hours:
Dinner (Wed–Sun)
Do you own this business?