Balena brunch review
The Lincoln Park Italian restaurant serves a lovely Sunday brunch, with some excellent morning cocktails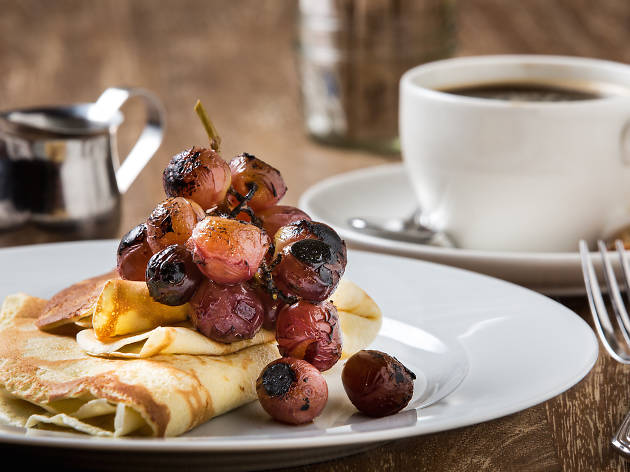 Balena is one of the city's best Italian restaurants, so when they joined the brunch ranks last month, it was a big deal. Served only on the airy first floor, the daytime menu is primarily savory, with pizzas, pasta and Italian takes on classic brunch dishes.
RECOMMENDED: Full guide to brunch in Chicago
Some of the restaurant's dinner staples carry over into brunch, like a simple arugula salad, tossed with lemon vinaigrette and dotted with toasted pine nuts, and the fennel sausage and mortadella and pistachio pesto pizzas. But since you can have these for dinner any time, try the brunch-only dishes, like eggs baked into caponata, a flavorful mélange of vegetables like eggplant and tomatoes, with buttery grilled toast to pile it onto; sweet crespelle, tender crepes stuffed with mascarpone and topped with clusters of candy-like roasted grapes; and crispy breakfast potatoes that carry some heat. The only miss was the smoked salmon pizza, served on an everything crust with a fresh arugula salad on top—the idea is great but the crème fraiche seemed to bake into the crust, and it just tasted dry.
On the drink side, you'll find a pretty straightforward Bloody Mary, laced with horseradish, but next time I'd skip right to the housemade sodas. Current flavors are plum rosemary, pear thyme and blueberry kaffir lime. They're $3.75 on their own, or $11 with some booze. We tried the plum rosemary sans booze, and it's lovely and richly flavored. Our server suggested adding prosecco to the blueberry kaffir lime soda, resulting in a bright, fruity delight that goes down almost a little too easy for a Sunday morning.
Balena serves brunch on Sundays from 11am-3pm.
Read more about Balena
Between the warmth of the room and the compelling simplicity of Chris Pandel's food, there is something especially comfortable about Balena, a collaboration between the Bristol and the Boka Restaurant Group. Settle in with a few amaro cocktails (our pick: the Montenegro), share a pizza (mortadella with chili oil), don't miss the smoked mackerel or gorgeous tagliolini nero, an uni, crab and chile pasta, and wrap things up with the tiramisu (a light and sophisticated take on the staple). Finally, fall asleep on a banquette. With any luck, nobody will wake you up.