Barbecue crawl: Q BBQ & Green Street Smoked Meats
We checked out the offerings at two new barbecue joints in one long, meaty Saturday
On a recent visit to Green Street Smoked Meats, the guy behind the counter taking meat orders was wearing a Franklin Barbecue t-shirt. Franklin, the lunch-only spot in Austin, Texas, is one of the most lauded barbecue places in the country, and it seemed like a knowing wink to our country's current barbecue obsession that he was sporting a t-shirt from there.
Chicago loves barbecue—in the past year alone, openings have included Green Street, Q BBQ, Smalls Smoke Shack & More, Blackwood BBQ, County Barbeque, Ravenswood Q, and I'm sure I missed some—but we don't have a place that inspires the fanaticism of Franklin. When I went on a barbecue tour of Texas last spring, Franklin was the clear highlight, despite having to wait in line for four hours before tucking into tender, falling-apart brisket, snappy sausages and a bottle of Big Red soda. And I'd do it again. But I haven't yet found a place in Chicago I'd wait that long for. Smoque comes closest, but four hours is a hell of a long time to wait for anything.
Early this month, two promising contenders emerged: Green Street is Brendan Sodikoff's latest restaurant, and he's shown us that he can basicallydo anything, while Q BBQ's two suburban locations get a lot of praise and it just opened one in Lakeview.
So I rounded up three friends (including one native Texan) to try them both last Saturday. Since Q is open for lunch, we started there, take a beer break in the middle to get our hunger levels back up, and then headed over to Green Street for dinner.
Q BBQ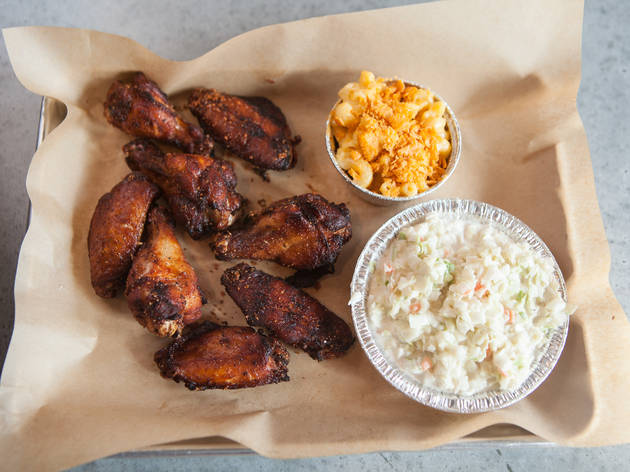 Chicken wings with mac and cheese and coleslaw at Q BBQ.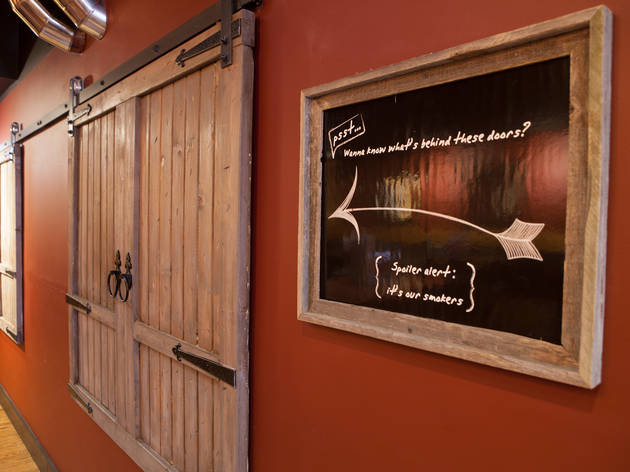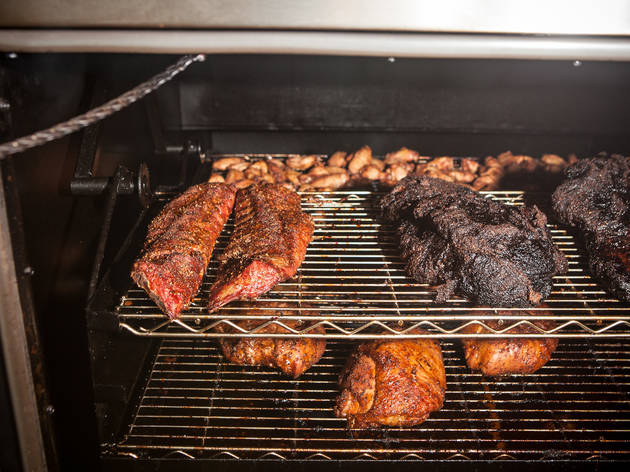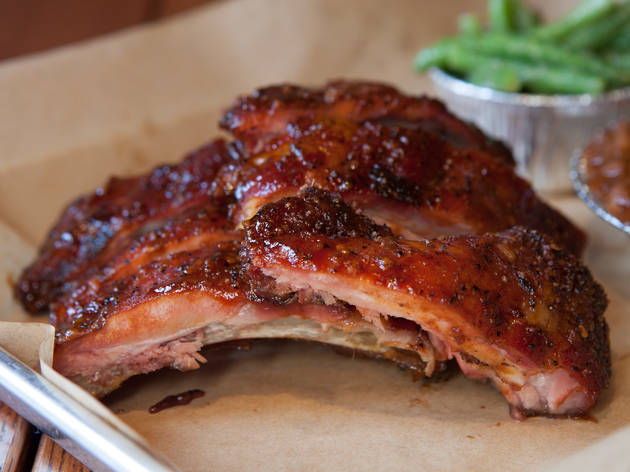 Memphis baby back ribs at Q BBQ.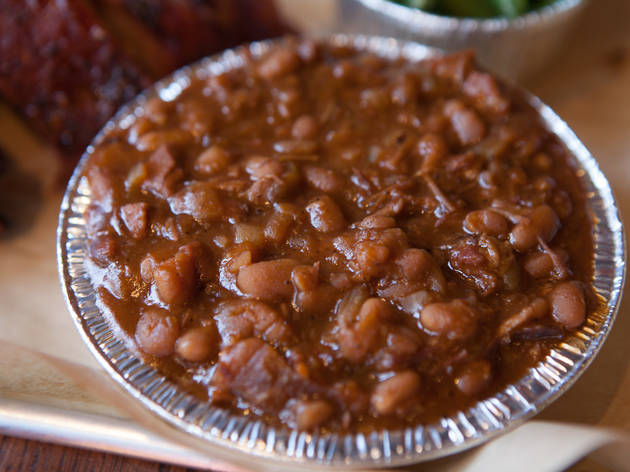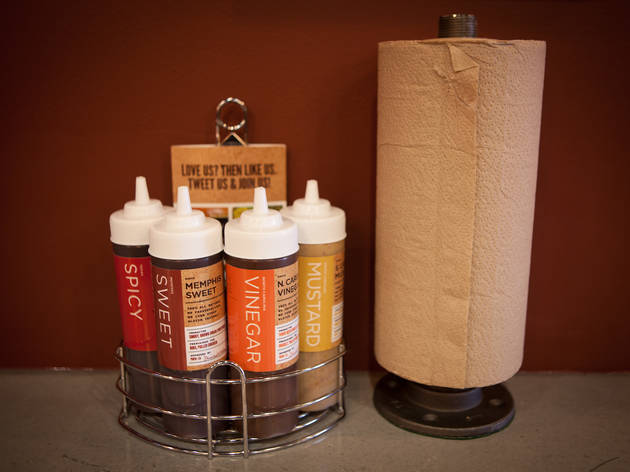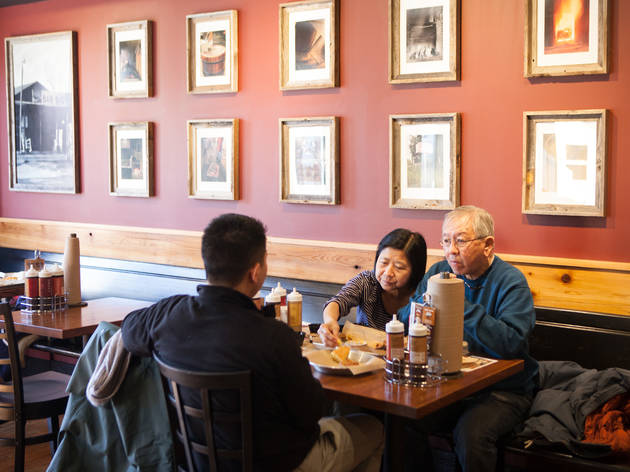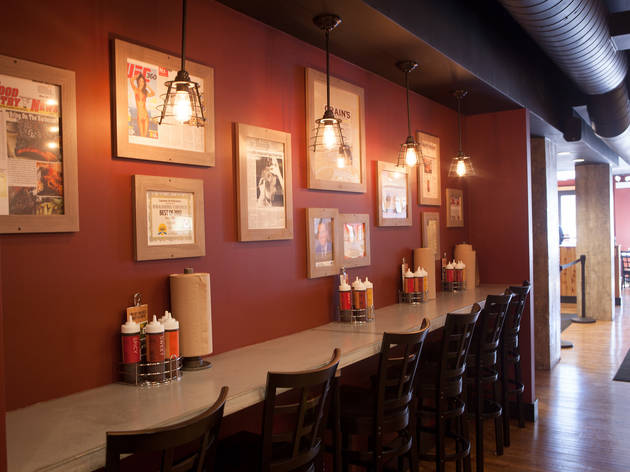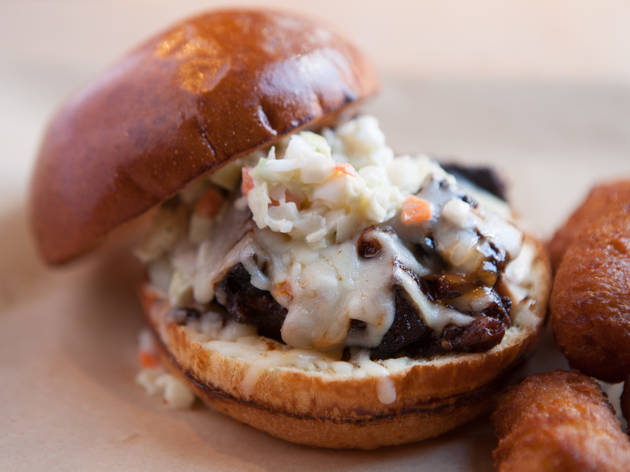 Brisket burnt ends sandwick at Q BBQ.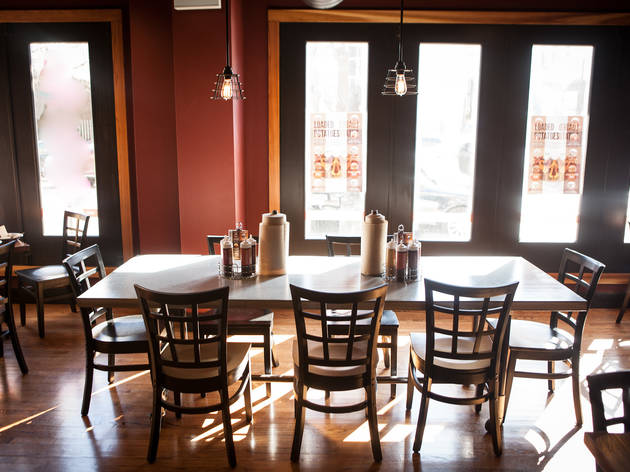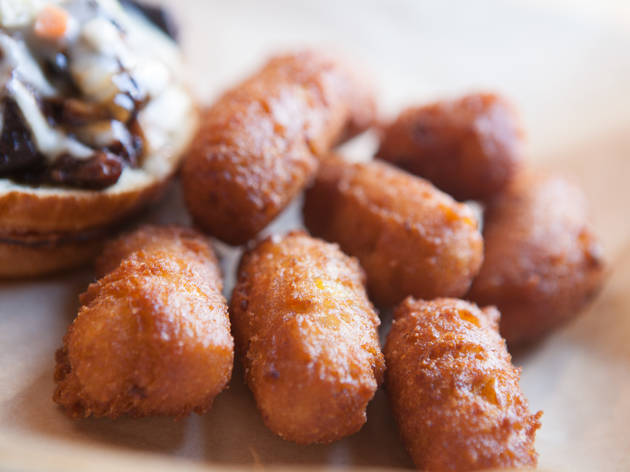 Brisket burnt ends sandwick at Q BBQ.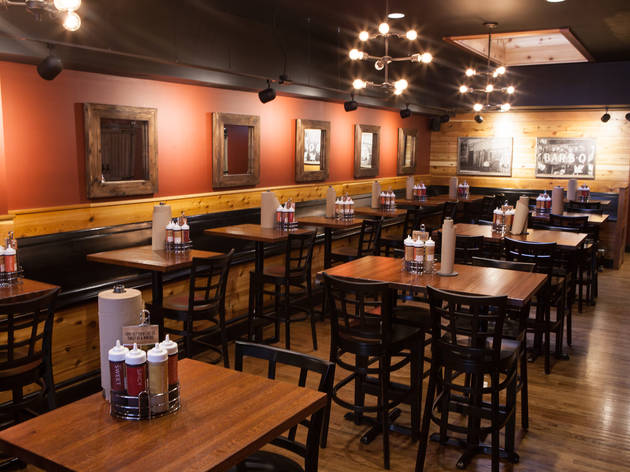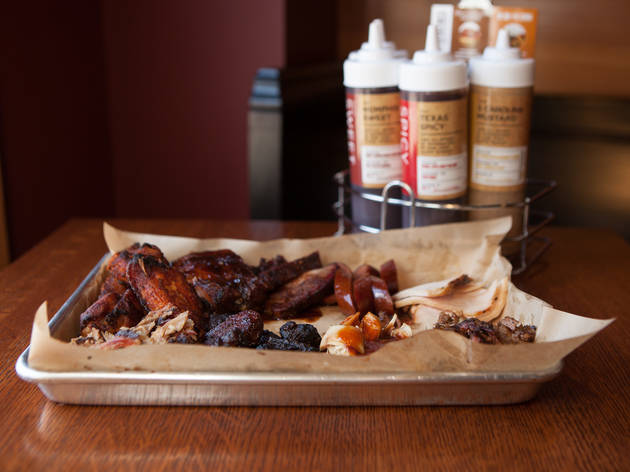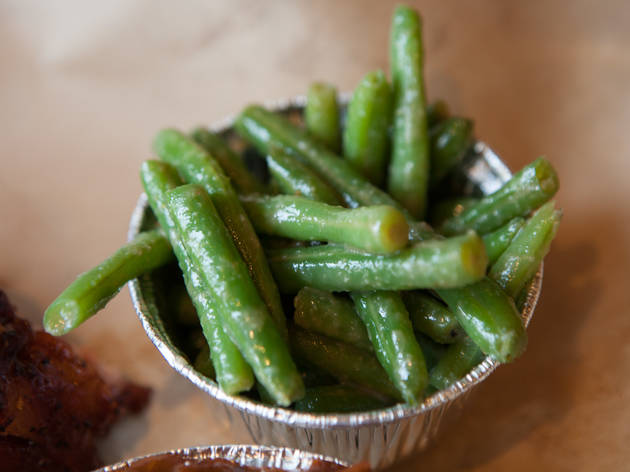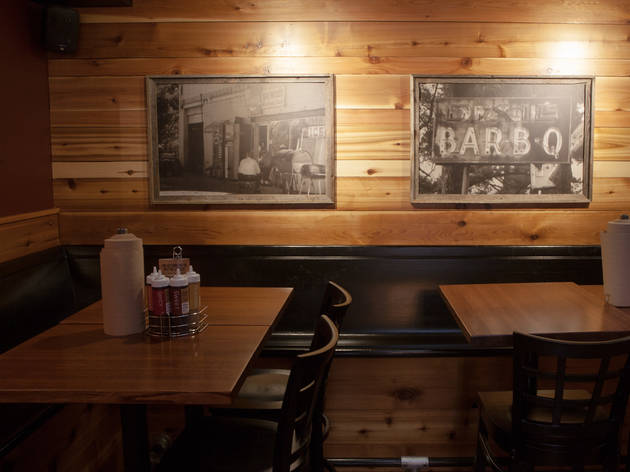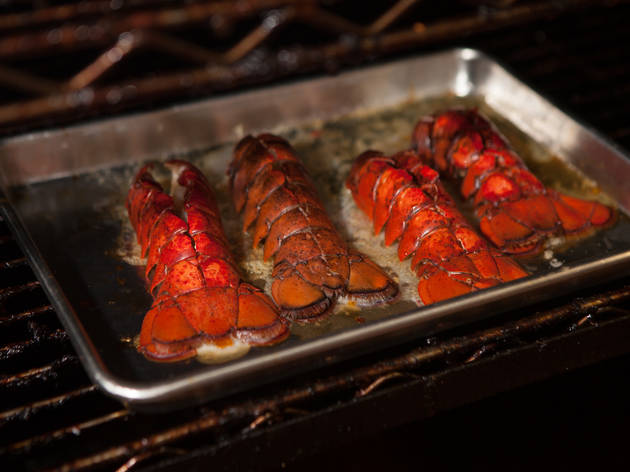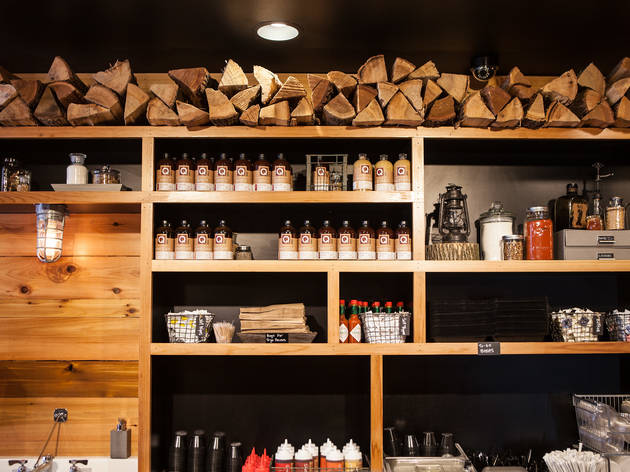 Rating: 3/5
Q BBQ offers every form of barbecue you can think of. It's great for the indecisive, but I always worry that when restaurants do too much, everything winds up being mediocre. There's Texas chopped brisket, Texas sliced brisket, Carolina pulled pork, pulled chicken, Memphis chicken wings, Texas spicy sausage, and so on. The meats are smoked over hickory and applewood, and the smoke smell permeates the restaurant (this is a good thing).
Q has a fairly generic interior, and smoky smell aside, you wouldn't know you're in a barbecue spot. You order at the counter, and there's a long menu, with salads, an array of baked potatoes, sliders and sandwiches (which curiously include melted cheese atop barbecue). Since we wanted to try everything, we opted for the Papa Q platter, a $29.99 tray that offers 2-ounce portions of each meat on the menu. It also comes with two sides and two hush puppies, and while a staffer told us it's designed for two, this can easily feed three people.
As a result of my Texas barbecue trip, my two favorite meats are sliced brisket and sausage, so that's what I gravitate toward when I eat barbecue. Here, the brisket is nice and smoky, but entirely too dry, so it's missing that fall-apart tenderness. The brisket burnt ends were better, but it was the other meats we wound up liking more. The sausage is among the best I've had in Chicago—it's spicy enough that there's a lingering burn, and there's a great snappy casing—and the pulled pork and chicken were lightly sauced and moist. There are two styles of chicken wings—spicy and Memphis—and both were flavorful and meaty.
Q makes a few housemade sauces, including a vinegar-based and a mustard sauce, but across the board they're too sweet. That's also why we barely touched the baby back ribs, which are dripping with glistening sauce. We also hardly ate the few sides, including the nearly raw green beans and super-sweet baked beans, though the spicy fried Brussels sprouts were unexpected and our favorite side.
Green Street Smoked Meats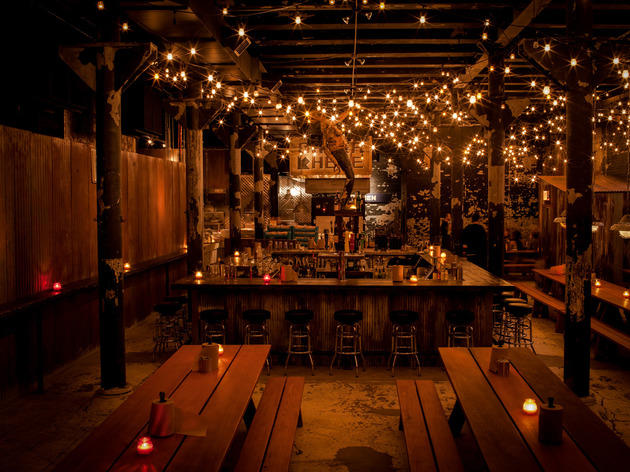 Green Street Smoked Meats.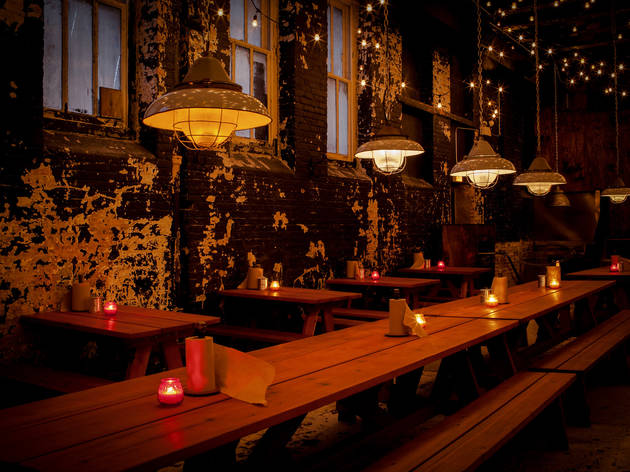 Green Street Smoked Meats.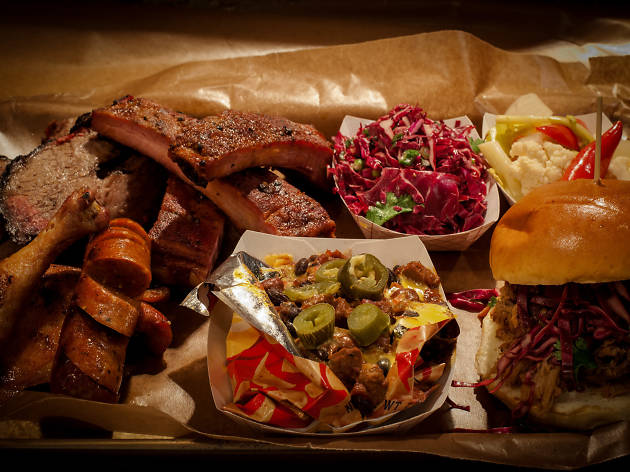 Green Street Smoked Meats.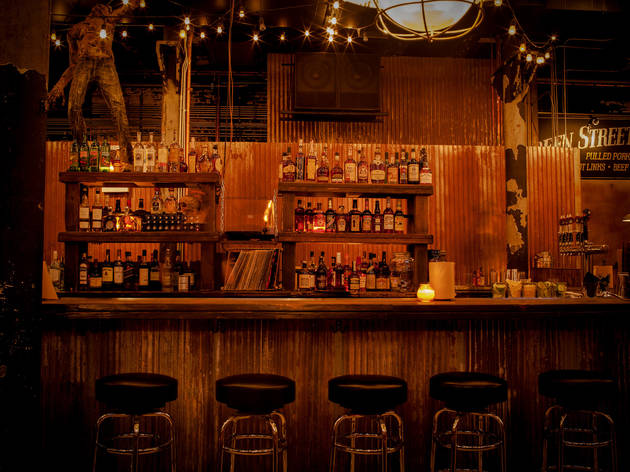 Green Street Smoked Meats.
Green Street Smoked Meats.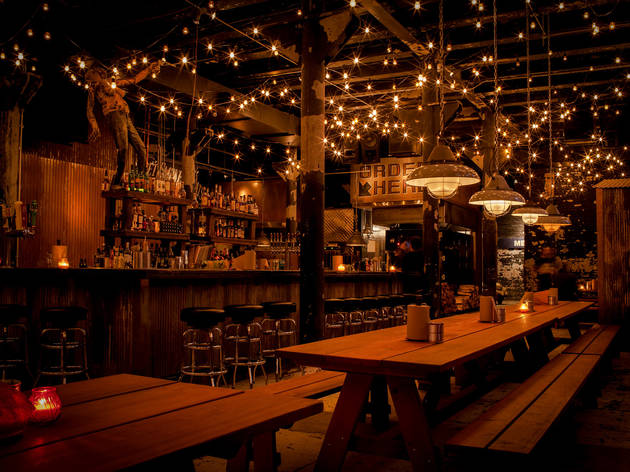 Green Street Smoked Meats.
Rating: 3/5
Sated, we took a beer break, met up with several more friends, and descended upon Green Street at 8:30pm.
But that was far too late. When we arrived at the West Loop restaurant, we walked down an alley permeated with the smell of smoke and entered the packed restaurant. With lights strung along the ceiling and large, boisterous groups, Green Street feels like a winter version of Big Star's patio.
The line to order stretched across the restaurant, and we joined it, but when we reached the meat counter 20 minutes later, the brisket, pulled pork and ribs were gone. On my second visit, the guy slicing brisket said that they usually have meat until 10pm during the week, but that all bets are off on Saturday night.
So on that first visit, we got whatever was left. That included fat, juicy slices of pork belly; large oysters that were heated in their shells until they popped, served with a lackluster tartar sauce; satisfying smoky chicken legs; a vinegar cole slaw freshened up with cilantro; and the worst tamales I've ever had. They were individually wrapped in foil and placed in a can—they were pure mush, so skip those entirely.
The pork belly was the winner the first night, and on my second visit, the lightly sweet pulled pork was our favorite, so you'll do fine if you stick with pig. The brisket comes with two slices of lean meat and two slices of fatty meat, but both were too dry and lacked the flavor that Q had. The sausage is thick and slightly spicy, but there's no snap to the casing, so it's texturally one-note. The sauces, including a coffee one, were fine, but we kind of forgot they were there. For dessert, there's one option—coffee or vanilla soft serve, topped with a chocolate shell.
If you're going with a group on the weekend, good luck. "I don't think I've ever had a bigger gulf between my enjoyment of eating something and my comfort level," one of my friends said, as six of us packed into the end of a communal table. But when I went on Wednesday night, my friend and I took up the same amount of space and were comfortable enough to linger for awhile over our food.
Green Street has a bar with cocktails and beer, but the first night we just grabbed a few Lone Stars out of the vintage sinks, where they were sitting in ice. But on my next visit, the bar was pretty much empty, so while I waited for my friend, I sipped a Black Gold, made with Carpano Antica and Fernet Vallet, a Mexican Fernet that's mellower than Fernet Branca.
If I had to go back to one of these spots this weekend, I'd pick Q for its sausage, wings and comfort level. But if pork is your favorite, head to Green Street. Either way, you'll eat decently. Just don't expect to see anyone in Austin wearing a t-shirt for either of these spots.