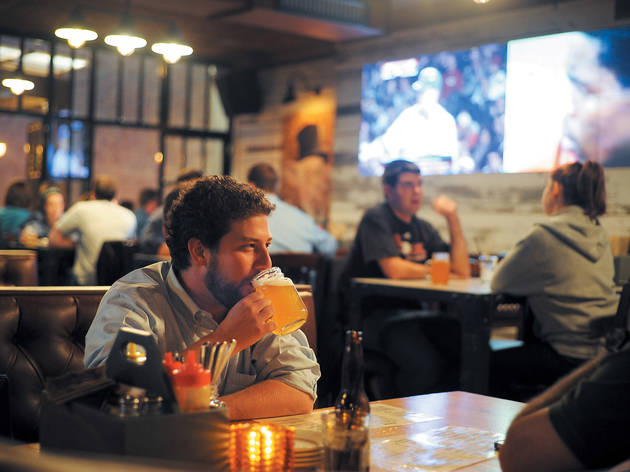 I have no desire to open a food truck. Besides the fact that I'm not a masochist, I'm also not thick-skinned enough to take the scrutiny that would inevitably follow if I—a writer who recently came out with a book on food trucks—had the balls to actually open one. So either Gary Wiviott is a masochist, or he has huge ones. The author of the barbecue cookbook Low & Slow and cofounder of LTHForum.com has emerged as the pit master of Barn & Company. Just like Grand Central here before it, Barn & Company knows its demographic and slays it, giving the young, drunk and hungry sports fans a place to drop their dough (not to mention a solid beer and whiskey list to spend it on). The owners, also of [node:149611 link=English;] and [node:233739 link=Hubbard Inn;], easily could have carried over the chili nachos and buffalo wings of Grand Central, and this crowd would barely notice. So why serve "redneck sangria" in mason jars, play dated Southern music and bring in a legitimate barbecue authority to consult and stick him on a pellet-fired Cookshack smoker? We'll get to that last part in a bit, but the point is not that a great barbecue joint, even one leaning on Southern shtick, can't exist in Yankee yuppiedom (see [node:176423 link=Lillie's Q;] for proof, right down to the corny mason jars). The point is that if you're going to enter the notoriously tough field of barbecue and you're going to ramp up the roadhouse vibe, you better deliver the goods.
Which leads us back to the masochist with huge ones. Wiviott's Low & Slow doesn't hint that he might know his game—it shoves that assertion down your throat. The cover reads everything you know about barbecue is wrong, and his intro signs off with "Pupil, prepare to begin your journey." I have no doubt that Wiviott has mastered backyard smoking, but he's a stick burner, someone who smokes meats using actual wood. At Barn & Company, he's been turned into a pellet cooker, someone who uses "set-it-and-forget-it" smokers that burn compressed pellets of sawdust. It's not impossible to create good barbecue with these, but it's a bit like handing crayons to a painter. And so far, it's tough to see the masterpiece beyond the scribbles.
Generic wings, a basic burger and limp fried pickles warrant little space here, so we'll focus on the 'cue. Minimally marbled brisket with only a smidge of fat cap didn't give an ounce of juice on either of two visits. Links from Texas's famed sausagemaker Mikeska were wrinkled like Slim Jims with a snap that needed a knife. A half chicken had plenty of fat to keep it moist, but it was underseasoned and undersmoked. Ditto for the pulled pork, which showed promise in round one with a touch of pink hiding under bits of crunchy spices, but fell flat come round two, with not a whiff of smoke and a tacky texture teetering on dry. In fact, the only thing that picked up noticeable smoke were the ribs, the best of both meals, with meat that hovered between tender and needing a tug to pull from the bone, and a nice bark of caramelized spice rub. Still, they, too, could have used some fat, and it was surprising to see only notoriously lean baby backs in the house of a barbecue expert. In fact, all of it was surprising. True, Wiviott is billed as consulting pit master alongside executive chef Bob Zrenner, and true, most of the paying public couldn't care less who's doing what, but Barn & Company just doesn't seem like the coming-out party for Chicago's most vocal barbecue enthusiast. Strangely enough, even the LTHers who typically pounce on new barbecue joints with rabid fervor are noticeably quiet. Perhaps they've heard from Wiviott, as I have via e-mail, that the wood-burning Yoder smoker out front is getting fired up on weekends and they're hopeful, as I am, that it will offer the higher-caliber backyard barbecue "GWiv" has become known for. Still, when I showed up early on a recent Saturday evening, that Yoder had already cooled and the 100-pound pig it smoked was long gone. Apparently getting the real deal in a restaurant is harder than it seems.
By Heather Shouse
Venue name:
Barn & Company
Contact:
Address:
950 W Wrightwood Ave
Chicago
60614

Cross street:
at Sheffield Ave
Opening hours:
Tues–Fri 4pm–2am; Sat 10am–3am; Sun 10am–2am (closed Mon)
Transport:
El stop: Brown, Purple (rush hrs) to Diversey. Bus: 9, 11, 73, 74.
Price:
Average beer: $5
Do you own this business?