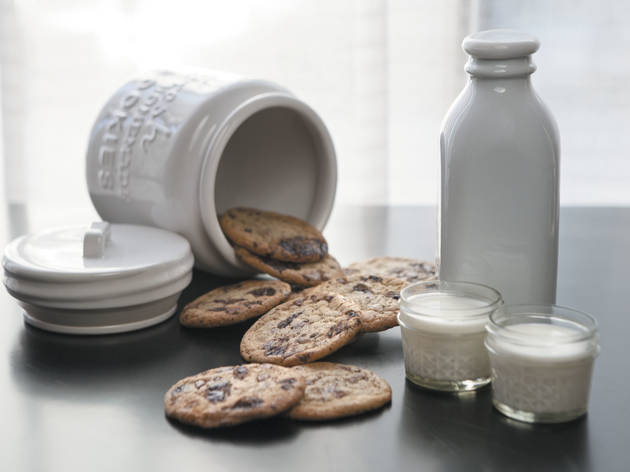 Baume & Brix has a cool list of wines by the glass, smartly divided into two columns: eclectic, unusual producers on the left; familiar, established wineries on the right. Baume & Brix knows how to skillfully cook certain proteins, such as plump grilled octopus, breathlessly tender short ribs and silky black cod. And Baume & Brix makes excellent chocolate-chip cookies.
Unfortunately, those three sentences comprise every nice thing I have to say about Baume & Brix, the unlikely marriage of the whimsical, modern cooking espoused at Moto (from whence chefs Thomas Elliott Bowman and Ben Roche came) to the thumping, clubby scene of nightlife-restaurants like Tavernita, Sunda, etc. I'm not saying this merger can't be successful (see: José Andrés's Bazaar in Beverly Hills), only that my two meals were not. In fact, they were haphazard, dissatisfying and, occasionally, comical. My first visit was as close as a restaurant at this price point (plus or minus $75 a person, depending on whether you agree to the server's premise that you should order three Explores¹ and three Summits² for two people³) can come to bombing while still managing to function. That night, the host stand was temporarily "out of menus," the wine I ordered "never came in" and large swaths of the meal were spent wondering whether my scarcely trained server had simply left the restaurant. (Also, it was infernally loud.)
This debacle was accompanied by a parade of dispiriting, ill-conceived courses, which ranged from palatable but dull (one-note "umami" mushroom soup with a poached egg, your basic burrata salad, a muted chicken-liver "parfait" layered with egg salad) to confounding and a little vile (a gristly lamb T-bone; a maitake mushroom-and-cauliflower dish whose repellent combination of Gruyère, Indian spices and raw-tasting mushrooms is a travesty for the vegetarians who'll likely be stuck with it). Yet by the end of my second meal, where the service was doting rather than nonexistent (but equally clueless), I grew tired of harping on Baume & Brix. So in the spirit of Thanksgiving, I'm going to make lemonade out of reverse-spherified lemons, with a short list of things Baume & Brix reminded me to appreciate.
I'm grateful for chefs who know how to self-edit, who know that when you're serving gorgeously grilled, fully seasoned octopus (as Bowman/Roche do), the last thing you should do is ask guests to dip the tentacles into flavored powders, whose chalky textures damage rather than enhance the experience. I'm grateful for everything beautiful that can be done with lobster, so that I can never again consider the atrocities inflicted on this poor creature at Baume & Brix, where it's hacked up and served with a vanilla-potato foam that's as sweet as ice cream.
I'm grateful for restaurants where visual high jinks are more than momentary, show-offy tricks, which is exactly the problem with Baume & Brix's decision to take the words black cod literally, dying an entire plate—meltingly succulent cod, bland rice patty and broth—as black as night. I'm grateful that the '90s are over, because I find few things less appetizing than squiggly lines of pasty sauces drawn across plates of food, which is precisely how Baume & Brix presents the red curry sauce it pairs with a rich, fork-tender hunk of short ribs.
By working as co-chefs, Bowman and Roche (the latter of whom was the pastry chef at Moto) intend to create some sort of symbiosis between sweet and savory. This is occasionally charming, as in the "Frostee & Fries" dessert, a combination of potato ice cream, matchstick potatoes and caramelized banana that—by George—really does taste like a Wendy's Frosty and an order of french fries. But more often, the sweetness in the savory food feels intrusive and overbearing, and their dishes don't convey a clear or convincing concept.
Still, I'm grateful for chocolate-chip cookies, and for the fact that Baume & Brix serves very good ones, chewy on the outside and gooey within. And more than that, I'm grateful that I can find a chocolate-chip cookie as good as this one somewhere else in my life, so I don't have to pay $24 for a dozen cookies (ten of which I took home)…or for that matter, return to Baume & Brix again.
¹Appetizers; ²Entrées; ³Two from each category would suffice.
Venue name:
Baume & Brix (CLOSED)
Contact:
Address:
351 W Hubbard St
Chicago


Cross street:
between Orleans and Kingsbury Sts
Opening hours:
Dinner (closed Sun)
Transport:
El stop: Brown, Purple (rush hrs) to Merchandise Mart. Bus: 11, 65, 125.
Price:
Average main course: $23
Do you own this business?