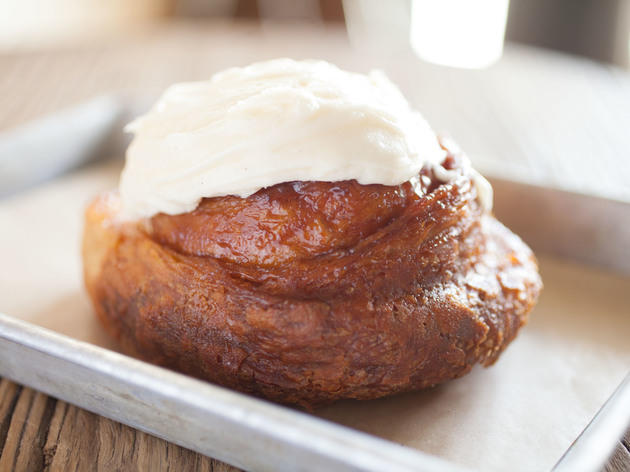 1/13
Photograph: Martha Williams
The honey butter cinnamon roll is on the menu at Beatrix.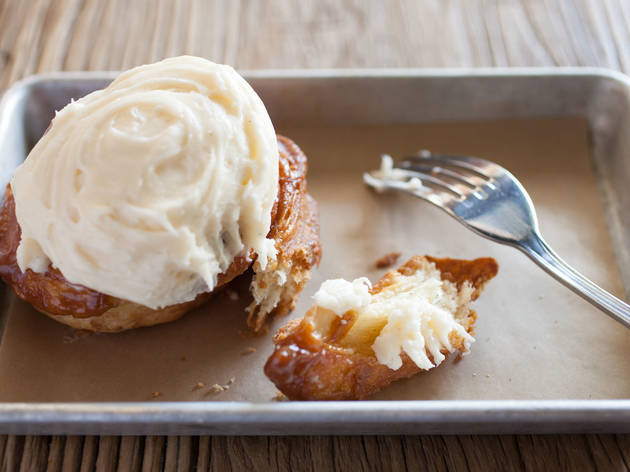 2/13
Photograph: Martha Williams
The honey butter cinnamon roll is available at Beatrix.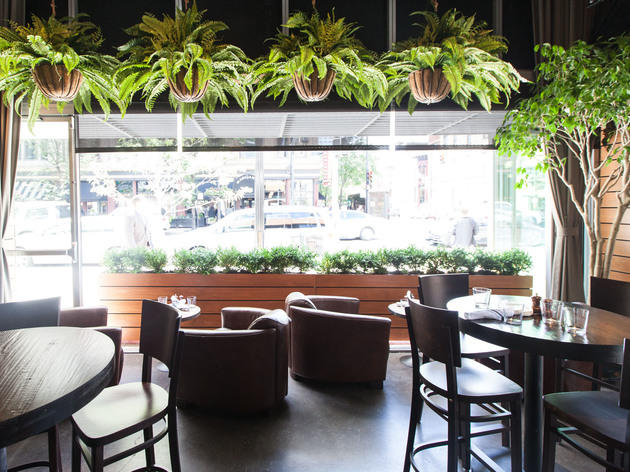 3/13
Photograph: Martha Williams
Beatrix opened June 20.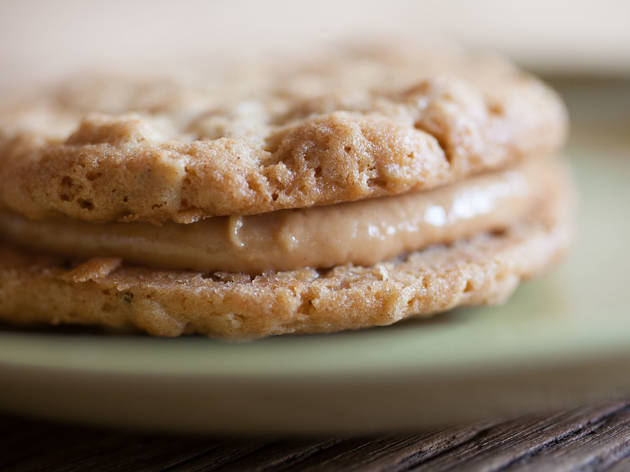 4/13
Photograph: Martha Williams
The peanut butter cookie is one of the desserts at Beatrix.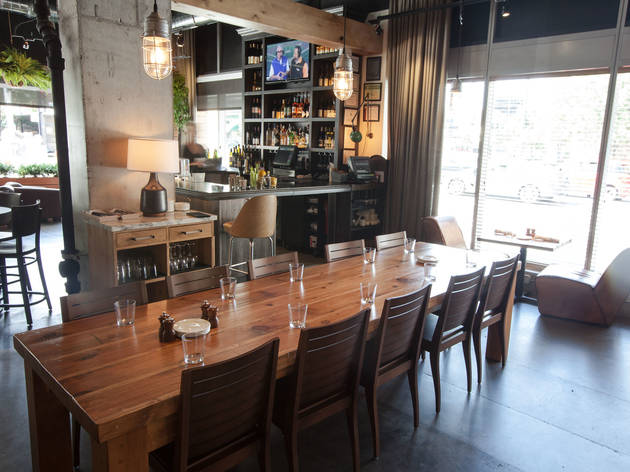 5/13
Photograph: Martha Williams
Beatrix opened June 20 in River North.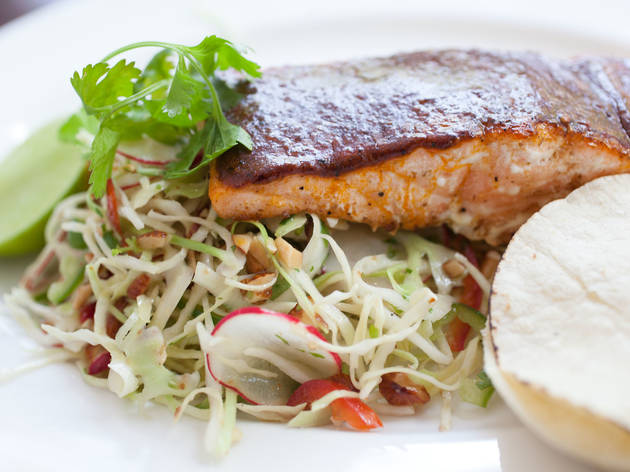 6/13
Photograph: Martha Williams
Chili & chocolate glazed salmon is on the menu at Beatrix.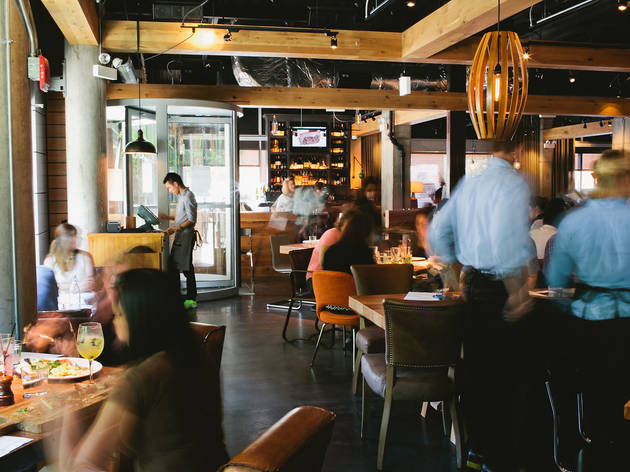 7/13
Photograph: Anjali M. PInto
Beatrix opened June 20 in River North.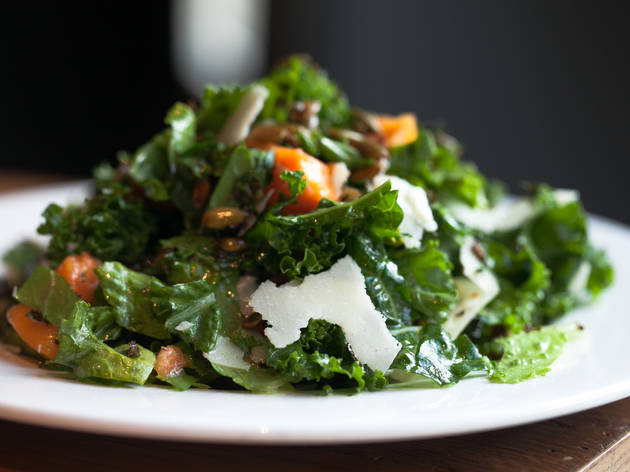 8/13
Photograph: Anjali M. PInto
Beatrix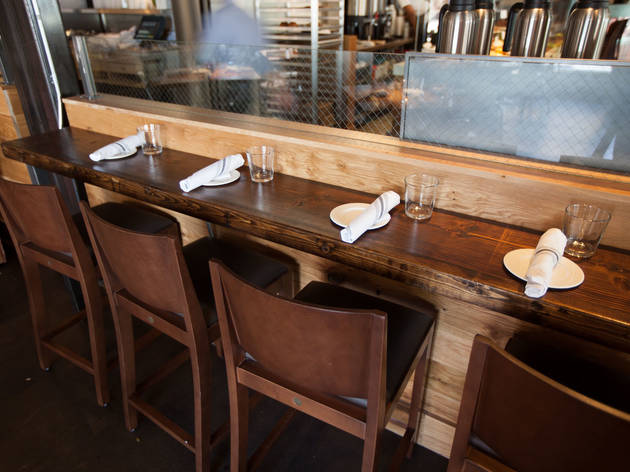 9/13
Photograph: Martha Williams
Beatrix opened June 20.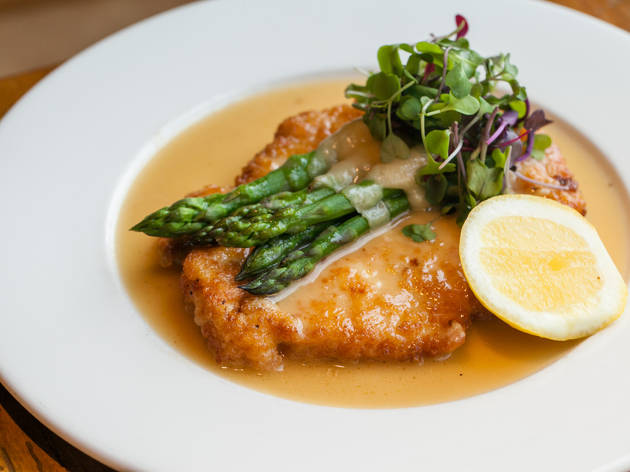 10/13
Photograph: Anjali M. PInto
Chicken parmesan at Beatrix.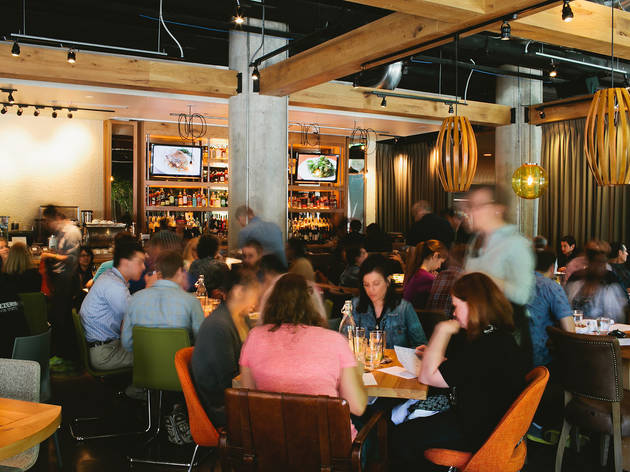 11/13
Photograph: Anjali M. PInto
Beatrix opened June 20.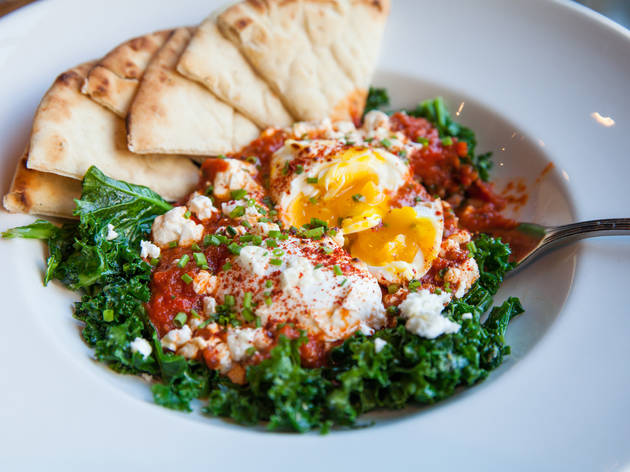 12/13
Photograph: Anjali M. PInto
Beatrix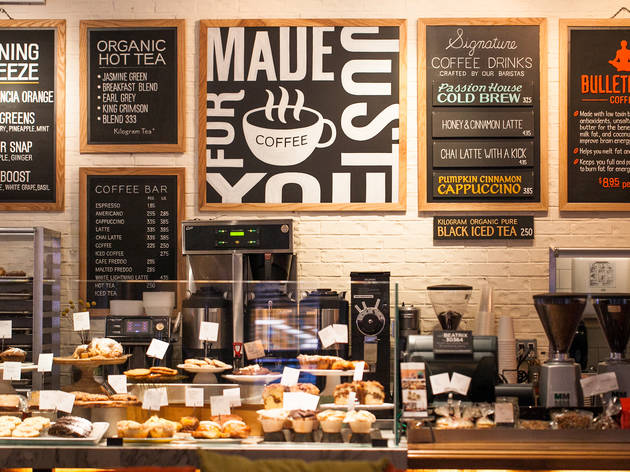 13/13
Photograph: Anjali M. PInto
Beatrix
Time Out says
When I first glimpse the menu at Beatrix, I'm confused and, frankly, a bit skeptical. Chili-chocolate salmon with corn tacos butts up against a snack of potato salad deviled eggs. Hummus (served with naan, rather than pita) is coming out of the same kitchen window as a hamachi crudo with citrus that looks like it's straight from a sushi bar. Could a menu that just seems cobbled together from every food trend of the past five years possibly be good?
Somehow, it is. The latest offering from Chicago restaurant empire Lettuce Entertain You, Beatrix builds a menu mostly of dishes from the Lettuce test kitchen that couldn't find a home. These orphans were so delicious that Lettuce boss Rich Melman decided to create a place just for them.
Despite the restaurant's slogan, "taste over trend," in reality each dish could come straight from a food trend roundup. Kale salad! Deviled eggs! Vaguely Mexican flavored fish! Savory bread pudding! Quinoa! Each craze has swept the restaurant world in the last few years, and they're all together at Beatrix, like an awkward family reunion of has-beens.
But as I dig into each dish, I realize that there was a reason that each trend became, well, a trend. Even better, each dish has a spin that makes it seem a little bit new. Take that kale salad, called the "Emerald City Salad" in Lettuce-speak. Instead of the tired, obligatory kale dish that's on every menu in Chicago at the moment, this kale salad is fresh and crunchy. The leaves are mixed with celery, mint, romaine, and, in an unlikely-sounding but successful combination, pineapple. The whole thing comes complete with a shot of one of the restaurant's signature juices, and if it weren't so delicious I'd be laughing at its health-food jet-setter tone.
The potato salad deviled eggs, blessedly devoid of anything resembling an overbearing truffle, take you back to the summer picnics of your childhood in a single bite. Who cares if every restaurant has them? Order them anyway. Even the not-quite-Mexican chili and chocolate glazed salmon, served with corn tortillas and a refreshing smoked almond slaw, has me tearing it apart and building tacos after the first bite. The pasta with poached farm eggs and truffle is decadent, creamy and utterly non-challenging, the perfect dish after a hard-fought day at work.
Beatrix is a cavernous space, complete with two bars, one for cocktails and the other for wine. The wine bar, tucked away in a corner, is likely to become one of the most sought-after late summer spots in the city. It's filled with hanging plants and has a huge open wall, which lets guests enjoy a drink "outside" without actually being bombarded with the diesel fumes coming off Clark Street.
Before you sip, though, be aware: The cocktail program does more to feature the extensive fresh juice program than to provide diners with inebriants. Cocktails are delicious but universally sweet and fruity. If that's not your thing, stick with the all-American wine list or the small, well-curated selection of local craft beers.
There are a few obvious tells that you are sitting in a Lettuce restaurant. Pretty, large-lettered signs advertising coffee drinks and breakfast pastries line the walls and some menu descriptions are a bit too precious. "Neatloaf?" "Cute banana split?" "Tall, dark and handsome" chocolate cake? These kind of sound like they belong in a mall restaurant. But as I slowly eat a piece of the most decadent caramel pie I've ever put in my mouth, I think—just go with it. Purists will inevitably complain that nothing at this restaurant makes any sense. But they'll stop complaining once they start eating.
Details
Address:
519 N Clark St
Chicago
60654

Cross street:
at Grand Ave
Transport:
El stop: Red to Grand. Bus: 22, 29, 36, 65, 156.
Price:
Average main course: $16
Contact:
Opening hours:
Breakfast, Lunch, Dinner
Do you own this business?
Average User Rating
4.3 / 5
Rating Breakdown
5 star:

6

4 star:

3

3 star:

1

2 star:

1

1 star:

0
Zero complaints. Beatrix is dishing up solid food at all hours of the day. Their waitstaff is incredibly professional and helpful. Once one of our plates was running late (we didn't even notice) and they brought over a free plate along with comping the dish that was slow.
Hummus Plate and Pineapple Habanero Margs for life.
Beatrix is the answer for every dining situation. Dinner? Yes. Drinks? Yes. Date? Also yes. Add a few more nods for brunch, a great takeaway coffee and pastry bar, and an ideal space for groups and you've got a real winner! The menu is modern but is consistent where it counts: Steak and eggs, hearty salads, crab cakes...you cannot go wrong. I take people here all the time and am never disappointed. Both locations are comfortable and the perfect place to enjoy delicious food and a warm atmosphere.
It's easy to see why everyone loves Beatrix. It's a great spot for breakfast, just keep in mind that it tends to be packed no matter what, and your bill can add up. But it's worth it! Great cocktails too.
Amazing! Loved everything. I love the open airy feel of the space plus the food so good. I met for a late breakfast and had a pot roast and egg sandwich that completely blew my mind. This is a foodie spot filled with really healthy and really sinful options.
I accidentally went to Beatrix three times in one week, and I have a lot of feelings. One of their specials was a chilaquiles bar, and if I could, I would eat that for every meal. I also tried the French toast special which was incredible for the first few bites, but overall overwhelmingly sweet. Their tomato soup was plain, but yummy and provides some much-needed warmth from the cold Chicago winds. The atmosphere is young and fun, and my friends and I had a long conversation about whether it was giving off hipster vibes, or just trendy. Is there a difference between those two things? Which is Beatrix? I would be interested to hear what other people think.