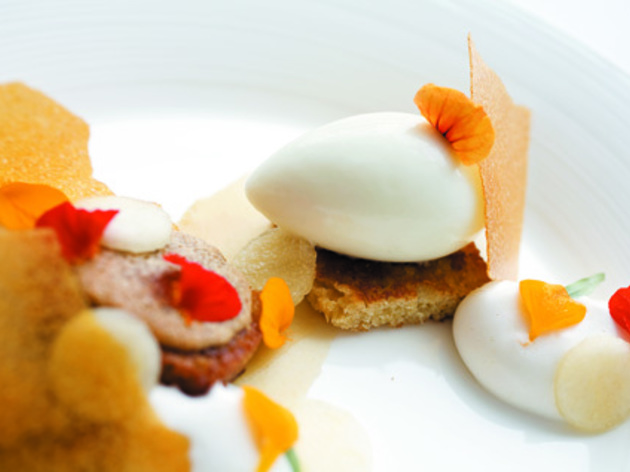 1/3
Photograph: Martha Williams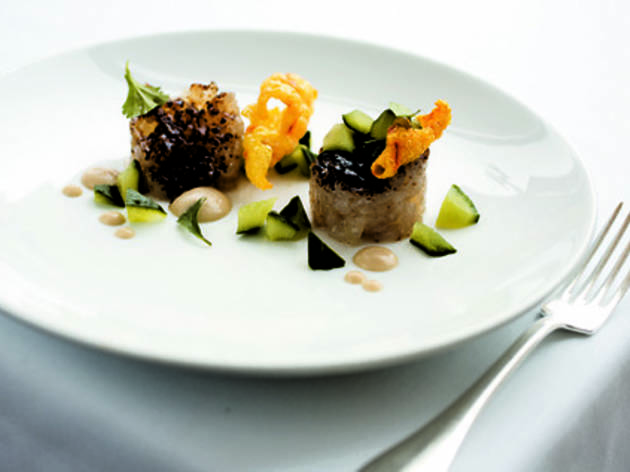 2/3
Martha Williams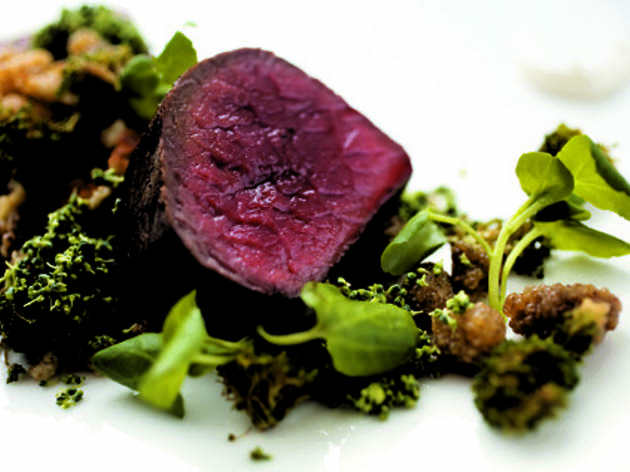 3/3
Photograph: Martha Williams
I arrived at Blackbird two weeks ago at 9:45pm on a snowy Thursday. I walked in, and the hostess kindly asked for my coat. I hesitated. It was a cold night. I had walked a mile in bad weather to get there. I was still thawing. But I was also familiar with the legend about Blackbird's owner, Donnie Madia, and how coats on the backs of chairs made him furious. Having met Donnie a few times, I could see how this would be the case. I handed the coat over.
But I kept my bag. I took a seat at the bar, by myself, and I had every intention of eating my dinner unoccupied—no phone, no book. That was the way I wanted it. It was also the way I think Donnie would have wanted it. Still, should a cocktail instill in me the boldness to take out my novel, I wanted to be prepared.
The place was almost empty—just a few tables still occupied in the back, near the kitchen. I had the bar all to myself. So when I saw the bartender, my server, ruffling through the day's newspapers, I wouldn't have been surprised if she had leaned against the wall and started reading.
Instead, she fished a New Yorker out of the pile and handed it to me with a raised eyebrow.
Yes? she asked with her eyes.
Yes, I nodded, and took it from her hand.
It was the type of service gesture I expect from a specific kind of great restaurant, but not necessarily from Blackbird. My last meal here—lunch, several months ago—had been presided over with excruciating snobbishness. And since then, the Blackbird group of restaurants has experienced a bit of turmoil. In August, Blackbird's sister restaurant Avec caught on fire. A firefighter died trying to put the fire out, and Avec closed for almost three months. Meanwhile, Blackbird was having some awkward (albeit much less serious) drama of its own: Mike Sheerin, the first chef Paul Kahan had bestowed with the chef de cuisine title, was quoted in a local magazine saying he essentially wanted out of Blackbird so he could open his own place. As of September, Sheerin had his wish, sort of—he was given the new title of Private Events Chef, and David Posey was named as his successor. (Sheerin's own restaurant, The Trencherman, is still in the works.)
The closing of Avec and the chef-shuffling at Blackbird called into question for the first time how relevant—or not—the restaurants had become. Back in the day, there may as well not have been any other restaurants in the city: Blackbird ruled the high end, Avec the middle and between the two they had the loyalty and attention of every scenester, politician and tourist. But the framework Blackbird had a hand in creating was infectious. To see that a restaurant could play indie rock and still bring to the table beautiful, fussed-over plates and also be wildly successful—there was no hope that it wouldn't be imitated. But was there hope that Blackbird could stay ahead?
In some ways, the restaurant hasn't changed. For instance, pork is still alive and well at Blackbird. Here, pig is not a trend, because trends die, and at Blackbird, pork lives, and lives and lives. That night at the bar, the amuse bouche was a gorgeous ribbon of lardo. It rested on the plate in a curve, looking like a glassy piece of ribbon candy. It was paired with a schmear of black garlic, which lent the lardo the flavor of maple bacon, only funkier, more complicated. It was a bite that even the most cynical pork eaters couldn't resist.
Following the lardo came a garbanzo-bean soup. The soup itself was smooth and thick and comforting, but that was hardly the point. It was paired with two hot, crisp falafel, pickled pear and caramelized egg yolk, which had the look of apple butter (and was almost as sweet). Soup, by nature, often has one broad flavor as its identity. This one was schizophrenic. A spoonful that included the yolk was sweet and thick; one with the pear was tart enough to make a guy wince. Trying to decide which flavor was better was a useless endeavor—the soup was a success because of its duality, not in spite of it.
If there is a theme to Posey's food, it's the duplicity—or triplicity, etc.—that marks his plates. His dishes are dominated by a single protein, as convention calls for. But sauces and garnishes are elevated. They are sometimes literally hidden on the plate—tucked under an octopus's tentacle, for example—and rather than enhance a dish, they sometimes change it altogether. Coffee-scented fluke did not so much have the aroma of coffee as its bitter edge. Tasted on its own, the fluke, which had been Cryovaced with coffee grounds, was a challenge—cool on the tongue but more bitter than most chefs would think acceptable. Like most ambitious flavors, it takes a little getting used to before you start to crave another bite. But just as that happens, you might try a bit of the saffron crisp that is also on the plate. And here, the dish changes—warm saffron spreads over your palate like a blanket. A dish that a minute ago was aggressive and cold is now warm and floral.
The changes are not always so drastic, of course. The chicken—which is not really just chicken, but chicken stuffed with sausage, a sort of freakishly delicious frankenmeat—comes on a plate that's been dusted with dehydrated kaffir lime. The lime's aroma infiltrates the air, giving the dish an East Asian persuasion. It makes an impact; it's just a more subtle one. A little more impressive is the difference a little broccoli makes on a plate of duck fat-poached elk, transforming a nicely cooked but unexciting piece of game into something palpably more nuanced and original.
Whether this is Posey's style or more definitively Blackbird's style is unclear. Either way, Patrick Fahy, Blackbird's relatively new pastry chef (he arrived in fall of 2009) follows suit. He pairs brioche with myriad flavors—tarragon, pear, parsnip—much to the same effect as Posey's soup. His shredded phyllo (in which Fahy borrows ideas from the Middle East, an influence you rarely see among pastry chefs) is less successful in parts than it is as a whole: The dish only comes together when the almond yogurt is on your fork. But the almost-savory fromage blanc panna cotta works no matter how you eat it: Whether alone, or with the red wine-quince sorbet, it's a remarkable thing to eat.
Is this food at the top? Are chefs still looking up at it, trying to figure out ways to catch up? I think it is. But whereas at one time Blackbird stood there alone, it now has plenty of company.
But as a restaurant, Blackbird may still stand apart. The room is still remarkable (if nicked and scratched in places). The music is still antithetic to the food on the plate. In subsequent visits, I was outed as a critic, and so I can't comment on the service I received. But my mind keeps going to my quiet weeknight at the bar, where I was encouraged to treat an iconic high dining restaurant as if it were Moody's Pub. Of all the dichotomies Blackbird has to offer, this is the one that earned it its reputation. And it's still the one that makes it unique.
Venue name:
Blackbird
Contact:
Address:
619 W Randolph St
Chicago
60661

Cross street:
between Jefferson and Desplaines Sts
Opening hours:
Lunch: Mon-Fri 11:30am-2pm; Dinner: Sun-Thurs 5pm-10pm; Fri, Sat 5pm-11pm
Transport:
El stop: Green, Pink to Clinton. Bus: 8, 56, 125.
Price:
Average main course: $38
Do you own this business?
You may be interested in:
Rating Breakdown
5 star:

0

4 star:

2

3 star:

1

2 star:

0

1 star:

1
Went here Saturday night for the first despite having lived in Chicago and Blackbird lived up to every expectation and some that were unexpected. We arrived on a nice breezing evening and despite our table being ready we wanted to wait to eat outside on the small patio since it was such a nice evening. The hostess was very accommodating,bringing me "bubbles". When my partner refused her offer of bubbles she later arrived with a non alcoholic beverage for him.unsolicited i might add. When we were seated a few minutes early our server who was very very good i might asked if he liked the cocktail as she noticed he had barely taken a drink..He said i t was nice but a tad bitter and in time she emerged with yet another non alcoholic beverage..These little accommodations were frequent and done with pleasure. Our waitress, i wish i could remember her name, was very well versed in the menu and the wine.explaining which red would go well with my food and explained the area of France it was from along with the varietal of grapes Just so much knowledge which was an added plus for this foodie. We started off with an amuse of a fried Kale with essence of duck. crispy..deliciousness. Next i had the veal sweetbreads with blueberries on top of a yogurt sauce and topped with Kolhrabi.so well balance..again delicious. My partner had the corn gazpacho which he enjoyed a lot but it was more of a corn chowder rather than the chunky soup he is accustomed to,he then had the soft shell crab which was so perfectly cooked and crunchy with minimal breading which meant you were mostly eating crab.The best soft shell crab i ever had. I had the black bass with grits fritters and rhubarb slices on top with dill and micro greens. very well composed dish and so flavorful. After such good food and service i had to prolong the evening by having desert and all of them sounded but i settled on the bubblegum ice cream which was more a deconstructed version. Still not overly sweet but a light way to end.
Let me start by saying, my wife and I travel to eat at high end restaurants at last 30 times a year. It's a lot of fun and most of the times we have a great time. We have eaten at 32 of the current top 50 restaurants, 92 Michelin star restaurants. In all of that, we have not had a worse experience then we did at Blackbirds.
We arrived at dinner and the ambiance and feel of Blackbirds was wonderful. Much less stuffy then at a lot of other restaurants. We sat at our table and was promptly asked about allergies and dislikes. Now I am extremely allergic to peaches, we explained this to the waiter and he went to the kitchen and returned telling us there was nothing on the menu that included peaches. The tasting menu started off nice, the carrot was cooked and tasted wonderful. The veal breast was tender. The apple/marrow combination was good, but didn't have the depth I would expect. The Wagyu beef was way too tough, and I have had better beef from much lower restaurants. The cheese dish is where it really started to go down. They brought out a large plate of cheeses that looked like a lot for us to eat. He explained everything that was on the plate, then we were asked to make a selection of one. One of the great things about a tasting menu is that when you place your order, you are done making decisions and put your trust in the chef to make the right decision for you. We have seen occasional upcharges to meals, but never given a plate to choose from options like we were in this instance. We all ordered our cheeses and were left wondering what the other cheeses tasted like. It would have been much better to have been given a small slice of 3-4 cheeses. We were not even given an option to pay extra to try other cheeses. So instead, I was stuck with a cheese I picked and didn't like. Shortly later they brought us a plate with a few candies. The waiter didn't present the plate but instead just set it down on the middle of the table and mumbled what it was, like it was an after thought. These were not on the menu and lucky for me, my friend over heard the description that the one candy was peach. Only one of the 4 people at our table heard the peach comment. If we had missed this, I would have spent the night in misery and agony. I called them back over and they confirmed that it was peaches and we were told "it was my fault, I didn't tell anyone" by our waiter. A restaurant of this level should not make this type of mistake. In addition, they did not show any care other then taking the item away. This was a serious mistake and their reaction to the situation made it worse. I left without an apology or any acknowledgement of the serious mistake. On Monday, I called the restaurant and asked to talk to a manager about the situation and was told someone would call back. Now, almost a week later and no return call. I can understand mistakes happen, but not showing a care in the world that this happened.. made it worse.
With so many great options for restaurants in Chicago, I would suggest that you look to the other places that care about their customers.