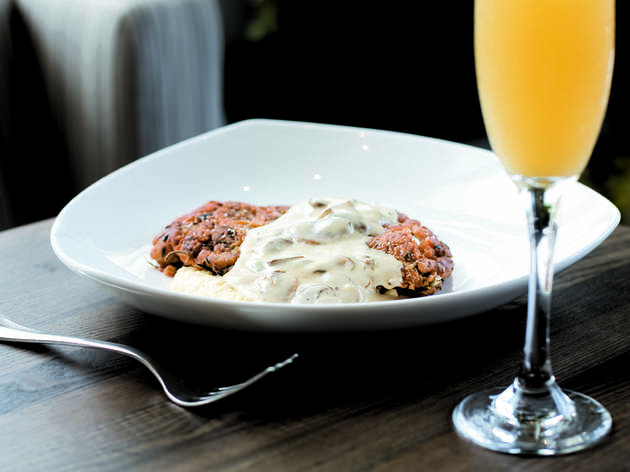 1/2
Photograph: Martha Williams
Chicken-fried steak at Perennial Virant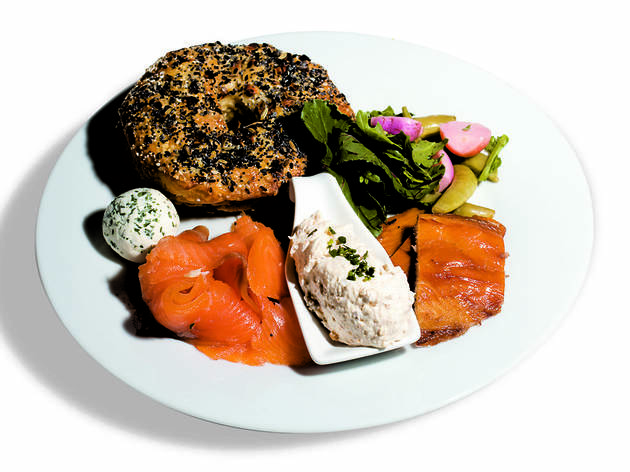 2/2
Photograph: Zach Weiss
City Provisions Deli's Sandwich on an everything bagel, smoked whitefish spread, house-cured salmon, smoked trout, chive cream cheese, lettuce, tomato and onion.
Brunch reviews: Perennial Virant, Northdown, City Provisions
With these farm-to-table brunches, you can save the world. (Or at least eat a good smoked fish plate.)
Good morning! Are you really going to eat that conventionally raised bacon?
Of course you aren't. This morning you're going to get the most sustainable, self-righteous, farm-to-table brunch you can find. Because, if you think about it, farm-to-table makes perfect sense for brunch. A chicken lays an egg, you scoop it up and eat it, and bam! You've just saved the world.
But seriously. You are going to be so green this morning, it's not even funny. It's gonna be you and Ralph Nader, commiserating over coffee. (But, um, about the provenance of that coffee…)
You've got three options.
First: Perennial Virant (1800 N Lincoln Ave, 312-981-7070), across the street from Green City Market. This is a place where even a mimosa (the two primary ingredients of which are, shall we say, less than local) has Illinois roots. Because this mimosa has rhubarb and honey in it. The rhubarb brightens it up. The honey smooths it out. All mimosas should be this accomplished. An egg-potato-vegetable skillet is a step up from Denny's (several steps up, even); a sticky bun is better for the crunchy pecans on top than the arid dough below. But things really start getting farm here with "The Signature Dish," a wickedly good chicken-fried steak over soft grits and ladeled with a hyperseasoned mushroom gravy. So country, you'll be looking for cows to milk.
Second: City Provisions Delicatessen [Closed] (1818 W Wilson Ave, 773-293-2489), where chef-owner Cleetus Friedman has vetted each ingredient, from sourcing uncommonly robust coffee to harvesting his own honey. To treat the small pile of raspberries, blueberries and currants accompanying the charred Dietzler Farms steak and eggs as a mere garnish is to forget Friedman's reason for being: These are fruits at the absolute peak of their existences. But Friedman is not only a local-eating advocate but also a Jew, and therefore the standout on his menu is not the thin circles of French toast, nor the very-light-on-corned-beef corned-beef hash: Friedman's pièce de résistance is his fish plate, an everything bagel served with soft chive cream cheese, house-cured salmon, creamy whitefish spread and smoked trout. It would make our parents proud. It would also make our parents say: "You paid how much for lox and bagel?" ($17.95)
Third: Northdown Cafe and Taproom (3244 N Lincoln Ave, 773-697-7578), a place where meatloaf and pie are not ironic foods but essential ones. A place where the waiter looks like every other lanky hipster but calls you "honey" and dotes on your table. And a place that should, judging from its Midwest-inspired dishes and penchant for local cheeses, give us that sustainable-brunch satisfaction. But we found very little of the sort, at least not in the neglected slices of bare French toast or average bowl of granola. Turns out Northdown was saving its energy for the breakfast tacos, where crackly tortillas filled with scrambled eggs and bacon can hold their own against Fiery Alyce hot sauce—smoky, deep stuff whose Chicago provenance we can feel good about.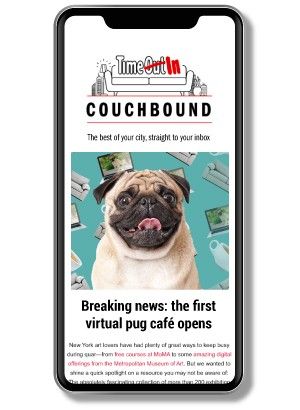 An email you'll actually love
Sign up to our Couchbound newsletter and bring the city to your sofa
Subscribe now