Brunch reviews: Rootstock, Davanti Enoteca, Lulu Belle's Pancake House
The second installment of our Boldfaced Brunch column.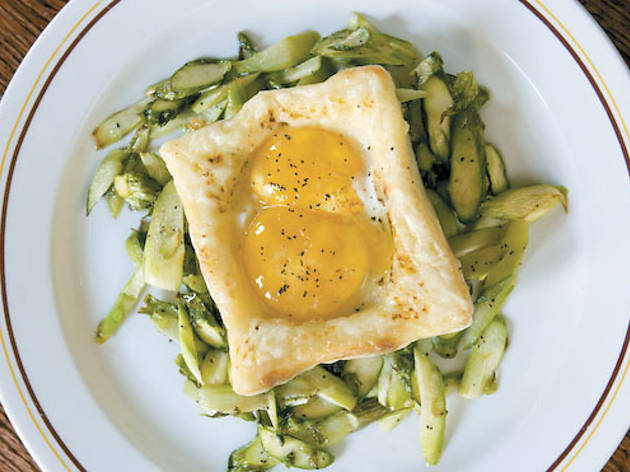 It didn't seem right, the idea of brunching in a bar. Oh, we know people do it all the time, start Sunday with a few pints and some nachos in front of a flat-screen. But that's not really brunch, is it? That's more like giving up. Would brunch at Rootstock (954 N California Ave, 773-292-1616), the wine bar that's secretly a restaurant and that quietly started brunch a couple of Sundays ago, be different? We certainly hoped so.
The fact that there are no flat-screens here was encouraging. But we wouldn't have seen them anyway, because we took our brunch on the sunny communal tables on the sidewalk. No, this sidewalk is not the prettiest in town. Chances are you'd eat a doughnut on the El before it occurred to you to walk down this street and imagine yourself lounging while drinking a mimosa. But somehow it all works out, and in a very lovely, spa-lunch kind of way. Maybe that's because we didn't have to look much farther than our plates to find beauty. Bright green peas graced our sophisticated, delicious Benedict; a golden crust surrounded our rich, creamy slice of quiche; our beefy Bloody Mary arrived with a handsome skewer of pickles, meats and cheeses. Our juniper-laced cinnamon roll? It sat in a pool of intriguing smoked cream-cheese icing, but it was fooling no one: This was no cinnamon roll. It was baklava. And it made us pine for Ann Sather.
But Ann Sather is so…expected. Right? We prefer something a little less pedestrian. Like a pasta joint in Little Italy. Believe it or not, what we would like to do is wake up every morning, walk up the stairs to Davanti Enoteca's (1359 W Taylor St, 312-226-5550) rooftop patio, and swirl a fork in the soft-cooked, truffle oil–scented egg yolks suspended in a slice of toasted bread. A jar of burrata for breakfast? This is how we brunch now.
But please note: Davanti does not have French toast. Nor pancakes. If you are craving a sweet something, there is an enormous calzone stuffed with staid poached fruit. Which is to say, if you are craving a sweet something, you are in the wrong place.
But what could be sweeter than a place where everyone wears overalls, farm implements are considered decorative art, and eggs Benedict come on top of fried chicken? That's what we thought. So to Lulu Belle's Pancake House (3819 N Southport Ave, 773-975-5858) we went. There were hoecakes—cornmeal cakes, that is—that tasted like sandcakes. No amount of maple syrup could save them. There was deep-fried French toast, a house specialty. A preposterous amount of maple syrup could not salvage the dry, flavorless slices. There was a thick layer of Hollandaise, and beneath it two over-medium eggs, and beneath it rubbery ham, and beneath it fried chicken. Pour some maple syrup on it? Sadly, this would not do. Our only recourse would have been alcohol. Alas, we'd have to go to a bar for that.