Heads up! We're working hard to be accurate – but these are unusual times, so please always check before heading out.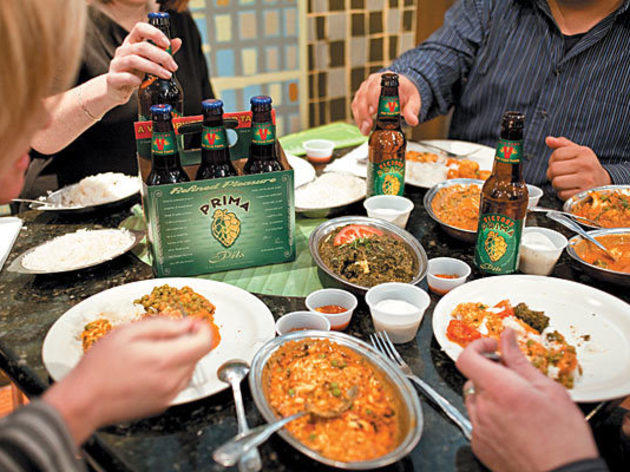 BYOB Indian restaurants in Chicago
Bring a bottle to one of our favorite BYOB Indian spots.
Heading to a BYOB Indian restaurant? Chicago has some stellar spots that serve up curry that you can pair with your choice of booze.
Uru-Swati
Our favorite Devon spot for meatless Indian just got better—it's now BYOB. Start pouring while you peruse the massive menu and snack on starters like samosa chaat, a spicy-sweet-salty-tart concoction with a rainbow of chutneys, yogurt and crunchy rice puffs. Traditional vegetarian favorites like bhindi masala, channa masala and tadka dal are expertly prepared with distinctive seasonings and a gradual heat. Should you require a scorcher, though, the sweet staff is more than happy to bring the pain. 2629 W Devon Ave, 773-262-5280.
Corkage fee None
Best nearby liquor store Foremost Liquors (6015 N Lincoln Ave, 773-338-1188)
Indian Grill
You can't always make it to Devon for Indian food, but if you're near Lincoln Park when curry cravings hit, this spiffy spot ought to do the trick. The tandoor is the star of the show, adding a nice char to masala-marinated mahimahi, juicy lamb kebabs and fluffy rounds of nan, best when stuffed with bits of raw garlic. Use the latter to sop up classics like oniony channa masala and silky spinach with housemade paneer cheese. 2258 N Clark St, 773-477-8000.
Corkage fee None
Best nearby liquor store Miska's Liquor (2353 N Clark St, 773-472-4242)—Heather Shouse
MATCH POINTS
BEER The slow burn of spicy heat that makes Indian food so addictive becomes an unpleasant scorch when matched with wine's higher alcohol content, and the cuisine's spiciness amplifies wine's harsh tannins. Beers, on the other hand, were built for food like this, especially witbiers (Belgian-style wheat beers), which average a low five percent alcohol. They have a touch of orange sweetness to complement the heat of chiles, and nice carbonation to cut through all that ghee (clarified butter used in nearly every Indian and Pakistani dish). Witbier is often brewed with a bit of coriander, which matches up perfectly with its cousins cumin and cilantro, often found in Indian cuisine. Allagash White is the best domestic, but for a Belgian version, try St. Bernardus. Pilsners are similarily light and crisp, plus capable of quelling heat; we like Victory's Prima Pils.—Heather Shouse
WINE Indians love butter—a lot. And that's worth paying attention to, because even if the sauces at an Indian restaurant don't taste particularly rich, you're still going to be dealing with residues of fat (delicious residues of fat, but still). There are a few ways to deal with this: Bring a big, buttery wine like Garretson Winery's G White, which will provide uninterrupted sumptuousness; bring something bright and sweet, like Ransom's pinot gris, to cut through the butter a little and provide a respite from any spiciness; or forget the saucy eats altogether and order some Indian barbecue, in which case a bottle of Green & Red zinfandel will never let you down. —David Tamarkin