Heads up! We're working hard to be accurate – but these are unusual times, so please always check before heading out.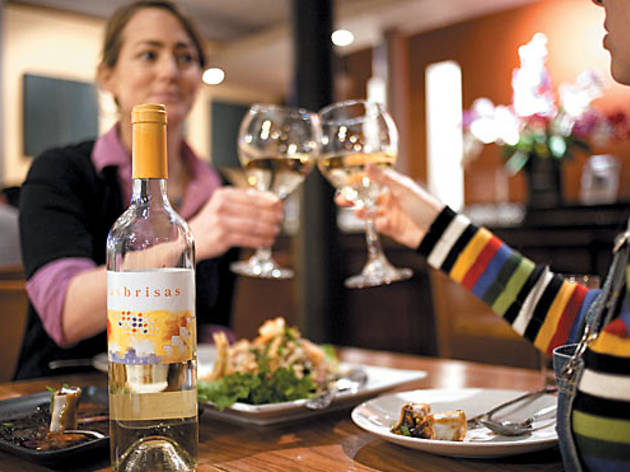 BYOB Thai restaurants in Chicago
Bring a bottle to one of our favorite Thai BYOBs.
TAC Quick Thai
This slick little spot sports gussied-up decor and a soundtrack of random techno, but that doesn't mean the food isn't at least as authentic as what you'll find at your favorite hole-in-the-wall. Just order from the small chalkboard of specials or the translated Thai menu. We never visit without an order of the sausage (be sure to get peanuts and raw ginger in each bite), the fried chicken wings and the crispy on choy (fried water spinach, shrimp and ground chicken in a sweet-spicy-sour dressing). 3930 N Sheridan Rd, 773-327-5253.—Heather Shouse
Corkage fee $1 per person
Best nearby liquor store Sheridan Irving L Liquor (3944 N Sheridan Rd, 773-528-6753)
Rosded
Homestyle dishes like the tangy "waterfall" beef salad, papaya salad with pickled crab and crispy catfish steaks smothered in red-curry sauce aren't to be missed. The English translation of the Thai menu is gone, but tell the patient servers you're looking for the real deal and you'll be rewarded. 2308 W Leland Ave, 773-334-9055.
Corkage fee None
Best nearby liquor store Leland Inn (4664 N Western Ave, 773-561-4109).
Sticky Rice
Go beyond your usual Thai standbys and experiment with the Northern Thai specialties: Try both kinds of funkified pork sausage to compare and contrast, then move on to the gang hang lay, a Northern-style pork in red curry with brilliant notes of ginger, and gang som toon, catfish in sour curry soup. 4018 N Western Ave, 773-588-0133.
Corkage fee None
Best nearby liquor store West Lakeview Liquors (2156 W Addison St, 773-525-1916)
MATCH POINTS
BEER Spicy, sweet, acidic, sometimes funky, always delicious—Thai food fires on all cylinders, packed with flavors that you want a beer pairing to complement, not compete with. Enter American pale ale: It's bright and crisp from cascade hops (an incredibly floral American hop variety), which lend citrusy aromatics to mirror the lime in many Thai dishes. Great Lakes' Burning River and Bell's Pale Ale are great examples of the style. For something a bit more unexpected, try bringing a French sparkling cider like Domaine Dupont—it's just tart enough and just sweet enough to match up perfectly. —Heather Shouse
WINE The same logic used to pair wine with Mexican food follows here: Pay attention to the chiles. But because Thai food leans a little sweeter than Mexican, so too should the wines. A good gewürztraminer—like the sweet and vibrant spätlese from Fitz Ritter—always seems to work with green and yellow curries. So does the Las Brisas, a bracing blend of white Spanish varietals. For dishes with red chiles, or for beef-based dishes like TAC's boat noodles, go for a good pinot noir—something from Saintsbury, for example—which exhibits just as much complexity as the food does. —David Tamarkin