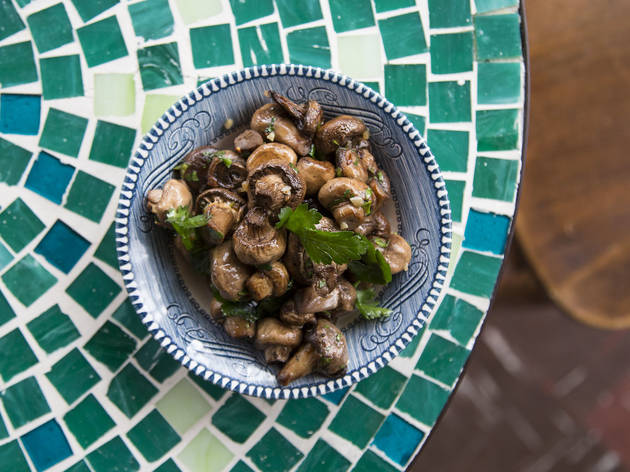 1/12
Photograph: Jaclyn Rivas
Cafe Marie-Jeanne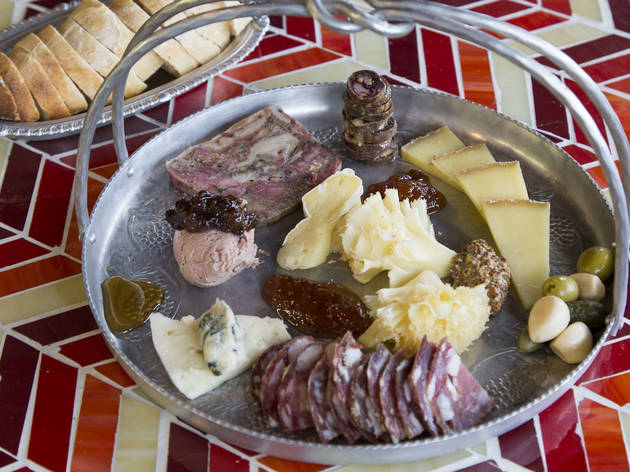 2/12
Photograph: Jaclyn Rivas
Cafe Marie-Jeanne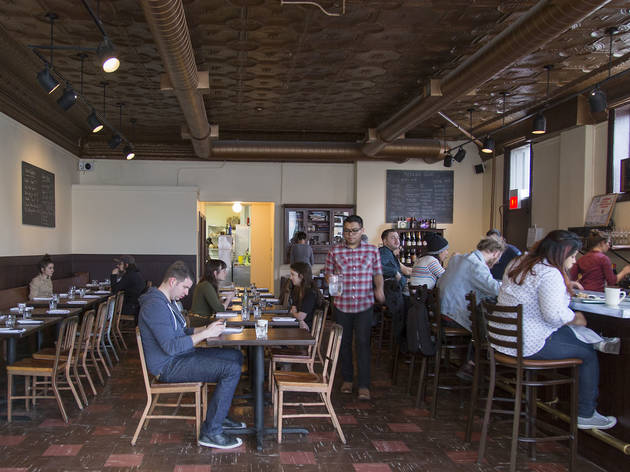 3/12
Photograph: Jaclyn Rivas
Cafe Marie-Jeanne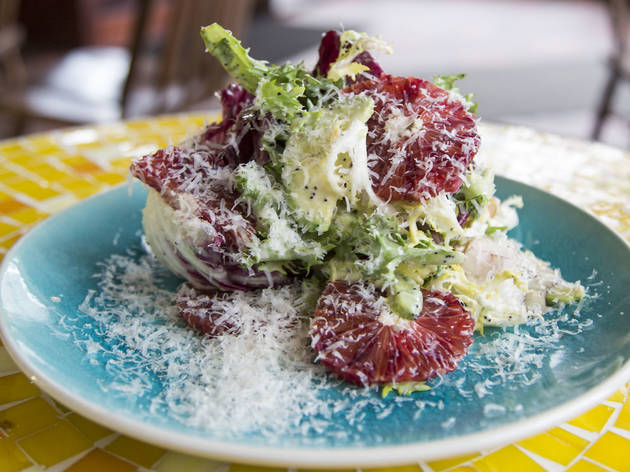 4/12
Photograph: Jaclyn Rivas
Cafe Marie-Jeanne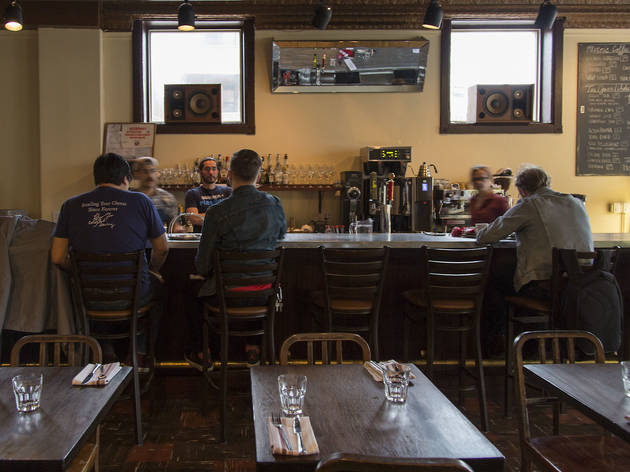 5/12
Photograph: Jaclyn Rivas
Cafe Marie-Jeanne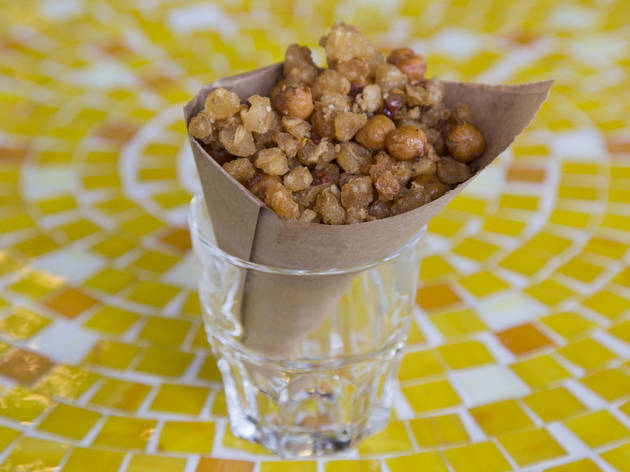 6/12
Photograph: Jaclyn Rivas
Cafe Marie-Jeanne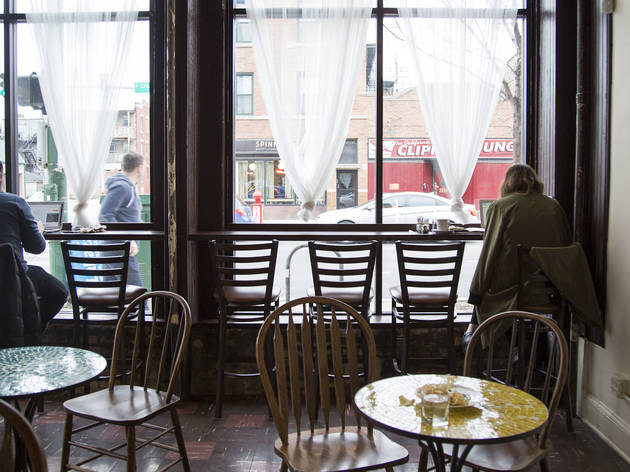 7/12
Photograph: Jaclyn Rivas
Cafe Marie-Jeanne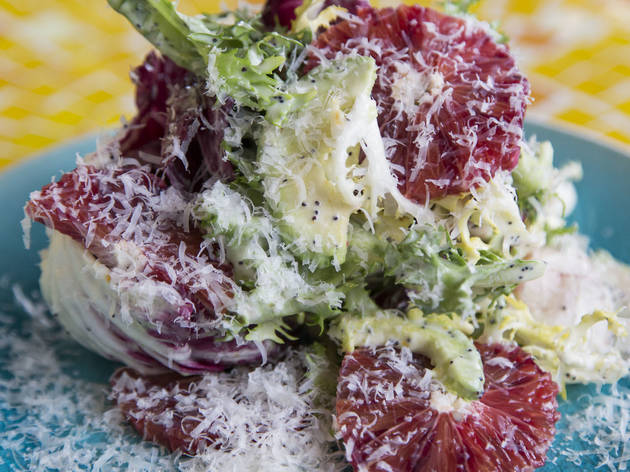 8/12
Photograph: Jaclyn Rivas
Cafe Marie-Jeanne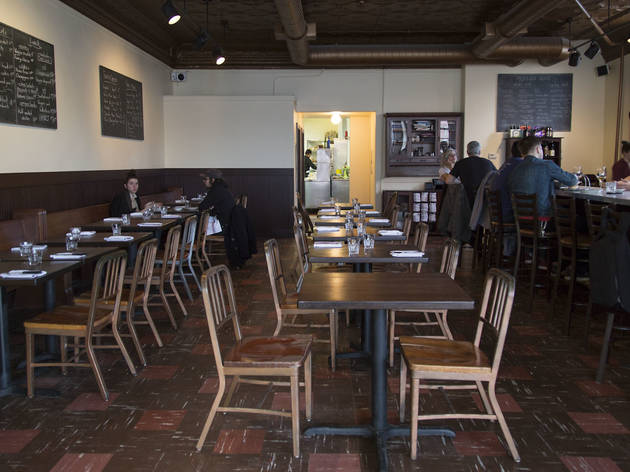 9/12
Photograph: Jaclyn Rivas
Cafe Marie-Jeanne
10/12
Photograph: Jaclyn Rivas
Cafe Marie-Jeanne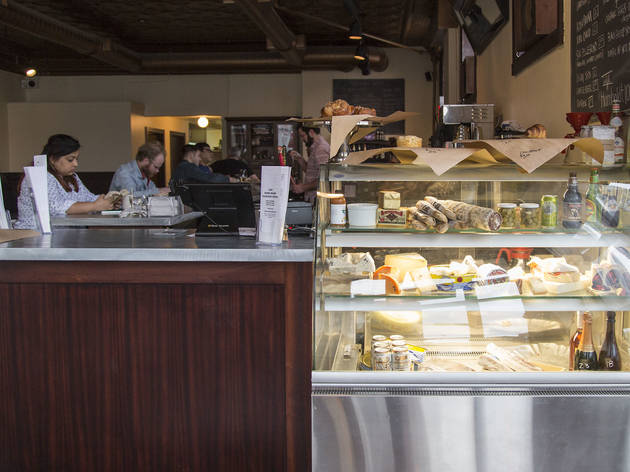 11/12
Photograph: Jaclyn Rivas
Cafe Marie-Jeanne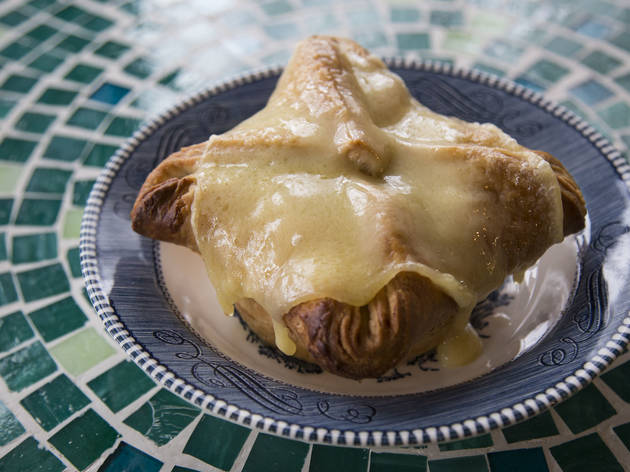 12/12
Photograph: Jaclyn Rivas
Cafe Marie-Jeanne
Chef Mike Simmons' Parisian-influenced café draws inspiration from his time at Lula Café and Rootstock.
As the most recent opening at the intersection of California Avenue and Augusta Boulevard in Humboldt Park, Café Marie-Jeanne provides yet another dining option in the burgeoning area. Chef Mike Simmons offers up his own take on an all-day café, with coffee, pastries and breakfast dishes in the morning; soups and sandwiches for lunch; and wines, snacks and larger entrees for dinner.
You won't want to leave the restaurant without getting a meat and cheese plate. Simmons took notes during his time at Rootstock, assembling a small but delightful selection of fancy meats and cheeses. The house-made pâté and foie gras terrine is both rich and smooth, served with slices of bread, mustard, olives and jelly. Cheeses include a rotating selection of hard cheeses like mimolette and softer varieties like delice du jura. If you happen to see tête de moine on the menu, it's a must-order—the semi-hard cheese from Switzerland is served in thin shavings that look like small florets.
Jamie McLennan (Rootstock, Webster's Wine Bar) heads up the beverage program, offering a small selection of cocktails, beer and a well-curated wine menu. Wine is the restaurant's specialty, pairing nicely with snacks like the addictively salty fried chickpeas and hominy.
The dinner menu boasts a small selection of soups and salads, a long list of sides and a variety of entrees. Skip the chicory and avocado Caesar, an overly bitter pile of radicchio and endive with hidden chunks of avocado. Instead, turn to entrees like the savory duck and raclette omelette, with tender pieces of duck accompanied by gooey, melty raclette. Vegetarians should try the hearty veggie pot pie, made with in-season root vegetables, like carrots and parsnips. The gianduja and kettle chips (comparable to potato chips with Nutella dip) makes a fine dessert for those who appreicate the comibination of sugar and salt.
Café Marie-Jeanne cast itself as a place to eat a meal, but the meat and cheese plates, snacks and wine prove to be the main attraction. While some entrees are well-executed, the majority of the menu pales in comparison to the formidable pre-dinner plates. For now, you're better off stopping by for appetizers and drinks before moving on to enjoy a main course somewhere else.
Vitals
Atmosphere: The romantic and rustic restaurant has a large front of house with a diner feel, filled with two-top tables lit by candles.
What to eat: Snacks and fancy meats and cheeses.
What to drink: The menu relies heavily on a robust wine list, so ask your waiter for suggestions. As far as cocktails are concerned, grab the Café Marie-Jeanne, a well-balanced whiskey cocktail.
Where to sit: Depending on the size of your party, grab a table near the window to plan out your next stop on the California and Augusta corner. Otherwise, the row of two-tops in the middle of the restaurant is great for dates, while larger groups can line the walls. For a quick snack, take a seat at the bar.
Venue name:
Café Marie-Jeanne
Contact:
Address:
1001 N California Ave
Chicago
60622

Cross street:
at Augusta Blvd
Opening hours:
Sun-Mon 7am-10pm, Wed-Thurs 7am-10pm, Fri-Sat 8am-11pm
Transport:
Bus: 52, 66, 70.
Do you own this business?
Average User Rating
4.8 / 5
Rating Breakdown
5 star:

13

4 star:

2

3 star:

1

2 star:

0

1 star:

0
Great addition to an already great neighborhood.
I'm going to say it: what in this timeout review suggests only a 3 out of 5? Seriously. I'm critical but everytime I've been here this have been fan-fricking-tastic.
Best kept chicago secret for amazing food, coffee and pastries.
Amazing pretentious French dishes served in the most amazingly unpretentious manner. Great ambiance and friendly service!
best food to hit the city in a while.
The menu is constantly changing but maintains a good collection of staples as well; The wait staff is extremely friendly, human and nice; but most of all the food is just ridiculous. The best potatoes in the city too.
Brilliant food. Chill atmosphere. Neighborhood, and city, gem.
coffee= so good, croissant = SOO GOOD!!
I should preface this review with the fact that I am for some reason compelled to make myself really really like this place. Ive been on several occasions, always for brunch/lunch, and every time I leave having really enjoyed some aspect of my visit but with a not so great taste in my mouth.
The menu has some very beautiful cuisine hidden behind a minimally worded menu and is paired with a staff that never seems to be quite as knowledgeable about the menu as they should be. Most menu items include a one or two word description and when I ask exactly what each item consists of the server seems to have a vague understanding but has to leave the bar to go get a more detailed list of ingredients from the kitchen. This happens every time I visit, with every dish I inquire about and Ive started feeling sort of guilty about making the servers run back a forth. Having said that, I have found some very crave-able menu items through my persistent inquiries. The smoked and pickled fish plate is something I wake up craving 2-4 times a week, the wine selection is outstanding and, even with the hefty price tag, their a la carte menu is the perfect way to create the most fulfilling breakfast. I am a strong believer in the fact that all restaurants should be charging more for their food than we've been used to in the past, so I have no problem with Marie-Jeanne's pricing. But I can see how some may find themselves a bit stunned when they get their bill.
All in all, this place is cozy, the food is mostly well done, the staff is sweet and always willing, which makes their lack of in-depth knowledge forgivable, and did I mention they serve a very proper cappuccino? Some places have quirks and some times you're willing to deal with any amount of them in order to get your smoked and pickled fish fix.