Cassoulet season
Chicago chefs riff on a French peasant food.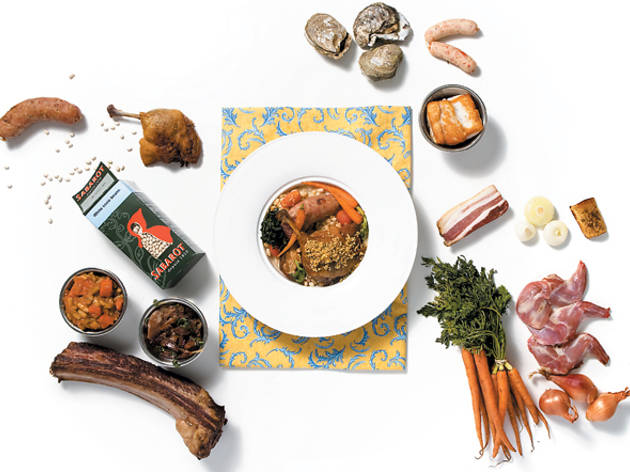 By

Julia Kramer. Photograph by Martha Williams.
|
BISTRO BORDEAUX
In France, cassoulet varies by region. Chef Tim Vidrio took a liking to Toulouse-style cassoulet, which cooks white beans with plum tomatoes for a "nice jammy flavor." He cures ducklings overnight then confits them in duck fat, braises short ribs in beef stock for three hours, then pan-sears garlic sausage to order, combining everything into a porcelain cassoulet dish topped with bread crumbs and fresh herbs. 618 Church St, Evanston, 847-424-1483.
LEOPOLD
Into one of Jeffrey Hedin's pots at this gastropub newcomer go beans (recently Scarlet Runners from Nichols Farm), rabbit stock, the hind quarters of rabbit, lamb sausage and lots of fresh herbs. Out comes cassoulet. 1450 W Chicago Ave, 312-348-1028.
HENRI
"The technique is very traditional," explains chef Dirk Flanigan of his cassoulet, the Monday plat du jour. "But we set out to make it into more of a luxury dish." To do so, he hides haricots coco (pea-sized French white beans), duck confit, housemade Toulouse sausage (pork sausage with a tiny bit of thyme and garlic) and pork belly beneath bread crumbs toasted in duck fat. 18 S Michigan Ave, 312-578-0763.
KITH & KIN
Since November of last year, chef Andrew Brochu has quietly turned this neighborhood spot into a "pork-free restaurant," partly out of respect for the Muslim owners, and partly to challenge the kitchen in the midst of the unending pork craze. For cassoulet, he's turning to the sea, combining saffron-infused white beans with seared Florida grouper, littleneck clams and housemade scallop-lobster sausage. 1119 W Webster Ave, 773-472-7070.
BIG JONES
Chef Paul Fehribach gives cassoulet a coastal Louisiana treatment, submerging deep-fried turkey legs, house-smoked bacon lardons, smoked venison sausage and chaurice ("a French Creole knock-off of chorizo") in a broth made of pig's trotters, then wrapping the entire cassoulet in skin from Gunthorp Farm's pigs to lend a "nice, gamey funk." 5347 N Clark St, 773-275-5725.