Chef's Table: Stephanie Izard
The star chef behind Girl & the Goat shares what she and her husband like to eat during her off hours—especially breakfast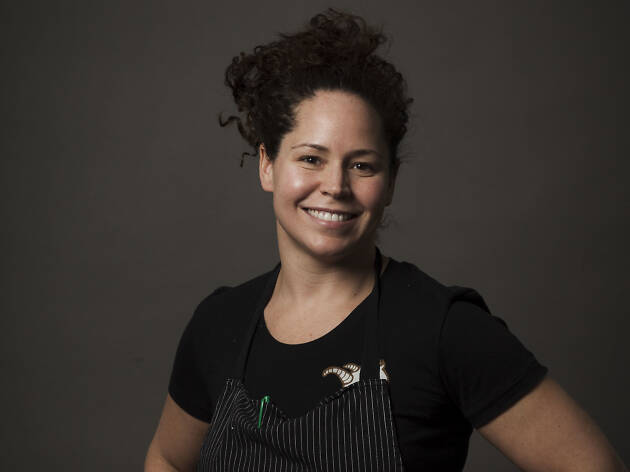 Stephanie Izard—chef and owner of West Loop hotspots Girl & the Goat and Little Goat Diner who's debuting the Chinese-influenced Duck, Duck, Goat this November—doesn't get much time off. But where does this award-winning Chicago-born chef like to eat and drink when she's not feeding the rest of us?
"Honestly, I don't go out that much," she confesses. When she does, it's mostly for breakfast. She tells Time Out her favorite spots for the most important meal of the day, along with a few more of her Windy City haunts.
Breakfast: Dove's Luncheonette. She and her husband Gary frequent this Wicker Park Tex-Mex diner for early breakfast to beat the bleary-eyed brunch crowds. Her typical breakfast is the "super refreshing" seafood cocktail or simple avocado toast, while Gary goes more substantial with the chicken-fried chicken with chorizo verde gravy.
Their other breakfast standby is Pannenkoeken Café in Lincoln Square for the "yummy, giant, super-thin Dutch pancakes," she says. "I go savory, and Gary goes sweet!"
Pizza: Piece Brewery & Pizzeria. As longtime Wicker Park/Bucktown residents, Izard and her husband often come back to the old 'hood for their favorite pie: a red Piece pizza topped with pepperoni and meatballs. Because Gary's a big eater, they've been known to follow pizza with some barbecue at Lillie's Q. When in Wicker Park, right?
Sushi: Kai Zan. How good is Kai Zan? "I'll leave the neighborhood to get it," Izard says. "It's just a chill place with great staff and really good food."
Cocktails: La Sirena Clandestina. Izard likes this Latin-inspired spot for its tasty cocktails and a more "chill" vibe in the bustling West Loop. "And I love the empanadas," she says.
For more dressed-down drinks and noshes after a long shift, she and her staff usually head to Haymarket Pub & Brewery.
Brunch: Dusek's. On the rare occasions she sleeps in past the breakfast hour, Izard's go-to brunch spot is Dusek's in Pilsen. Her current favorites? Fried oysters, washed down with her brew of choice: Off Color Brewing's Yuzu Fierce, a Berliner Weiss brewed with citrusy yuzu.