Chorizo-egg-bean huarache at Antique Taco | Brunch breakdown
The humble huarache gets prime billing at a new Wicker Park brunch.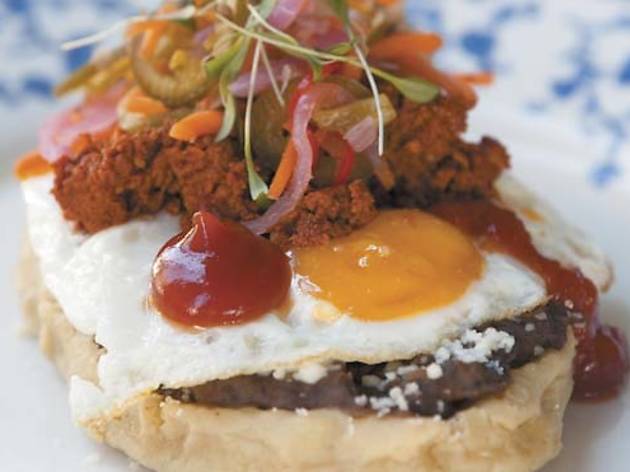 The first Sunday that Rick and Ashley Ortiz offered brunch at their Wicker Park taqueria, Antique Taco (1360 N Milwaukee Ave, 773-687-8697), they opened their doors at 10am. "We didn't see anyone for a couple of hours," Rick recalls, but "when it was noontime, we got busy, and everybody wanted the brunch items still." Now Antique Taco opens Sundays at 11am (and is not quite so empty), serving a short menu of Mexican-influenced breakfast dishes, such as bacon-and-egg breakfast tacos and these chorizo-egg-black-bean huaraches, which were inspired by the "more simple" version Rick ate growing up: "It was an English muffin, over-easy egg and chorizo on top…. I tried to elevate it a little bit."
The huarache
"It's a traditional huarache, which means 'sandal' in Spanish," Rick explains of the oval-shaped masa patty that forms the base for this dish. "We make it with masa that we bring in each morning." When an order comes in, the huarache is "added back to the flat-top [stove] to crisp it up to stay nice and flaky."
The hot sauce
Antique Taco makes its own habanero ketchup—sweating onions and garlic and combining them with tomato paste, tomato sauce and finely minced, roasted habanero peppers.
The eggs
"We brought in Slagel Farm eggs," Rick says, which are sautéed with a little clarified butter and seasoned with salt and pepper.
The chorizo
This traditional Mexican breakfast sausage is, Rick admits, "the only one I don't make just yet." It's sautéed lightly, then "draped in between the two eggs."
The beans
Cooked black beans are sautéed with garlic and onion and combined with a sofrito (onions, garlic and a little vinegar cooked down together).
The cheese
Queso fresco is crumbled on top of the beans, to be as close to the warm huarache as possible: "That way it sort of melts."
The final touch
The dish is topped off with a "nice and briny" escabeche of carrots, jalapeños, onions and cauliflower that have been pickled in apple-cider vinegar for a week, as well as sprigs of micro-cilantro.