Duck Inn Dogs - Time Out Market Chicago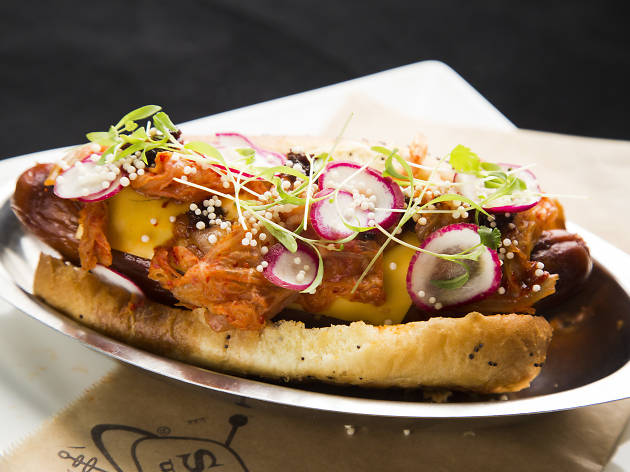 Time Out says
Every restaurant has a dish that takes on a life of its own, and for the Duck Inn in Bridgeport, it's their namesake hot dog. To be fair, calling it a "hot dog" doesn't quite do it justice. The sausage—a decadent blend of all-natural beef and duck fat—is grilled and topped with elevated Chicago-style ingredients: house-made relish, beer mustard, pickled serrano chilies, a fat pickle, garden-fresh tomatoes, raw onions and a dash of celery salt. For his debut spin-off concept at Time Out Market Chicago, chef Kevin Hickey unleashes a full menu of dogs that are topped with everything from blood-orange mustard and foie gras mousse to Tajin lime crema.
MENU:
Dogs: Original Duck Inn Dog (beef pork duck fat), Chick Inn Dog (chicken thigh duck fat), Vegan Dog (Beyond Meat)
The Original Chicago
Relish, pickles, serranos, onions, tomatoes, beer mustard, celery salt
Chili Cheese
Spicy duck chili, Wisconsin cheddar sauce, green onion
K-Pop American Fun Time Weiner
Kimcheesewhiz, crispy rice, kim chee, bimbim sauce, cilantro
Corn Dog Elote
Cotija cheese, tajin lime cream, cilantro, sweet corn pico, radish
The Big Apple
Pickles, apple caraway kraut, Weber's horseradish mustard, crispy onions
The Thai Fighter
Spicy peanut mustard, basil cucumber lemongrass relish, crispy shallots
Sides
Duck fat fries
Top them like any dog
Wisconsin cheese curds
Bloody Mary ketchup, hoppy mayo
Details
Address:
Time Out Market Chicago
916 W Fulton Market
Chicago
60607

Contact:
Do you own this business?
Users say