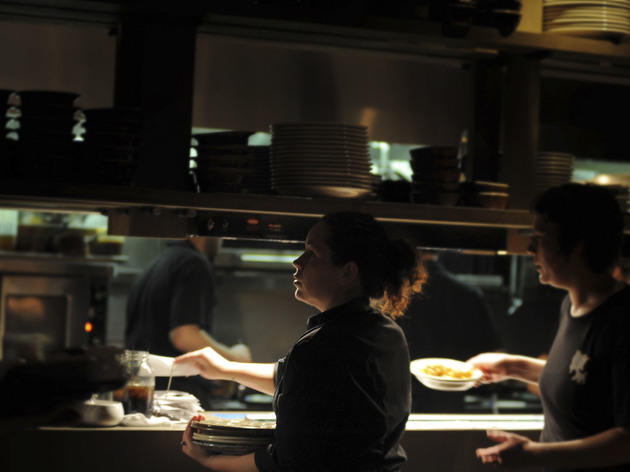 1/6
MARINA MAKROPOULOS
Girl & The Goat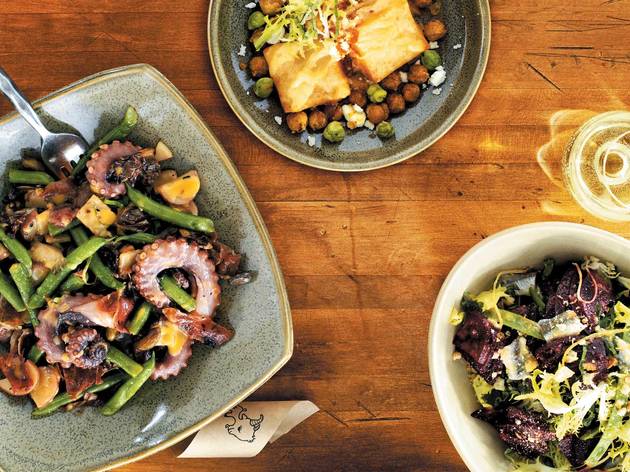 2/6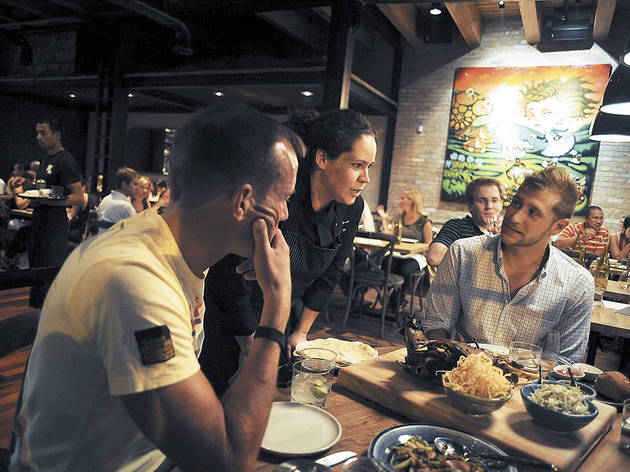 3/6
MARINA MAKROPOULOS
Girl & The Goat
4/6
MARINA MAKROPOULOS
Girl & The Goat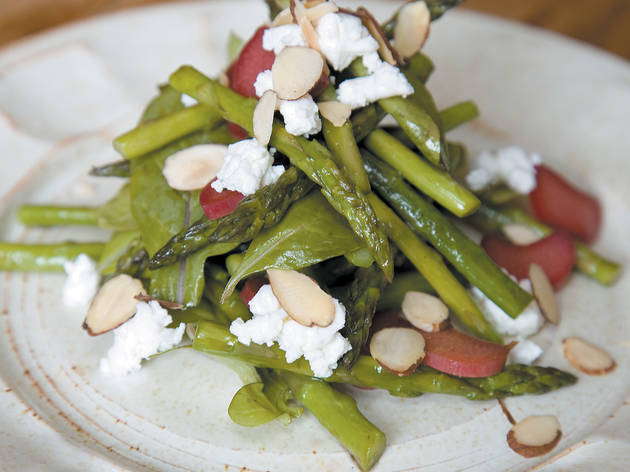 5/6
Photograph: Jeremy Bolen
Girl & The Goat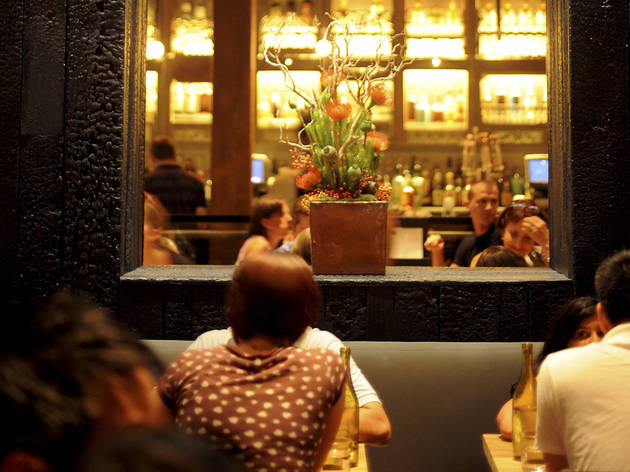 6/6
MARINA MAKROPOULOS
Girl & The Goat
Time Out says
There are cities in this country where the modern restaurant's purpose is to take you somewhere else: London via a gastropub, North Carolina via a smoke shack. Restaurants become the tool of escapism.
Chicagoans mostly have the opposite experience. In our buzziest contemporary American spots, a shared aesthetic has emerged, and it's not American food—it's Chicago food. Grubby and pubby at its base, Chicago cuisine is often accompanied by beer, and it venerates miscellaneous cuts of meat from an animal's organs or forehead. It's deceptively pricey (all those small plates add up). It claims European influences (but it's really inspired by the Midwest). There are vegetables in Contemporary Chicago Cuisine, but they're tossed with cheese or lard. And desserts— ironically, they're afterthoughts: a waffle here, a shortbread cookie there. CCC is a masculine—no, a machismo—way of eating, and men eat meat. Dessert is for Nellies.
Eating this food is the opposite of a transporting experience. You don't escape Chicago at these restaurants. You fall deeper into it.
The "roasted pig face" at Girl and the Goat is classic CCC. Two patties, looking like something thawed from a Jimmy Dean box, formed from the meat of a pig's jowls and chin. Some fried potato sticks, almost identical to Potato Stix, are strewn around the plate. There's a fried egg on top, of course, because, though not quite unique to CCC, fried eggs are the cuisine's default garnish. Unpleasantly charred on the outside, the inside of the patties reveal oily chunks of pork adhered together with more fat, which both the egg and potato sticks are helpless to offset. One bite and it was unmistakably Chicago—CCC at its most irritating and insipid.
Thankfully, it was a complete anomaly. Chef Stephanie Izard may have been reared in Chicago cuisine, but it wasn't under the tutelage of the much-hyped meat-grinder chefs of the day. Instead, she sports the unmistakable mark of Shawn McClain. She's gone on record as having a love for fish over all other proteins, and the affection she lavishes on vegetables is matched only by Green Zebra. By incorporating dishes like that pig face, or the whipped fat back (an ethereal concoction that's spread on flaky biscuits and topped with whiskey-soaked onions), Izard is throwing bones to the city's chef community. Or maybe it's more earnest—maybe some of the city's trends have wormed their way into her operating system. Either way, her food at Girl and the Goat makes one thing very clear: She is not working within CCC's framework so much as she is elevating it, moving it forward.
She does this with almost every aspect of the place. Notorious for how involved she got in even Girl and the Goat's smallest details, she has improved upon every contemporary restaurant trend. Her cocktail program boasts only four drinks, a huge relief to anybody who has felt that being handed a binder is a stressful way to begin a night of drinking. The wine list is equally well-edited, a handful of selections listed under simple (if not always consistent) classifications—"Malbec," "Spanish." Beer, obviously the favorite son here, gets more entries New reviewthan the cocktails or wines by the glass. But the 30 or so options she offers are still a challenge to the status quo. Like so many of Izard's choices, it poses a question: What's better, Izard seems to be asking—a list of 200 beers, or a list of 30 where each one is handpicked?
One meal is all you need to know not to question Izard's questions. If you balk at paying for bread (and you can't be blamed, really), you won't after coughing up for one of the three that Izard's team makes fresh every day. They have enticing names—Peter Piper is a pepper bread; "fat bread" needs no explanation—but the bread itself isn't terribly remarkable. It's the two spreads that come with every loaf (fennel butter and chile oil for the Peter Piper) that are alluring. Likewise, the octopus I tried was minorly overcooked, but it didn't really matter—the dish is all about the lemon-pistachio dressing, a fantastic salty-sour-nutty sensation that, to my palate, gives props to Thai food. When Izard puts out dishes like that octopus, or like a flaky piece of flounder topped with tart slices of plum, it's almost as if she's showing off. She's got an unusually apt sense of balance, and if she's not symbolically throwing down a challenge to some of her West Loop neighbors, she is at least lightly teasing the diners. Dubious about the combination of chickpeas and mozzarella? She'll prove you wrong. Not sure you think a kohlrabi salad can compete with a braised-goat flatbread? CCC would have you believe it can't. But that kohlrabi, tossed with aromatic fennel and toasted almonds, is the best salad you'll spend money on this year.
When it comes to dessert, Izard seems to be daring the diner. The best of the four, doughnutlike potato dumplings, is paired with lemon-poached eggplant, and it is a dare worth taking again and again. (A fluffy goat-cheese bavaroise with blueberries and brown-sugar cake is more conventional but no less satisfying; the fudgesicle is saved from pedestrianism by the smart addition of stout syrup, which adds deep notes of coffee.) After each successful challenge, it would seem that the smoked goat pizza would be a no-brainer. It's primed to be the restaurant's signature dish, anyway, due to the name. But this generically meaty and overly sweet dish tastes too much like something you can get around the corner. So it turns out that goat isn't really an important part of this restaurant after all—it's all about the girl who comes before it.
Details
Address:
809 W Randolph St
Chicago
60607

Cross street:
at Halsted St
Transport:
El stop: Green, Pink to Clinton; Green, Pink to Morgan. Bus: 8, 20, 56.
Price:
Average small plate: $15
Contact:
Opening hours:
Dinner
Do you own this business?
Average User Rating
4.5 / 5
Rating Breakdown
5 star:

6

4 star:

1

3 star:

0

2 star:

1

1 star:

0
Fine dining quality cuisine in a relaxed setting and impeccable service.
Very good service (Kristen rocks) and delicious food. Small portions though.
Let's talk about one of the signature dishes - pig face. At first, Cheebs (my best friend and companion in life experiences) and I decided to pair our car show experience with our first time at Stephanie Izard's freshman romp, Girl & the Goat. Of course, the two must eats were the signature dishes, roasted cauliflower and the pig face. Being the adventurous foodies we are, no pictures were googled before the visit. As for wait time, we were seated behind the hostess booth within two minutes of entering on a Friday night between 930 - 1000pm. We promptly ordered, and our food came in taste profile order. The plates feed two people comfortably. I have to admit that I was anxious about the pig face, imagining a head being delivered to our table, complete with eyes, snout, and all the other facial fixings. I have a thing about my food being able to stare at me and follow me with its eyes. What we received was one of the most amazing dishes I have had the pleasure of eating. Select portions of the face (i.e. cheek, skin, etc.) are prepared in a loose patty, full of tender meat and crispy skin, topped with a runny egg. Our server gave us the instructions of mashing it up like a breakfast hash. My taste buds sometimes crave this dish in the middle of the night, dreaming of the dancing they did upon meeting this concoction. Cheebs and I haven't stopped planning our next visit. By the way, I am free this weekend . . .
Order consisted of:
Miso Hungry Bread Plate
Roasted Cauliflower
Bleu Cheese Sweet Potato Pierogis
Pig Face
Goat Belly in a Lobster/Bourbon Sauce
Ring of Fire Cocktail (for me)
My Little Kumquat Cocktail (for Cheebs)
Price was less than we spent for a meal at Cooper's Hawk in the Burbs (a little over $100.00 for the two of us).
Collage courtesy of my Cheebs.
We both want to initiate Stephanie Izard into our friend posse:)