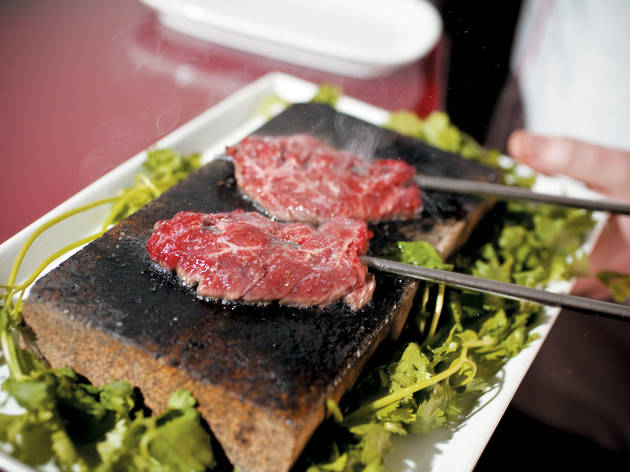 Time Out says
My companion peered at his watch. "We have 20 minutes left in our hour," he said. We were waiting for our second of four courses at iNG, the new restaurant—pardon, "production,"—from Homaro Cantu, the playful Moto chef whose achievements include the edible menu and the transformation of a Cuban sandwich into an ashy cigar. Among the many facets of the restaurant that had been promoted before its opening—a tablet called an mberry will change flavors from sour to sweet! Beers brewed in "nano" batches will incorporate ingredients like doughnuts!—the most intriguing was the idea that the restaurant would cook "by the hour." I had fairly high hopes for what this might entail: Could you stop into iNG for 15 minutes of eating? How crazy would six hours be? As it turns out, "let us cook by the hour," as is suggested at the top of the menu (once you unfold it from an origami cube), is not so much a gimmick as a misnomer.
Our server explained that cook by the hour could mean either "one hour"—a four-course meal—or "two hours"—an eight-course meal. Although I hesitated to order either—that sounded like too many courses for that period of time, and I didn't want to feel rushed, not to mention the fact that the stilted waiter seemed reluctant to reveal which dishes from the à la carte menu would be featured—I went ahead with the "one hour," which was a perfectly paced meal that lasted approximately 105 minutes.
But thankfully, what came out of the kitchen during the bulk of that time was the kind of exciting, genuine food that needs no additional bells and whistles. There was a simple and light seaweed salad tossed with cubes of otherworldly egg custard. And there were noodles—the result of the noodle-pulling going on in the restaurant's front open kitchen—like a standout bowl of la mian with a soy sauce–marinated soft-boiled quail egg, and tender, gratifying udon noodles. An orb suspended in that udon contained coconut water and lemongrass-ginger syrup, and it's maybe iNG's strongest case against populist distrust of science's meddling in gastronomy: As you break the "reverse encapsulation" into the tart broth, the acidity mellows and the capsule's gentle aromas are released into the soup. Still, guys who've mastered the edible eggshell should be able to manage getting noodle bowls out at a temperature above lukewarm, amirite?
Unfortunately, the comforting, casual tenor of the food here often suffers from such conceptual high jinks (not to mention the dated "mod" decor). Purposeless tricks distracted from otherwise solid dishes: Though the server claimed spritzing Wagyu tableside with Japanese whiskey was going to provide caramelization, I couldn't watch him do it without rolling my eyes. (Still, the high-quality beef was well-seasoned and removed by the server from the firebrick at the perfect temperature.) A waiter painstakingly pulled slices of liquid-nitrogen–chilled salmon off a block of Himalayan sea salt, but after a few seconds on top of a sad, mushy potato pancake, the fish was room temperature. The point again? And then there is the waffle dessert, a frozen waffle mousse with a mango sorbet "butterpat" whose dominant flavors are harsh, bitter maple-stout glaze and dry, flavorless waffle "powder" (dehydrated waffle batter).
Judging from the ooohs coming from neighbors at the communal table when presented with this waffle, I wouldn't be surprised if diners here were disappointed by the fact that some of iNG's promised innovations were nowhere in sight: For mberrys, you have to reserve the "kitchen table" downstairs two weeks in advance, and nanobrews are on hold awaiting a license. But as far as I'm concerned, the fewer distractions there are to iNG's food, the better.
Details
Address:
951 W Fulton Market
Chicago


Cross street:
between Morgan and Sangamon Sts
Transport:
El stop: Green, Pink to Clinton. Bus: 8, 20.
Price:
Average tasting menu: $95
Contact:
Opening hours:
Dinner (closed Sun, Mon)
Do you own this business?
Users say