Just Ice, Mike Ryan's new ice company, creates perfectly clear cubes
Eight cocktail bars in the city, including Three Dots and a Dash, are using the large ice cubes in cocktails.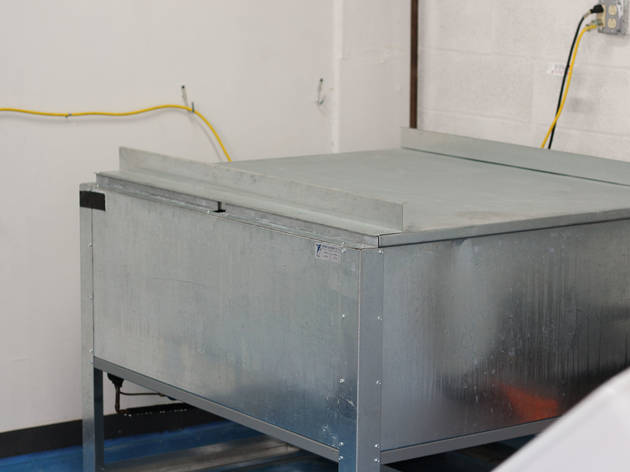 1/9
Photograph: Paul Leddy
The Clinebell creates the ice blocks.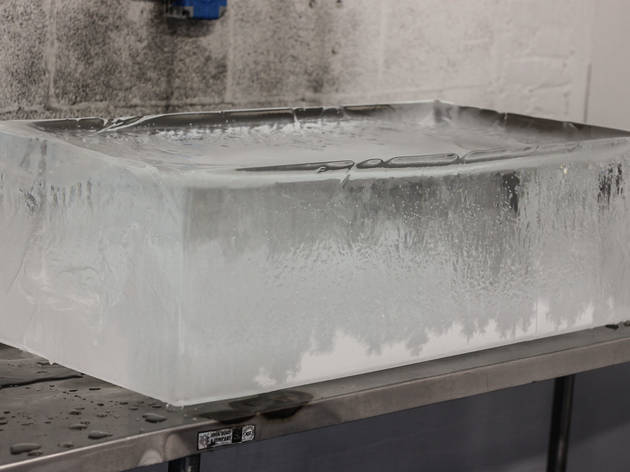 2/9
Photograph: Paul Leddy
This is one of the 300 pound blocks of ice that's made every two and a half days.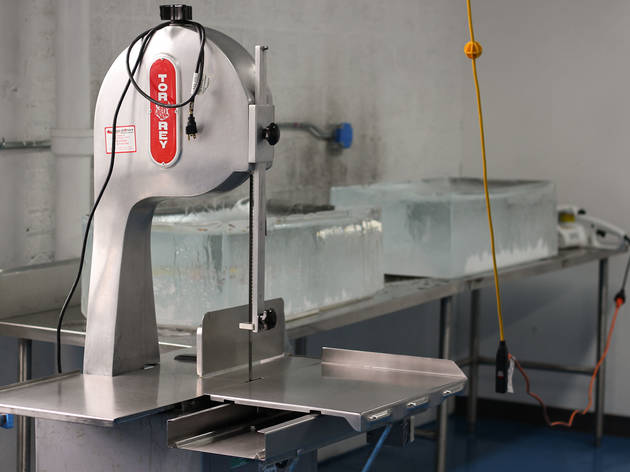 3/9
Photograph: Paul Leddy
The bandsaw breaks down the blocks.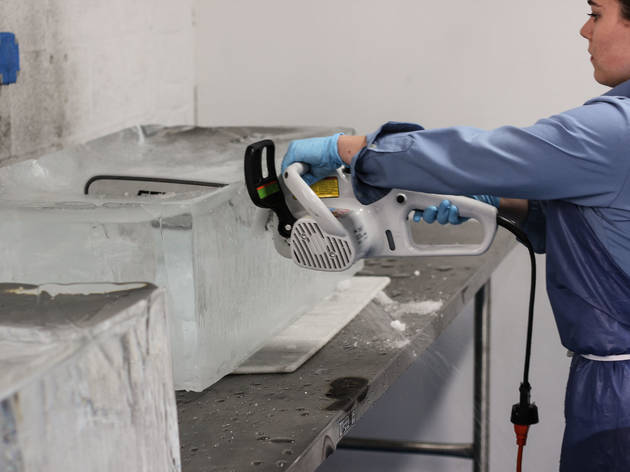 4/9
Photograph: Paul Leddy
Each block is broken down to a manageable size using a chain saw.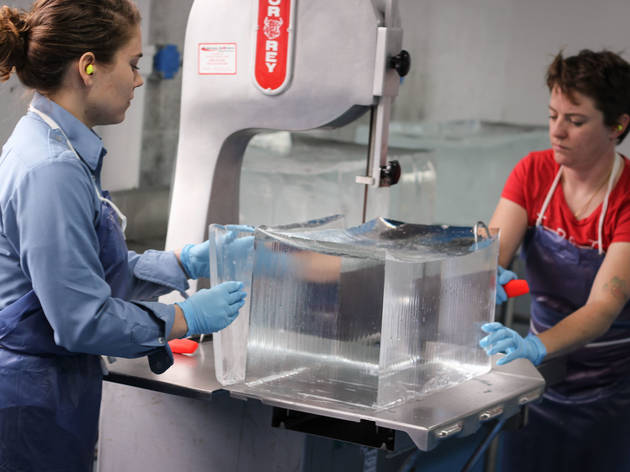 5/9
Photograph: Paul Leddy
The edges of the block are trimmed using a band saw.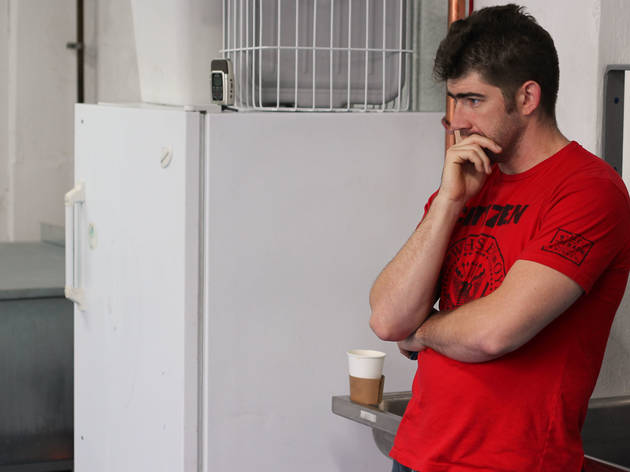 6/9
Photograph: Paul Leddy
Co-owner Mike Ryan observes the process.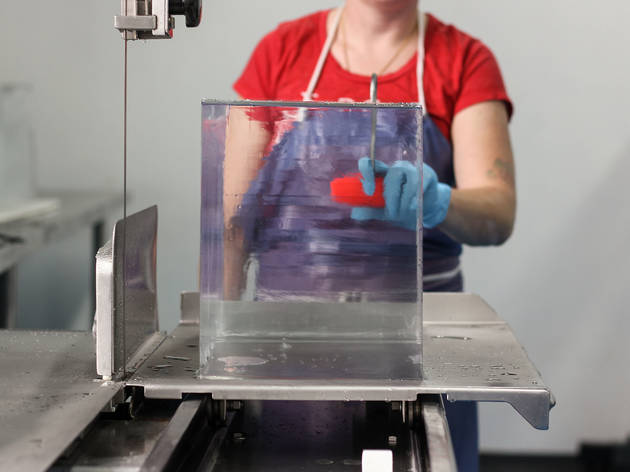 7/9
Photograph: Paul Leddy
After the ice is trimmed, the crystal-clear block can be cut down to individual cubes.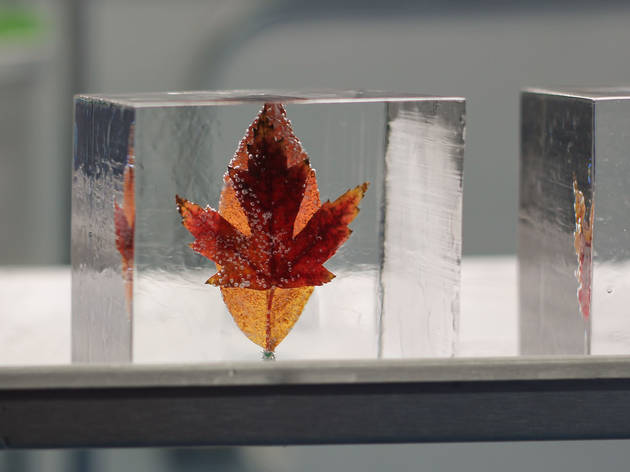 8/9
Photograph: Paul Leddy
Just Ice can freeze objects, like leaves, in the ice for dramatic effect.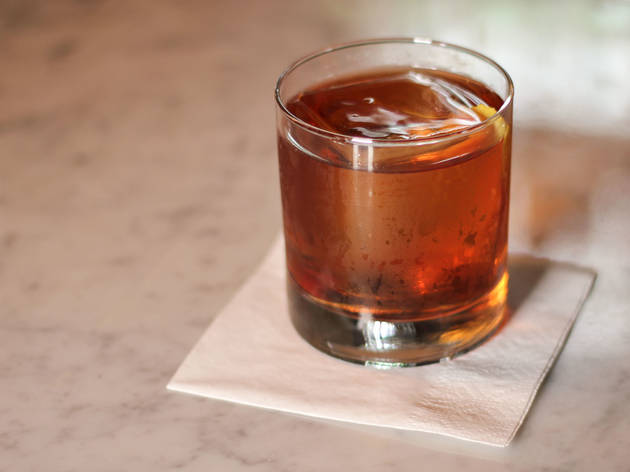 9/9
Photograph: Paul Leddy
The D'squarius Green Jr. Cocktail at Drumbar uses a Just Ice cube.
While sitting at Drumbar recently, we spotted two businessmen watching a bartender carefully strain a cocktail over a large, crystal-clear ice cube. "I don't care what you make for me, so long as it's served with that ice cube," one of them said—it's clear that we've reached a new moment in our cocktail obsession, where the visual appeal of a drink can be just as important as its taste.
One look at a drink made with these cubes and it's obvious there's something different about them. But where are they from and how are they made? We headed straight to the source, a multi-purpose warehouse on an industrial section of Grand Avenue, where Just Ice, Inc. has been manufacturing perfectly clear ice cubes for cocktail bars and special events around Chicago since March.
Just Ice is the brainchild of Rosanna Lloyd and Sable Kitchen + Bar bartender Mike Ryan. The two (who are engaged) were inspired by a New York company called Hundredweight, which makes ice specifically for cocktail bars in New York City. Lloyd was drawn to it because of her mechanical background and Ryan because he saw a need for the cubes in the Chicago market. Nicole Heigh, Lloyd's cousin, later joined them as an investor and also works for the company.
Through personal and family investment, they bought the basic equipment. One of the key purchases was a Clinebell ice block maker, which works in the opposite way from how ice is formed in nature.
"Originally, ice companies would harvest ice directly out of the Great Lakes," Ryan explains. "Ice forms as a thin crust on top and keeps freezing from the top down because you have the currents running underneath."
But the Clinebell machine has a freezing plate on the bottom and an agitator on top and the blocks are formed in a springform pan that expands to prevent cracks and fissures. As a result, the blocks of ice that emerge are perfectly crystal-clear. Every two and a half days days, the machine produces two 300 pound blocks of ice. After removing the blocks with a small crane, the blocks are left out to acclimate to room temperature, then Heigh and Lloyd break down the blocks using chainsaws and bandsaws. Each block will typically yield 400 cubes and 80 spears.
"There currently is no machine that makes ice in the sizes we offer, which is why we are doing it," Ryan says. "Kold Draft is pretty good ice but the machines break down at the drop of a hat and the ice is only one size, which is a little small for something like a Manhattan served on the rocks. You would need four or five pieces to get close to the volume of ice in our cubes."
The cubes are more than just beautiful additions to a cocktail—since they're dense, don't have air pockets and are evenly shaped, they won't melt as quickly as typical ice cubes. The drink will stay cold without diluting the flavor.
Just Ice is currently working with eight cocktail bars including Three Dots and a Dash, Sable and Drumbar, and it also does custom work for parties, encasing objects like rosemary sprigs or leaves in ice.
The Just Ice team applied for a small-business loan to buy another Clinebell machine and other equipment that would help streamline production. Until then, they're careful not to push too hard in the market.
"We are trying to make sure that with each individual account we sell to is happy," Ryan says.
We spent a few hours at Just Ice to see how ice goes from warehouse to glass. Take the tour with us in the slide show above.