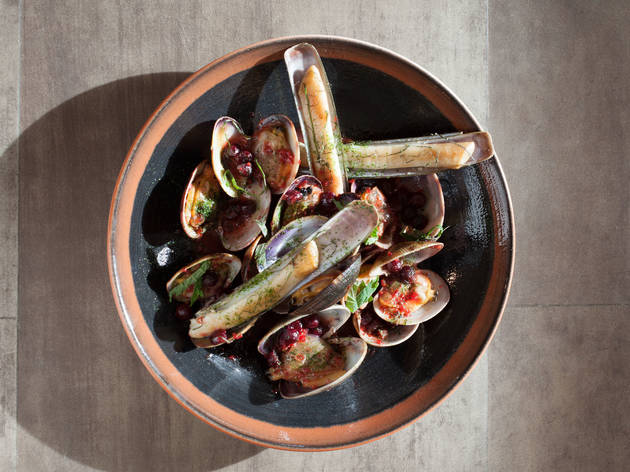 1/9
Photograph: Martha Williams
Asari Steamed Manila and Razor Clams at Kabocha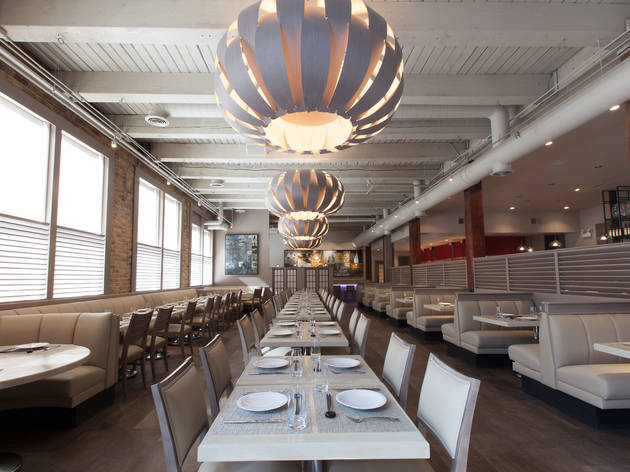 2/9
Photograph: Martha Williams
Kabocha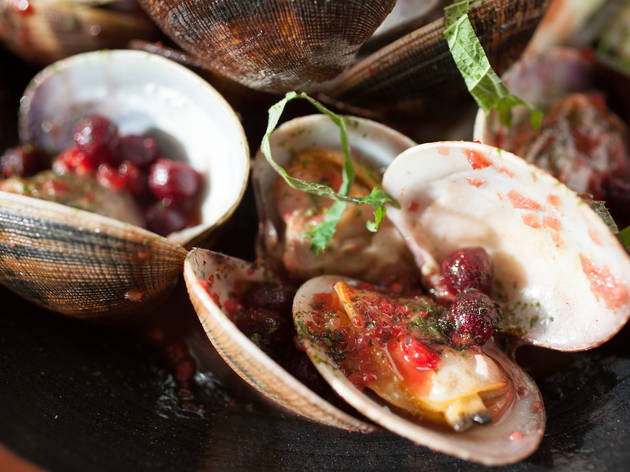 3/9
Photograph: Martha Williams
Asari Steamed Manila and Razor Clams at Kabocha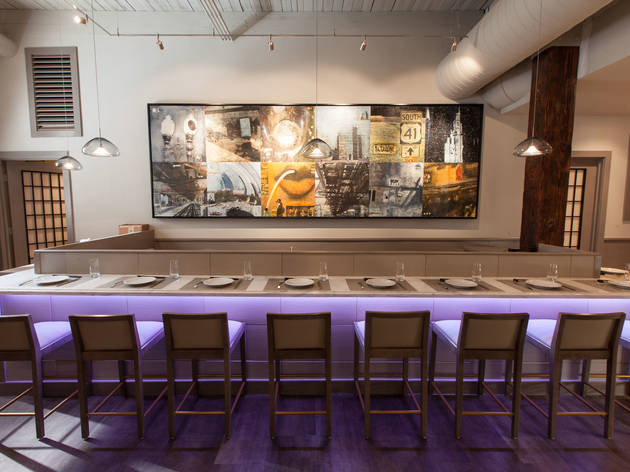 4/9
Photograph: Martha Williams
Kabocha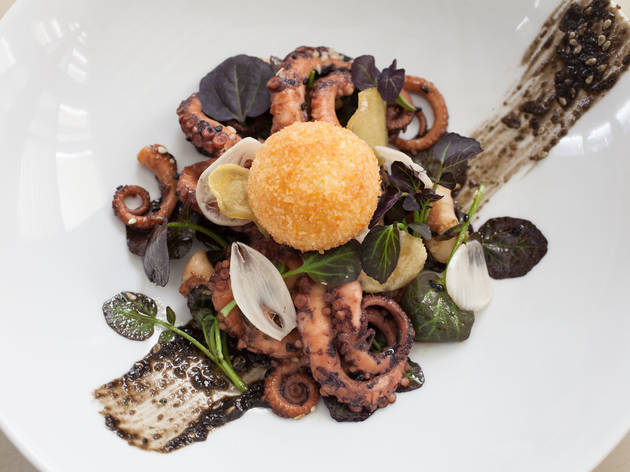 5/9
Photograph: Martha Williams
Warm Salad of Baby Octopus at Kabocha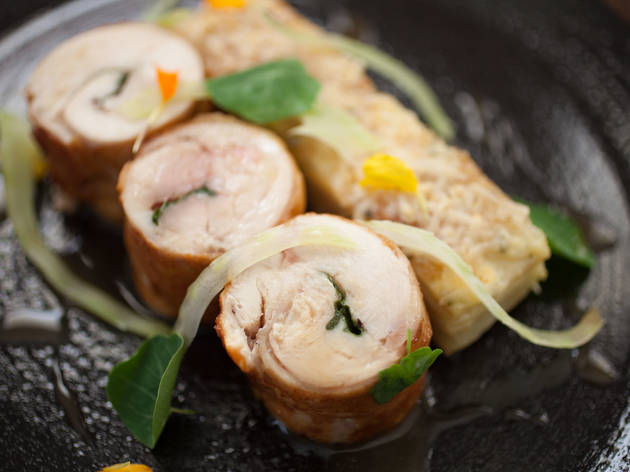 6/9
Photograph: Martha Williams
Chicken Roulade with Lemongrass Crust at Kabocha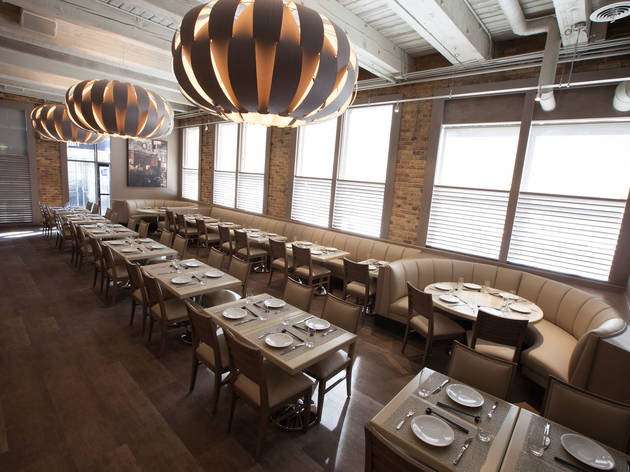 7/9
Photograph: Martha Williams
Kabocha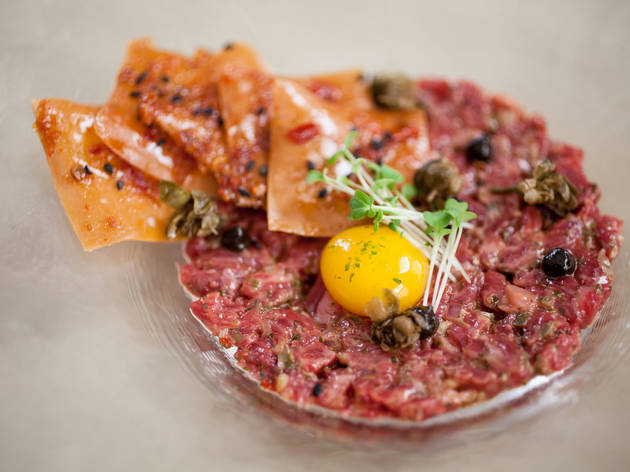 8/9
Photograph: Martha Williams
Wagyu Beef Tartare at Kabocha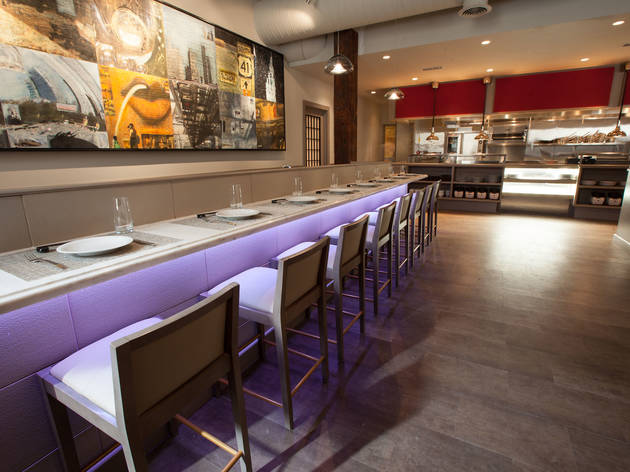 9/9
Photograph: Martha Williams
Kabocha
With a Michelin star in one hand and a perennially off-the-radar Logan Square restaurant (Bonsoirée) in another, it's no surprise Shin Thompson traded in his quirky, tasting menu–only ways for the chef-driven Promised Land, i.e., the West Loop. Here the menu is à la carte, the room is glitzy, and and the clientele has money to burn—or so it seemed from the loose-collared duo next to me sharing the $85, seafood-filled, antiseptic-looking glass box dubbed a "shellfish aquarium."
Kabocha is Thompson's partnership with Ryan O'Donnell, the owner of Lincoln Park'sGemini Bistro and Rustic House, and the purported concept is "Japanese brasserie." I'm not sure what that means, but it doesn't seem to manifest in the design. The giant, hot air balloon–like, gray-gold light fixtures are a nice touch, but not nice enough to lend the room some much-needed distinctiveness. Some poor design decisions were made, too, namely cordoning off the long bar with a high divider such that patrons feel penned out of the restaurant and installing clubbish fluorescent lighting underneath said bar. Set to a dubstep Pandora station that may very well have been a single track on repeat, Kabocha feels—for a new restaurant—kinda dated.
Thompson's food does little to push things forward, especially since the best dish I had at Kabocha is one he's been known for for years, a shell filled with a decadent scallop-and-crab mixture baked in a ponzu aioli. It's a delicious dish but one that achieves its success the easiest way possible, by layering fat on rich on cream. The enjoyably blunt flavors in that dish become noticeably clunky in others, like a thinner-than-paper "mosaic" of tuna and hamachi, any flavor in which was obliterated by super-smoky bacon, hyper-intense micro-greens and bracingly pickled shallots. A lack of finesse afflicted the whole-fish entrée, too, which arrived thickly tempura battered and set over a fermented-black-bean sauce that did more to soften the crispy shell than to add interest to the dish.
Other times, Thompson's dishes simply fail to cohere. This was the case in the tepidly flavored rabbit dumplings paired with a tart vinaigrette, as well as in an odd octopus salad. The tentacles were tender (but almost to the point of mealy), and I didn't mind the sprigs of red watercress, but an unseasoned, deep-fried egg yolk turned the plate into a total non-sequitur. There were only three choices for dessert, and our server said her favorite was the scoop of ice cream—what I consider a vote of very low confidence.
From the well-executed (but tired-sounding) Asian-ish cocktails to the excitement-free wine and sake selection, this was a meal that seemed destined to be immediately forgotten. If only Kabocha would have allowed for that. Outside of Ron of Japan, Geja's and other thrilling cook-it-yourself environs, I can't remember the last time I've left a restaurant smelling like my clothes and hair were dunked in a grease trap. This was one first impression I wish hadn't lasted so long.
Venue name:
Kabocha (CLOSED)
Contact:
Address:
952 W Lake St
Chicago


Opening hours:
Dinner (closed Sun)
Transport:
El stop: Green, Pink to Morgan. Bus: 8.
Price:
Average main course: $26
Do you own this business?