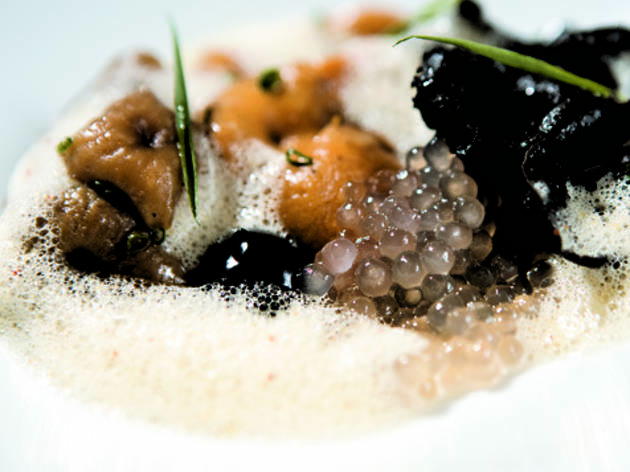 1/3
Photograph: Martha Williams
Forest mushrooms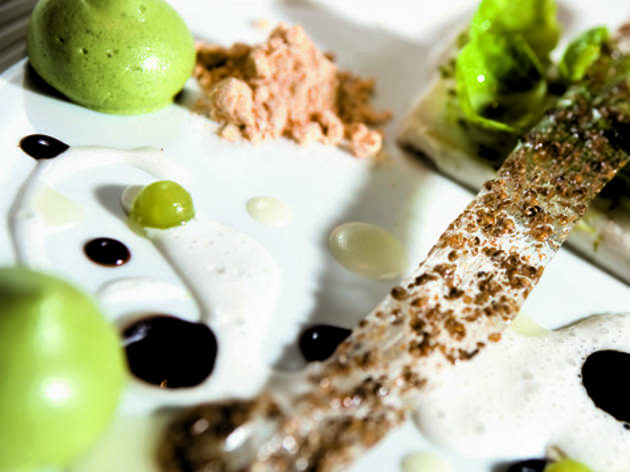 2/3
Photograph: Martha Williams
Tai snapper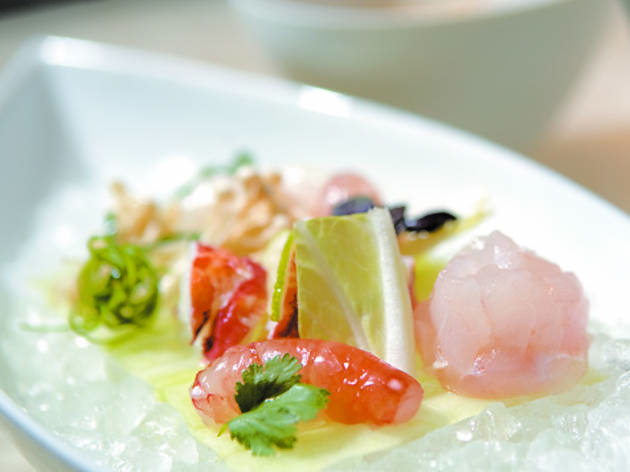 3/3
Photograph: Martha Williams
Shabu-shabu
The shrimp ceviche portended nothing. It was not the caw of the crow, the owl in the window. It was just a little sand, gritty between the teeth, in the first bite of a meal at the city's most celebrated seafood restaurant. It happens. And anyway, the sweet, unchallenging flavor of the amuse-bouche could—in less precious form—have easily been scooped onto tortilla chips: Its aspirations were strangely low.
This is what I told myself. But eight-plus courses and four hours later, once I'd signed away a few hundred dollars, I knew that the nervousness in my stomach had been there for a reason. I was far from dancing on the restaurant's future grave, but there was no doubt: Things at L2O are precarious.
In November 2010, Laurent Gras—the L in L2O, the French chef around whom the restaurant was built—left. It was a shock to most people, except perhaps to the restaurant's owner, Lettuce Entertain You's Rich Melman, who had known of Gras's intention to leave for some time. A week later, the restaurant was one of two in Chicago to be awarded three Michelin stars. In the interim, Melman had brought back Francis Brennan, the restaurant's opening chef de cuisine who had left a few months in. Brennan was then named the new head chef, promising more "approachability" in the food and "warmth" in the service.
In two previous visits to the restaurant, one weeks after it opened in 2008 and one in late 2009, I never experienced particular coldness from the service. In any case, the pacing of a recent meal was perfect, and my server was likable and deft. So if you're going to L2O for a certain type of fine dining—the kind in which the food on the plate is an accompaniment to the dignity of the "experience"—there's little to disappoint. But this was not why I was eating at L2O. And looking at the unexpectedly young diners around me—more interested in a tour of the kitchen than in a rare bottle of wine—I wasn't alone. This was about the food, and in that department, things were starting out rather awkwardly.
After the shrimp ceviche came a second amuse, razor clams bathed in butter, interspersed with whole leaves of parsley, an altogether inelegant, unsubtle thing, the bracing flavors not quite cohering. It's followed by the restaurant's tour de force, the bread program: There were rosemary croissants (too sweet for this moment in the meal), bacon-filled knots that ingeniously refashion pigs in a blanket, housemade butter sending country bread to another level, all offered with generosity. Was it as remarkable as the first time? No, it couldn't be. But it was still wonderful.
The more tastes from previous meals—Gras meals—returned, the more questions nagged. Miso-cured shimaaji, a Japanese fish, its rich texture like butter and its surreal flavor like a coat of umami. The sublimity of the salted cod: a dish simultaneously strange and familiar, like a deep, luxurious cut of the ocean. Once you've eaten a dish like this, you do not forget it. But once you've eaten a dish like this, and once your chef leaves, what does it mean to reproduce it? Gras has been gone for three months; Melman anticipated his exit for months before then: Why bring in chefs to execute the old L2O rather than taking the restaurant in a genuinely new direction? Why take away elements of L2O's personality—make things "more approachable"—when there is the potential to add, to give L2O a fresh new voice? If you hadn't read this review, would you even know the name of L2O's new chef?
Yes, there are still flashes of brilliance: There was a filet of snapper like a paintbrush, dabbling in a pile of curry powder, stuck on a piece of candied cumin, drawing big, fascinating lines across the cuisines of India and Thailand. (This is not a new L2O dish, though most have undergone changes.) And who could believe that a bowl of forest mushrooms could be the most beautiful of plates, more concentrated in flavor than any animal protein, each bite wild and mysterious. But however exhilarating those moments, they couldn't pick up the flatness of the meal. The "Korean barbecue" course was overly basic (and the tiny side of two bites of tempura'd rapini was truly bizarre); the very rare, underseared slab of foie gras was decadence for decadence's sake and nothing more; the "caramelized apple" dessert was overly cerebral (and more important, unmemorable).
And in the midst of it, there was the shabu-shabu. The fact that a disagreement between Melman and Gras over this dish has been a widely reported reason for Gras's departure has probably blown the kerfuffle out of proportion, but the scenario—Melman wanted to bring in someone he believed could improve the shabu-shabu, Gras purportedly declined the offer—seems like a synecdoche for a major communication breakdown. It is sort of funny (in a sad way) to think of this while playing around with the dish, whose whole concept—diners tasked with cooking their own very pristine seafood while, in the kitchen adjacent, there are chefs much better equipped to, say, not overcook the delicate lobster—seems a bit foolish. Especially when you bite into a beautiful cut of scallops, and between your teeth, you again feel the grinding of sand. Really?
And so my meal starts to spiral. Desserts, save the classically elegant Grand Marnier soufflé, are lackluster (and the chocolate one my companion ordered has sold out, which seems odd since the room never neared full), but I wait patiently for the macarons, tiny bites of perfection known to wrap a meal at L2O in a tight ribbon. Instead, I get a marshmallow, perfumed with rose water in a way antithetical to the desires of taste buds. And then, a multicolored, bite-sized stack of sorbets and crunchy chocolate arrives. It's impossible to eat, layers sputtering as I go at it with a fork, a mess of a finale.
It's past 11pm in a dining room that bears a strong resemblance to a cruise ship. Which is unfortunately fitting now that L2O is navigating such rough waters.
By Julia Kramer
Venue name:
L2O (CLOSED)
Contact:
Address:
2300 N Lincoln Park West
Chicago


Cross street:
at Belden Ave
Opening hours:
Dinner (closed Tue, Wed)
Transport:
El stop: Brown, Purple (rush hrs), Red to Fullerton. Bus: 22, 36, 151, 156.
Price:
Average degustation: $170
Do you own this business?