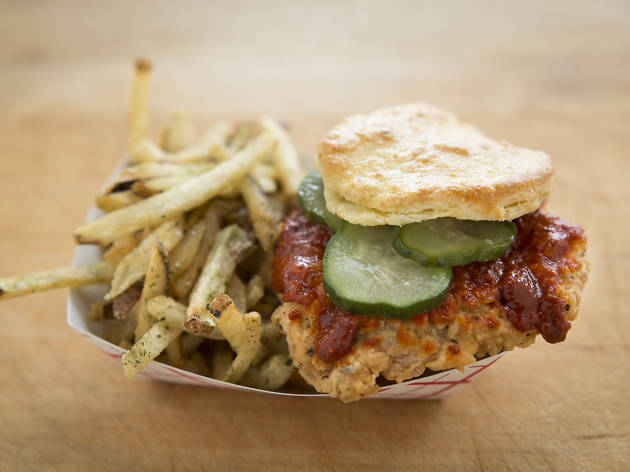 1/4
Photograph: Potluck Creative
Leghorn Chicken sells two kinds of chicken sandwiches.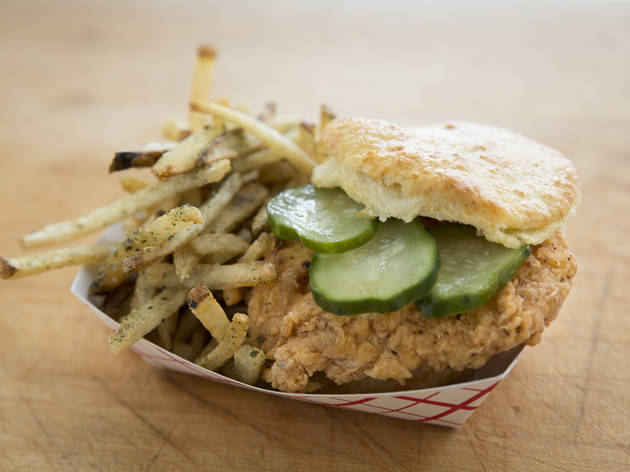 2/4
Photograph: Potluck Creative
Leghorn Chicken sells two kinds of chicken sandwiches.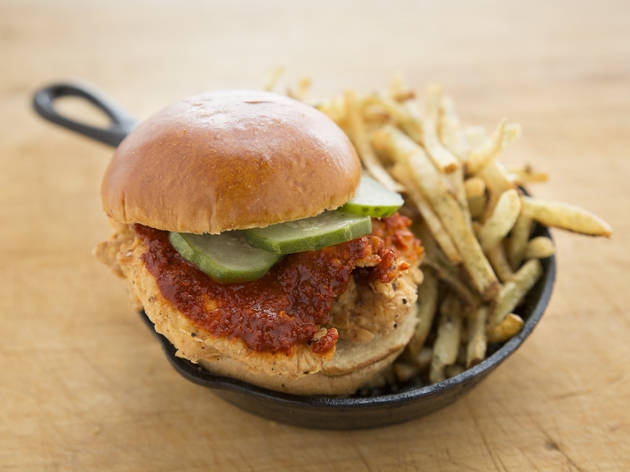 3/4
Photograph: Potluck Creative
Leghorn Chicken sells two kinds of chicken sandwiches.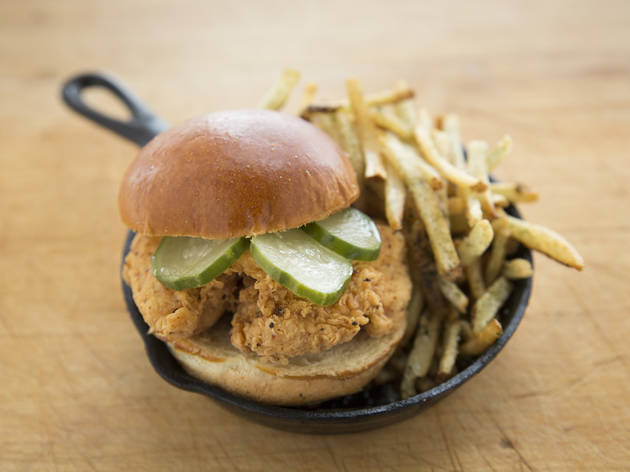 4/4
Photograph: Potluck Creative
Leghorn Chicken sells two kinds of chicken sandwiches.
Time Out says
Restaurant review by Amy Cavanaugh
In the month Leghorn Chicken has been open, it's attracted the most attention for its blaring rap soundtrack, which necessitates a sign on the door announcing: "Loud explicit music." It's also known for opposing Chick-fil-A's anti-gay stance, and as such it donates two percent of its profits to gay-rights organizations, is open on Sundays and is planning to give out branded condoms at the register.
If you didn't already think that Leghorn's political image seemed more important than the food, you'll feel that way after eating there.
On the surface, Leghorn, by chefs Jared van Camp and Sieger Bayer, has a lot going for it. It's from Element Collective (Kinmont, Old Town Social, Nellcote), and because they're a solid, experienced restaurant group with a handle on social media, it attracts a crowd. They sold out of 600 chicken sandwiches in 90 minutes opening day. Now, there's chicken available "consistently until 9pm," Leghorn's publicist told me. Plus it's BYO and right across the street from Sportsman's Club, so you can buy booze there to take over to Leghorn, or vice versa. And it's affordable—sandwiches are $6 and sides are $3–$5. But, ultimately, it's nothing more than a decent spot for a quick meal.
The menu is pretty simple: Choose a breast or thigh, then decide whether you want it pickle-brined or Nashville hot (inspired by the incendiary style in Nashville) and whether you want it on a biscuit or a bun. The pickle-brined chicken is utterly bland, but the Nashville hot has a slow burn that you can cut with the creamy rancho verde sauce. Unsurprisingly, the thigh has more flavor than the breast, but both could use a little more oomph. The biscuit crumbled and fell apart; the bun held together much better and as a result, the hot thigh on a bun is the best option. Each sandwich comes with pickles, and you can also add on slaw, lettuce, tomato, mayo, barbecue sauce and other toppings, all of which cost extra. Add lettuce, since the sandwiches need some crunch. While the build-your-own option is great for some, I wish Leghorn had a couple suggested combinations, since the server at the counter couldn't offer much help about which toppings work best on each kind of chicken.
Besides chicken, there are a variety of sides available, including the clear stand-out on the menu: the textbook-perfect hush puppies, which are stuffed with green chiles and which we devoured in minutes. Not so for the chicken-fried fries, a Tuesday special, which were greasy and undersalted. The vegetable slaw—a mix of veggies, including carrots, beets and apples, presented in plastic take-out containers—was too sweet and didn't retain any crunch. If you're going to have a single dessert on the menu, it should be memorable, but here, the peanut butter oatmeal cookie is crumbly and forgettable.
And about that rap music. The soundtrack (which includes Ghostface Killah and Notorious B.I.G.) never felt like it was blasting, but it was loud and distracting. Leghorn definitely isn't the kind of place to hunker down for a leisurely lunch.
Leghorn is opening at a time when fried chicken is everywhere (in biscuits and on food trucks and bathed in butter). It takes more to stand out. Given the option, though, it's better to be remembered for superlative chicken, not the music.
Details
Address:
959 N Western Ave
Chicago
60622

Transport:
Bus: 49.
Price:
Sandwich: $6.
Contact:
Opening hours:
11am daily
Do you own this business?
Average User Rating
3.4 / 5
Rating Breakdown
5 star:

2

4 star:

1

3 star:

5

2 star:

1

1 star:

0
So bad Yelp reviews and negative critical reception are the fault of the critics, and consumers should all just shut up and cheerlead mediocre chefs and restaurants? That's the stupidest thing I've ever heard.
It's great that you work hard, and running a restaurant is incredibly difficult. That said, expending a ton of effort in a challenging profession doesn't mean you deserve a thing. Chefs and restaurants are judged on the quality of their food and service. Put out mediocre food, get mediocre reviews. Nobody owes you a damn thing.
I have not eaten at Leghorn (yet) but I felt Amy Cavanaugh gave a totally in-bounds review. Everyone has an idea of how hard it is to run a restaurant-that doesn't excuse them from a well-written and balanced review from an established critic.
I agree with the reviewer. I really WANT this place to be fantastic. I live down the street and work from home - I would go here weekly if I loved it. It sounded like a dream come true. However, so far this place has seemed to put the majority of effort into marketing, and not the food.
If you market yourself as the anti chick fil a, you need to at least be able to match chick fil a for quality. I ordered the nashville hot breast on a biscuit. The biscuit was hard and crumbly. The breast was too dry. Taste was pretty decent for both.
I will give it another try - but I was definitely disappointed. You can't rail on a reviewer for telling the truth.
I haven't had any sides yet - It sounds like they are quite good though.
I believe Leghorn CAN be a 4 or 5 star experience but they have some things to fix. I hope they fix it.
Went there for a breakfast sandwhich and juice! They charged me $4 for a small OJ and I was super disappointed. The sandwich was just okay and it was a little dry. I feel like they need some sort of special sauce, but it wasn't terrible. It was just okay.
who in the @#$% is amy cavanaufhgthhy???
I second Michael R's statement! Does Amy know how hard it is to make a living running a restaurant? How much hard work and late nights it takes? Every chef puts their heart into a restaurant and then these critics who have NO idea what it takes come in and complain about bland chicken. There are enough people on Yelp who come in and ruin our businesses. Why can't critics just get with the program and help promote us rather than making business worse. I have seen too many restaurants go out of business because of reviews like these. Amy~please see me when you open a restaurant.
Leghorn chicken is awesome!! Our only complaint was that it was so good we wanted more!!!!