1/15
Photograph: Jason Little
Kitchen bar at Morso
2/15
Photograph: Jason Little
Morso
3/15
Photograph: Jason Little
Morso
4/15
Photograph: Jason Little
Kitchen bar at Morso
5/15
Photograph: Jason Little
Morso
6/15
Photograph: Jason Little
Take-home bag of madeleines at Morso
7/15
Photograph: Jason Little
Morso
8/15
Photograph: Jason Little
Dandelion greens at Morso
9/15
Photograph: Jason Little
Morso
10/15
Photograph: Jason Little
Bread service at Morso
11/15
Photograph: Jason Little
Morso
12/15
Photograph: Jason Little
Morso
13/15
Photograph: Jason Little
Amuse-bouche at Morso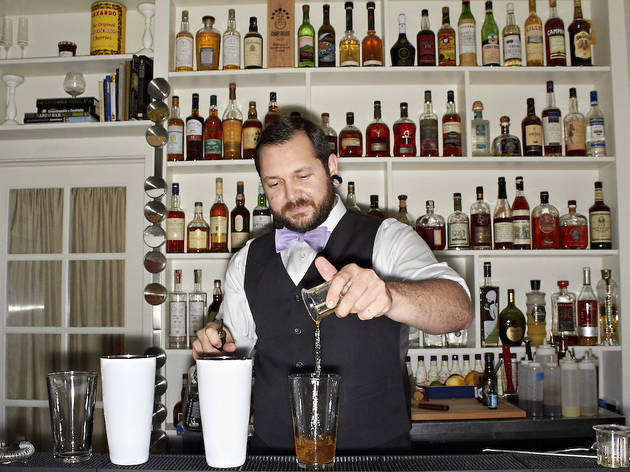 14/15
Photograph: Jason Little
Matthew "Choo" Lipsky of Morso
15/15
Photograph: Jason Little
Chef Matt Maroni of Morso
It's about time we had some real talk about scallops. All things being equal, I would never order them: They are nearly always overcooked and underwhelming. Not to mention scallops demonstrate a sort of anti-versatility, amenable to few cooking techniques (usually a quick sear) and frequent victims of creative neglect. In other words: They're boring.
But all things not being equal, people love them. Because I tend to eat with other people, I came to have two of them set before me at Morso, a two-story space whose chef, Matt Maroni, went from no-name to local hero last year by pioneering Chicago's street-food movement with his naanwich food truck, [node:14878371 link=gaztro-wagon;]. This is the point when I'm supposed to say, "And, damn, did Maroni prove me wrong about scallops." While I'm sure he could, it was one of his excellent line cooks whom I have to thank. From my perch at the four-seat bar in front of the open kitchen, I watched as the cook capped a pair of scallops with a perfectly caramelized crust, and I didn't so much bite into the bivalve as allow it to melt away, the luxuriant pieces of seafood presenting not so much as a twitch of resistance.
Similar props go to the cook who had an absolute lock on the fryer, whether that meant spicy-salty pepper rings fried like onions and paired with antelope (like steak, but leaner and a little chewier) or small oysters with a big crunch. These fried oysters were set on top of a flawless crab cake—really, the kind that makes you believe that a fried patty is the one true destiny for sweet, fresh crab—which was covered in something very buttery and rich called "scallops sauce." Halfway into this dish, I realized there were strips of crisp-fatty bacon hiding beneath the crab cake, a discovery I found somewhere between hilarious and certifiably crazy. But in the Universe of Morso—a world of Gouda-coated spaetzle and dense beignets and fist-size sweetbreads—it's completely normal.
In fact, it's the dishes that fall outside this frame that tend to disappoint. This is true of a beautiful branzino (sea bass) fillet that arrives as the architrave supported by two squat columns of cabbage-wrapped crawfish in need of seasoning and heat—and not the spicy kind. On this particular visit, not only was the dining room uncomfortably chilly, but maybe as a side effect, so was most of the food. It's also true of a practically undressed bunch of bitter roughage (sorry, dandelion greens), as well as a jar of roasted peaches with scarcely any peachiness in the fruit. (Side note: Who's with me on a mason-jar moratorium?)
These drab dishes aren't doing Maroni any favors, and an ostensibly American Lincoln Park restaurant that doesn't have (a) steak, (b) burgers, (c) chicken or (d) salmon on its dinner menu is going to need as many favors as it can get. Perhaps Maroni knows this, and perhaps that's why the experience of dining at Morso is otherwise so much about easing and delighting the diner in unexpected ways, from earnest servers to still-warm rolls with truffle butter to interesting (if murky and not totally successful) cocktails to a wine list on which every one of the 60-plus bottles is available by the glass. Yes, Maroni has gone well beyond his truck's signature naanwich: When a casual meal begins with a shrimp croquette amuse drizzled with salsa verde and ends with a take-home bag of madeleines, we are on another planet from dough-wrapped meat. This is the real surprise lesson of Morso, that not even the biggest, fattest flavors can do the work of the small, thoughtful gesture.
By Julia Kramer
Venue name:
Morso (CLOSED)
Contact:
Address:
340 W Armitage Ave
Chicago


Cross street:
between Orleans and Sedgwick Sts
Opening hours:
Brunch (Sat, Sun), dinner (Tue–Sat)
Transport:
Bus: 11, 22, 36, 73, 151.
Price:
Average share plate: $19
Do you own this business?
You may be interested in: