New brunches at Urban Union, Small Bar | Boldfaced Brunch
Sometimes you find good brunch in the most unexpected places.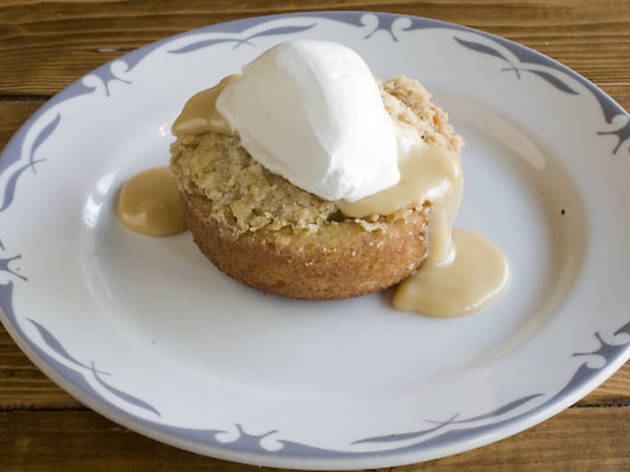 One of those brunch spots with the Oreos in the pancakes and the two-hour waits opened a new location. And guess who already paid it a visit? You. You went, and you waited, and you ate the kind of sugary brunch creations that give dentists nightmares. We've warned you countless times about places like this. But you just couldn't heed the Boldfaced Bruncher's rules, could you?
Well, think about this: While you were waiting in line, we sailed right into Small Bar(2049 W Division St, 773-772-2727)—yes, a bar—and staked our claim to a high-top. We ordered throat-tingling Bloody Marys with beer backs and dug into a cakey banana muffin frosted with soft bourbon cream. We ate a fried chicken thigh coupled with a huge blue-cheese biscuit. We gorged on pillowy scrambled eggs set on thin rounds of potato (a free-form tart) and topped with a sweet/umami bacon marmalade. We stuffed an egg and cheese and pork loin sandwich into our face. Ours was hearty food with mammoth flavors, food you can drink a beer with. Yours was food to drink with cutesy Champagne cocktails. Seriously, you waited for that?
You could have been eating dinner at Urban Union(1421 W Taylor St, 312-929-4302). And by dinner we mean brunch, because at UU it's basically the same thing. It's as if someone at this Little Italy restaurant decided he or she wanted in on this whole brunch thing—but then decided dreaming up brunch dishes was entirely too much work. The tagliatelle with asparagus, wild mushrooms, pancetta and Parmesan-Reggiano: directly lifted from the dinner menu. The Pacific reef fish with spicy tomato, niçoise olive and braised baby fennel: ditto. Marinated Spanish octopus with white beans, oregano, lemon, virgin olive oil and red onion: this, too. Forget the dishes the kitchen tried to make "brunchy," like dinner's crispy pork schnitzel, which is placed on a toasted slice of baguette, topped with a fried duck egg and hollandaise, and called a Benedict. Stick with dinner. UU's porchetta is just as juicy when it's plated next to two eggs. The king crab from the raw bar is just as succulent when you order it at noon. If you must do something "brunchy," a zesty Bloody Mary oyster shooter is beautiful in both presentation—a delicate aperitif glass—and taste. Need something even brunchier than that? We give up. Stay in that line.