New outdoor bars and restaurants 2011
A season of rooftops, beer gardens and sidewalk patios: charted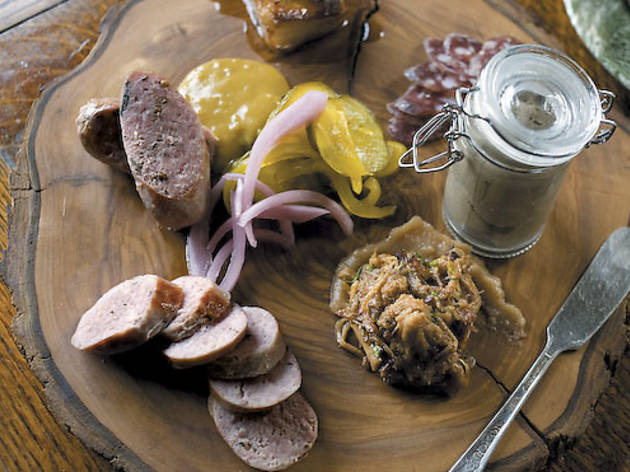 ALREADY OPEN
Bangers & Lace
This sausage paradise's sidewalk patio alleviates the elbow-to-elbow crowd indoors.
Bangers & Lace cicerone Ria Neri's top five beer styles to drink this summer:
1. Pale lagers ("crisp and refreshing thirst quenchers") Neri's picks Two Brothers Dog Days ($6/16oz draft) and Victory Prima Pils ($6/16oz draft)
2. Witbiers ("zesty, orange-citrusy fruitiness, crisp with a dry, sometimes tart finish") Neri's picks Allagash White ($6/12oz draft) and Hitachino Nest White ($9/12oz bottle, $10/12oz draft)
3. German wheats ("No lemons, please. It destroys the flavor and head of the beer.") Neri's picks: Leipziger Gose ($8/12oz draft) and Weihenstephaner Hefeweizen ($7/20oz draft)
4. Saisons ("seasonal summer style produced in Belgian farmhouses") Neri's picks Blaugies Biere Darbyste ($20/25oz bottle, $10/12oz draft) and Dupont Avril Biere de Table ($9/12oz draft)
5. Rosé-colored beers ("ranging from lightly sweet and fruity to funky and complex") Neri's picks Dieu Du Ciel Rosée D'Hibiscus ($10/9oz draft) and Cantillon Rosé de Gambrinus ($38/25oz bottle, $10/9oz draft)
Bridge House Tavern
A new chef/owner—Mark Hemmer, formerly of Uptown's Magnolia Cafe—takes over Flatwater's two-tier riverview terrace, bringing in charcuterie from Butcher & Larder.
Chicago Cut Steakhouse
Views of the river. Views of the Loop. Views of fights over tables? This 120-seat patio takes no reservations.
J.P. Graziano
If you've ever held a hefty Mr. G sub with nowhere to eat it, you understand the small patio next to this Italian grocery is positively revolutionary.
South Branch
It's 4,000 square feet of outdoor happy-hour madness, complete with a pavilion-style bar, 175 seats and views of the Chicago River.
---
ANY DAY NOW
The Dock at Montrose Beach
A liquor license plus a 3,300-square-foot beach deck plus a Memorial Day opening equal a magnet for drunken revelers. Will a quieter locale prevent this from becoming Castaways 2.0?
Owen & Engine
A second-floor, 400-seat patio means more room to enjoy your fish and chips.
Owner Bo Fowler on Owen & Engine's patio: "I built the place across from a really ugly theater and my not-so-attractive other restaurant [Fat Willy's Rib Shack]. And then Burger King went there. So the sides [of the patio] are stone and they're higher. I'm trying to enclose it a little more, with plantings and lanterns and things like that. We hope to make it a little oasis so that you can't really see too much of what's surrounding it."
---
JUNE
Big Jones
Sit a spell in the old South—or at least channel that vibe in this backyard garden, which will seat about two dozen diners.
Girl & the Goat
Don't kid yourself: 30 sidewalk seats will not make it easier to get a table.
GT Fish & Oyster
Front windows open to a 12-seat sidewalk patio in River North. Can anyone say lunch meeting?
iNG
Homaro Cantu's noodle shop unveils 16 sidewalk seats out front. A patio-only drink list pairs cocktails with mberry tablets, which temporarily block certain taste buds, making sour flavors seem sweet.
Studio Paris
What Sub 51 is to Hub 51, Studio Paris is to Paris Club. On a roof.
---
AUGUST
Derby
The Big Onion Tavern Group (Jack's, the Irish Oak) turns Charlie's Ale House into a "British-American grill"—think bubble-and-squeak, but also burgers—leaving only part of the large beer garden unhindered by pesky roofs and walls.
Prasino
The suburbs' favorite sustainable eatery hits Wicker Park with 100 seats (couches included) ready to rock Division Street's double-wide sidewalks.
Tavernita
The 60-person sidewalk patio—30 seats, plus a standing-room bar—coming to Mercadito's new sister restaurant makes us even happier to bid a final adieu to Martini Park.
---
TBD
The Aviary
See Girl & the Goat.
The Aviary's Grant Achatz on the word patio: "Okay. Even that word in itself is misleading. It's a sidewalk, right? But: It's a very wide sidewalk, in comparison to most sidewalks in the city. So what that allows us is to put in seating vignettes. In theory, there's enough square feet out there that we could put 80 people out there, honestly, if we wanted to pack 'em in. But, we're not gonna do that [the patio will seat 30], because (1) the line issue. We need to navigate that; we need to have a stronger door presence that helps people move through that area. And (2) we want to make it comfortable for the people that are actually sitting there, enjoying the beverages and not feel like they're in the middle of the line. Like, that's not cool, right?"
---
The Aviary (955 W Fulton Market, nextrestaurant.com), Bangers & Lace (1670 W Division St, 773-252-6499), Big Jones (5347 N Clark St, 773-275-5725), Bridge House Tavern (321 N Clark St, 312-644-0283), Chicago Cut Steakhouse (300 N LaSalle St, 312-329-1800), Derby (1224 W Webster Ave, no phone yet), The Dock at Montrose Beach (200 W Montrose Harbor Dr, 773-983-2113), Girl & the Goat (809 W Randolph St, 312-492-6262), GT Fish & Oyster (531 N Wells St, 312-929-3501), ING (951 W Fulton Mkt, 855-834-6464), J.P. Graziano (901 W Randolph St, 312-666-4587), Owen & Engine (2700 N Western Ave, 773-235-2930), Prasino (1846 W Division St, no phone yet), South Branch (100 S Wacker Dr, 312-546-6177), Studio Paris (59 W Hubbard St, 312-595-0800), Tavernita (151 W Erie St, no phone yet)