Nick's Fishmarket Grill and Bar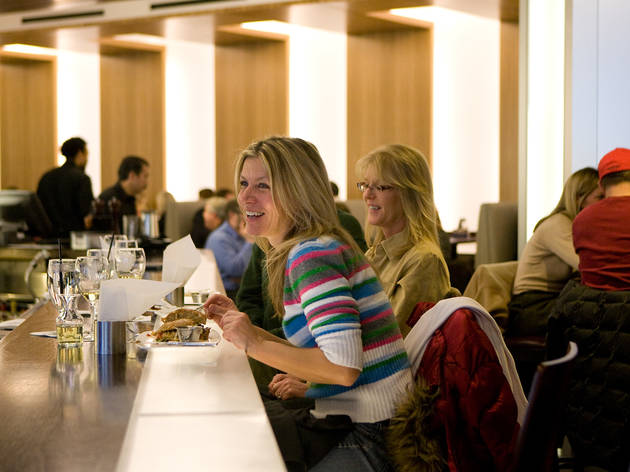 Nick's is a local chain, but I'd never thought of the place as a chain chain. Not until I encountered the mashed potatoes piped from what I assume was a pastry bag with a star-shaped tip. That rigged coil of starch put me in the mind of any number of corporate meals I've eaten in the past, most of them in restaurants housed in Holiday Inns. That didn't stop my companion from continuously reaching across the table and digging his fork into the potatoes, though. "These are really good," he said between bites. He wasn't wrong but he wasn't quite right either. The potatoes had a fine mouthfeel, but the flavor was merely inoffensive. It was not unlike eating, well, potatoes—albeit barely seasoned ones.
I had come to Nick's for dinner. I didn't know at the time that lunch is really where the restaurant ticks. Makes sense, I guess. It's the Merchandise Mart's only upscale dining option, and those businesspersons need a place to take clients to. For the really big deal-making, Nick's has the "dining room," a window-lined corner that's sectioned off from the rest of the restaurant with blue glass panels. The menu is different here than in the "grill" (the rest of the restaurant): It's everything a diner from the late '80s would identify as "upscale." And it is shockingly expensive. Seafood entrees start in the low 30s and quickly travel to the 50s. The abalone, which our server pushed as one of the restaurant's signatures, cost $54. But this dish arrived with what you might call a ten-dollar presentation: Battered and fried and soaking in a lemon sauce. The taste was not unpleasant—there was a certain levity to it all, despite all the butter that was in the sauce. But it was hard not to be disappointed with what $54 had bought.
One of the cheapest seafood items, shrimp scampi diablo, was not very diablo. But here again was a decent, butter-bomb of a dish.
Have I mentioned the butter yet? How about the cream? Eating the lobster bisque (fairly priced at $10) was like drinking a hot, pink bowl of the stuff, which is a little pleasant for the first two minutes or so. After that it gets overwhelming. So all I can say is: Thank God for the seared ahi tuna, which arrived dusted in "Cajun" spices and with a soy-mustard sauce—all highly flavorable, not to mention good at cutting through fat.
Cut through the fat. That's good advice for any restaurant, but especially this one, which seems to want to mask any delicate flavors in its food with sauce or cheese. At lunch in the grill, where the service is friendlier and the vibe more vibrant, I sat at the bar and ordered a tequila-lime-chicken flatbread. The chain restaurants this dish reminded me of are endless, but that actually had me hopeful for the aggressive flavors I've found in malls. And I got it (tequila, lime, chicken—how could I not?), but I had to remove the cloak of melted anonymous cheese to get to it. I took the same approach to the mixed grill. The seafood—tilapia, shrimp, mahi, tuna—came, as advertised, "simply grilled," but there was some sort of orange sauce solidifying on each piece. This was the tomato coulis, I think (I had gone with the "Southwestern" preparation for the grill, hoping it would be the most unobtrusive). I scraped it off and took bites of the fish, all of which (with the exception of the shrimp) had most of the flavor grilled out of it. From where I was sitting, I could see the dining room, where rich people ate richly, and I had to wonder whether they had closed their deals. Because Nick's and I—we were still in negotiations.
By David Tamarkin.
Venue name:
Nick's Fishmarket Grill and Bar
Contact:
Address:
222 W Merchandise Mart Plz
Chicago
60654

Cross street:
at Wells St
Opening hours:
Lunch (Mon–Fri), dinner (closed Sun)
Transport:
El stop: Brown, Purple (rush hrs) to Merchandise Mart. Bus: 65, 125, 156.
Price:
Average main course: $18
Do you own this business?