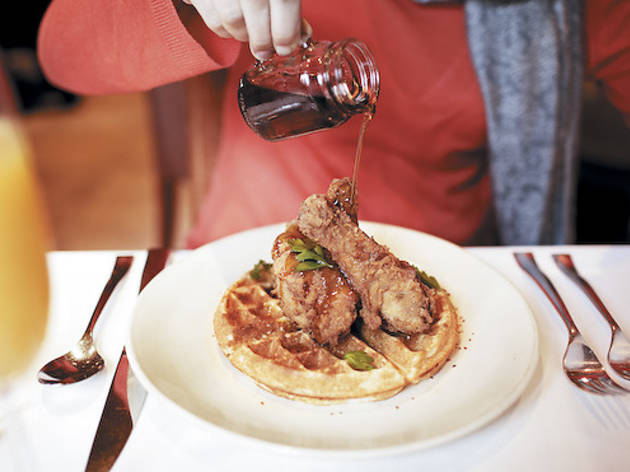 Old Town Social, Table Fifty-Two and Sprout | Boldfaced brunch
Rating the brunches at Old Town Social, Table Fifty-Two and Sprout.
Said Gandhi of Western civilization: "I think it would be a good idea." We're certain he was talking about brunch.
To wit: The typical Sunday morning sidewalk is packed with women wearing lululemon yoga pants stuffed into UGGs, hair hastily looped at the top of their heads, last night's smoky eyes now a ghastly gray smear. Men still reeking of vodka, skin jaundiced with hangover, scratching themselves under oversized Miami of Ohio tees. Children. Shrieking children. They wait, often for more than an hour, united only in their misery, and for what? Greasy feta and spinach omelettes and desiccated potatoes.
But not at Sprout (1417 W Fullerton Ave, 773-348-0706). Here, you make a reservation (if you can—it's the toughest rez next to Next, haven't you heard?), and when you arrive, you're promptly guided to a table in either the light-filled, courtyard-like front room or the darker, refined dining room. There are cloth napkins. Women wear skirts. Men dress in crisp button-downs. And nobody brings their shrieking children, because the poor little things aren't allowed. And they wouldn't appreciate the food anyway: Curry is packed into a fabulous Thai take on shrimp and grits; caviar-mustard brings out the smokiness of a perfectly cooked sturgeon. The incredibly sweet Curious Jorge cocktail—tequila, horchata, iced coffee, blowtorched banana garnish—doesn't pair with any of it, but what do we care? For once the banana was in our drink, not mashed into the next table by a two-year-old.
So we decided to go one step further, from brunch among adults to brunch among geriatrics. Which is what we were promised at Old Town Social (455 W North Ave, 312-266-2277), which hosts a Dixieland band—three old guys puffing into horns and strumming banjos—during its new Dixieland brunch.
We arrived on a Saturday and sat in a private booth made for two, where thick red curtains partially hid us from the rest of the room. It was all starting to feel very Broadway, but why were we listening to Prince? And Blondie? And then Prince again? Turns out the old guys strum only on Sundays. So it was just us and the food: biscuits with too many flaky layers to count. Poached eggs quivering on top of the world's most delicious artichokes. Hearty cornmeal waffles. Housemade bacon. And to think, just minutes before we'd felt as if we were missing out on something.
Could we continue the civility with fried chicken? Moreover, can civility and fried chicken coexist? If said chicken is the unfathomably good bird—seasoning on point, breading flaky like pie crust—we had at Table Fifty-Two (52 W Elm St, 312-573-4000), then yes, yes it can. But to get our hands on it we had to finagle a reservation at Art Smith's place and shell out $24, neither of which was easy for us to do. Think $24 is bad? A chocolate cinnamon roll (warm, molten and altogether intoxicating) put us back $12. So the chicken is just following suit. And it does come with a waffle. And an Art Smith bear hug. And a look of compassion from Oprah. Actually, it comes only with the waffle and a jar of Burton's maple syrup so marvelous we shot a little bit of it into our veins. Is it civilized to make heroin jokes? Maybe not. But at these prices, we felt we'd bought the privilege.