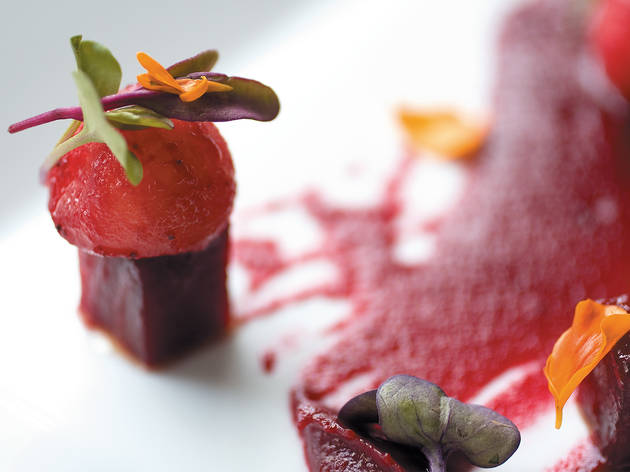 Forget about deciding if the glass is half full or half empty—the ultimate barometer of optimism is the patio at One. Six One. It's so pristine it could be mistaken for an outdoor furniture showroom. But what the patio has in comfortable chairs it lacks in view—it butts up against a barren plot of dirt. Another empty lot is the view across the street.
Is it an eyesore? Or a nice respite from the busy sidewalk patios of, say, Division Street? It depends on your outlook, the same way the menu, a virtual around-the-world-in-80-days listing of Greek, Indian and Italian dishes, will be seen as a overambitious mess to some, a clever concept to others.
Me? I liked the patio and was dubious about the menu. But my first bite, of an apple-and-beet salad, had me thinking I had been too hasty—the pickled apples sparkled with piquant flavors of lime and thyme. Alas, this success didn't rub off on other apps. Samosas were unremarkable and not very samosa-like (the pastry shell was thick and sturdy where it might have been flaky and fragile); mahi tacos were perfectly inoffensive but nothing more.
A glass of wine may have enhanced any of these dishes. But a month into serving, One. Six One was still experiencing serious timing issues. A wine list didn't materialize until after our server solicited our drink orders; after a bottle was ordered, it didn't arrive at the table until well after the first courses had been cleared. Likewise, warm bread was delivered to the table early on; ten minutes later came the butter.
Meanwhile, the entrées quickly—almost too quickly—followed the appetizers. Each one was as middle-of-the-road as the next. A Greek-inspired plate of juicy chicken thighs and pita was pleasant but also anticlimactic; had it arrived with something more exciting than a inexplicable pile of mashed potatoes, it may have held my interest longer. A vegetarian dish of pickled beets, black beans and corn had layers of strong, engaging flavors, but ultimately the sharp flavor of the beets overpowered the others. And a lamb dish arrived with several components—a crispy strip of lamb bacon, small strips of sweet mango—none of which came together with any congruity.
Would even the biggest optimist have lost faith at this point? Maybe not. None of this was inedible, and in fact most of it was cooked to respectable textures. So it's not necessarily bad food—it just doesn't taste worth paying for. And if that optimist was a fan of Damien Rice and other emotionally wounded ballad-crooners, he'd be in luck—the artists are pumped through the speakers again and again and again. They accompany you through your meal, all the way to the desserts, where they provide the soundtrack to overly dense bread pudding and perfect little churros served with a spicy chocolate soup. A word of advice about those churros: Don't go for the soup after they're gone—I made the mistake of drinking it and found that it's too spicy on its own. Which is why at the end of the night, my glass of water? Empty.
Venue name:
one.six one (CLOSED)
Contact:
Address:
1251 W Taylor St
Chicago


Cross street:
at Lyrtle St
Opening hours:
Dinner (closed Mon)
Transport:
Bus: 12, 60, 157.
Price:
Average small plate: $6
Do you own this business?