Road trips for food-lovers: Nashville
Plan a (long) weekend getaway to Nashville to check out its burgeoning food scene, from tacos to a 10-course tasting menu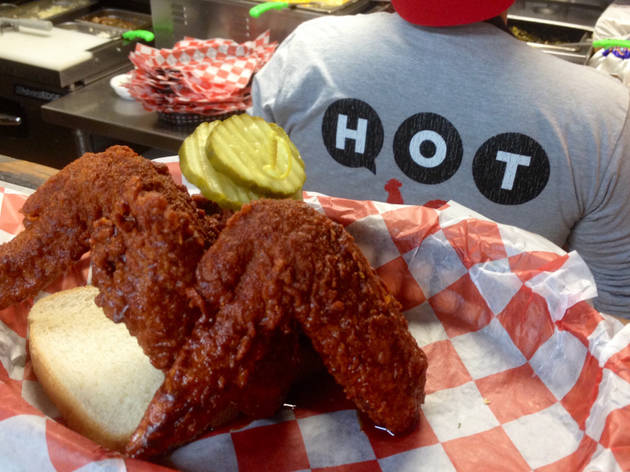 At about a seven-and-a-half-hour drive from Chicago, Nashville isn't exactly a quick summer weekend jaunt, but the trip is worth it. At the end, you'll find hot chicken, a seafood restaurant housed in a shipping container and a spot helmed by an Alinea alum. From $3 tacos to $100 tasting menus, here's where to eat and drink in Nashville.
RECOMMENDED: Weekend getaways from Chicago
Less expensive
Hattie B's
If Nashville has a signature dish, it's hot chicken, a cayenne-powered version of traditional fried chicken. While its origins are at Prince's on the north side of town, the centrally located Hattie B's (112 19th Ave S, 615-678-4794) in Midtown is just as good and close to other attractions. Even heat freaks should be cautious and only the truly bold will order the hottest version, "Shut the Cluck Up." You can do boneless, but the bone-in versions have more flavor. Don't forget to eat the white bread that has been sitting at the bottom of the plate, soaking up all of the flavor dripping onto it. On the weekends, the hot chicken and waffles are outstanding for brunch.
Must have: Red skin potato salad. It's their best side and will help dull the fire in your mouth.
Need reservations? No.
Mas Tacos Por Favor
Originally opened as a food truck (or, more accurately, food Winnebago), Mas Tacos' (732 Mcferrin Ave, 615-543-6271) brick and mortar space in East Nashville is all business, with cinder block walls and a chalkboard menu. The tacos are the best in the city, with pork, chicken, beef and legitimately great vegetarian options all for $3 each (tax included!). The tortilla soup has a lot of fans, but the recently added pozole may be even better. If you see the tamales on the board—steamed in a corn husk and topped with a wonderful salsa verde—make sure to add one to your order.
Must have: Plantains. Roasted to softness and maybe a little charred, the dessert version is drizzled with a little sweet cream.
Need reservations? No. (Closed Sunday; open for lunch Monday, Tuesday and Saturday; open for lunch and dinner Wednesday through Friday.)
Peg Leg Porker
While Nashville might not have the barbecue reputation of Kansas City or Austin, it's added a few places recently that compare with the best. Carey Bringle got his start on the competition barbecue circuit, racking up wins for his West Tennessee style of 'cue (that's whole hog with a tomato-based sauce). After opening in 2013, fans have flocked to the Gulch joint (903 Gleaves St, 615-829-6023) for pulled-pork sandwiches (with slaw, the way God intended), dry-rub ribs and yardbird half-chickens. His whole wings—not separated into drummies and wings—are smoked goodness, served with Alabama white sauce.
Must have: The bourbon. No, seriously, Bringle rolled out his own brand of Tennessee bourbon last year (he purchased the lot from a private label producer) and it compares very favorably with some of the best small-batch brands available.
Need reservations? No. (Closed Sunday.)
More expensive
City House
The transformation of Nashville into a great dining destination can be traced to the 2007 opening of City House (1222 4th Ave N, 615-736-5838), perennial James Beard finalist Tandy Wilson's pretension-free southern Italian restaurant. Situated in an old house in Germantown just north of downtown, the constantly changing menu is anchored by a belly ham pizza so popular Wilson can't rotate it off—even when it's not on, patrons demand it. The housemade charcuterie is particularly good (the salami starter and the sausage entree in particular) and if you come for Sunday Supper, there's a special menu and an entire section of just "Pork Snacks."
Must have: Cookie plate. Really? Yup. Pastry chef Rebekah Turshen's cornmeal or sorghum cookies are subtly sinful and a perfect way to end the meal.
Need reservations? Absolutely, but you might sneak in without them if you come right as it opens at 5pm. (Closed Tuesday.)
Lockeland Table
Located in the heart of a great East Nashville neighborhood, Hal Holden-Bache's place (1520 Woodland St, 615-228-4864) is the best of the seasonal, farm-to-table wave of restaurants that have opened in the last five years. And while it might be tempting to load up on appetizers—the crispy pig ears, the local cheese plate and the wood-fired oysters with smoked avocado butter in particular—save room for either the pork chop and chow chow or the roast chicken with pepper jam, pimento cheese grit cake and collard greens.
Must have: Chicken liver pate. Served with grilled tuscan bread, the pate comes with a layer of Benton's bacon fat on top and a side of smoked peach preserves.
Need reservations? Yes. (Closed Sunday.)
The 404 Kitchen
Carved out of a shipping container in the trendy Gulch section downtown, Matt Bolus is producing some of the best food in the city in this intimate, 36-seat restaurant (404 12th Ave S, 615-251-1404). His specialty is seafood, a product of his time at Fig in Charleston: crudo, shaved thin and paired with fruit and nuts; flounder over Carolina Gold rice and peas with ham broth; sheepshead and a delicate risotto; a cioppino any San Franciscan would be proud of. Make sure to get the skillet cornbread with bourbon sorghum butter for the table.
Must have: Burrata. Bolus's love of the cheese leads to some interesting variations, including a pimento version served with radishes, arugula and toast. It's soft cheese heaven.
Need reservations? Yes. (Closed Sunday and Monday.)
Pinewood Social
Alinea alumnus and Food + Wine Best New Chef Josh Habiger moved over from The Catbird Seat to open this sprawling coffee house/bar/restaurant/bowling alley (33 Peabody St, 615-751-8111). Think of it as Americana-gone-hipster in a restored set of trolley buildings downtown. Habiger's menu of odes to comfort food includes fried cheese curds, pot pie, fried chicken and a sous-vide pot roast that looks like steak but melts in your mouth. You can grab breakfast, lunch or dinner, but however you choose to do Pinewood, make sure to spend some quality time at the bar, the centerpiece of the massive space. It's one of the most creative cocktail lists anywhere.
Must have: Things on Toast. A variety of spreads (either two for $5 or six for $12) including chevre and honey, steak tartare, or a white beans and parsley puree that rivals any hummus.
Need reservations? Yes.
You'll-be-eating-crackers-for-the-rest-of-the-month expensive
The Catbird Seat
Is any meal worth $100 per person or more? Absolutely. The Catbird Seat (1711 Division St, 615 810-8200) compares with New York's Momofuku Ko or other Michelin two-star meals for its multicourse tasting menu cooked completely in front of diners in a unique, horseshoe-shaped kitchen/dining room. Trevor Moran, most recently a sous chef at Copenhagen's Noma, is currently serving a 10-course or more (the spring menu had 13) meal of creative, ingredient-driven dishes prepared with near flawless technique. It is one of the best meals in the country. Slots can be difficult to come by and cancellations within seven days of arrival carry a $75 penalty, so plan carefully.
Must have: A cab. If you get the drink pairings with the meal, you shouldn't be driving—it's a not-insignificant amount of alcohol.
Need reservations? Mandatory. (Closed Sunday, Monday and Tuesday.)